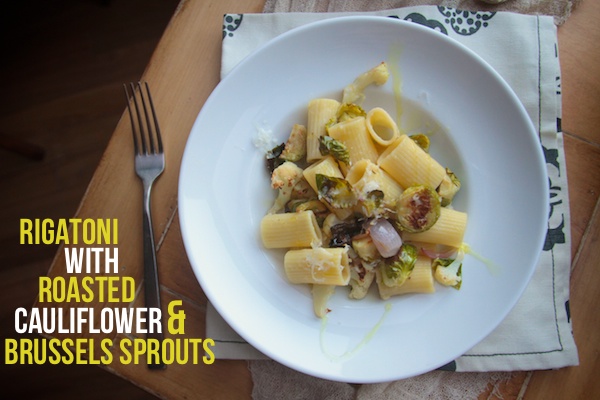 When Real Simple asks if you want to be apart of their Stress Free Month of Dinners Blog Relay  you say YES, right?
Good. I thought so.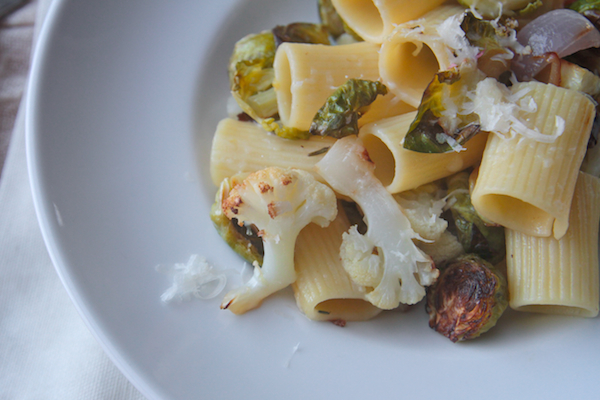 Here's a little carb background for you: I like a little pasta with my vegetables. My husband likes a little vegetables with his pasta. That's why I picked this recipe. Depending how you scoop out a serving, we both get exactly what we want.
I loved the roasted vegetables in this pasta dish. The tang of the Pecorino and the browned leaves of the Brussels sprouts were fantastic. The onions, cauliflower & thyme were pretty great too. The addition of a lemon spritz at the end woke it all up. I'm pretty sure I got my suggested daily serving of vegetables in this recipe and I can't wait for leftovers.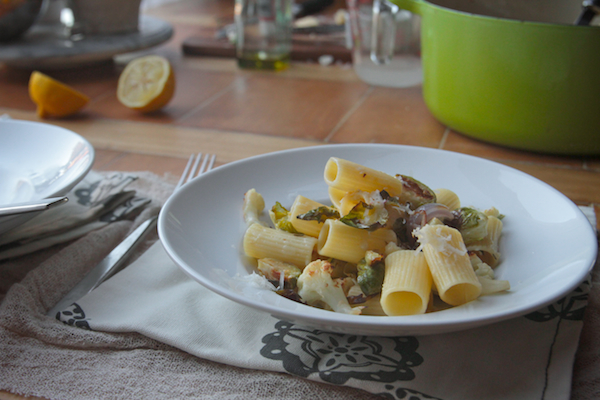 Best part of it all is that it took me less than 25 minutes to make this whole dish. That in itself deserves an award.
You can follow along the Blog Relay by checking here. I can't wait to see some of my favorite bloggers try out Real Simple recipes & share them on their blogs.
And we're off!
Ingredient gathering. Not pictured? Lemon.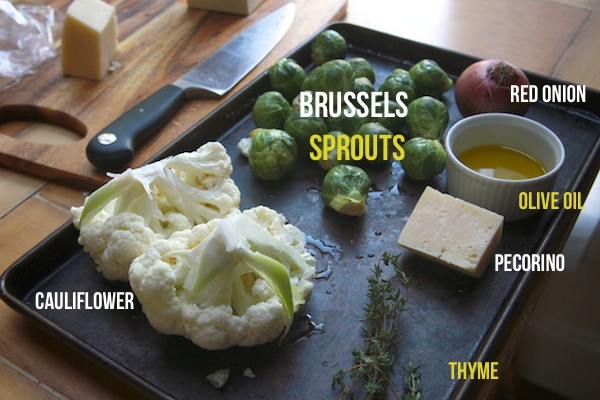 Cut up the vegetables. Place them on a baking sheet and toss with olive oil, salt, pepper & thyme.
ROAST.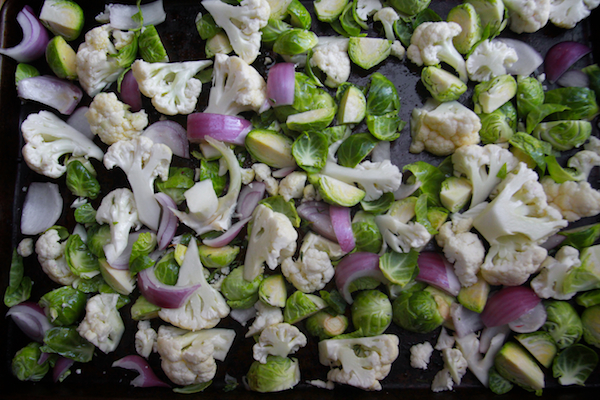 While the vegetables are roasting, cook your pasta.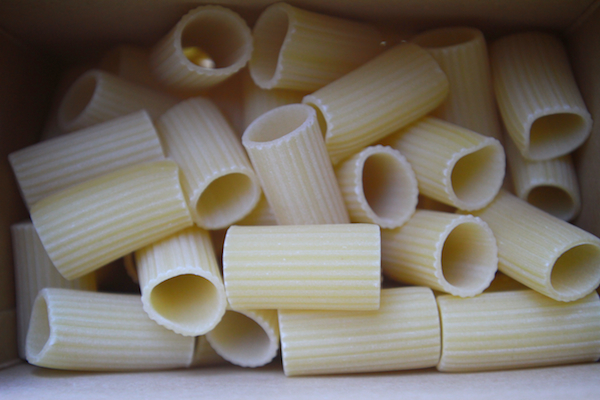 Reserve some of the liquid. This helps us make a sauce and moisten up the pasta.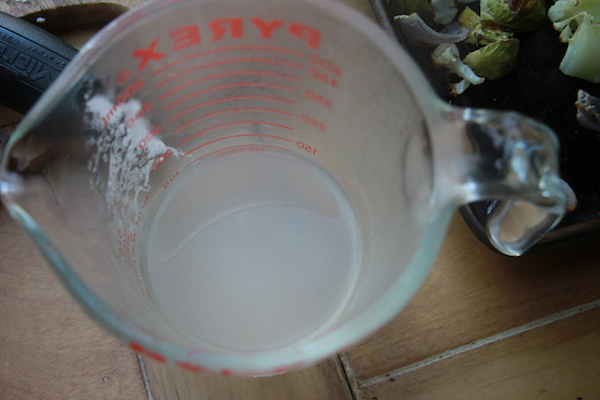 Grate the Pecorino.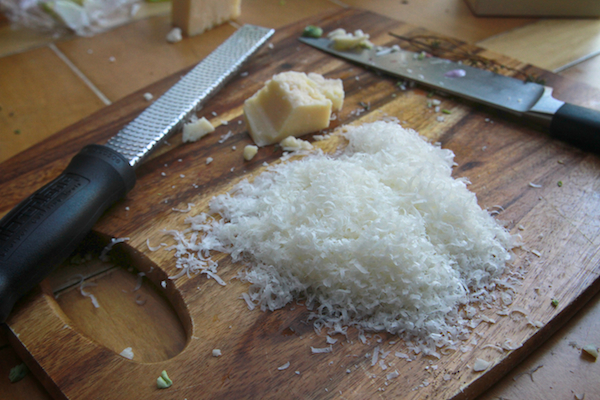 ROASTED!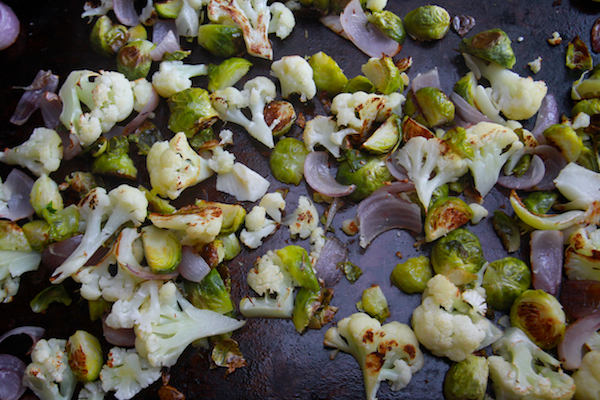 COOKED.
Return the pasta to the pan and toss in the vegetables, cheese & olive oil.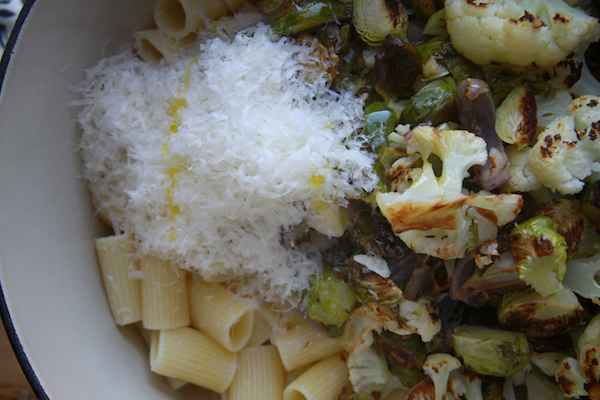 Stir! Add a little reserved pasta water to lubricate.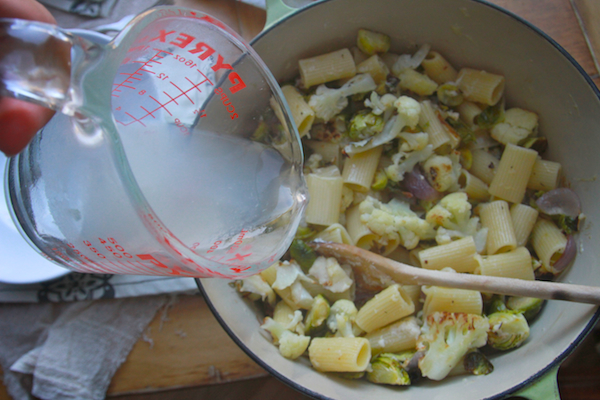 A few squeezes of lemon brighten up the dish & seals the deal.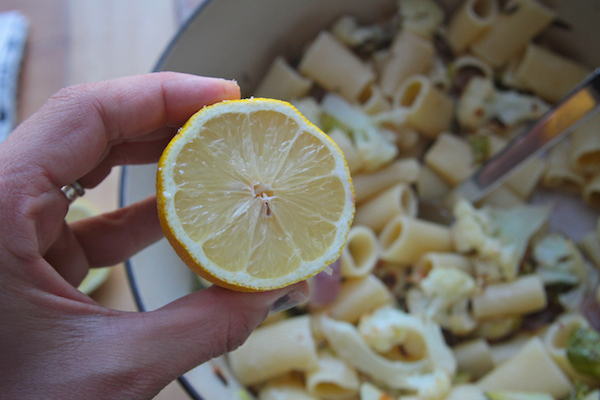 And we're ready to serve!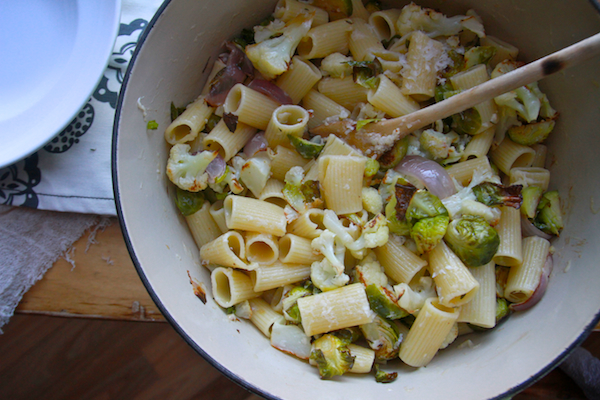 Bing bang BOOM. That was easy.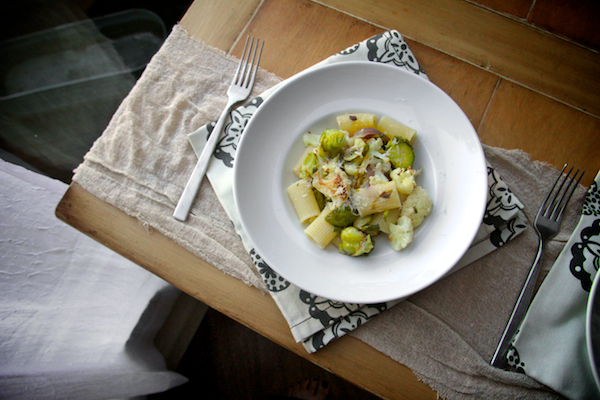 In fact, it was Real Simple. See what I did there?

Rigatoni with Roasted Cauliflower & Brussels Sprouts

serves 4

recipe slightly adapted from Real Simple Magazine

3/4  pound  rigatoni or some other short pasta
1/2  medium head cauliflower (about 1 pound), cut into florets
8  ounces  Brussels sprouts, trimmed and halved (quartered if large)
1  medium red onion, cut into 1/2-inch wedges
2  sprigs fresh thyme
4  tablespoons  olive oil
kosher salt and black pepper
2  ounces  grated Pecorino (about 1/2 cup), plus more for serving
1/2 lemon

Heat oven to 450° F. Cook the pasta according to the package directions. Reserve 1 cup of the cooking water; drain the pasta and return it to the pot.
Meanwhile, on 2 large rimmed baking sheets, toss the cauliflower, Brussels sprouts, and onion with the thyme, 2 tablespoons of the oil, and ½ teaspoon each salt and pepper. Roast, tossing the vegetables once and rotating the sheets halfway through, until golden brown and tender, 15 to 20 minutes.
Add the vegetables, Pecorino, ½ cup of the reserved cooking water, and the remaining 2 tablespoons of oil to the pasta and toss to combine (add more cooking water if the pasta seems dry). Squeeze half fresh lemon over pasta and stir. Serve sprinkled with additional Pecorino.