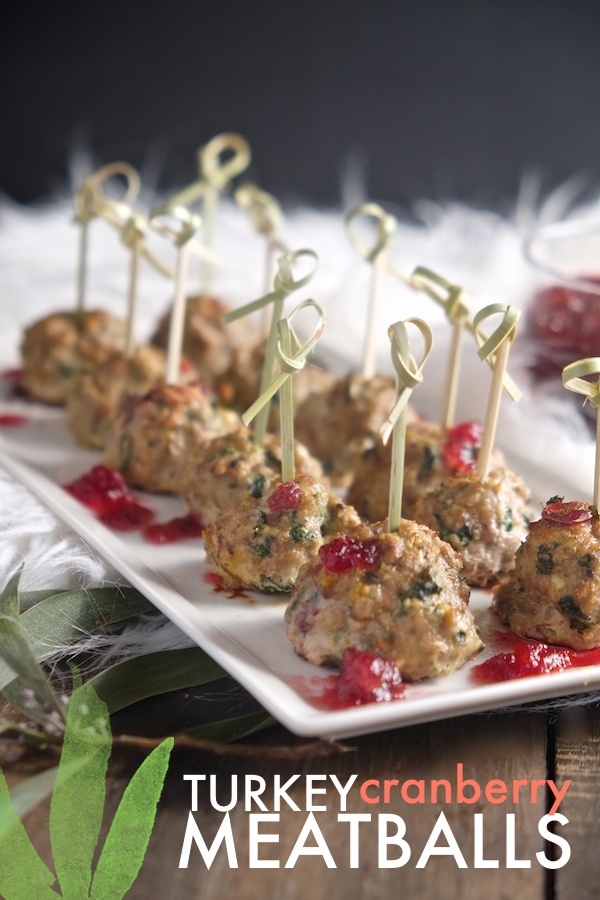 You guys ready for the Christmas holiday? I still have a ton to do. One of the most important things on my plate is finalizing what we're having for Christmas dinner (I'm hosting!).  I came up with this Turkey Cranberry Meatball recipe as a way to use cranberry sauce leftovers we had in the fridge.  I loved how they turned out and I wanted to share them with you!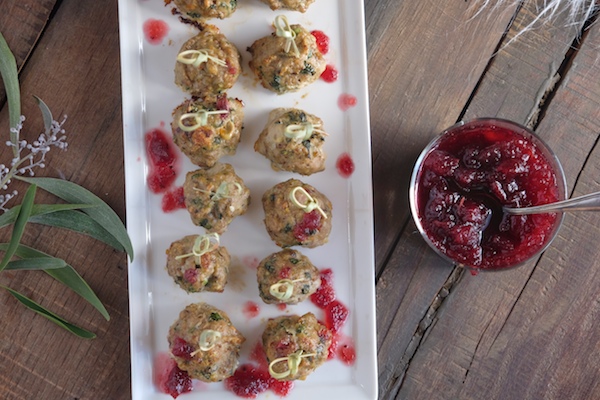 These turkey meatballs have cranberry sauce, kale & sage throughout. For the breadcrumb base, I took two slices of toasted Dave's Killer Bread (in Good Seed)(non GMO & Organic!) and ground them up in my mini food processor. It's a simple way to make breadcrumbs if you find yourself in a pinch.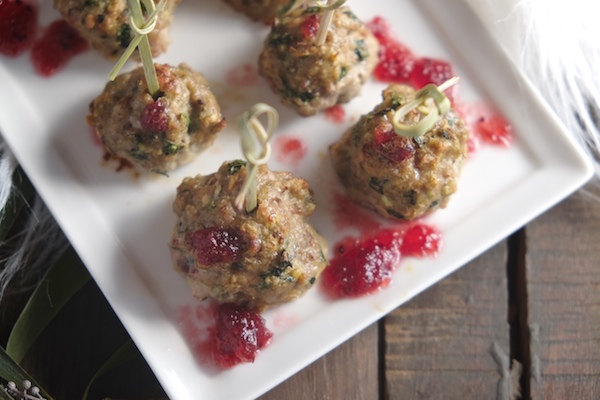 We take the baked meatballs, poke little cocktail sticks through them and serve them with additional cranberry sauce. It's like bite-sized Thanksgiving bites!  I went through the batch super fast in my household. Instant hit!
Let's gather our ingredients;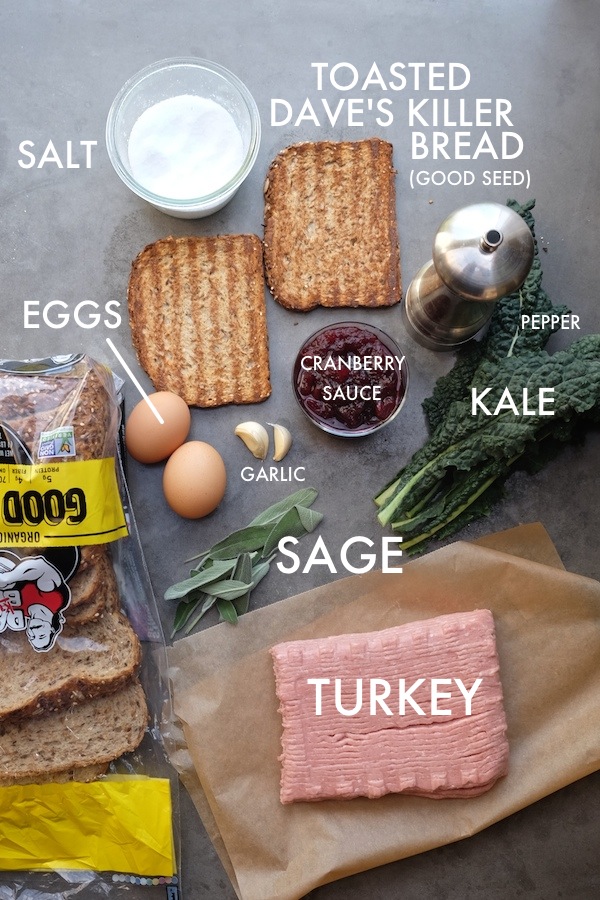 This is what I meant by instant breadcrumbs! I love that the Good Seed bread adds extra texture to the meatballs with all that seedy goodness.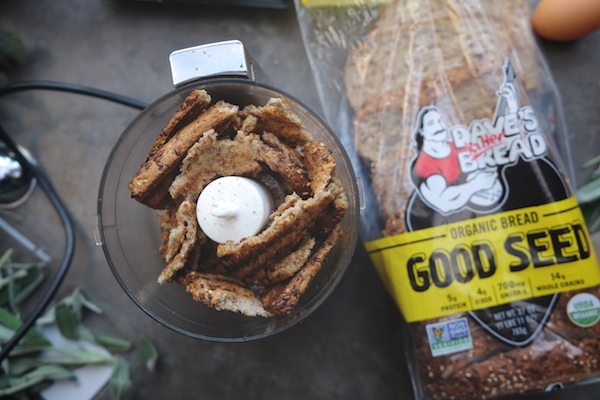 Breadcrumbs made.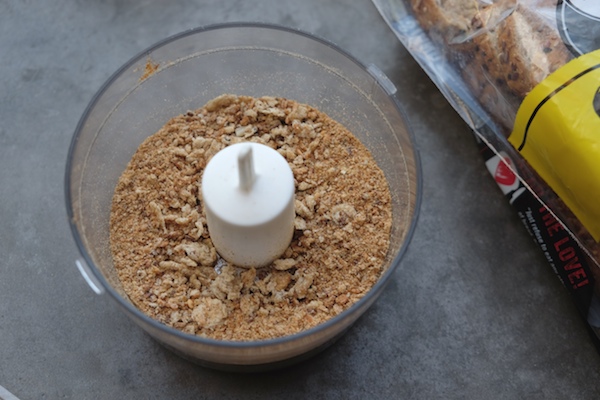 We throw two cloves garlic in the food processor that's been cleaned out.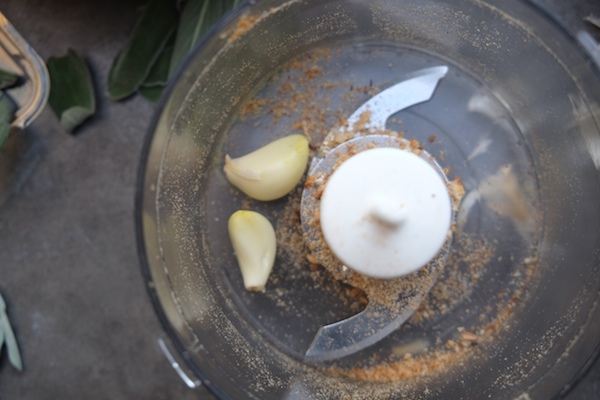 Kale and sage are added for an herb extravaganza.
It's like a kale/sage pesto up in here.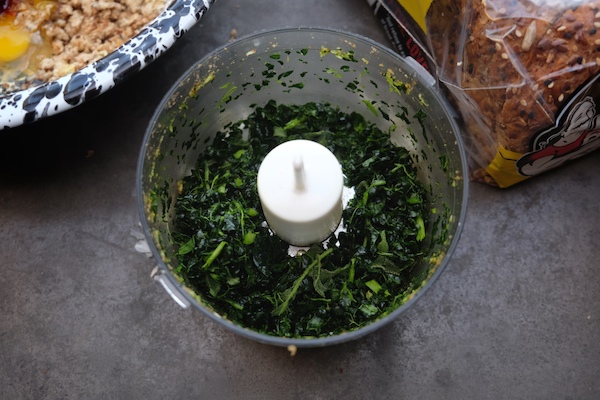 Eggs, cranberry sauce, kale sage mixture, garlic, breadcrumbs with salt & pepper.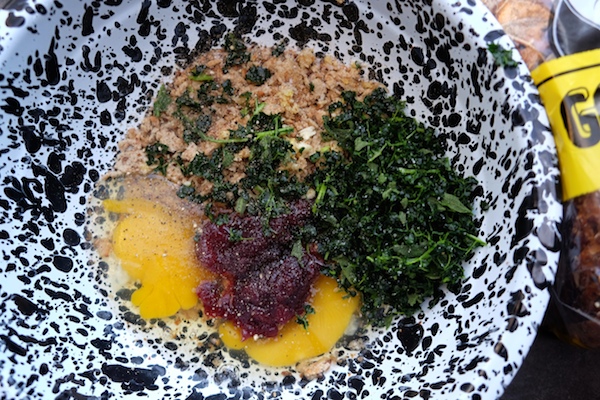 Give it a good stir.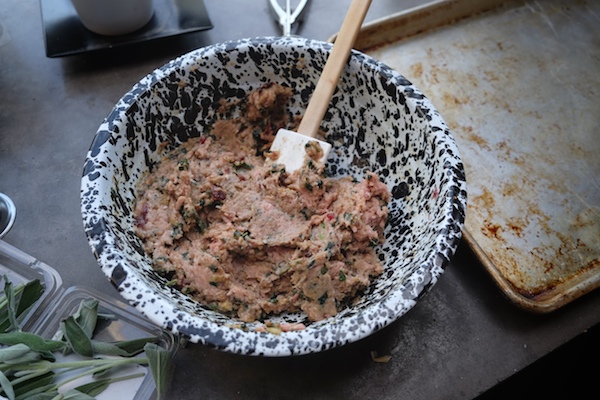 Scoop out meatballs with a 1 inch cookie scooper. Place on a greased baking sheet.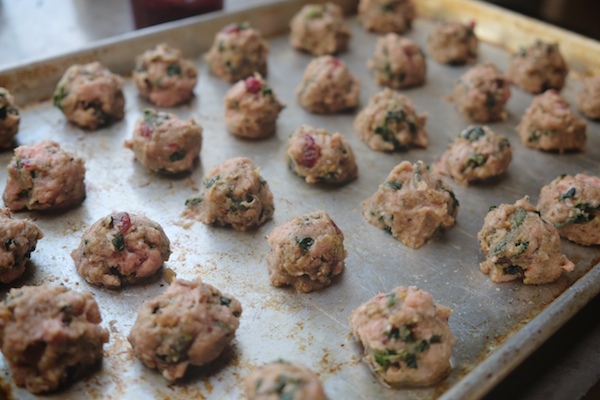 BAKE!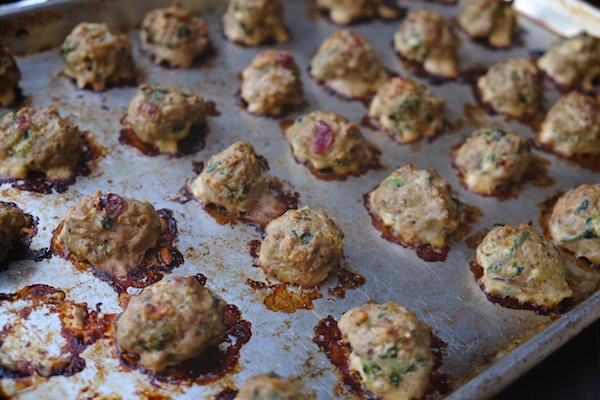 Cocktail pick party.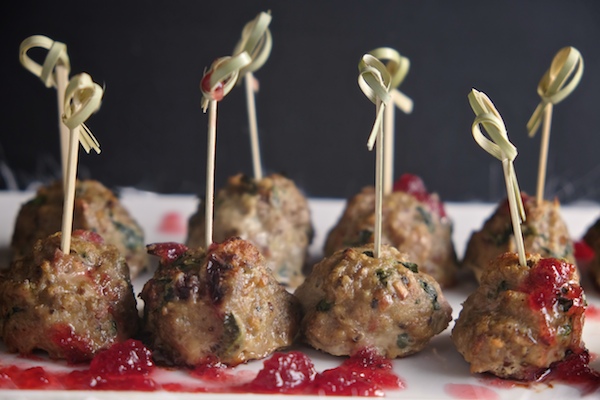 Cranberry sauce addition.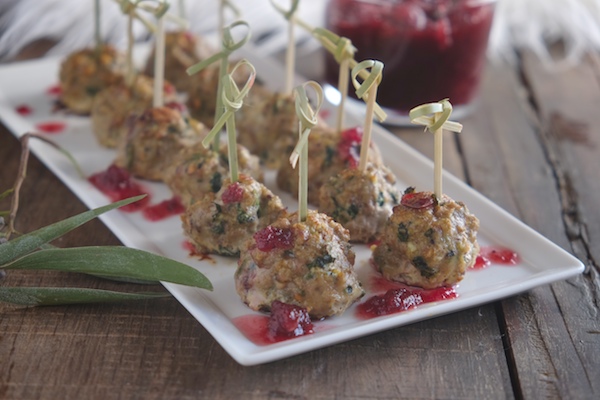 These Turkey Cranberry Meatballs are a great way to round out your appetizer plate. You could always turn them into a meatball sub too!  I think cranberry sauce, brie, fried sage and these meatballs would be amazing together. Let's make that happen.
This post was produced in partnership with Dave's Killer Bread.  As always, all opinions are my own.  
Turkey Cranberry Meatballs

makes about 30 meatballs

1 lb. ground turkey
2 slices Dave's Killer Bread- Good Seed, toasted
2 cloves garlic, minced
6 Tuscan kale leaves roughly torn, stems removed
5 fresh sage leaves
2 large eggs
1 cup cranberry sauce, divided
salt and pepper

Preheat oven to 400F.

Spray a baking sheet with cooking spray and set aside.

In a mini food processor process toast and grind until bread becomes bread crumbs. Clean out processor, setting bread crumbs in a large mixing bow and add garlic into the processor. Process until chopped and add kale and sage. Process until roughly chopped. Transfer chopped herbs to bowl with breadcrumbs. Stir in turkey, eggs, 1/2 cup cranberry sauce to breadcrumb mixture. Season with salt & pepper and stir until well combined.

Shape mixture into 1 inch meatballs until you have about 30 meatballs.  Season meatballs with salt & pepper bake for 15-20 minutes, or until internal temperature reaches 165F. Serve hot with toothpicks and remaining cranberry sauce.