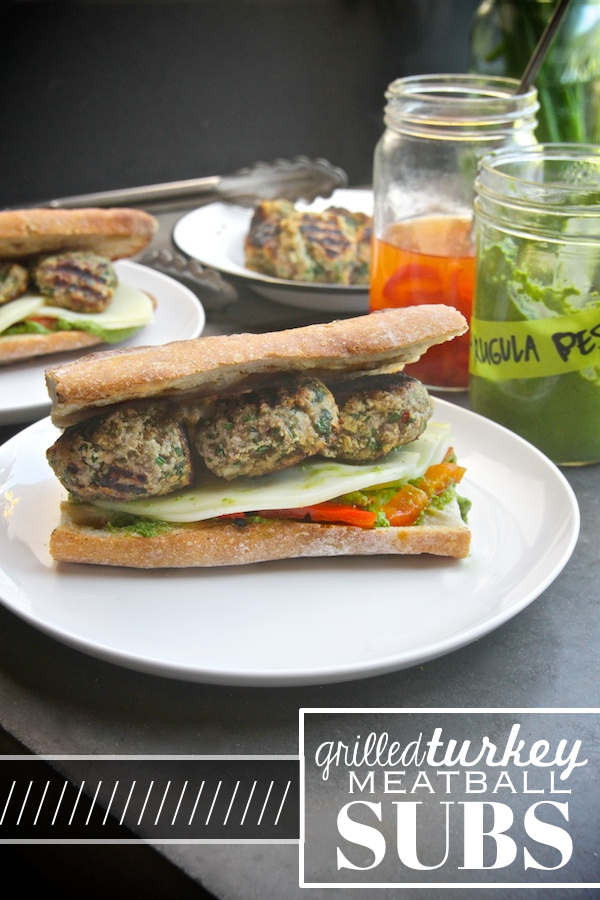 I'm putting this Grilled Turkey Meatball Sub recipe in the Everyday Eats category because I could seriously eat it every day. These flavor packed turkey meatballs are the real star of this sub. I made these sandwiches for Casey & I last week and when he tried some of the meatballs afterwards he told me that they were almost better on their own. And THEY ARE TURKEY!  He doesn't even like ground turkey… It's because they've got a huge dose of parsley, some oregano, PARMESAN, red pepper flakes and Italian breadcrumbs up in. Grill them. Smoosh them in between two crusty pieces of baguette with Arugula Pesto, provolone and pickled peppers and you have yourself an amazing lunch. Or just eat them plain…standing over the kitchen table like my husband cuz…you're the boss of you.
And we're off!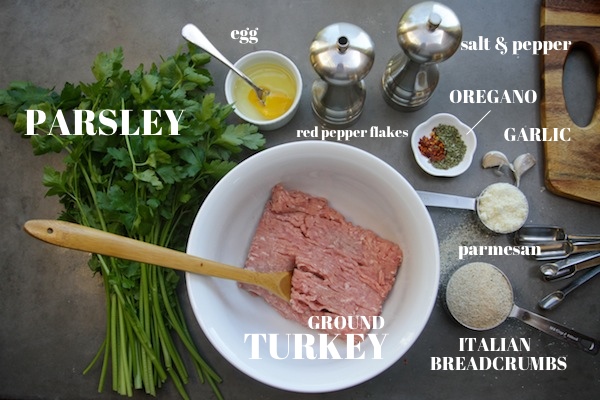 All of the meatball ingredients go into a big bowl. Stir!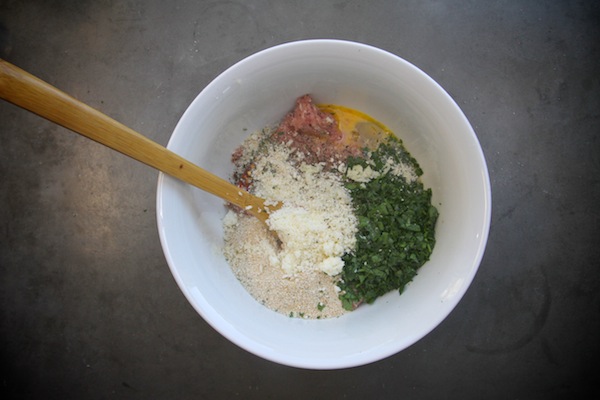 Shape into 2 inch balls.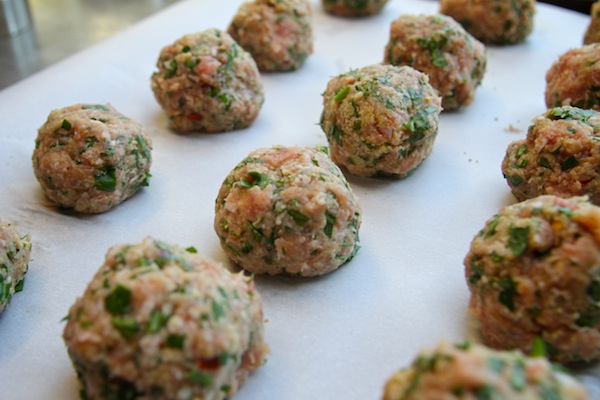 Grill them! I used my grill pan. No need to fire up the BBQ (YET!!).
Alternately, you can totally bake them. I recommend greasing a baking sheet and baking them at 350F for 20-25 minutes.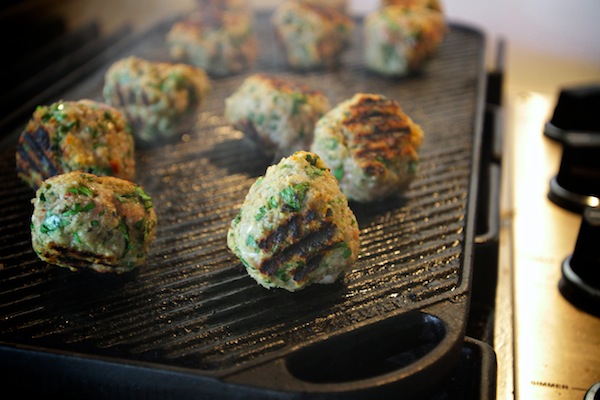 A half baguette (for two) pickled peppers, arugula pesto & provolone.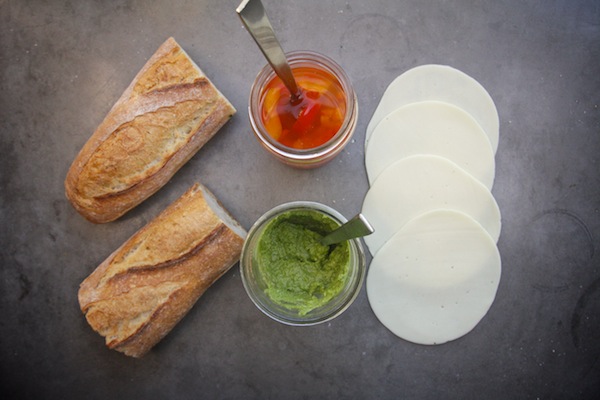 And we're ready to assemble.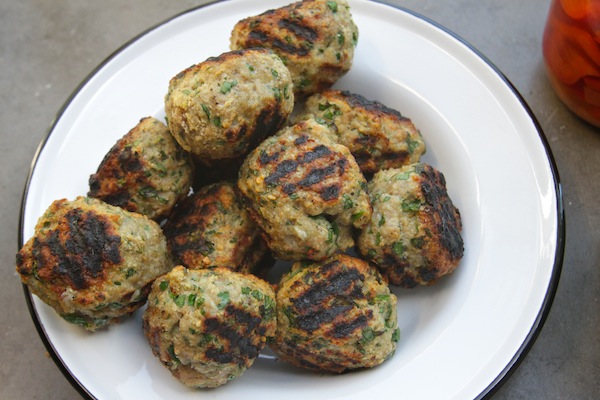 Get that bread toasted.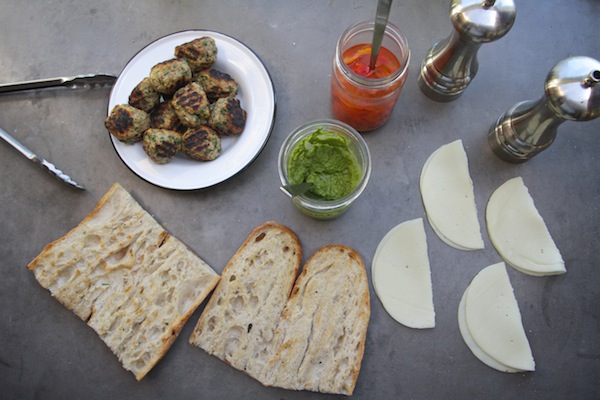 Spread some Arugula Pesto on one side (you could do both sides if you want!). Add on the pickled peppers.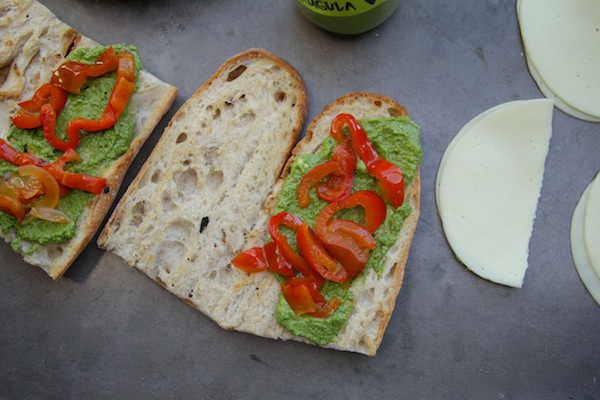 Top with provolone. And then smoosh the meatballs on top.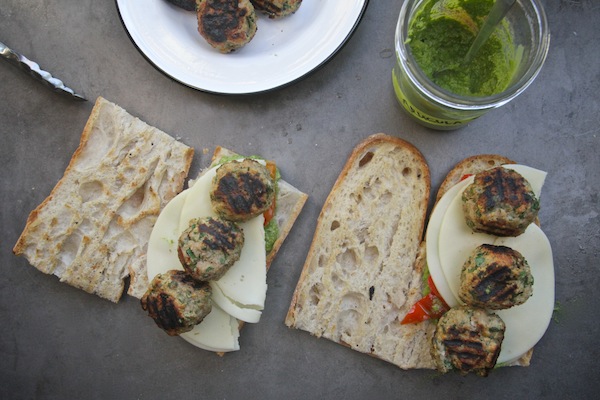 Take a taste of one while you're at it.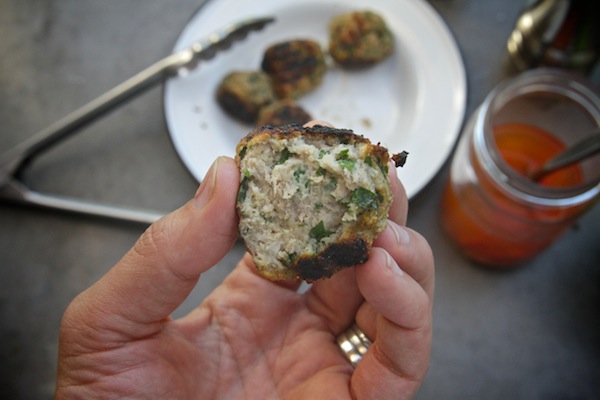 MMMMMM.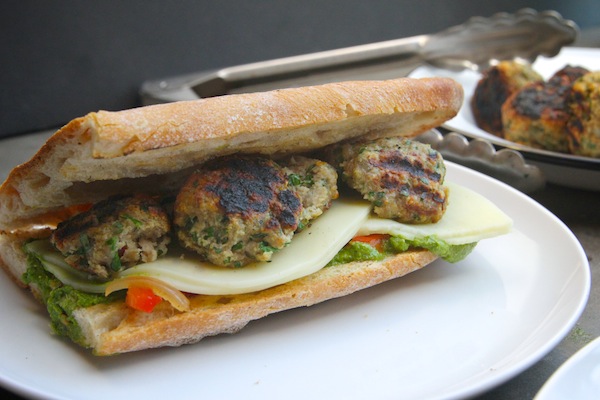 YAAAAAAAAS.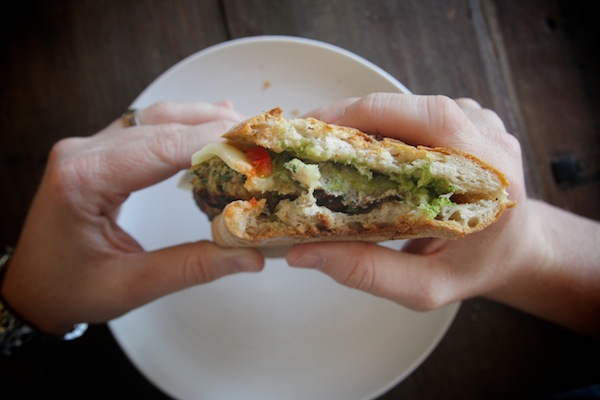 It's just too good.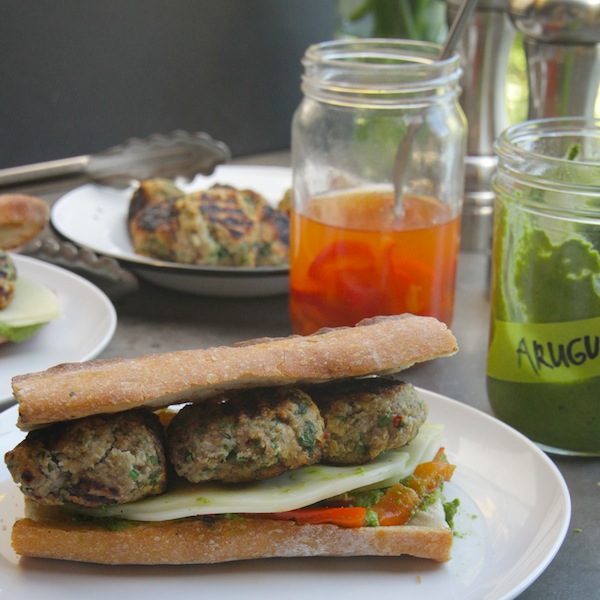 You're gonna love this meatball recipe. PROMISE. Even without all the sub business.
Grilled Turkey Meatball Subs

makes 4 sandwiches and 20 meatballs

for the meatballs

1  1lb. ground turkey meat (dark meat)
1/2 cup Italian breadcrumbs
1 egg, beaten
2 cloves garlic, minced
2 teaspoons dried oregano
3/4 cup fresh Italian parsley, finely chopped
1/2 cup grated Parmesan
1/4 teaspoon red pepper flakes
salt & pepper

Preheat grill/ grill pan to medium-high heat and spray with non-stick cooking spray. In a large bowl, mix all of the meatball ingredients together until well incorporated. Be careful not to over-mix.

Shape mixture into 1-2 inch meatballs and set aside on a parchment lined baking sheet. You should have about 18-20 meatballs in total. Season meatballs with salt & pepper and place onto the hot grill.

Cook for 8-10 minutes, rotating every 2-3 minutes until meatballs are cooked through.

for the meatball subs:

1 sweet baguette, cut in 4 pieces
8 slices provolone cheese
pickled peppers
12 grilled turkey meatballs (recipe above)

Cut pieces of bread in half to form sandwiches. Grill/toast until lightly browned. Spread a generous layer of arugula pesto on one side of sandwich. Add enough pickled peppers to cover the pesto, top with two slices of cheese (per sandwich) followed by 3 meatballs. Close sandwich and serve immediately.