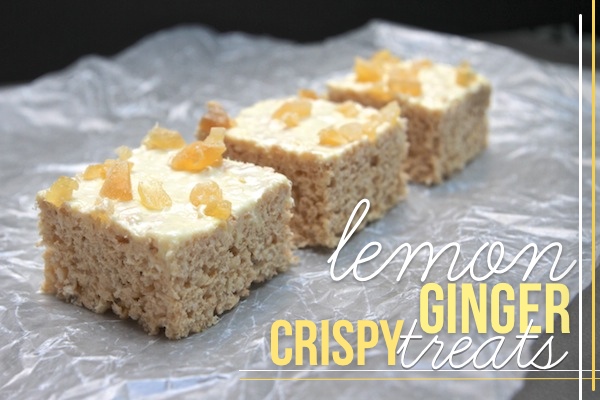 I accidentally forgot my headphones when I was going for a walk yesterday, so instead of using that as an excuse (I'm always full of them when it comes to exercising), I thought I'd use the opportunity to clear my head before I started working in the kitchen. What could be better than listening to chirping birds and overzealous crickets surrounded by redwoods? I'll listen to podcasts another day.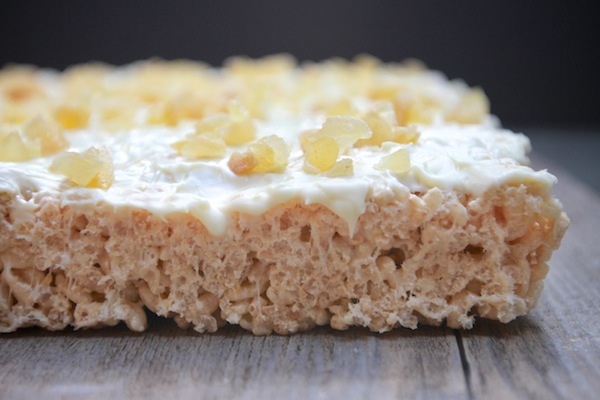 For some reason I just couldn't focus. The chatter in my brain went something like this: BIRDS CHIRPING, Whoa. LEMON, GINGER, RICE KRISPIES, Is that poison oak? WHITE CHOCOLATE, EMAIL, ZEST, LEMON CAKE.What time do I need to get this done. RICE KRISPY TREATS.  Repeat that for 60 minutes and you'll have my workout. I think I walked fast just so I could get home and tackle this. I suppose that might be good motivation?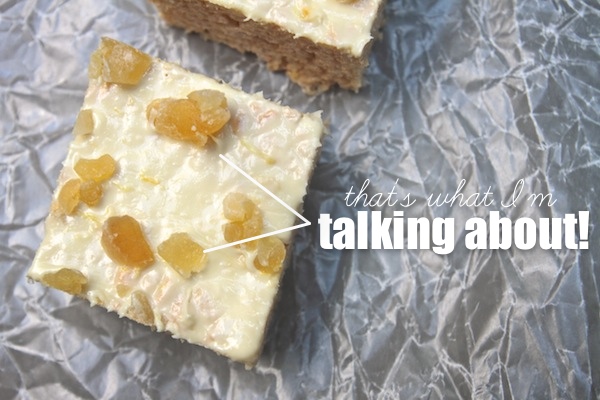 And so I made them…and they were everything I'd hoped for. Rice crispy treat meets lemon cake meets ginger white chocolate bark. Now if only I could meditate hard enough to make fries magically appear in my kitchen. Hold on, let me concentrate and get this crazy brain going….
And we're off!
Ingredient gathering.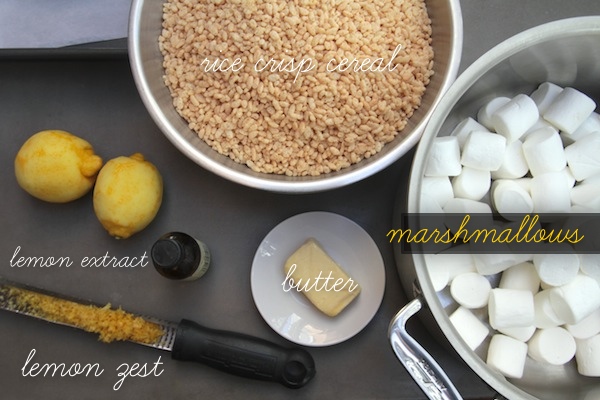 Butter + Marshmallows= LOVE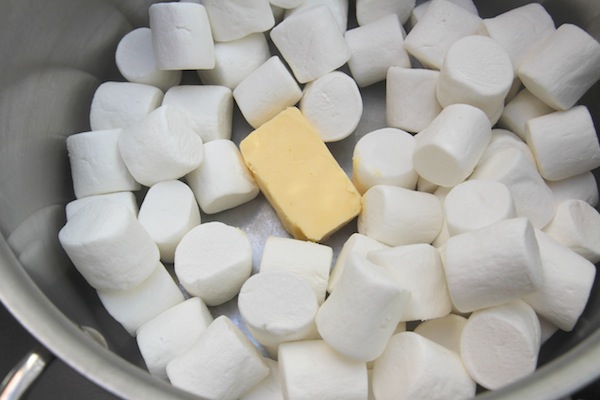 Lemon zest & lemon extract go into the melted marshmallow mixture.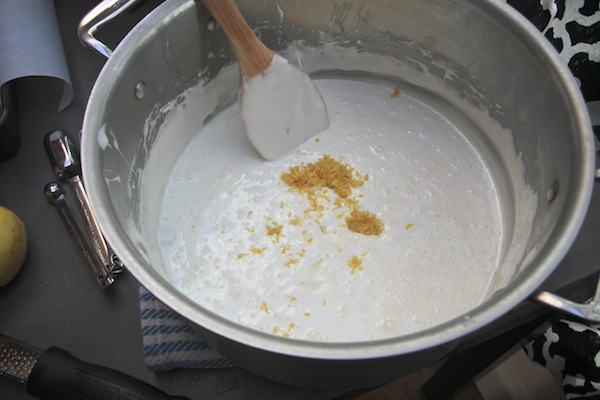 Let's introduce the cereal to the marshmallow. Good things are happening!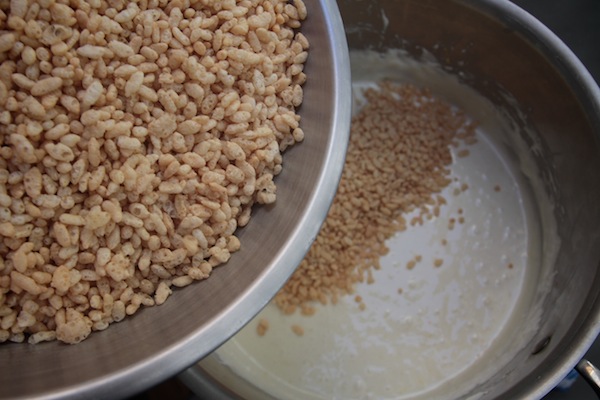 ARM WORKOUT!!!! SERIOUSLY. You know what I speak of.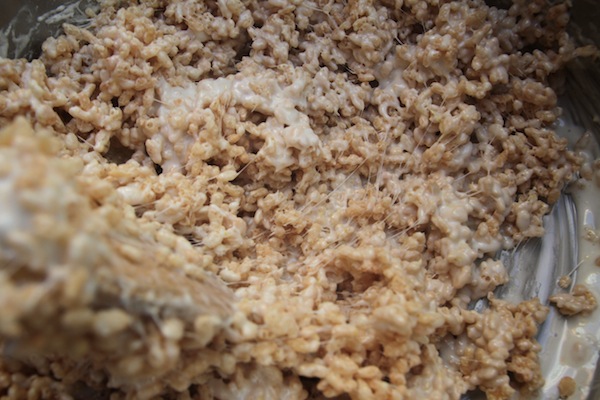 Let's get ready for the next step. Mixture goes into a parchment/cooking sprayed lined baking dish.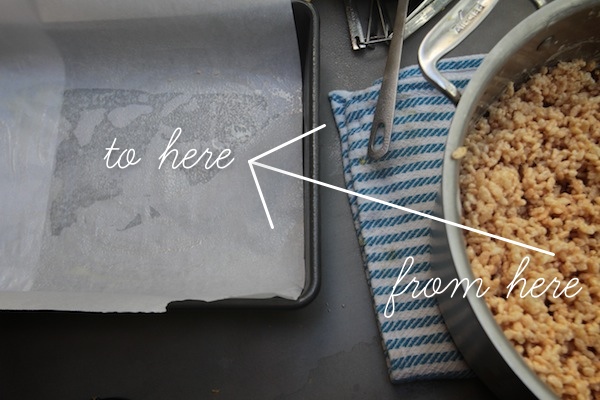 PLOP.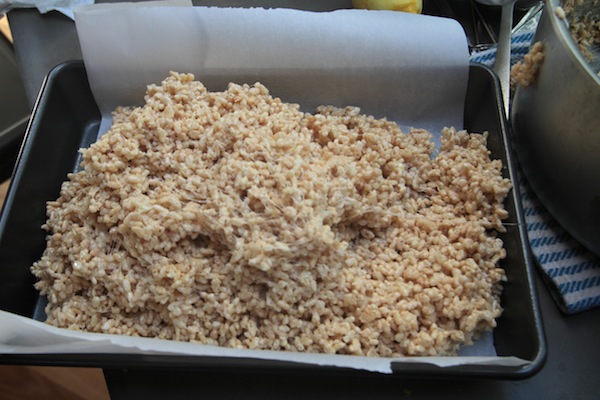 Pack it in! Use your hands. Get them slightly wet before you do. It helps like WHOA.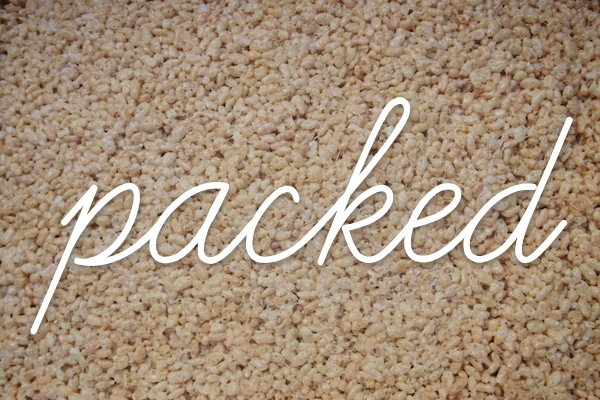 And here comes the topping!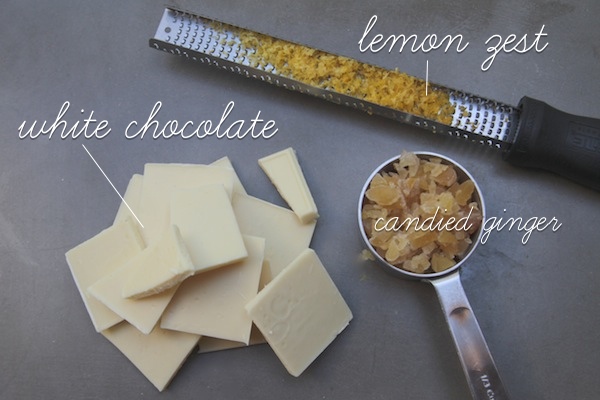 Melt the chocolate in the microwave. Add in lemon zest & lemon extract.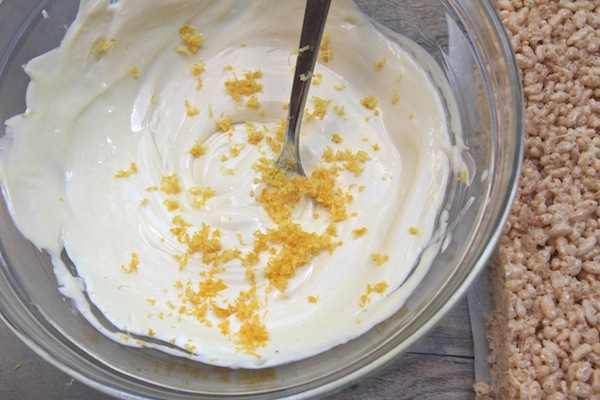 Spread it all over the top.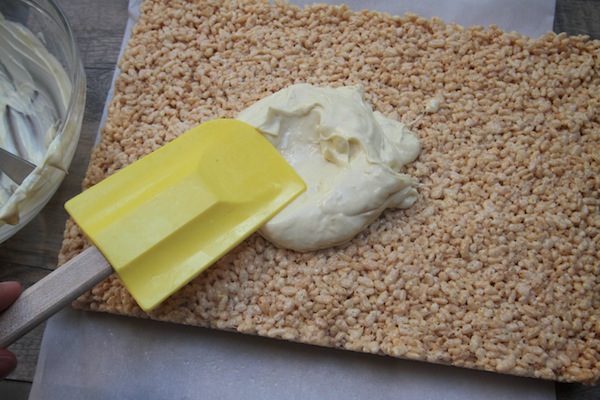 Top with chopped candied ginger. Now transfer to the fridge to let the chocolate cool/set.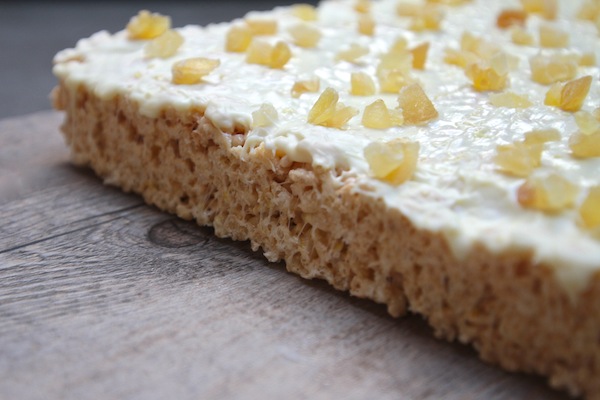 Cut up into pieces.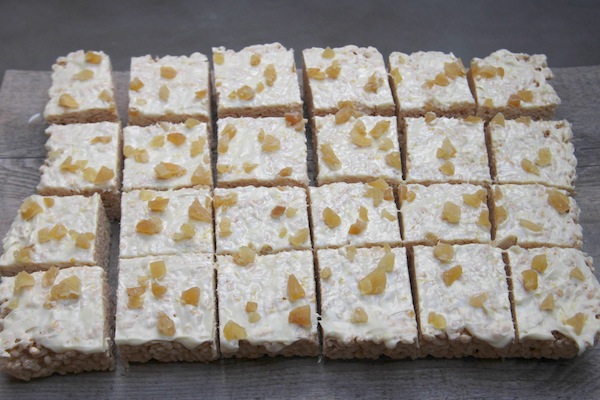 They're absolutely stunning.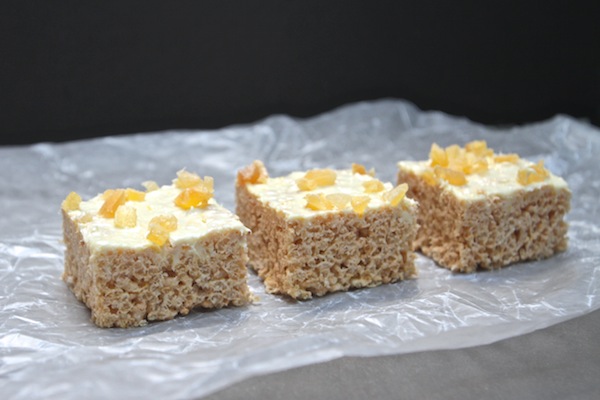 And chewy and crispy and…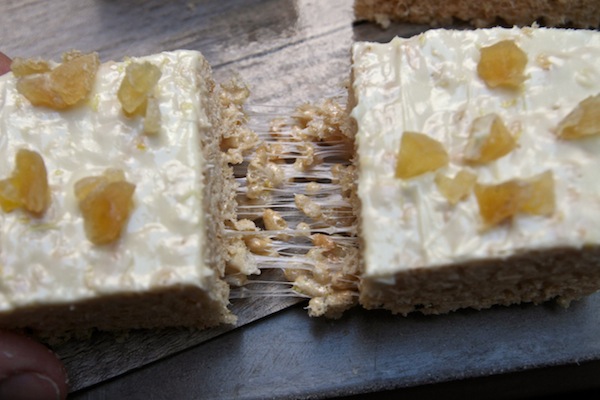 I'm having a hard time sharing!
Lemon-Ginger Crispy Treats

makes 24 squares

1 16oz. bag large marshmallows

4 tablespoons salted butter
1 1/2 tablespoons fresh lemon zest
1 teaspoon lemon extract
7 cups puffed rice cereal

for the topping:

8 oz. white chocolate

1 tablespoon fresh lemon zest
1/8 teaspoon lemon extract
1/3 cup candied ginger, chopped

Line a 9 x 13 inch baking dish with parchment and spray lightly with cooking spray. In a 10-12 quart pot, melt the butter and marshmallows over medium low heat, stirring occasionally until melted and smooth, about 5 minutes. Remove the pot from the heat. Add 1 1/2 tablespoons lemon zest & 1 teaspoon lemon extract. Stir to evenly distribute.

Using a wet spoon or spatula, fold in the rice cereal until cereal is evenly coated with marshmallow mixture. Spoon mixture into the prepared baking dish. Using slightly damp hands or a wet spatula, press into an even layer. Let cool completely.

Place white chocolate in a medium microwave safe bowl. Microwave for 3 minutes (on HIGH power) stopping at 1 minute intervals to stir mixture. When chocolate is completely melted, stir in remaining lemon zest & lemon extract.

Pour white chocolate over cooled crispies. Spread evenly with a rubber spatula. Sprinkle chopped crystalized ginger on top and chill in the fridge for 10 minutes, or until the chocolate is set. Cut into 24 squares & serve.