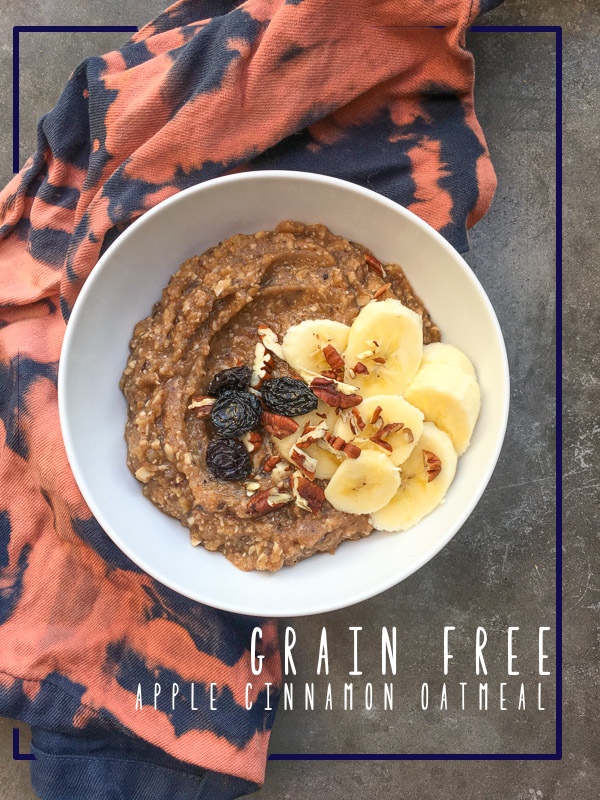 I'm writing this on the floor of my bedroom right now. I threw out my back. I want to eat a sleeve of Oreos only because I went down some rabbit how on buzzfeed where someone jammed a fork in the creamy filling of an Oreo and dunked it into a glass of milk. Now I want to eat all the Oreos. Also, that's a pretty awesome technique.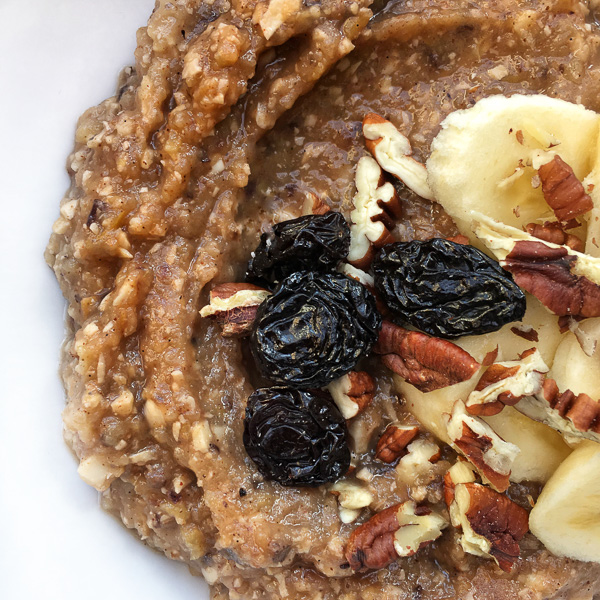 As I write this on my floor of my bedroom with back pain, I'm on day 22 of the Whole30. Someone told me that they were super sick of eggs by this point. Fortunately I figured out how to make this apple "oatmeal" on day 5 and I've been alternating it into my meal prep for the weeks. I haven't had enough eggs to be sick of them yet. WAHOOOO.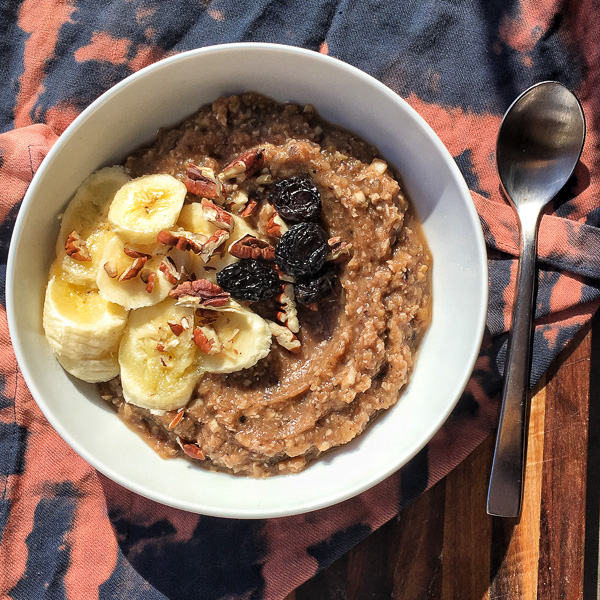 Not only is this Whole30 compliant, but it's vegan and gluten free with no added sugar. It tastes like a cross between apple sauce and oatmeal. The soaked cashews in the mix give it that same bite you get with oatmeal and it's nice and thick to boot!  It's great served cold as a snack in the afternoon, but I like warm with bananas, raisins and nuts. I think tomorrow I might stir in a scoop of almond butter and coconut flakes.
Let's gather our ingredients: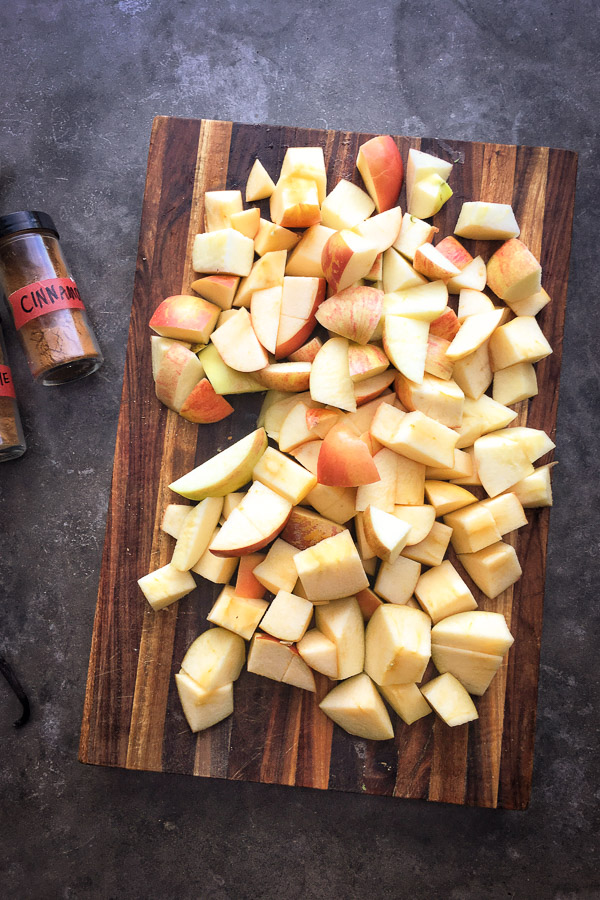 Let's cook them with raisins, cinnamon, pumpkin pie spice….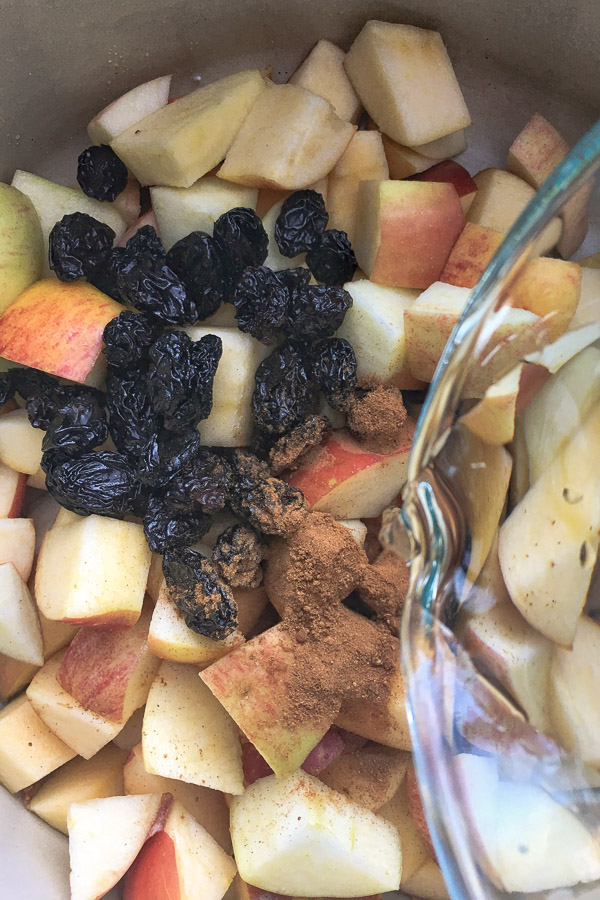 And half of a vanilla bean scraped!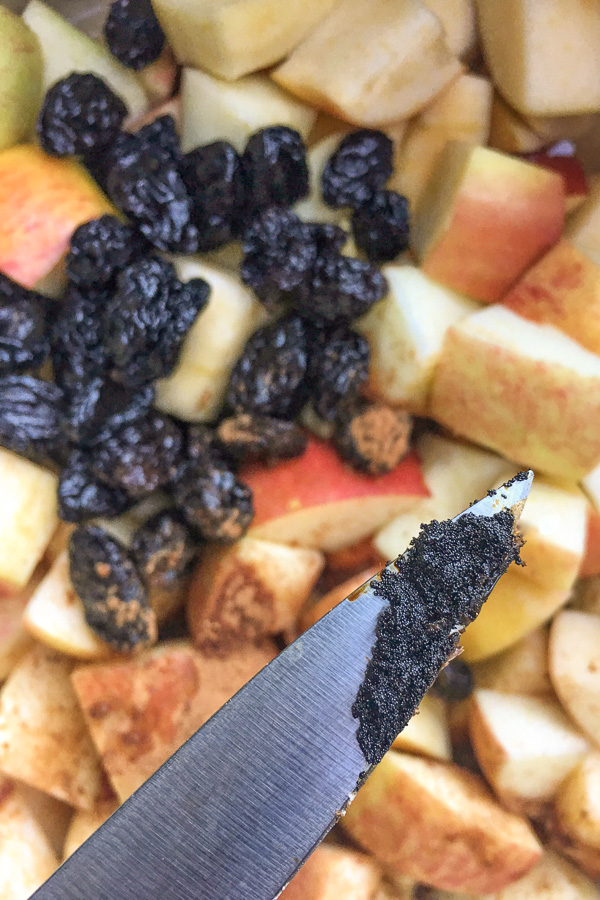 In progress….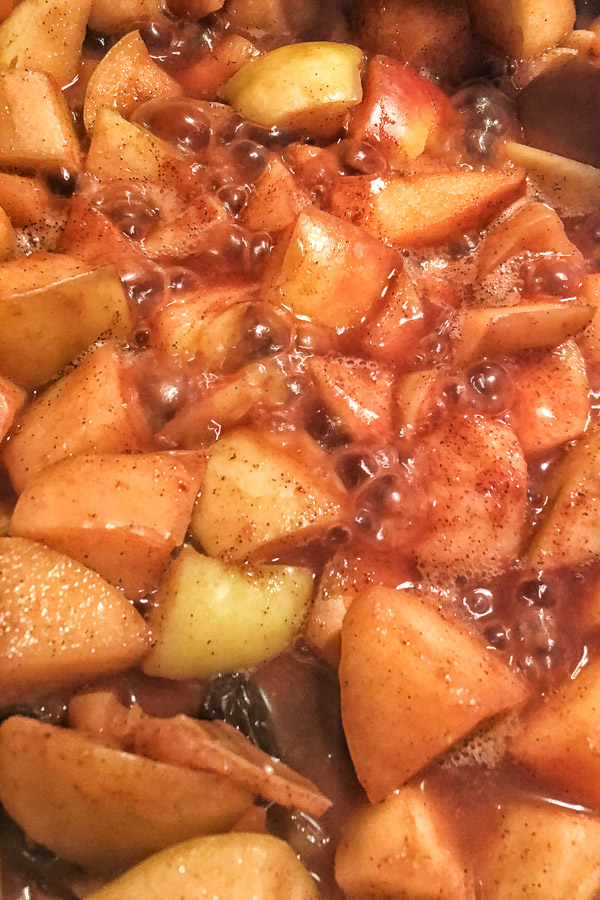 Let's start processing with an immersion blender.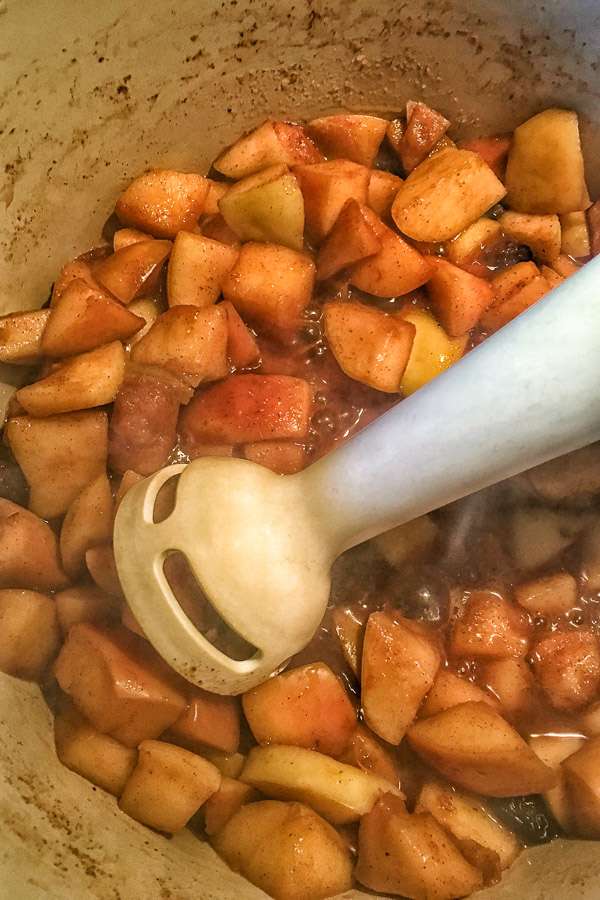 This "oatmeal" needs to be textured! That's why we're adding soaked cashews.
You can see little bits of raisins in there, huh?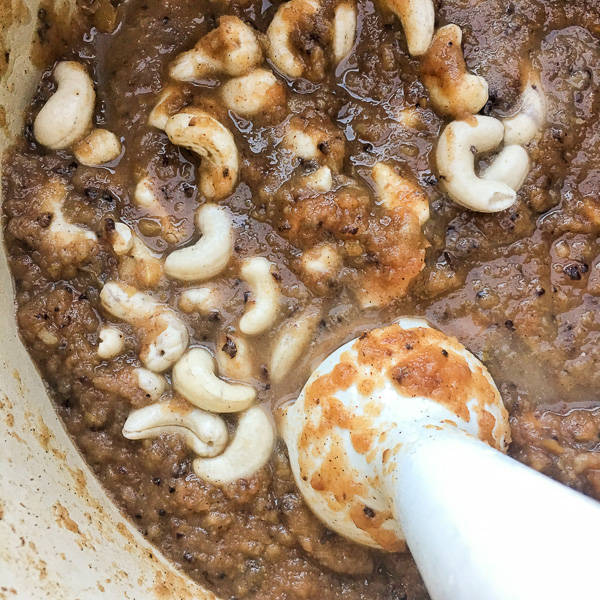 You could also use dates. I'd probably use 2-3 to the mix.
Process! You can make it smoother if you'd like. I like it this textured: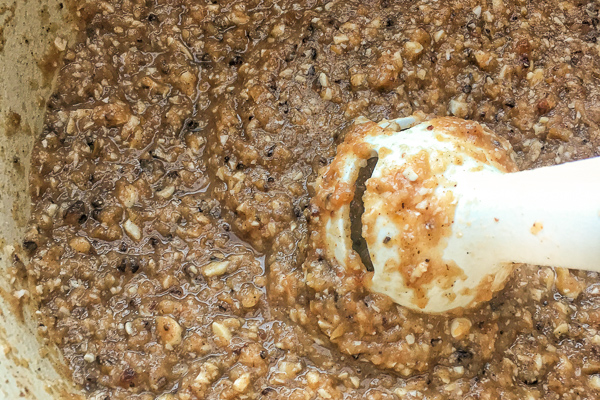 MMMMM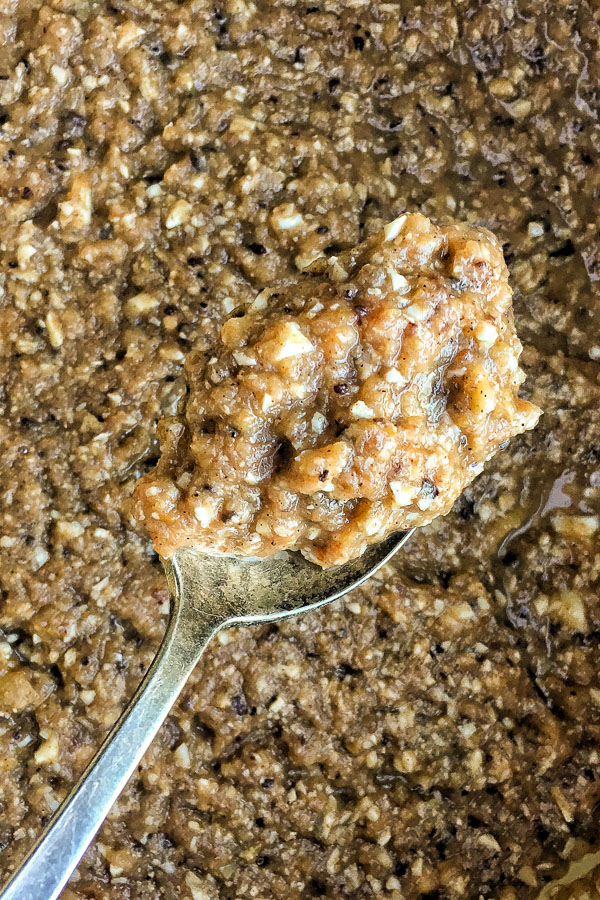 Ok let's serve it up.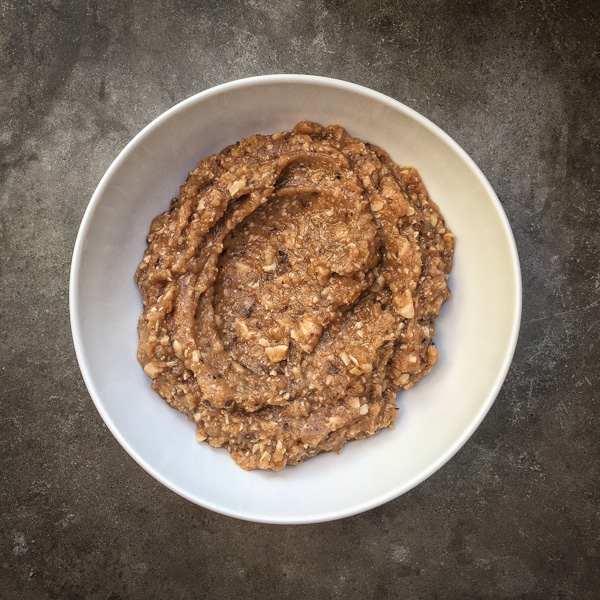 I like bananas, raisins and nuts. You can top it with whatever you like!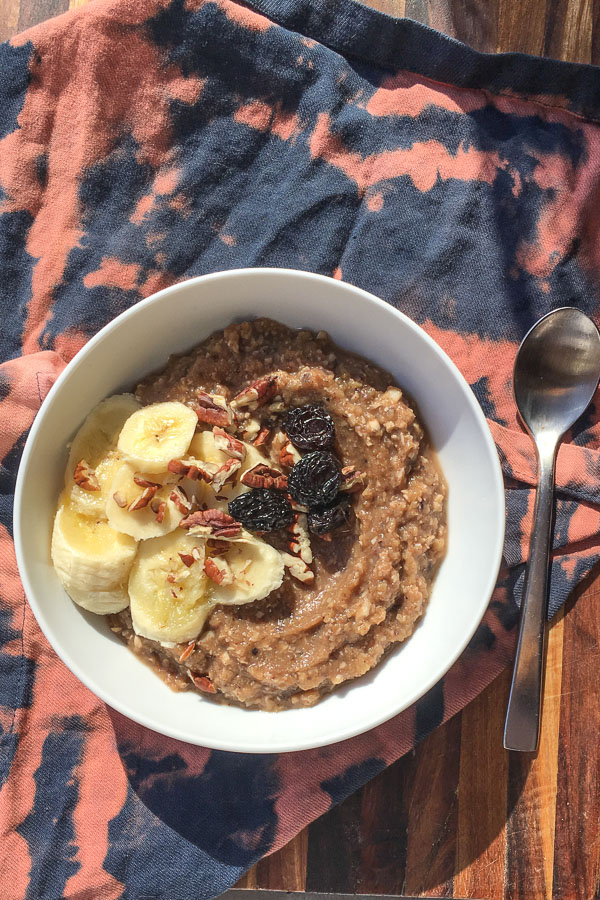 Grain Free Cinnamon Apple Oatmeal

makes 4-5 servings

7 apples cut into 1 inch pieces
1/2 cup raisins
1 teaspoon cinnamon
1 teaspoon pumpkin spice
1/2 vanilla bean pod, seeds scraped
1 1/2 cups water
pinch salt
1 cup cashews soaked overnight, drained

In a large pot combine apples, raisins, cinnamon, pumpkin spice, vanilla bean, and salt. Pour in 1 1/2 cups water and cooking, stirring occasionally for 20-25 minutes, until apples and raisins are soft.

Allow to cool, then blend apples until desired consistency with a food processor or immersion blender. Add soaked cashews to the mixture and pulse a few times to keep mixture chunky. Serve warm with your favorite toppings.