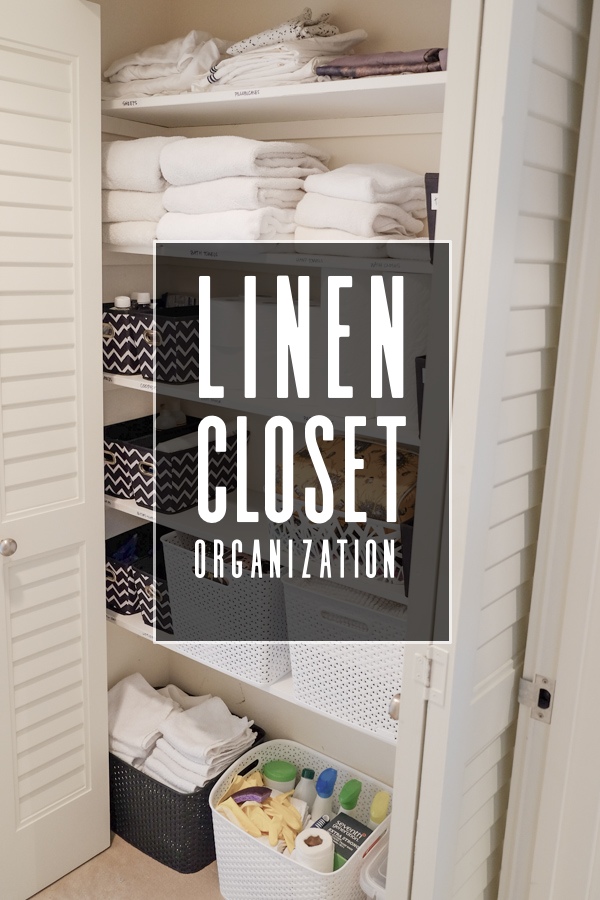 I wouldn't say the messiest closet in my house is the linen closet. It's actually my prop closet, which I hope to tackle soon (another post! another time!). My closet in my bedroom is still going strong (yay!). The linen closet? Ummm. It's probably the second messiest  closet because I'm constantly in there and when I'm in a rush, things get unkempt. I also have a few people in my house who go in and get bandages from the first-aid kit and leave wrappers on the floor…adding to the mess. Who could that be?! I wonder. 🙂
Here's a little before of the closet: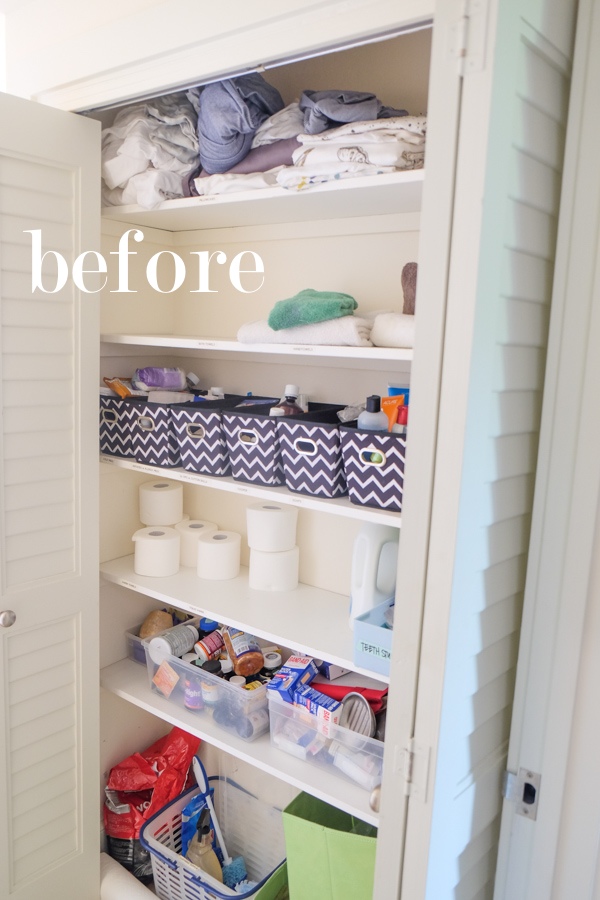 Things were a little sloppy to say the least. I mean… it could definitely be worse but  opening this closet still made me pretty annoyed.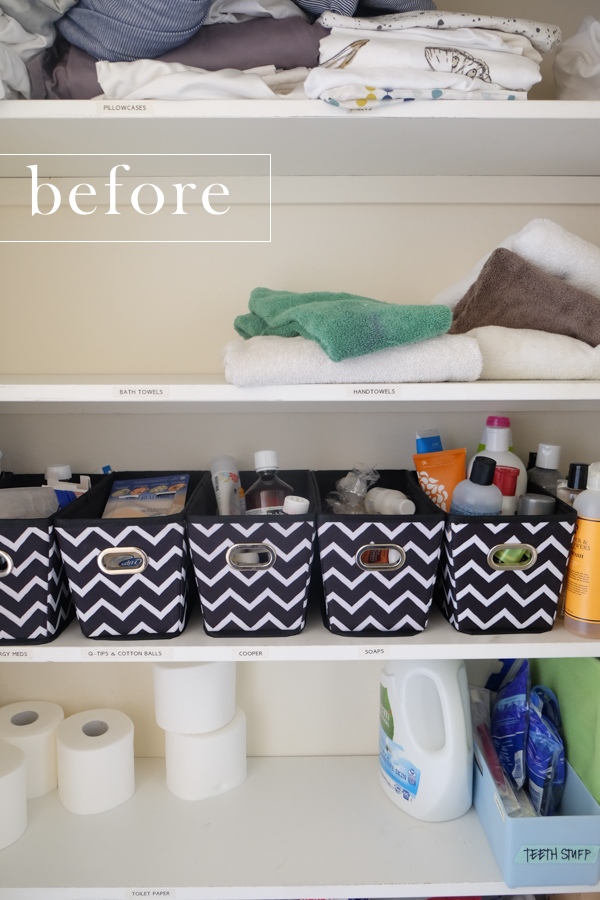 I mean… I had the sections labeled once, but you know, laundry doesn't fold itself and line itself up perfectly ALL THE TIME. Dang, laundry.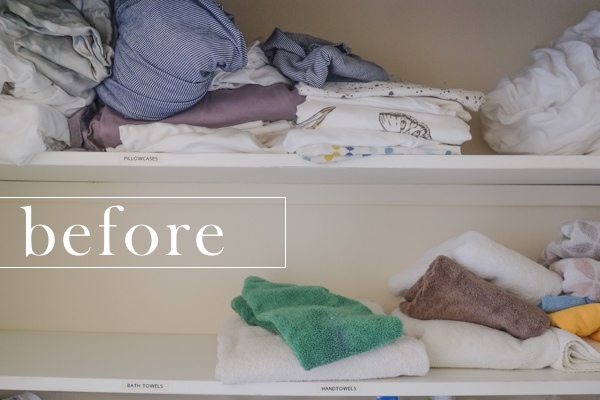 And here's what it looks like now after an afternoon weekend cleaning session: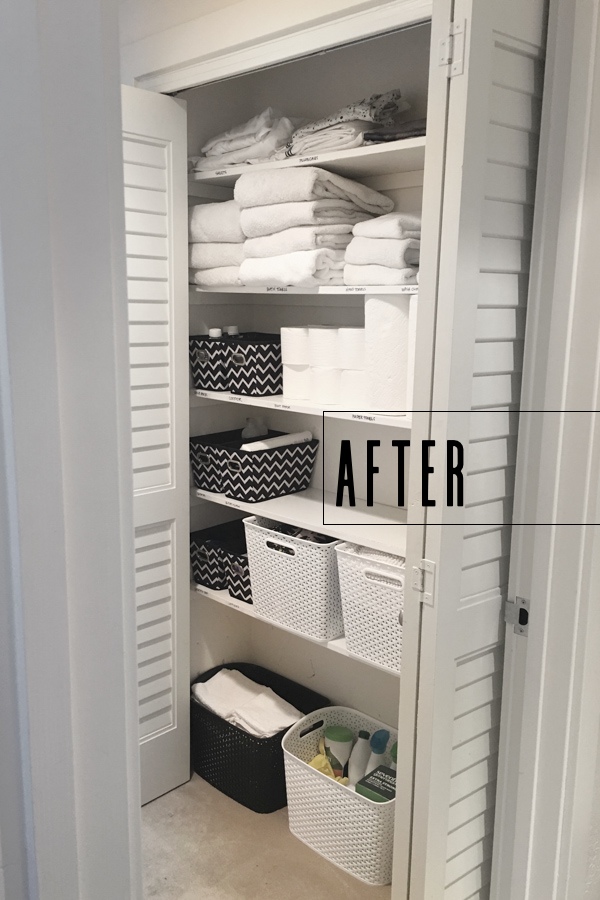 To start this project off, I made a list of things that belong in our linen closet. That way I could figure out what didn't belong in there:
sheets/pillowcases/duvet covers
towels
first aid kit
cold medicine
refills of beauty stuff (soap, lotion, hair stuff)
teeth stuff
cotton swabs + cotton balls
toilet paper
paper towels
cleaning supplies
cat litter (we have our boxes upstairs)
clean rags
table cloth
travel toiletry bag/supplies for travel
When I took everything out, I decided that I would pair down my vitamin/supplement hoard and keep it in my bathroom. I moved the toiletry bag stuff into the linen closet. It left more open space and now I don't have to look at tupperware full of bottles. I find that clear tupperware is only good if you don't mind seeing what's in there. I don't feel like looking at vitamin bottles, you know?
I went through and sorted things that were in the bins. I tossed old things and evaluated things that I didn't need to keep/things that were taking up valuable space. It took about an hour to go through everything but it was well worth it. You have no idea how bad the first-aid kit was….
Over the past year, I started using only Seventh Generation cleaning supplies. But I had all these other cleaning supplies in there that I never use, so I weeded them out and put together a cohesive cleaning arsenal that will live in my linen closet. It's all contained  in a bin so I can easily transport it to any room of the house when I need to clean.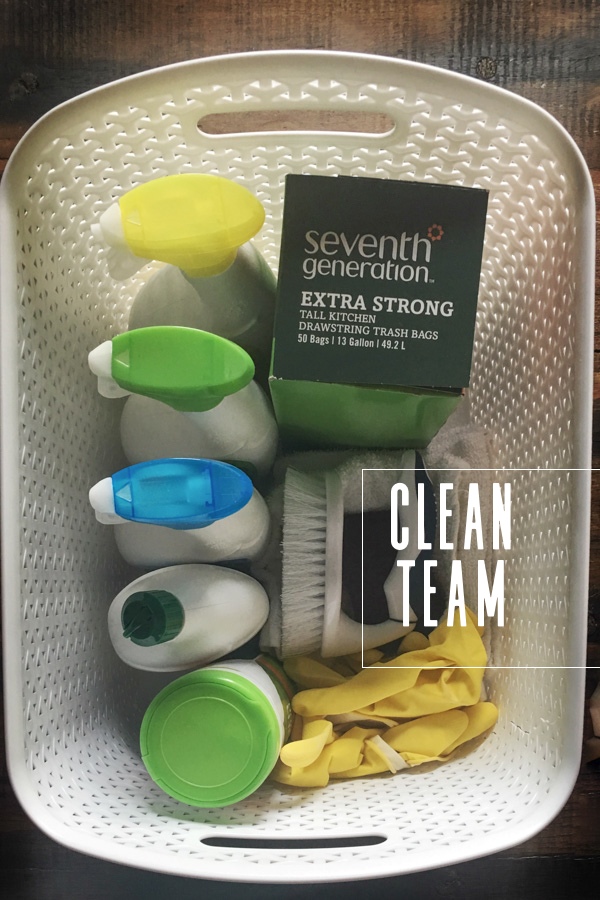 Here's what's in the bin: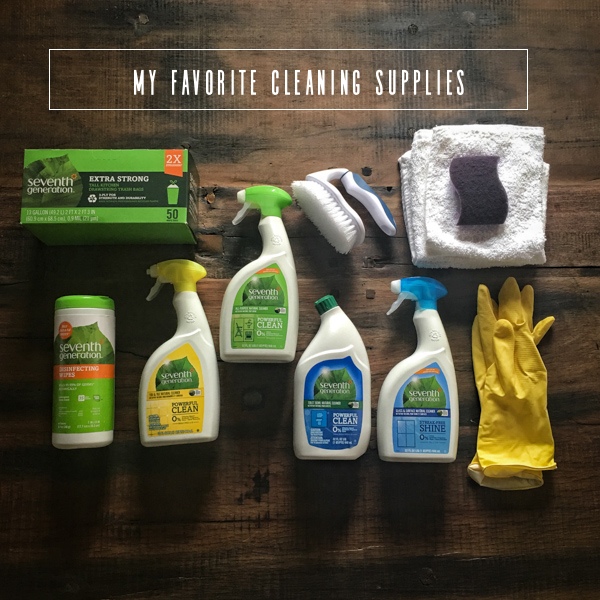 Cleaning Arsenal:
Before I put everything back onto the shelves, I wiped the shelves down with Seventh Generation Disinfecting Wipes. I use these all the time (even keep some in the car!) when I need to clean something up really quick. They're super convenient and they give everything an herbal smell.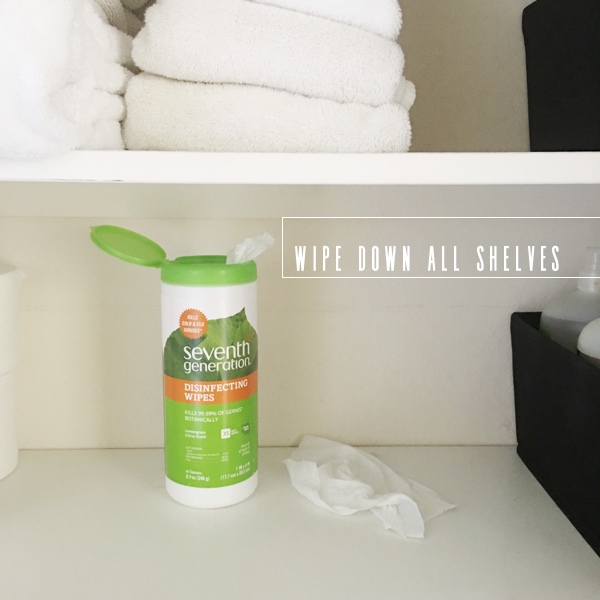 One of the biggest changes was moving the bins around and figuring out a good configuration. Instead of having all of the chevron pull-out bins lined up on one shelf, I dispersed them between three shelves so they are now two to a shelf.
I like that they're kinda tucked to the side and not taking up prime real estate.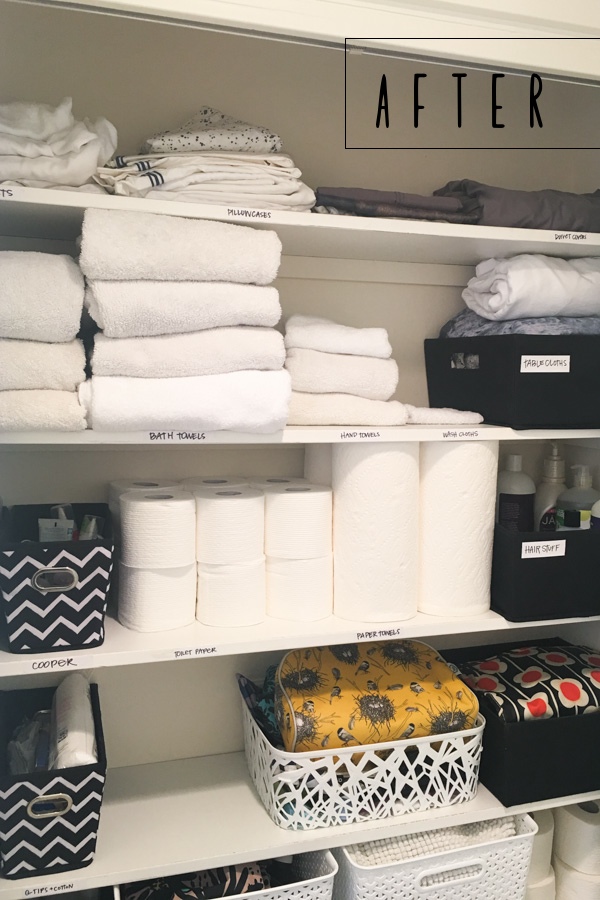 You can see that I hand wrote the labels for each shelf with tape.
That way I have a mental note of what goes in there. When we first moved into this house, I used a label-maker (which I love) but I think that sometimes writing things down and being more deliberate about the structure I'm setting up helps my brain remember what I need to do.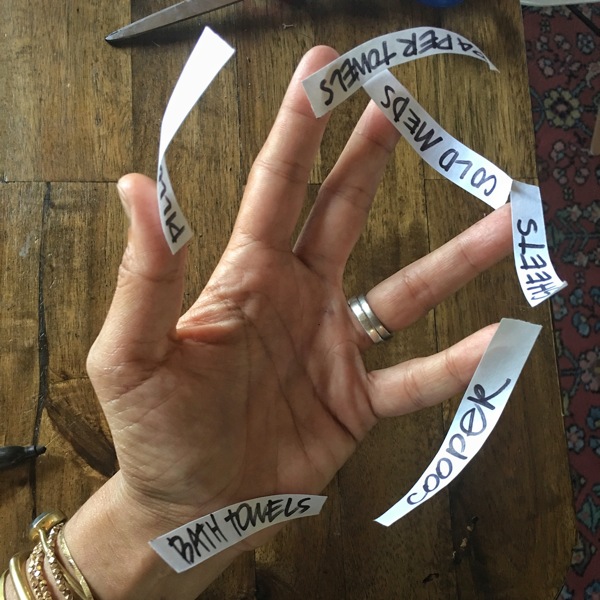 Another angle!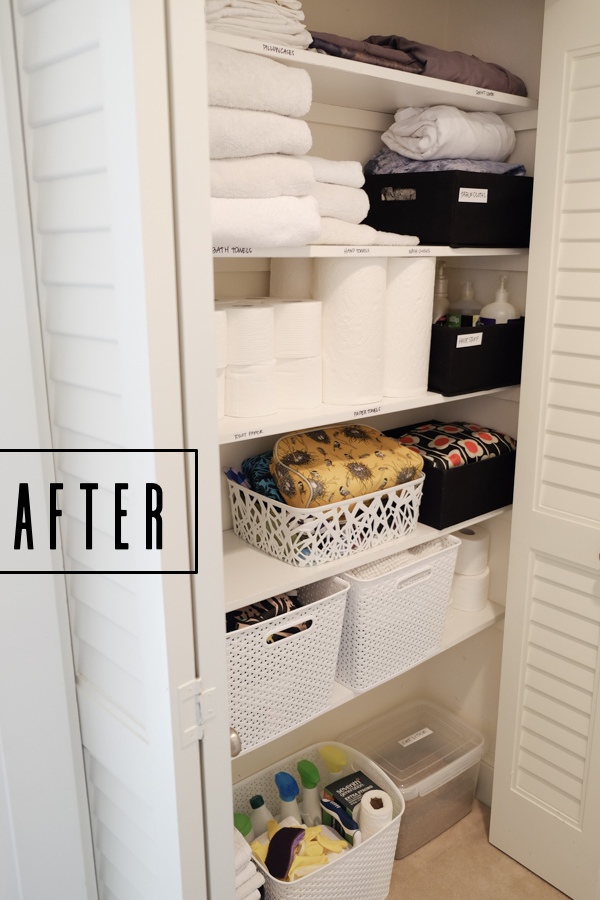 I put the toiletry bag stuff on this top shelf.
Middle shelf has our first aid kit. I am contemplating labeling it in the same way I labeled my bins in my laundry closet update, but I'm not 100% sure.
Next to it we have a bin with bathroom rugs and some extra toilet paper.
On the floor I have clean rags, my cleaning arsenal and I put the cat litter in a bin so I didn't have to look at the crazy bags of litter. It's all contained now.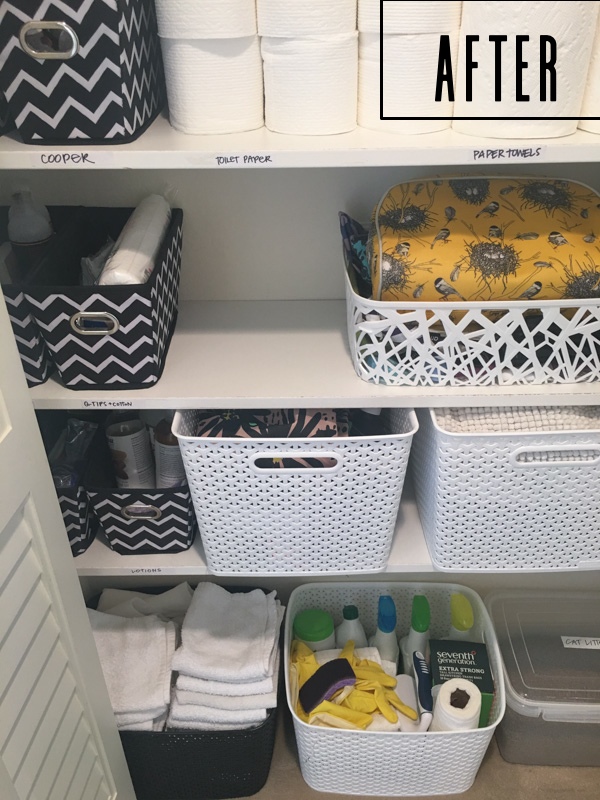 Nice and neat.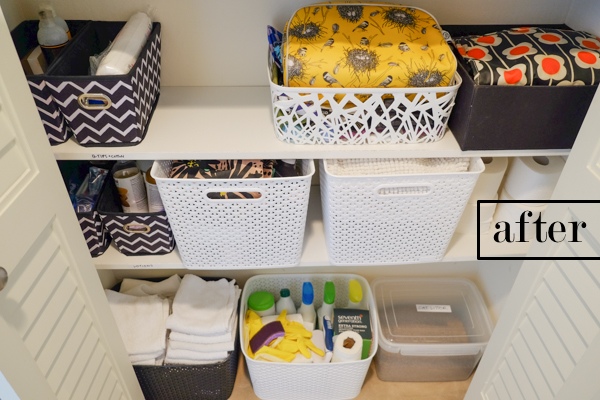 It should stay this way for awhile. It just comes down to making good habits and being more thoughtful about putting things away to keep things tidy.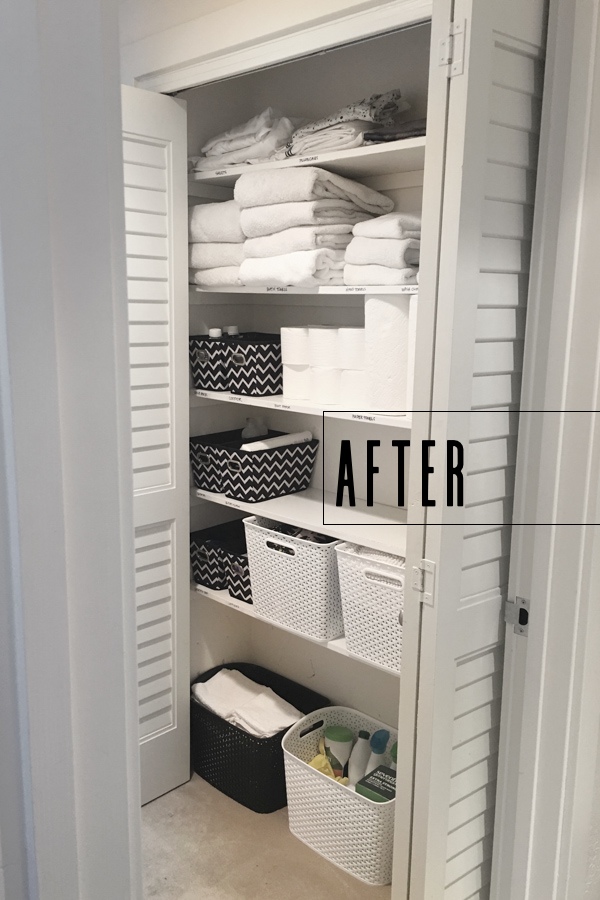 Hope this inspires you to find a system that works best for you. Happy organizing!
This Linen Closet Organization post was produced in partnership with Seventh Generation. As always, all opinions are my own.