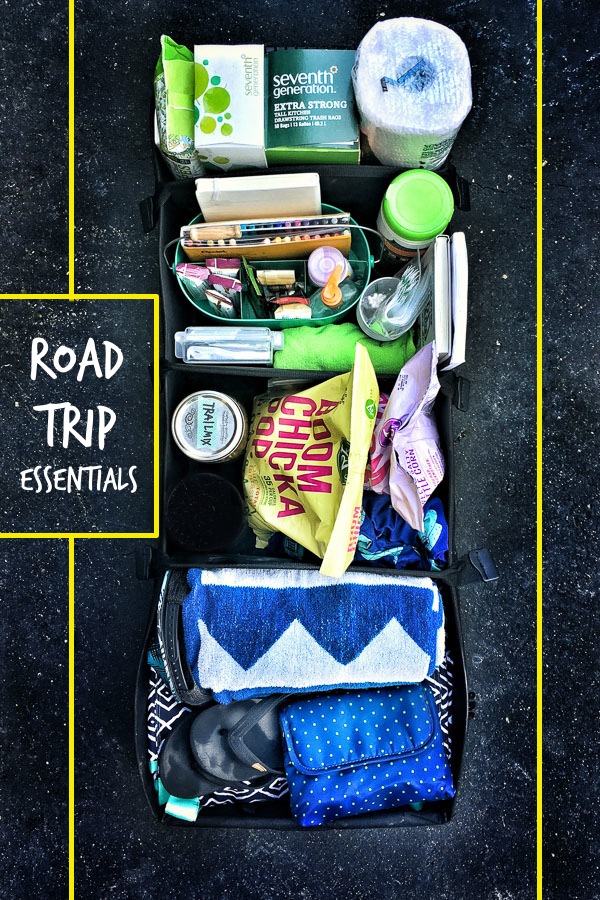 Here's a fun fact- I secretly love packing up a car. Why? Because it's like real life game of Tetris!  If it fits, you can bring it, and that means  that if you're smart about it, you can PACK SO MUCH.
Today I teamed up with Seventh Generation to show you what my Roadtrip Essentials are.  We're headed into road trip season so I created a foundation of things I like to have with us when we're on a long drive. Let's see what I pack, shall we?
First off, let's talk about my car organizer. I bought it last year and it's been a game changer. There are 4 separate (moveable!) compartments to the organizer, which means I can have a place for everything. Someone actually came up to my car the other day in the parking lot at school and admired how organized I was. The truth was that my organizer was a mess but I guess just having an organizer in your car makes people think you're organized. HA! Love that.
This is how I break down the 4 compartments.
I have the cleaning supplies on the far left. Next to that is my Entertainment section (mostly things for Cooper). I have a little caddy that I got at the dollar bin at Target for his stuff. It's great because he can pull it out an bring it to his seat if he needs to.
There's also a first aid kit in there.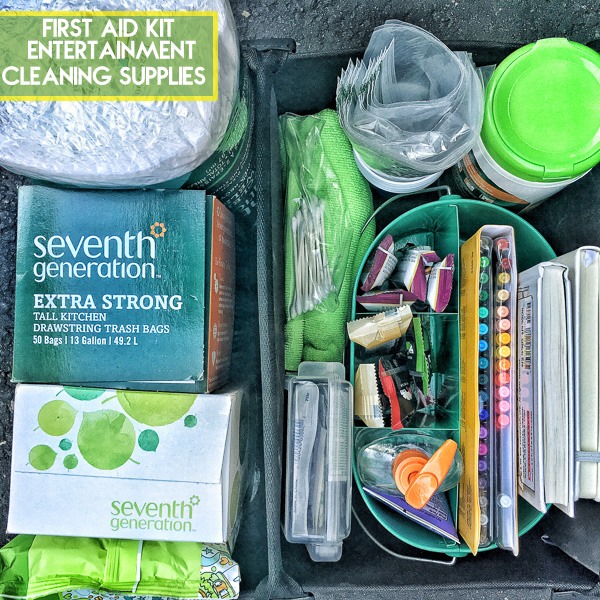 Snack section!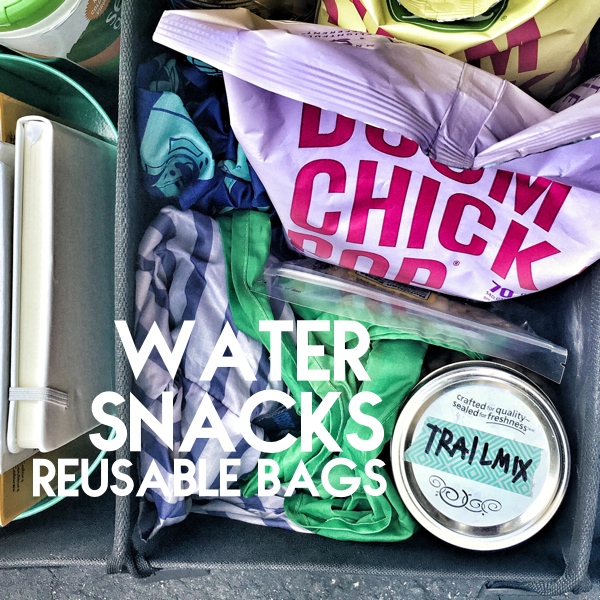 Clothes + Fabric related things.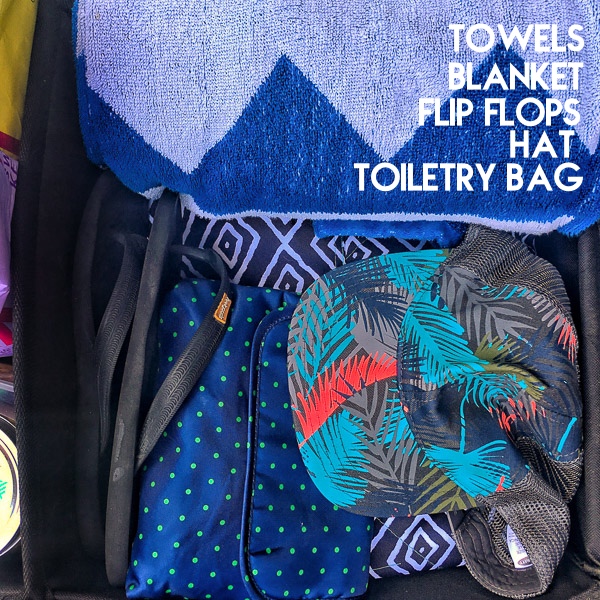 And let's dive deep into each section and see ALL of the good things I contained in the organizer.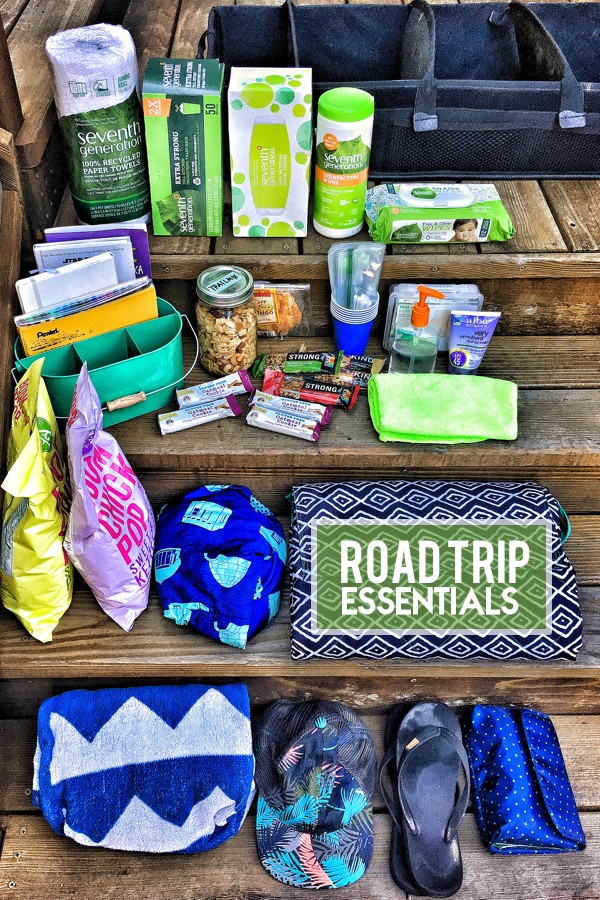 Seventh Generation Paper Towels– Never leave home without them! I always carry a roll in the car. You never know when you'll need them. I mean…I need them all the time because we spill things ALL THE TIME. I'll pull them out if we need napkins on a picnic.
Seventh Generation Garbage Bags– Always a good thing to have with you. If you have wet clothes or maybe someone got a little car sick? GET THE GARBAGE BAGS. If you're at the beach toss sandy/wet items in a bag and prevent all the sand from getting over the place. Cleanup after your campsite and throw your trash away! Be prepared.
Seventh Generation Tissues – There's something about being in a car that makes people feel safe about picking their noses. When you catch someone doing it, offer them a tissue. Ahem, child.
Seventh Generation Disinfecting Wipes– I can't tell you how often I use these things. Kids make everything sticky. I don't like ANYTHING sticky and I also don't like germs. Done deal. I also use the disinfecting wipes to wipe things off in my makeup bag while we're on our road trip. Gotta fill the time somehow!
Seventh Generation Free & Clear Baby Wipes– For sticky children and for adults who need to freshen up a bit. These wipes are really gentle and I always keep them in the car because sometimes my child has to be presentable and I can't let him go to school with a milk mustache on. The other day I caught him eating chocolate in the back of the car and OMG thank god for wipes.
Water is a must. But if you must remember that the more you drink, the more you're going to have to pull over at rest stops. Public bathrooms freak me out.
Notepad + Pens are for when you're feeling inspired or want to do a doodling game with your son in the backseat. Maybe you'll write your Summer Bucket list while you're in the car? Pens and pencils in the car only. We had an orange crayon melted into the side of my mom's station wagon as a kid that has banned all crayon related items from my car. Here's a collection of coloring books if you need some inspiration.
Snacks – I like to have a combination of sweet & savory in my snack repertoire. I have sweet popcorn + salty and I have both sweet granola bars + savory ones. We have dried mangos/fruits for when Cooper wants candy and I'm like…. EAT DRIED MANGO. My rule for car snacks? Well, I actually have a ton of rules about eating in my car. Do people follow them? That's another story. Number one rule is: No chocolate in my car. It melts. So no bars or trail mix that have chocolate in it. You live/you learn.
Plastic bags- I always carry a few plastic bags in the car. Sandwich bags are great (especially if you have kids) for putting random legos in. They can also be good if you want to consolidate snacks or if you want to collect treasures from your adventures.
Plastic Cups- We have a few in our car to put snacks in (they fit perfectly in cup holders!) They're also great for trips to the beach. Sand castles!
First Aid Kit- I always keep one in my car. I actually had to use it at little league practice the other night!
Sunscreen- I always try to have sunscreen in the car because when we're out and about and need to be protected.  I try not to keep it in the car when it's too hot. But you know, better safe than sorry. No one likes to sit in a car for long periods of time WITH A SUNBURN.
Hand Sanitizer- Always and forever. I mean…. have you taken a good look at those rest stop bathrooms?!
Microfiber Towel- I absolutely LOVE being a passenger because I love looking outside and seeing new things. Sometimes I'll read, sometimes I'll color, and sometimes I'll detail the inside of the car while we're on a road trip. A microfiber towel is sooooo awesome for dusting your dashboard, doors, cup holders, etc. I keep some q-tips for fine detailing and the Seventh Generation Disinfecting Wipes are great for wiping down leather seats.
Beach Towel- I always keep at least one beach towel in our car. If we're at the beach, Cooper is most likely to jump in (no matter how cold it is). Cooper is also the one most likely to complain about being wet. If I'm planning ahead and all three of us are going swimming, I'll pack three, but for now one will do. Gotta have one at all times.
Reusable Grocery Bags– An essential! We always have a few for grocery shopping but on trips I find them to be so good for separating stuff in the car. They're really great for dirty laundry too.
Toiletry Bag– As a passenger I also like tweezing my eyebrows (I KNOW I KNOW!) while I'm a passenger in the car. I feel like if I'm stuck in the car for that long, I might as well make it productive and knock something off the TO DO list. That's why I always keep a mirror, tweezers and a nail file in a toiletry bag in my car.
Hat- Because sun damage is no bueno. Wear a hat. Don't forget sunglasses!
Flip Flops- Oh! Are you headed to the beach and you're wearing sneakers? You've got a pair of flip flops in the car. You're prepared. Also, if you feel like getting a last minute pedicure, you're all set with your flippies.
Books- We read in the car. Sometimes we get woozy, sometimes we don't. It's worth it though. We're big readers in our family.
All of that fits in here!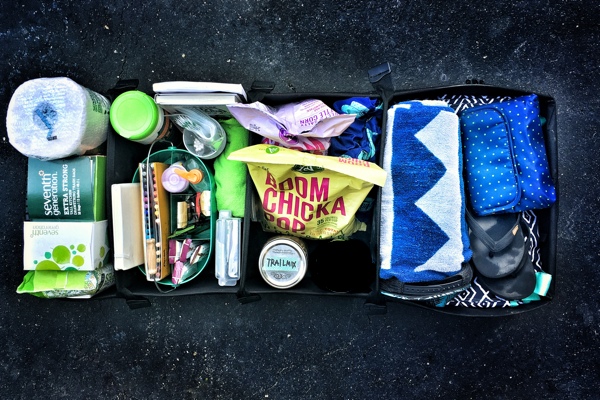 And now we have the car packed and we're ready to go!
SO MUCH ROOM FOR ACTIVITIES! (Just need to add my beach chairs)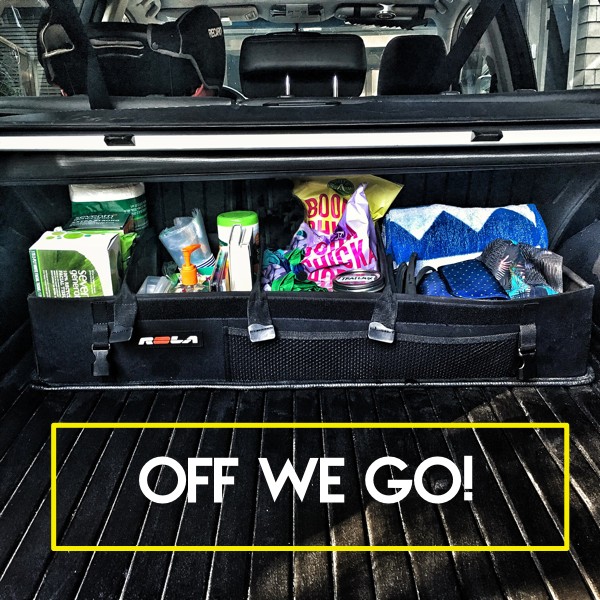 Happy Trails!
This post was produced in partnership with Seventh Generation. As always, all opinions are my own.