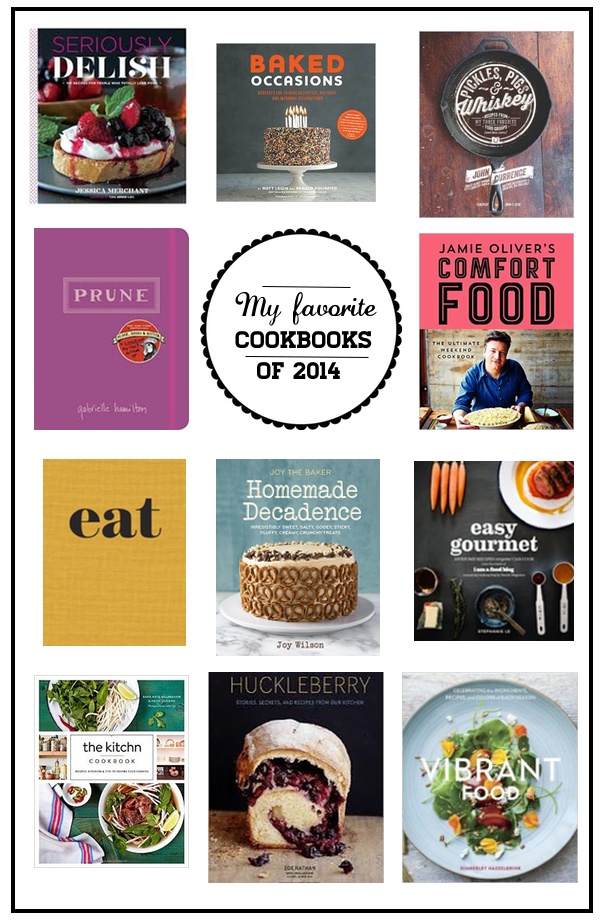 I put together this roundup of all of my current favorite cookbooks because there's bound to be someone in your life (maybe even yourself!) who deserves a good cookbook this time of year. Treat yo'self & others because there will no doubt be good food as a result.
We'll start from the top:
Seriously Delish: 150 Recipes for People Who Totally Love Food– For the person who loves family get-togethers and making their coworkers a little thicker with baked goods. I mean…who doesn't like to unwind after work with a baking session??!  This is the ticket! Jessica makes food fun and has some really awesome food combinations. I've made her Sour Cream & Onion Popcorn  from the book and we inhaled it!
Baked Occasions– For the person who bakes on ANY occasion, this one is great. I love ALL books by Matt Lewis & Renalto Poliafito.  They always inject quirkiness and humor into their recipes. There are many classic recipes in this book with wonderful/unexpected twists! A few savory recipes too– which I enjoy.  The photography & food styling in their books always captivates me.
Pickles, Pigs & Whiskey: Recipes from My Three Favorite Food Groups and Then Some  I think the title says it all. Would make a great gift with a bottle of whiskey, a nice jar of homemade pickle and…..a slab of bacon.  These are hearty recipes- ones that fill the belly. I'd totally buy this one for my brother-in-law and then make him invite us over for dinner.
Prune– Having been to Prune a few years ago, I was excited to get this one…since I'll have to fly out to NYC to have another meal there. This is such a fascinating cookbook! The format is fun to look at; it's like peeking right into the restaurant's notebook.  There are handwritten notes by Chef Hamilton throughout the book that I find both charming and helpful. That lady is such a badass. Mad respect!
Jamie Oliver's Comfort Food: The Ultimate Weekend Cookbook–  If you're looking for inspiration for your weekend and want take things slow…with good food to boot, this one is for you. Jamie reminds us that time spent in the kitchen and around the table on the weekend is the ultimate way to recharge one's batteries.  Amen, Jamie.  I love all of your books because you're writing style makes me happy plus your food is always comfort food and I love that about you.
Eat: The Little Book of Fast Food — For someone who doesn't have a lot of time in the kitchen, but loves fantastic ideas this book is amazing. I've been reading a few recipes each night before bed and am left feeling inspired. I got this little grilled panettone recipe idea from the book. The book is kinda like Canal House Cooks Every Day meets An Everlasting Meal: Cooking with Economy and Grace (two of my favorites!).
Joy the Baker Homemade Decadence: Irresistibly Sweet, Salty, Gooey, Sticky, Fluffy, Creamy, Crunchy Treats  If you're the type of person who thinks MORE is MORE, get this book!  I can imagine a lot of people will be entering these recipes into baking contests… Joy is the master of the salty sweet combination I love so dearly. Totes maj. Proud of you, boo.
Easy Gourmet: Awesome Recipes Anyone Can Cook– Easy and Gourmet are two of my favorite words. This book will get you through a hellish work week and fancy yet uncomplicated weekend brunches. There are soooooo many recipes Casey wants me to make in this one. Oh and these fried chicken sliders went FAST at my house.
The Kitchn Cookbook: Recipes, Kitchens & Tips to Inspire Your Cooking– For the person who wants to learn more about cooking this book is a fabulous resource. I have a lot of family friends who are college students living in their first apartment and I wouldn't think twice about gifting them this book with a few kitchen essentials.
Huckleberry: Stories, Secrets, and Recipes From Our Kitchen– For a loved one who enjoys beautiful food photography, classic baked goods, exceptional paper quality and a good story. I just made a persimmon cake from this book that I can't wait to share with you!
Vibrant Food: Celebrating the Ingredients, Recipes, and Colors of Each Season– For the produce lover in your life who also loves photography and is curious about seasonal eating– gift them this!  Also make this Thai Chopped Tofu Salad. It's INCREDIBLE.