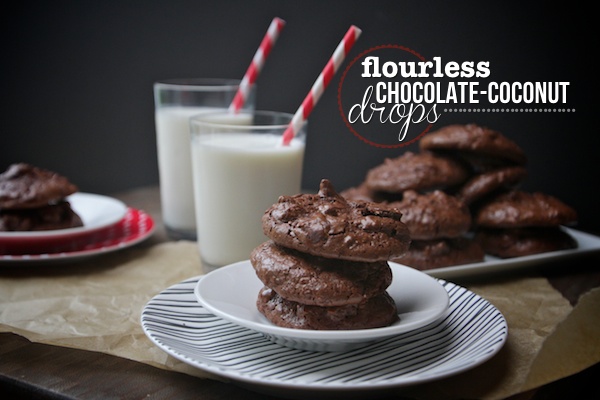 It's a shame that certain things like chocolatey chocolate cookies don't photograph well. It just means I need to be better at describing the taste for you. OK, here it goes. You ready?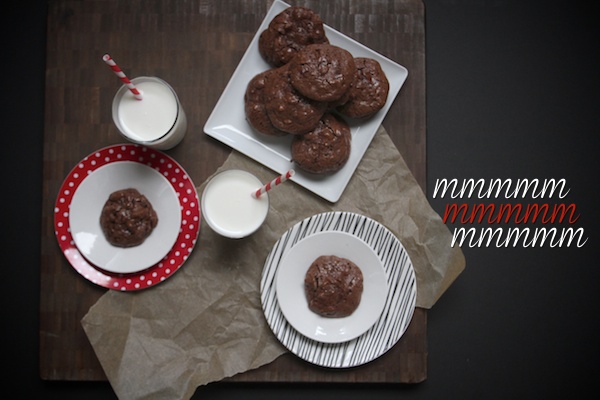 While standing in the kitchen eating these with my husband (we were hiding from our 4 year old), I was able to figure out what they taste like.
These Flourless Coconut Chocolate Drops are a cross between rocky road and an almond joy candy bar mixed with crispy/chewy brownie notes.
MIND BLOWN!!!!!!!!!!!!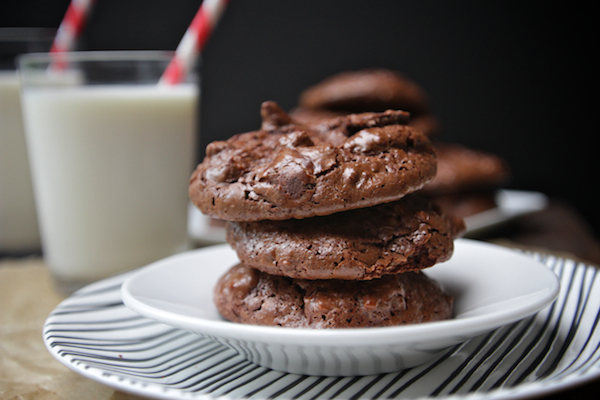 If that doesn't get you hopping to this recipe, let me also say that they're gluten free, SUPER easy to make and they'll disappear in seconds.
They also should come with a warning label. Warn the people  you're making these for!
And we're off!
The ingredients list is SMALL. I love that in a recipe.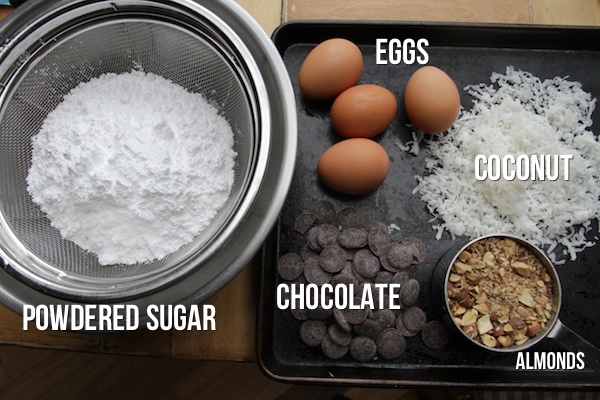 First we sift the powdered sugar with the cocoa.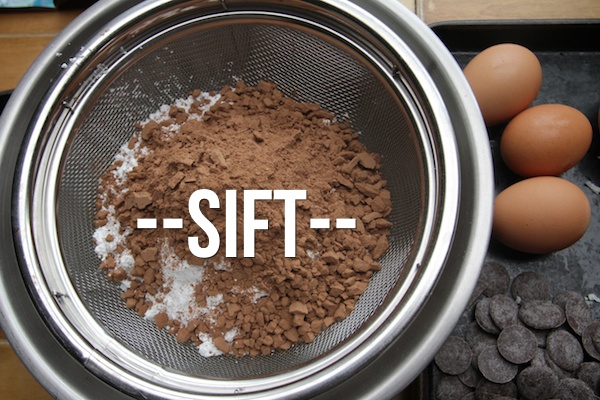 Then we separate the yolk from the egg whites. We need egg whites for this!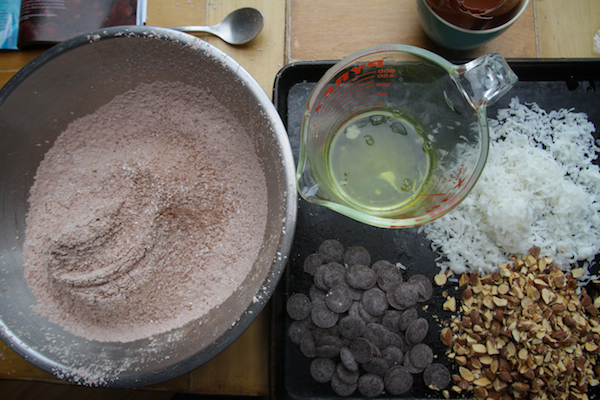 Chopped nuts, chocolate chips & coconut get blended in to the powdered sugar/cocoa mixture.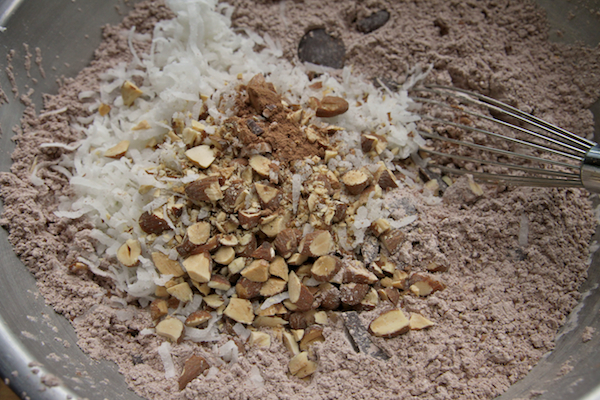 Hello egg whites! So nice of you to join us.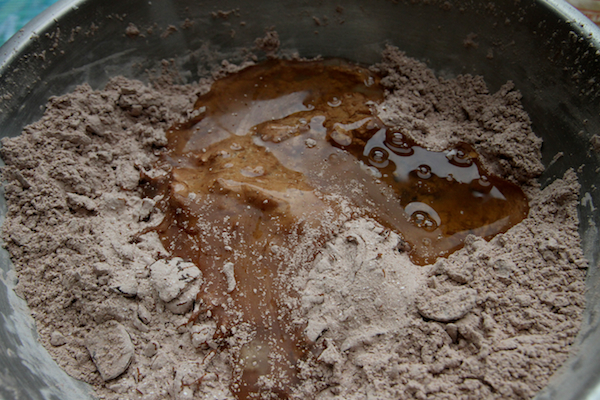 Stir stir! This is what the batter looks like when it's mixed. It's super gooey.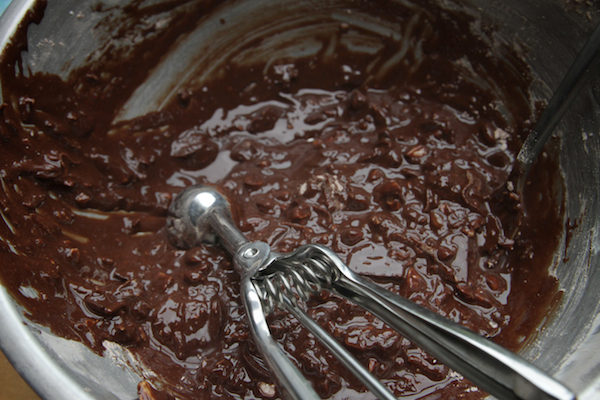 With a small ice cream scooper, line up the cookies on a parchment lined baking sheet.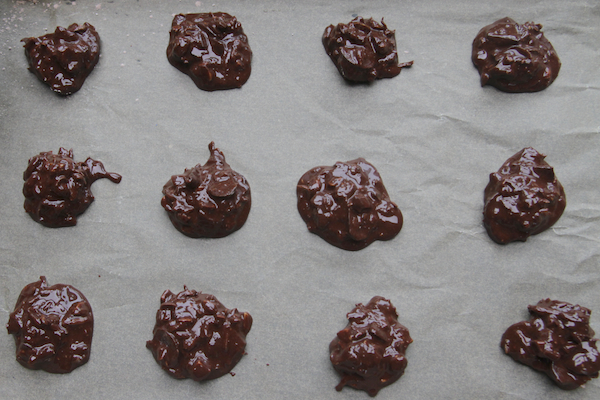 BAKE!!!  Amazing, isn't it?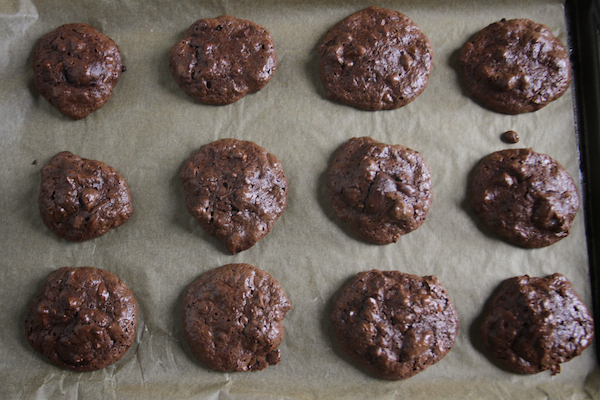 Crispy outside and chewy center. Filled with sweet coconut and crunchy roasted almonds.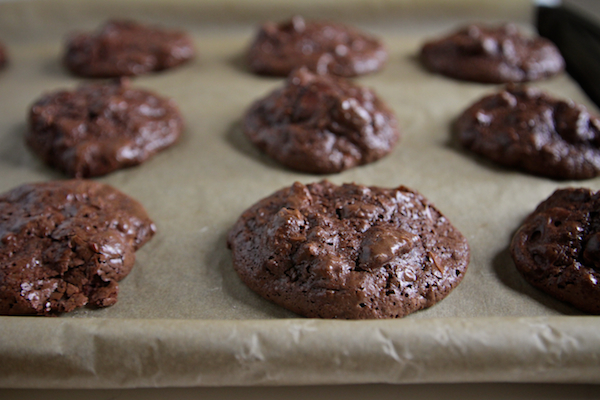 I'd liked to eat this right now.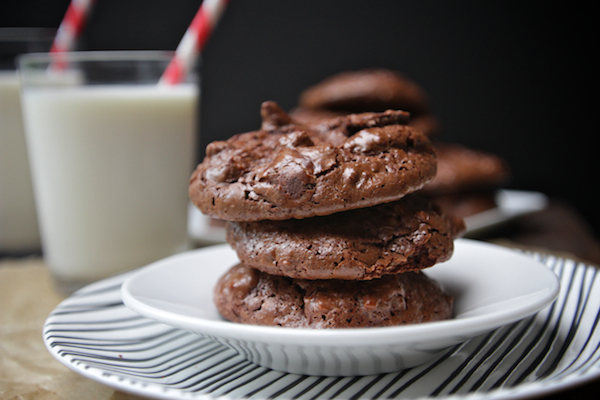 But I was rude and ate them all last week. DANGIT. I did give *some* away.

Flourless Coconut Chocolate Drops

makes 2 dozen
recipe from Everyday Food Magazine

3 cups confectioners' sugar, sifted
3/4 cup Dutch-process cocoa powder (spooned and leveled)
1/2 teaspoon fine salt
3/4 cup semisweet chocolate chips (5 ounces)
1 cup roughly chopped toasted almonds
3/4 cup sweetened shredded coconut
4 large egg whites, room temperature

Preheat oven to 325 degrees, with racks in middle and lower thirds. In a large bowl, whisk together confectioners' sugar, cocoa, and salt. Stir in chocolate chips, almonds, and coconut. Add egg whites and stir until combined (do not overmix).

Drop dough by rounded tablespoons, 2 inches apart, onto parchment-lined baking sheets. Bake until tops are dry and cracked, 15 to 18 minutes, rotating sheets halfway through. Let cool completely on sheets on wire racks.