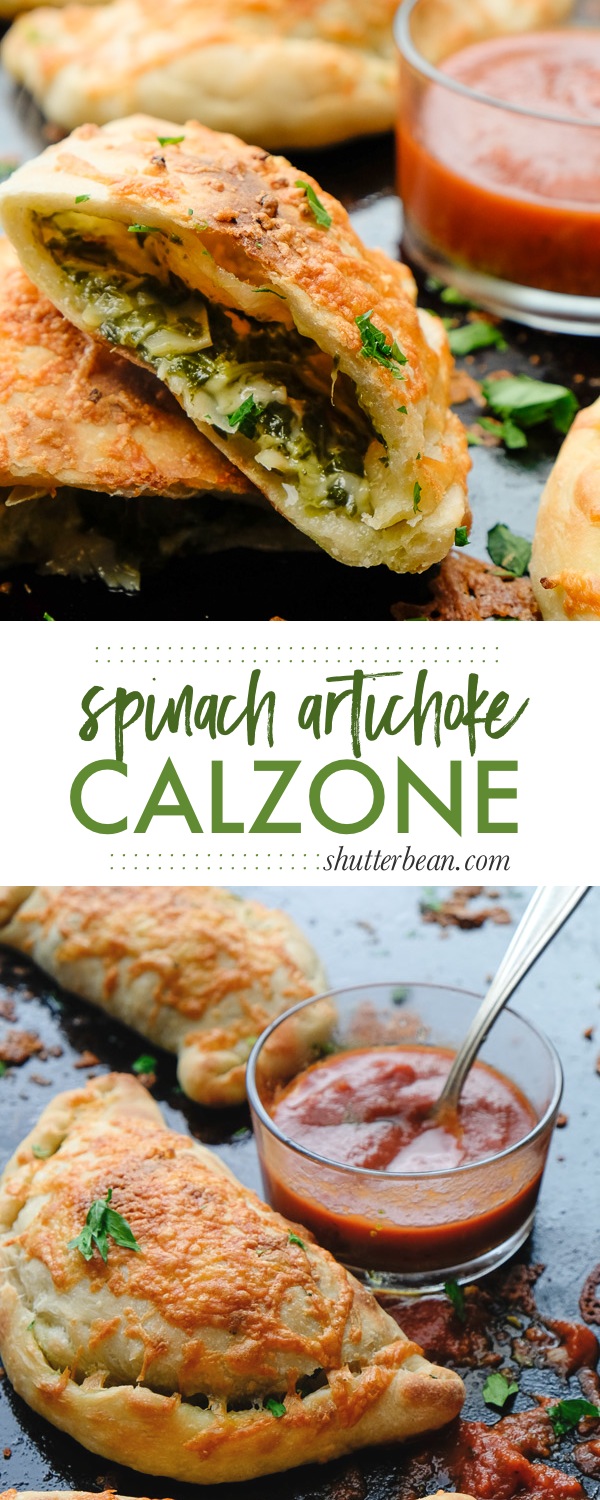 You're either a fan of calzone or you're not.
I waffle back and forth….because sometimes I'm just not in the mood for ricotta.
Too much ricotta in a calzone ruins it for me. Ricotta can sometimes make the calzone soggy and WHO WANTS SOGGY CALZONE?
We were out to eat a few weeks ago and I saw calzone on the menu that didn't have the obligatory HEAPING PILE of ricotta in it. Nope. None.
It was one of the best calzones I've ever had and here my recreation.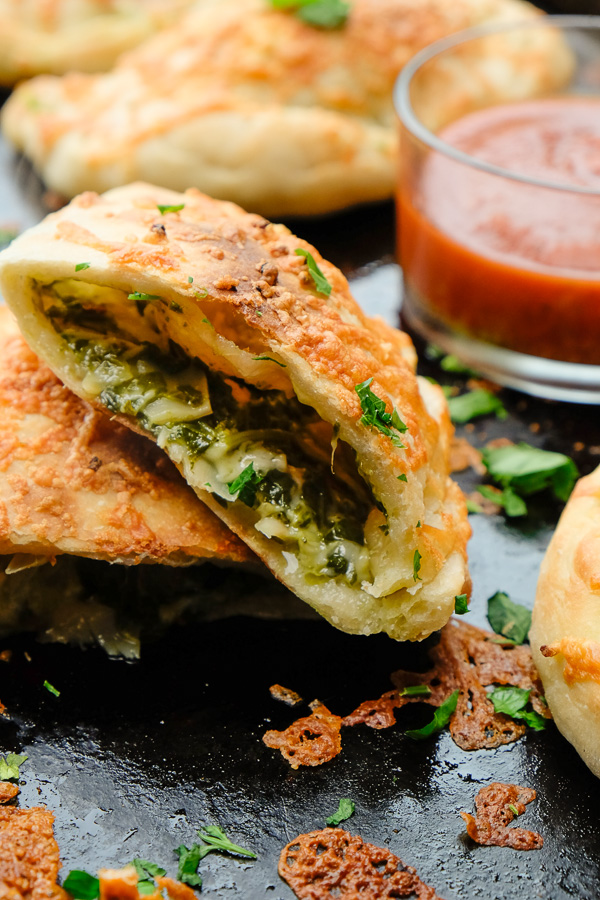 When I watched the guy in the back baste the top with garlic infused oil, I knew it was a match made in heaven.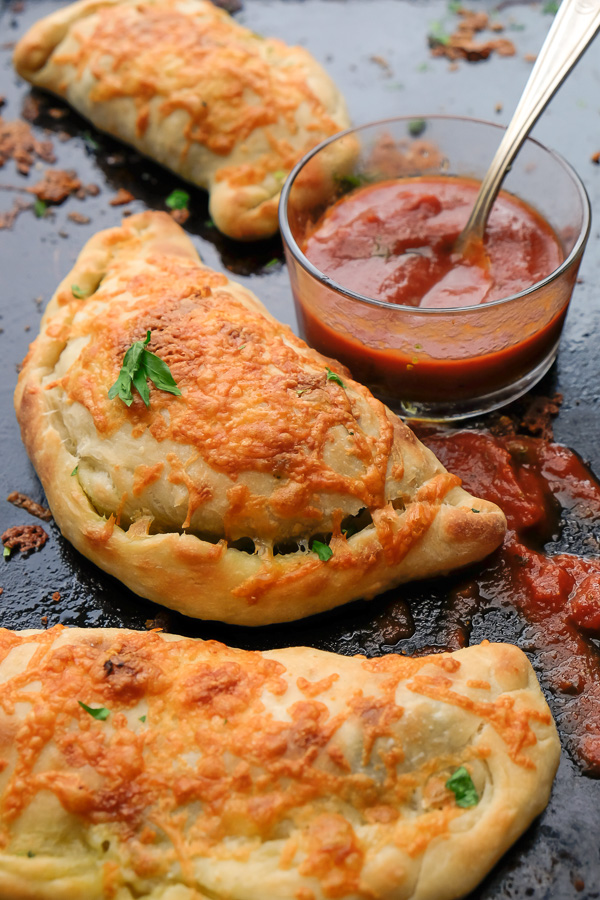 What we have here is a Spinach Artichoke Calzone that's stuffed with a mix of mozzarella, feta, spinach, marinated artichokes, pesto and red pepper flakes. It's topped with garlic infused oil and a sprinkle of cheese to crisp up in the oven. I served it with a side of marinara for light dipping action.
This has turned me back into a calzone lover. Maybe it will do the same for you? Or maybe it will help remind you that calzone would make a good addition to your meal rotation soon?
Let's gather our ingredients.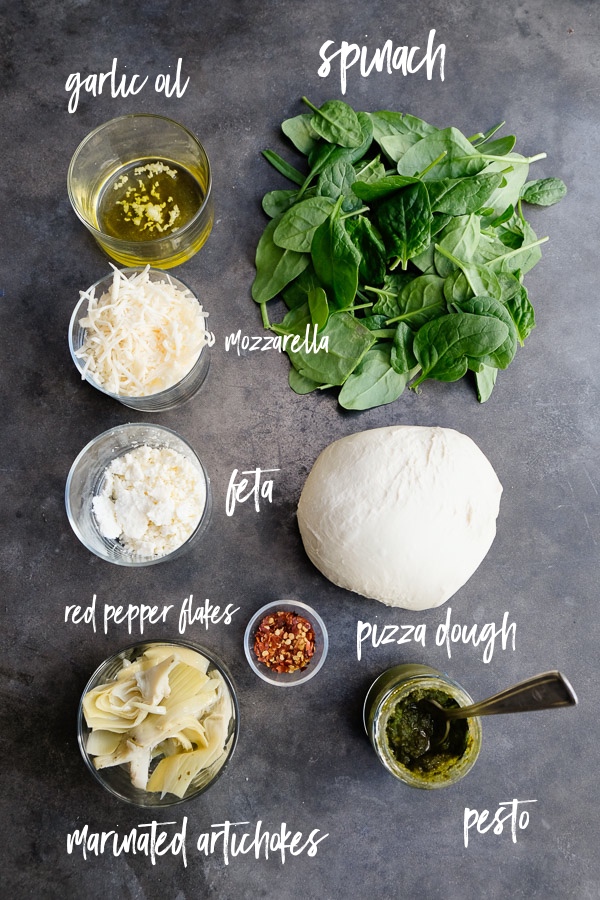 Spinach and artichokes get chopped. Mostly because we don't want to bite into large chunks.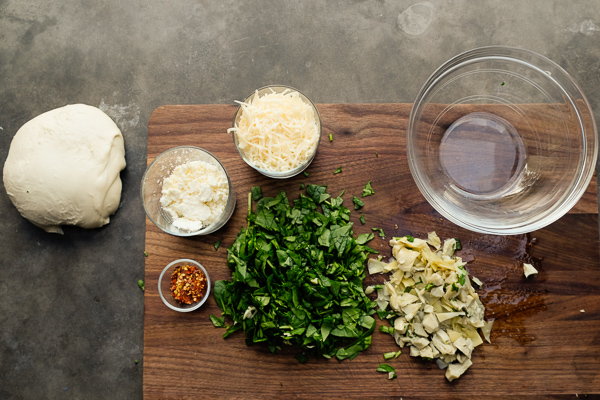 Release the tension with chop therapy.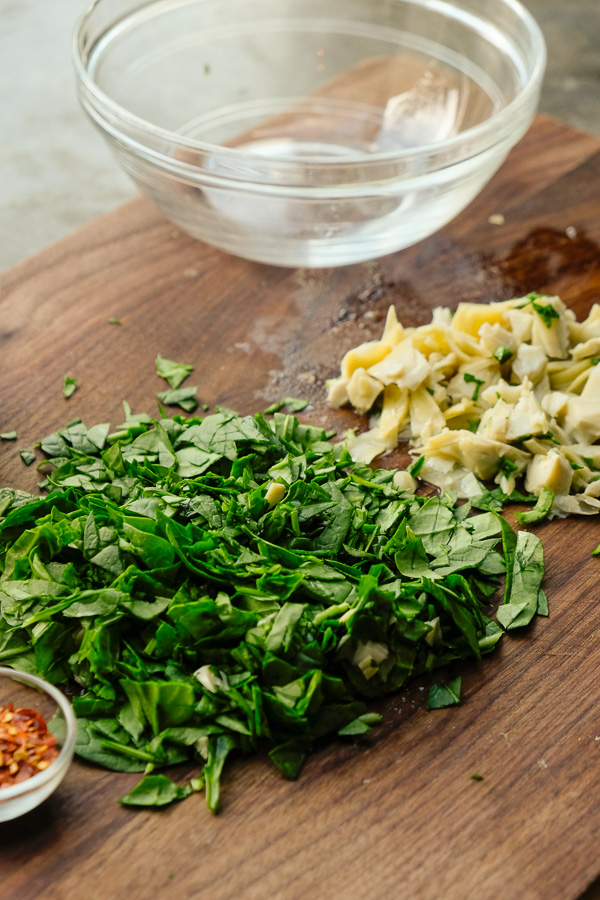 Stir in the cheeses + red pepper flakes.
Sidenote- I used Trader Joe's Quatro Formaggio blend in this. It's nice to have a few different cheese options going on for flavors. We also have some crumbled feta up in the mix.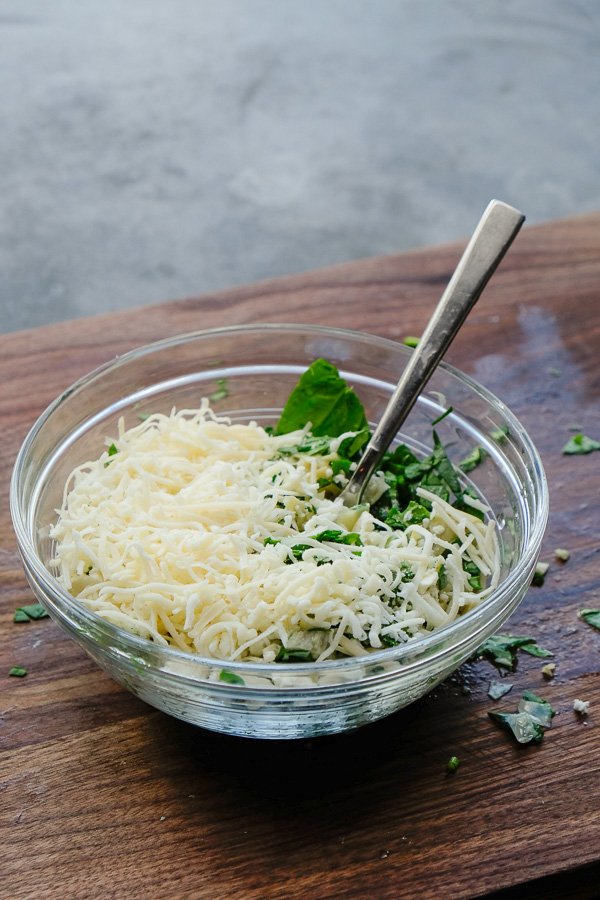 Pizza dough has been cut into 4 pieces.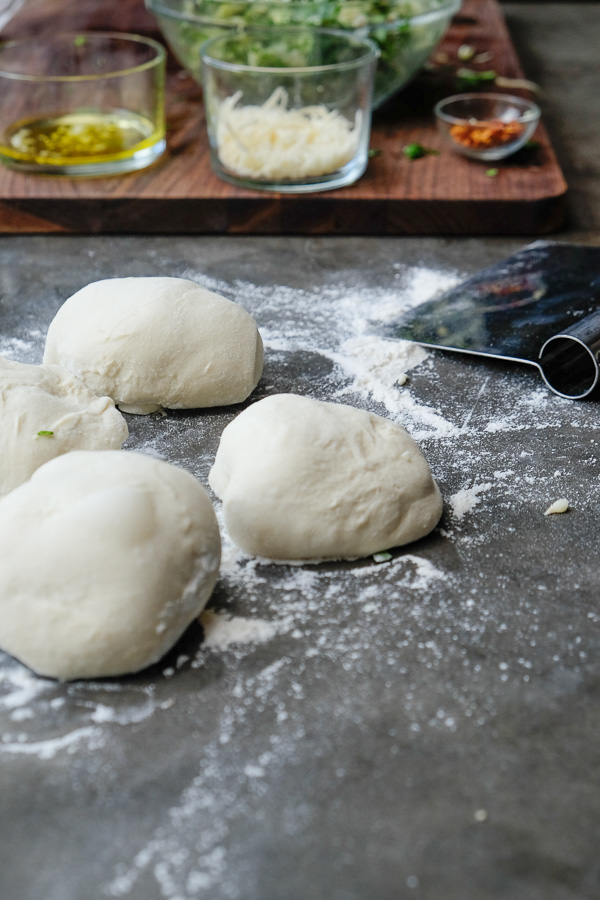 Start shaping them. Turn them into circles.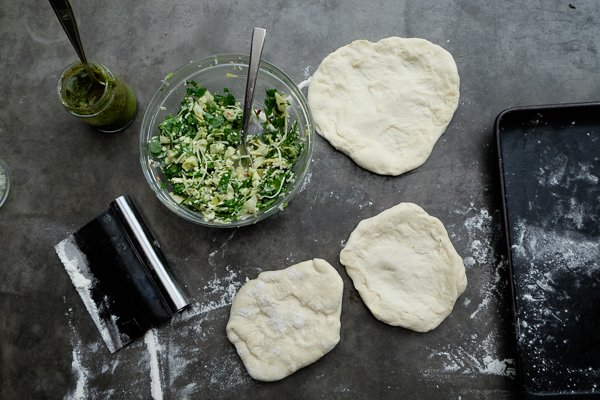 Or don't make them perfect circles.
Life is not perfect. But as long as it tastes good and looks pretty good, what's the problem?
Pesto layer. Then filling.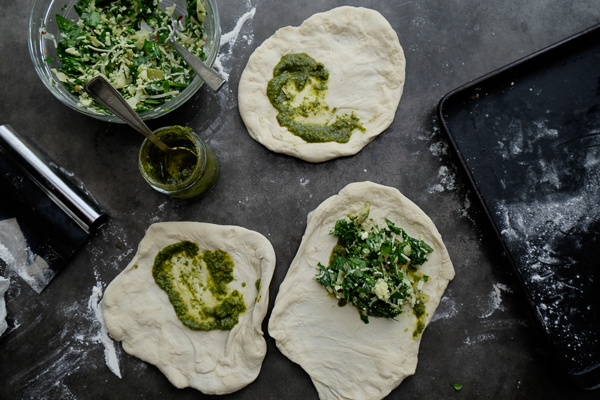 Put the filling on one half. Fold the half over and join the sides.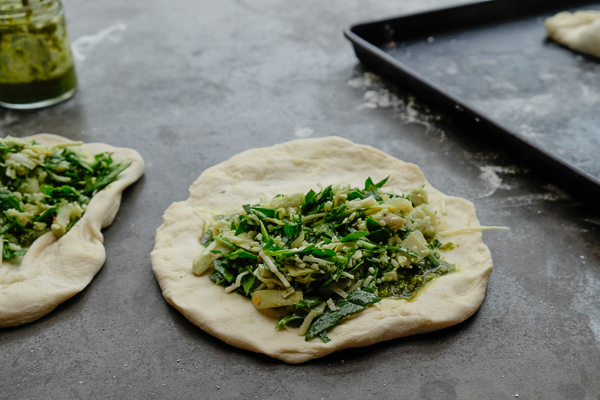 Crimp. Curl up and inward.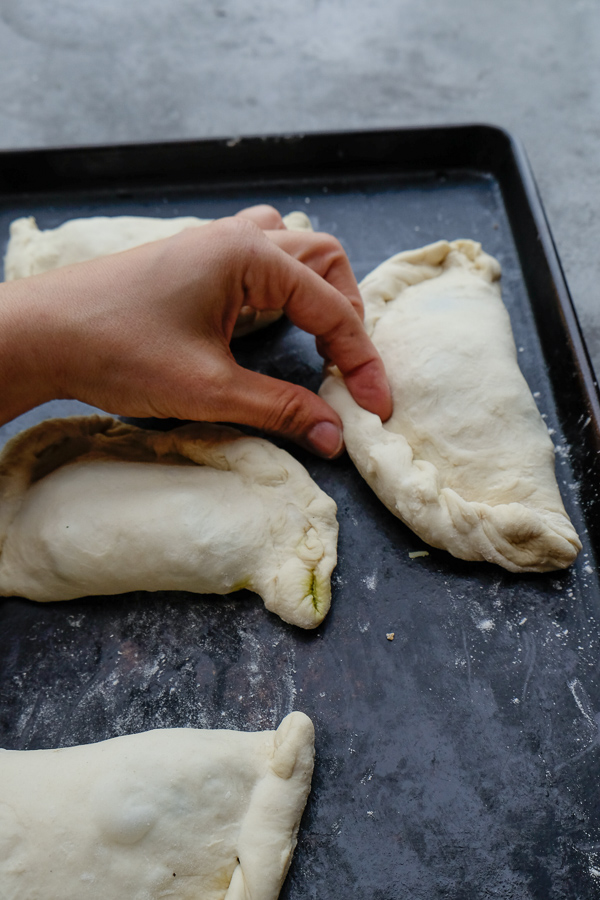 4 perfectly imperfect calzones are off to the oven.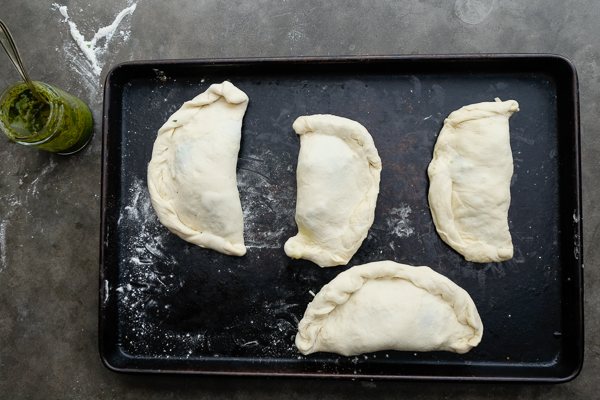 After about 5 mins at 500F we do a little basting action with the oil.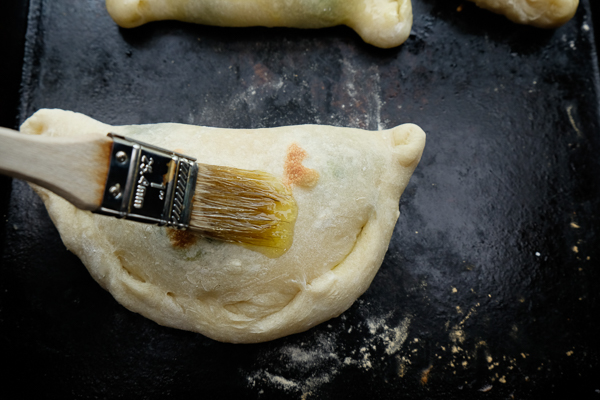 Top with cheese.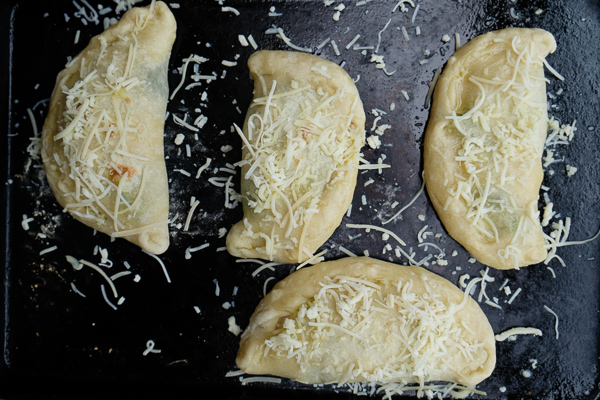 BAKED.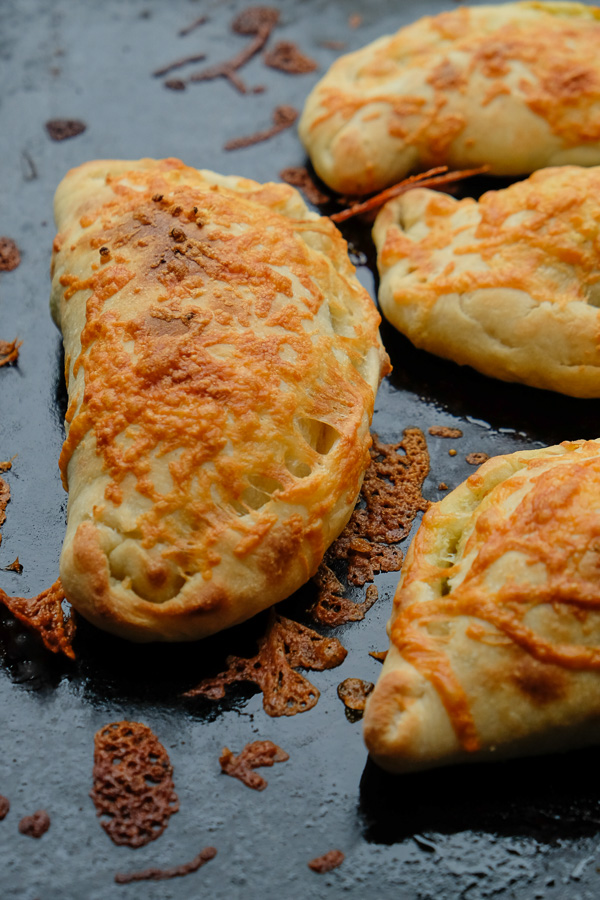 I might have purposely spilled cheese on the baking sheet for snacking on later…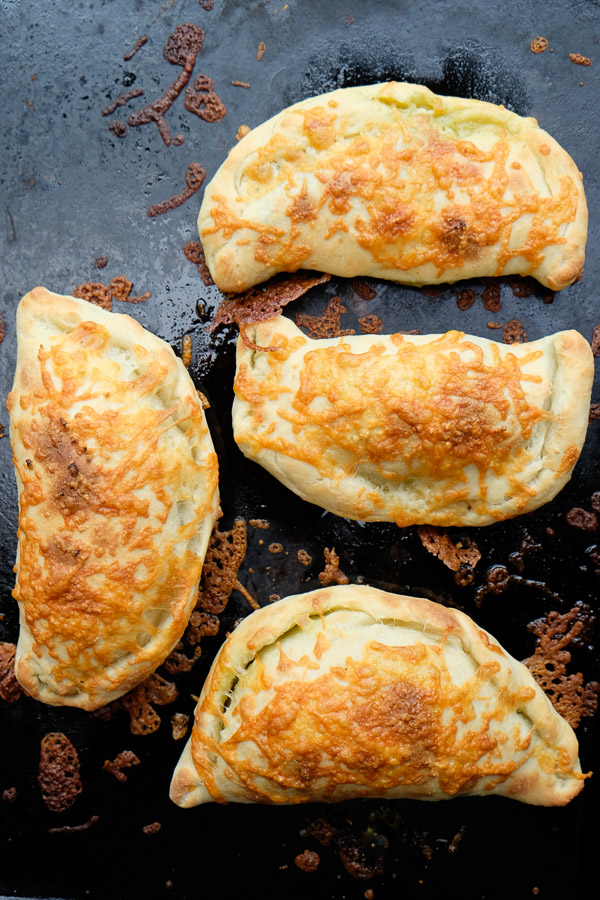 A thing of beauty.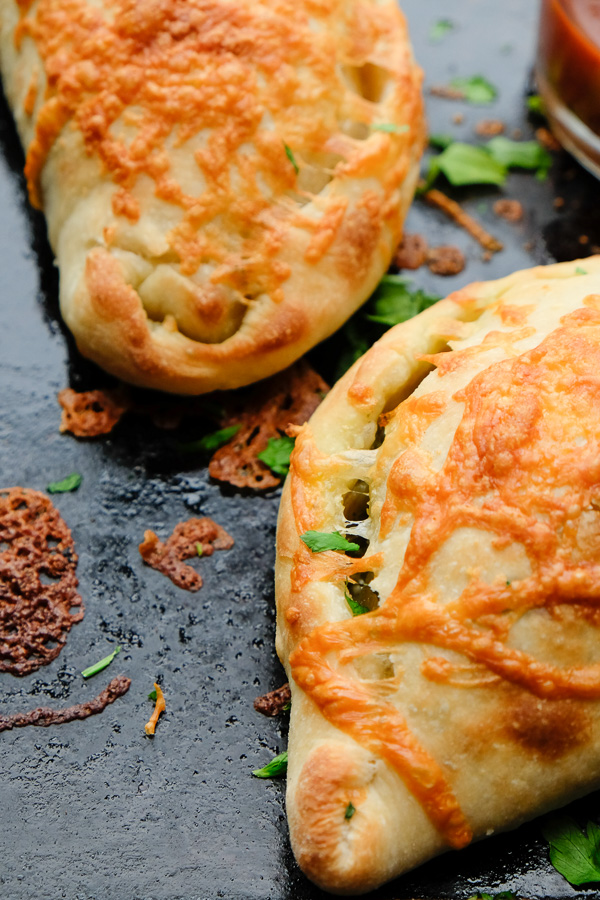 They're nice and portable.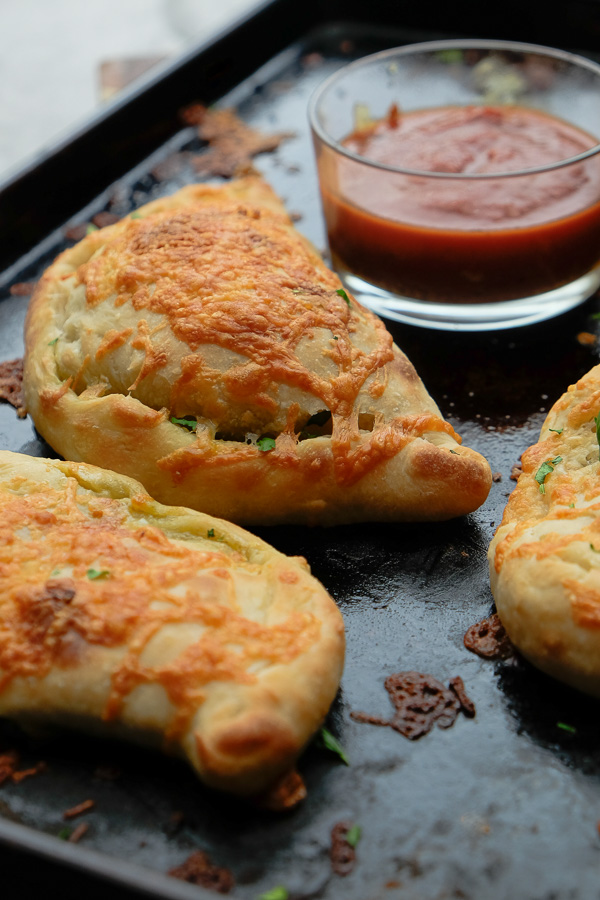 Kinda like a hot pocket…but OH MY GOD. Look at that filling.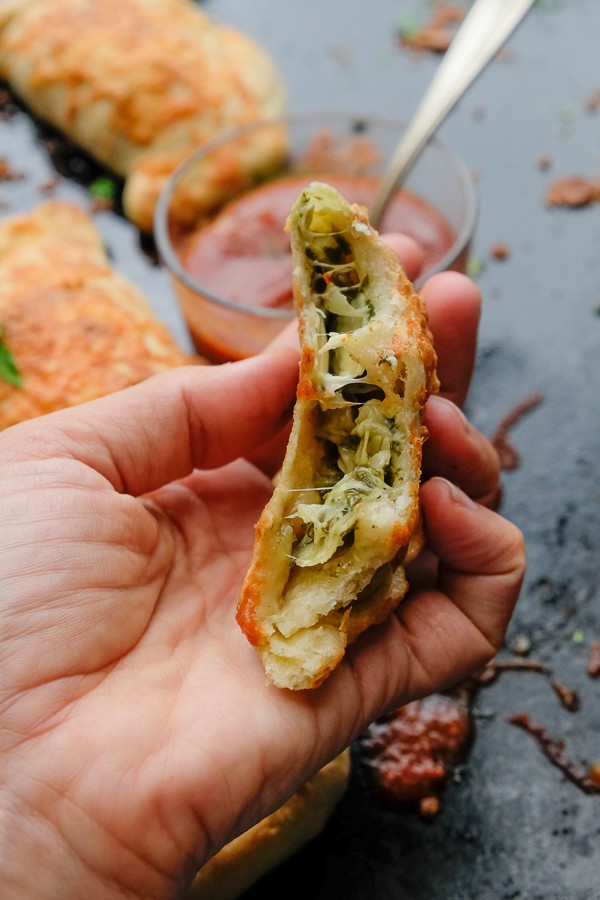 It kind of tastes like spinach artichoke dip + a calzone had a baby.
These would be great to have in the freezer for quick weeknight meals.
Spinach Artichoke Calzone

serves 4

3 cups chopped spinach
1/2 cup chopped marinated artichokes
1 cup mozzarella cheese, shredded, plus more for topping
2 tablespoons crumbled feta
2 tablespoons olive oil
2 garlic cloves, minced
⅛ teaspoon red pepper flakes
1 lb. pizza dough
1/4 cup pesto
marinara, for serving

Preheat oven to 500F.

To make the garlic infused oil, mix minced garlic and oil in a small bowl and set aside to infuse.

Combine spinach, artichokes, mozzarella, feta and red pepper flakes in and a medium bowl.

Place dough on a lightly floured surface and divide into 4 even pieces.

Flatten each piece into a 7 inch round on a baking sheet and spread about 1 tablespoon of pesto onto each dough round half. Divide the spinach filling evenly over half of each dough round, making sure to leave a 1-inch border around the edge. Fold over, securing edges by folding in and pressing with a fork.

With a sharp knife, cut a small steam vent on top of calzones.  Transfer calzones to the oven and bake for 7 minutes. Brush the calzones with garlic oil and sprinkle on reserved cheese. Bake for another 5-7 minutes, or until calzones are golden. Serve with marinara sauce.