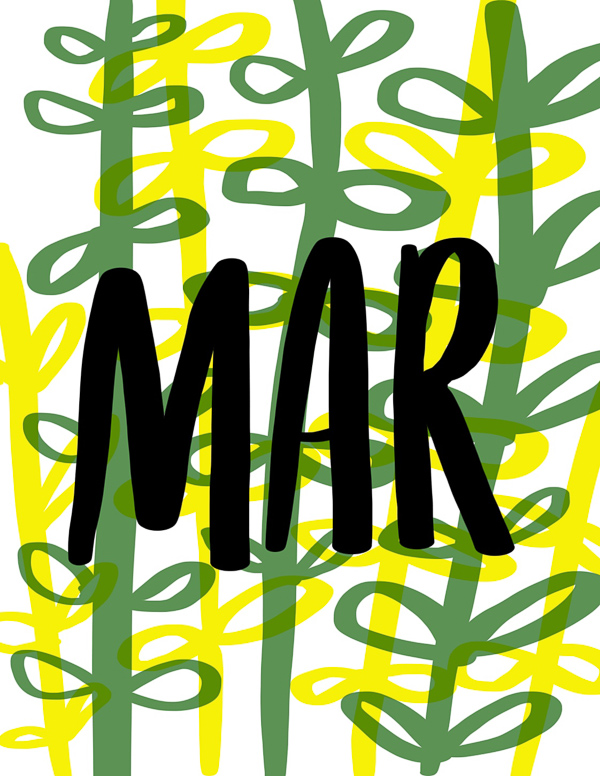 Currently March 2018
March was kind of a doozy. We had a lot going on! So many emotions too. Birthdays, anniversaries (my parents would have had their 49th anniversary on the 16th). I've also just been feeling really low emotionally. I've had some major epiphanies this month. It's now really sinking in that I'm the only female in my family. Also, my biggest advocate (my mom!) is gone so I've really had to figure out how to Mom myself.
There were a few things that happened this month that would have felt easier if I could have talked to my Mom about it. She was always there to listen and offer me solid, thoughtful advice. I wonder if I'll ever find that intimacy level with anyone in my life again. So, that's running in the back of my mind while I try to carry on with my work & life.
The warmer weather between the rainy days is giving me hope. I am grateful for sunshine!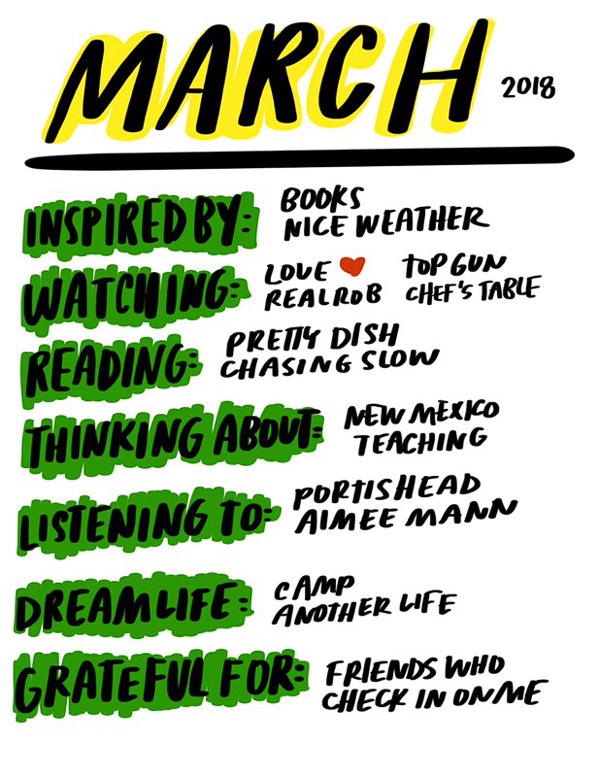 Inspired By: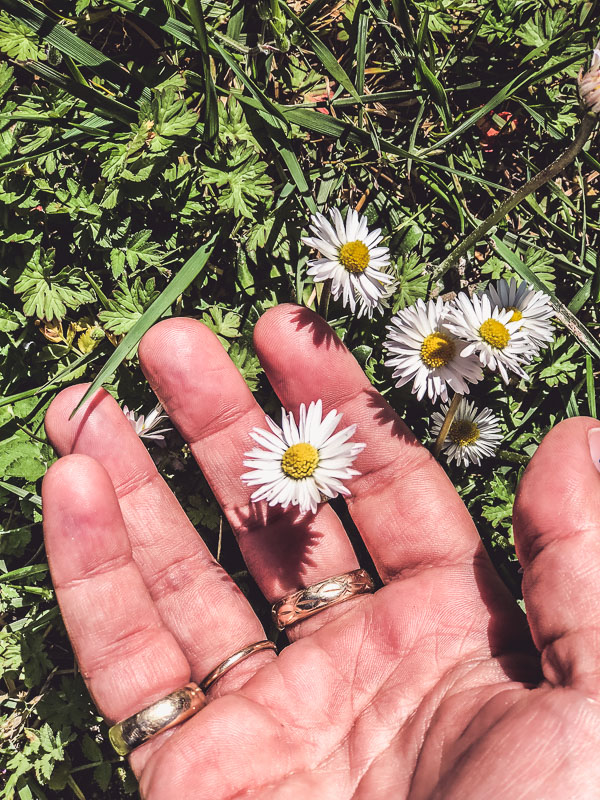 Nice weather is inspiring me.  I'm daydreaming about sundresses and outdoor eating.
I am also really excited to hang out on my deck! I need to have some friends over to share it with.
I've been working on my garden, making plans/moving succulents around/replanting.
This is the time of year when I get random daisies all around our house and it fills me with excitement.
They're SO CUTE.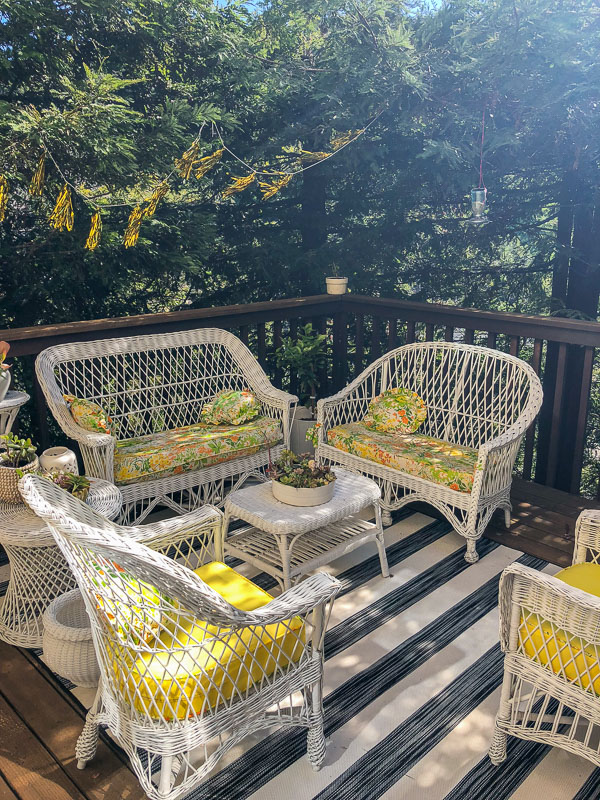 I also get to be around kids more often now that it's baseball season and that's always inspiring.
I love taking the time to color and draw with kids who love it just as I do!
It's also a really good distraction for me because my Mom used to sit on the bleachers with me when Cooper played baseball and so it helps me not feel so sad.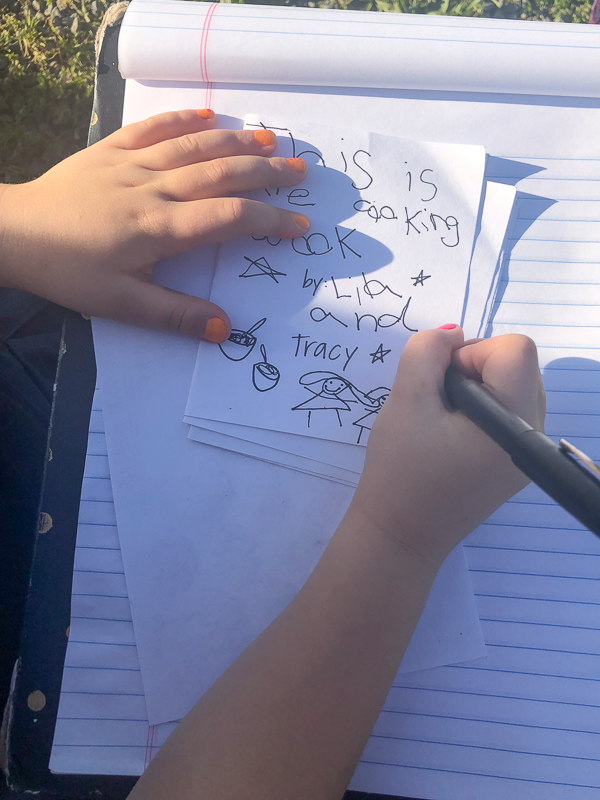 Watching:
We've been watching Love on Netflix. Close to finishing the first season. The writing is pretty funny. We've laughed a lot. I'm kind of excited we have two more seasons to go through.
Also watching on Netflix:
Chef's Table, Ugly Delicious, Mind of a Chef
And we watched Downsizing. It was good, not GREAT. But I love Matt Damon so…
Reading:
Excited to work through my food rut with Pretty Delicious
. All the kinds of food I want to eat. Healthy and indulgent! I hope that I can add something new to the meal rotation. We DESPERATELY NEED IT.
On my bedside- Chasing Slow
. The internet is loud and neverending. My friend Erin wrote this amazing book about finding a better pace in this digital world. I appreciate the heck out of her.
Books checked out from the library:
On Edge
Action Journal (for Cooper!)
Thinking About:
Might have an opportunity to teach a food photography class in New Mexico in the next year.  I'm excited because I really want to travel and see the country.  I think a trip to Santa Fe would do me some good!
Listening To:
This month I listened to a LOT of Aimee Mann. I have to work my way out of it because I think part of it is keeping my spirits low! Time to make a new peppy playlist for April.
Here's what I listened to in March-
Dream Life:
I definitely think that I am dreaming of another time era. It's kinda like an 80s vibe in my dream life.
I also had a dream this month that Casey was pregnant and I was like HOWWWWW?!!! WHAT??
Brains are weird.
Also, I don't know if it's because I read the book Active Dreaming
but sometimes life feels like a dream. Especially now that I feel like my Mom is giving me signs all day long. #keepgriefweird.
Eating/Drinking:
Did some cooking this month! Baby steps getting out of my food rut!
This shrimp dish helped! It was a winner in my house.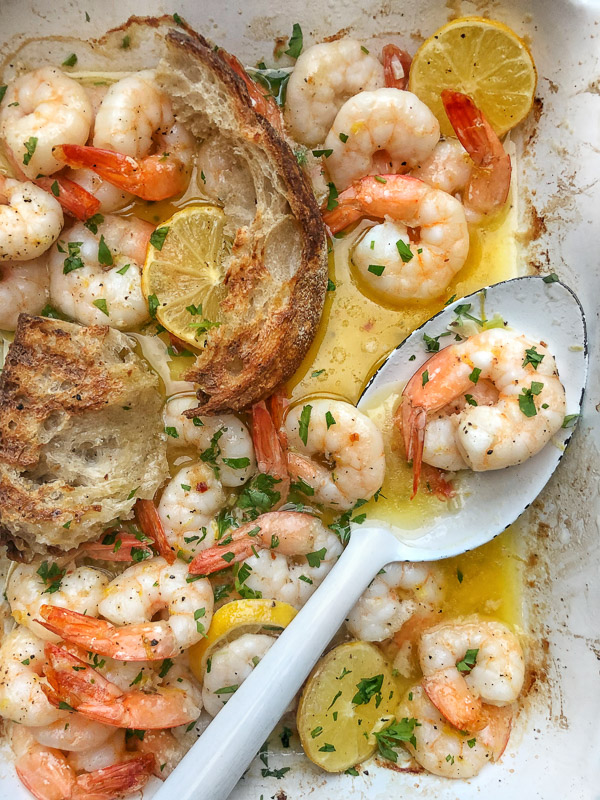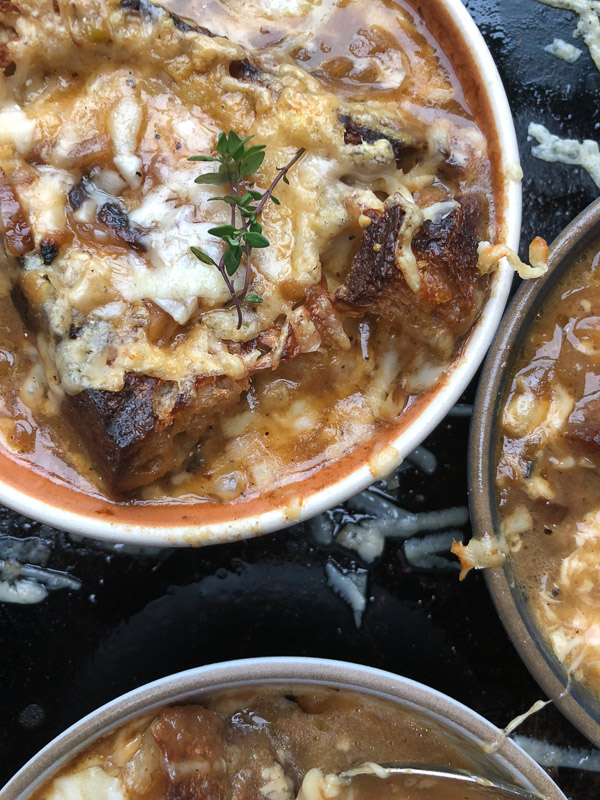 The broth was so good on this one. I ate leftovers without cheese and it was still so dang tasty.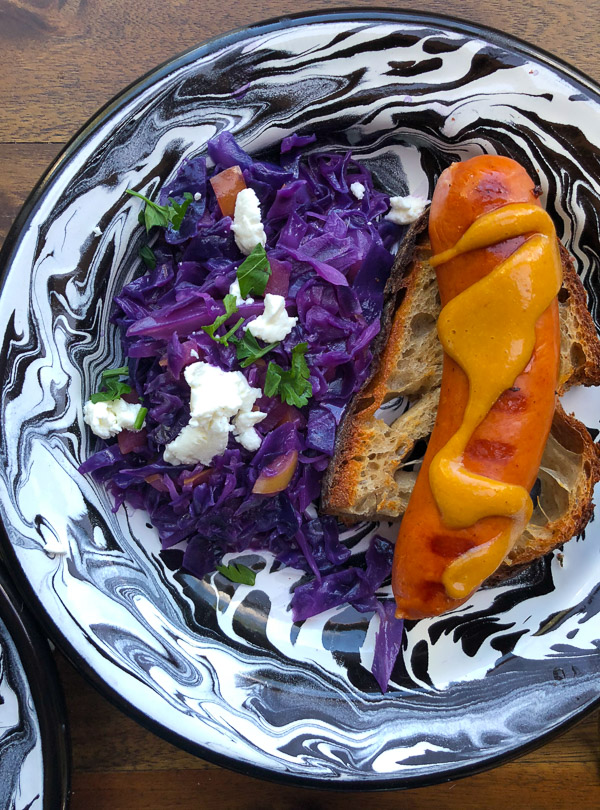 Instant Pot Sweet & Sour Cabbage
Was craving cabbage around St. Patrick's Day!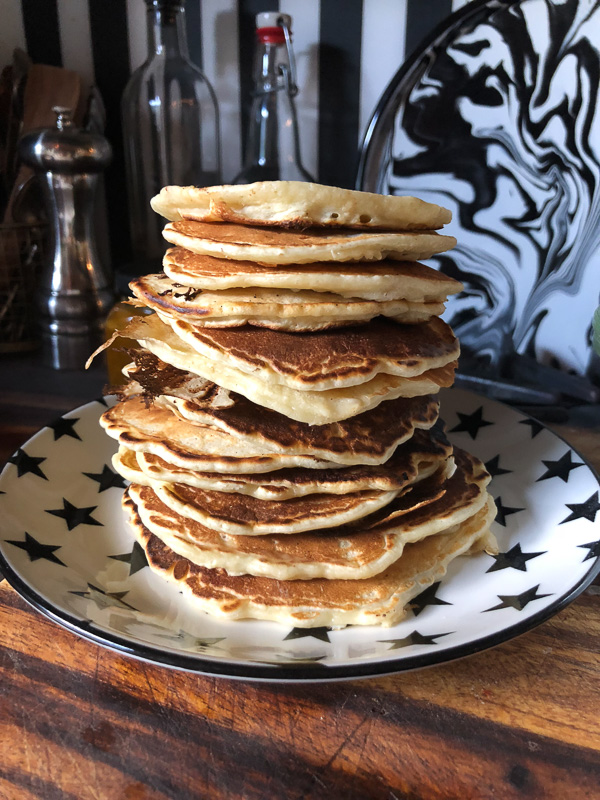 Always a favorite!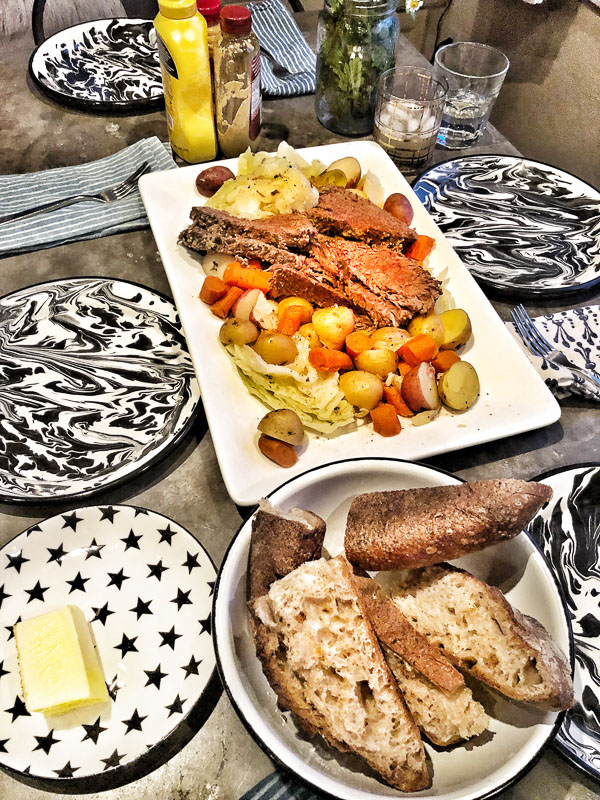 Also made corned beef on St. Patrick's Day! So festive!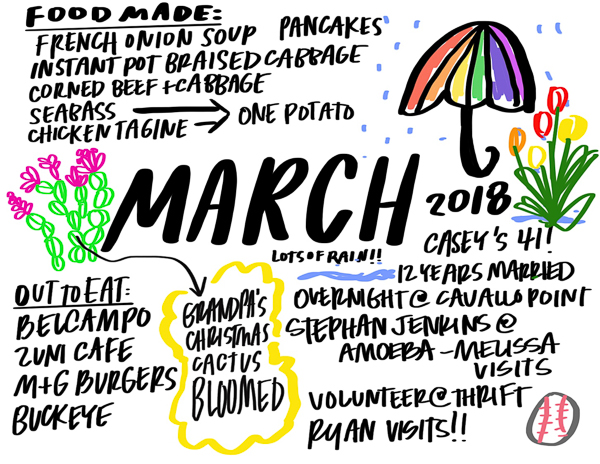 Self Portrait:
Me in my thrifted coveralls!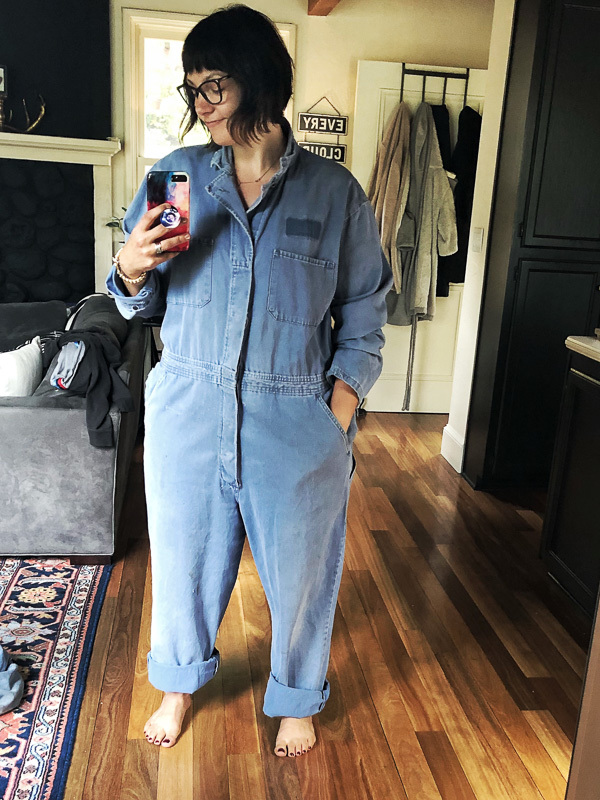 Grateful for:
My friends who check in on me during this transition time in my life. I am grateful to have a few really REALLY solid people in my life. It's hard when you're deep in grief and people move on with their lives and expect you to do the same. I'm trying!  I really am.
So with that, I'll say Goodbye, March!
HELLO APRIL!
How about you? How was your March? Are you looking forward to anything in April?!!!