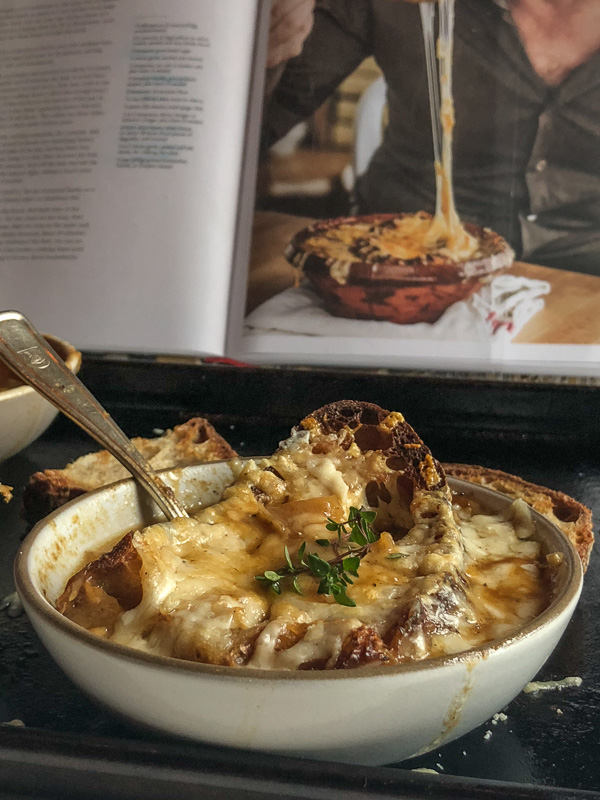 A recipe for French Onion Soup that doesn't require Beef Stock.
Sign me up.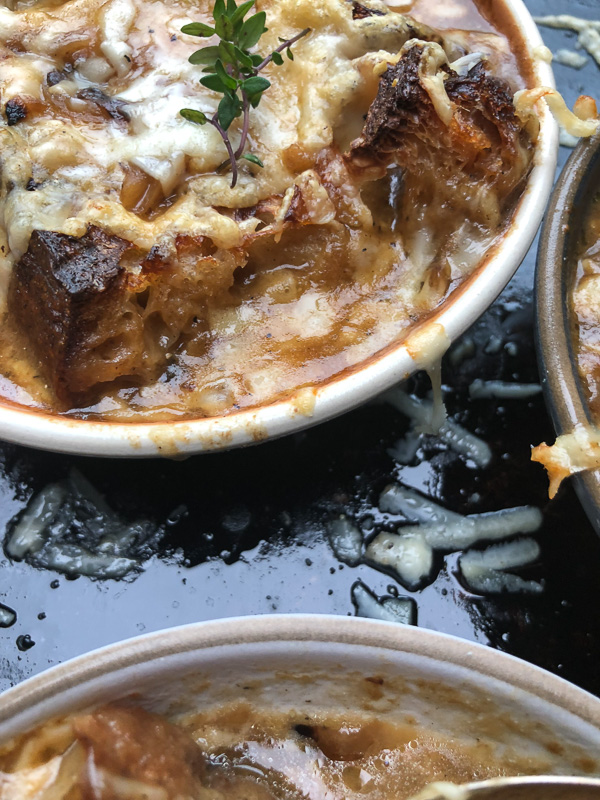 It's not that I don't like beef stock, it's just that you have to intentionally buy beef stock. I'm normally a chicken stock/vegetable stock only kind of gal. Beef stock is never really on my grocery list which means I never can make French Onion soup on a whim.
So now if the craving for French Onion Soup comes on, I can build the flavor profile with chicken stock and white wine.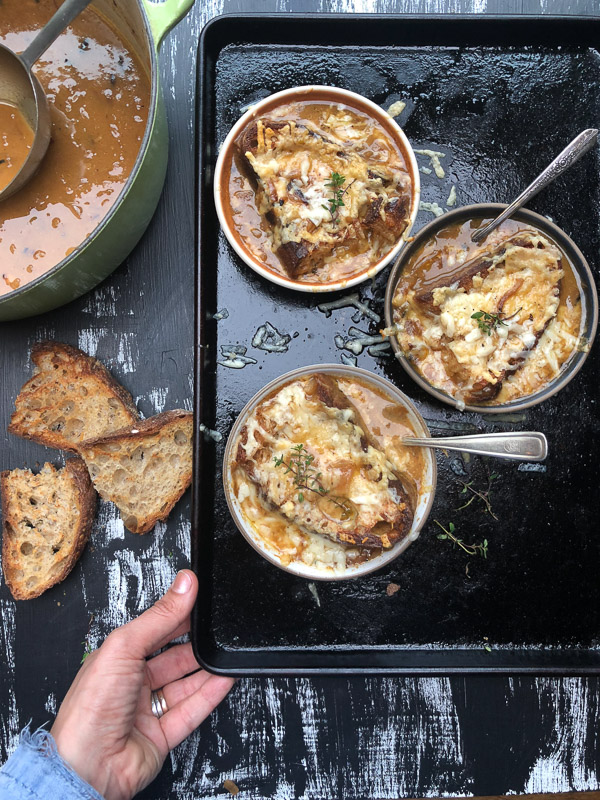 COMFORT. SOUP. BREAD. CHEESE. MELTED. GOODNESS.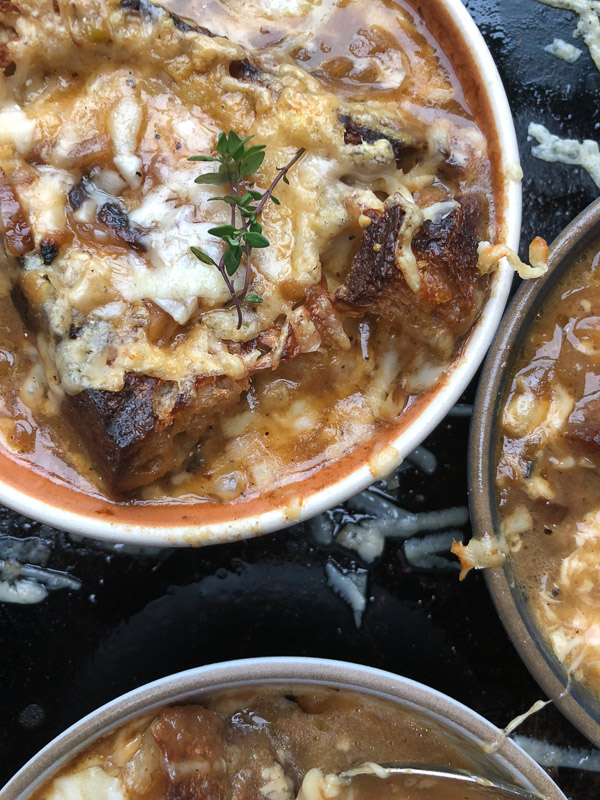 This soup is a gigantic hug in food form. David Lebovitz, you are (and always have been) my hero.
Let's gather ingredients.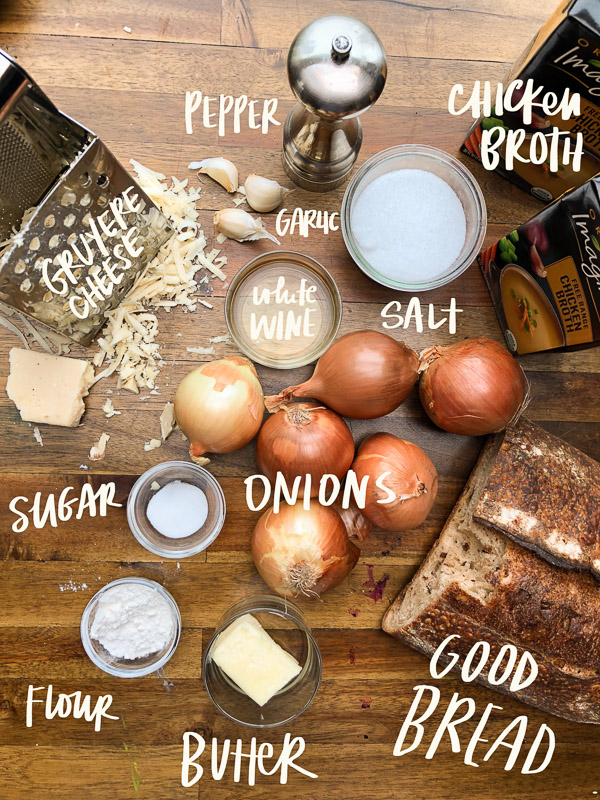 Chop therapy!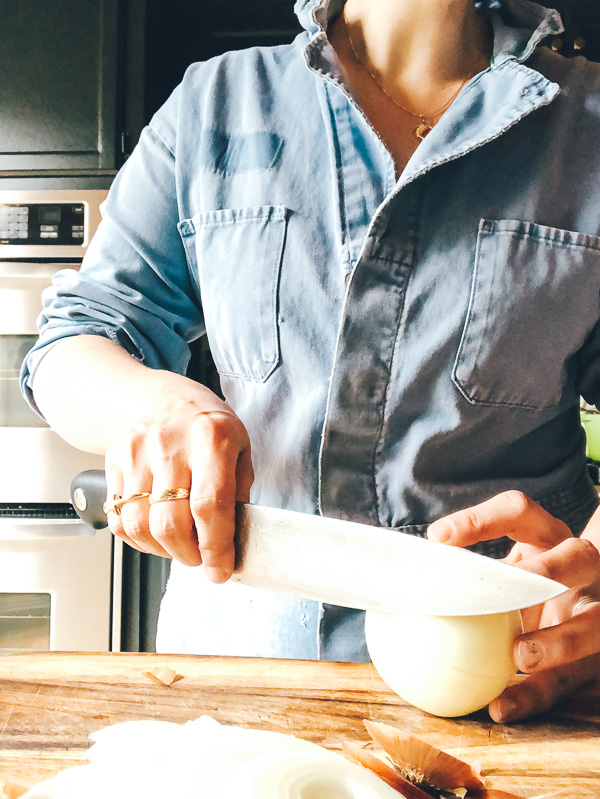 Tears were shed.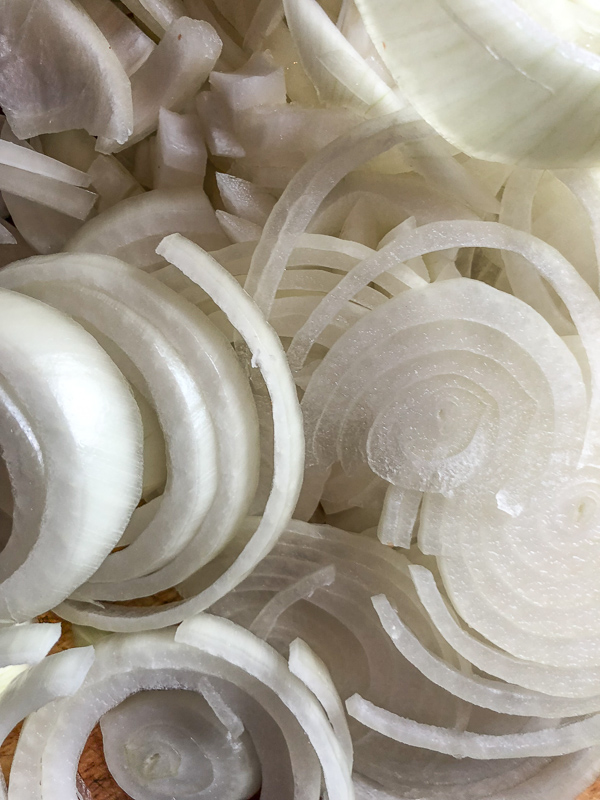 We start to cook the onions with sugar & butter.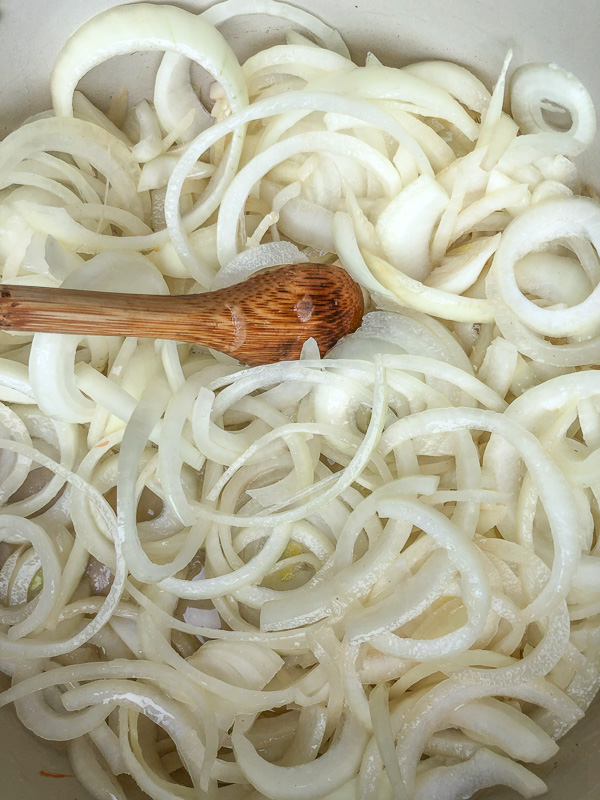 Cook them down.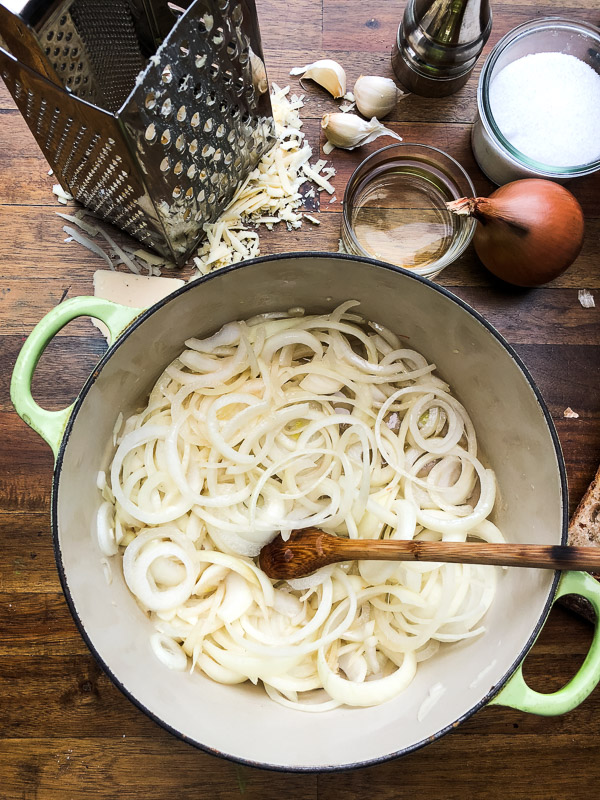 Continue to cook them down. This is after about an hour.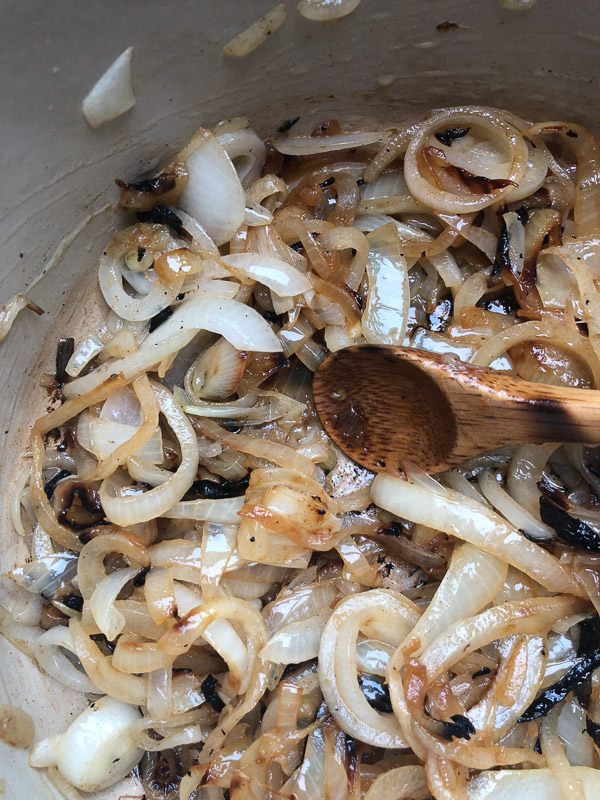 The browned bits are going to help build an amazing soup base.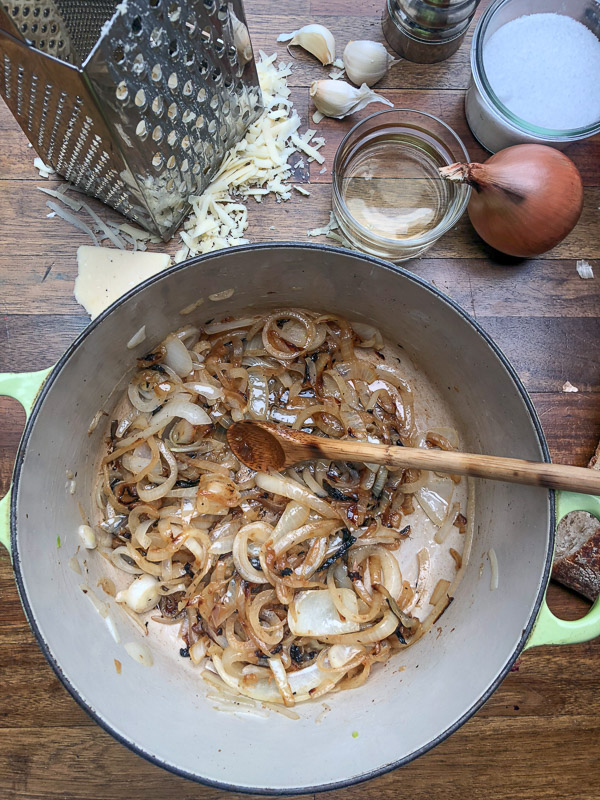 And then we toast some bread.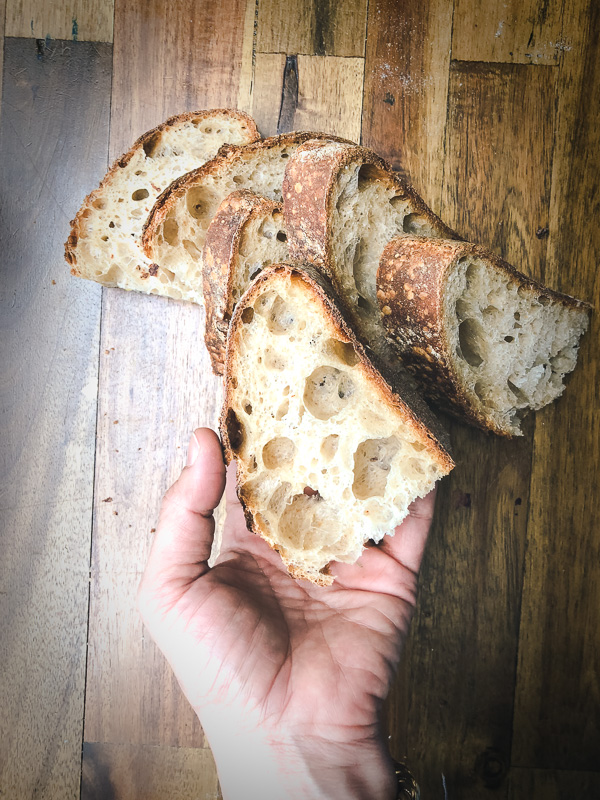 We rub a little garlic on top of the toast.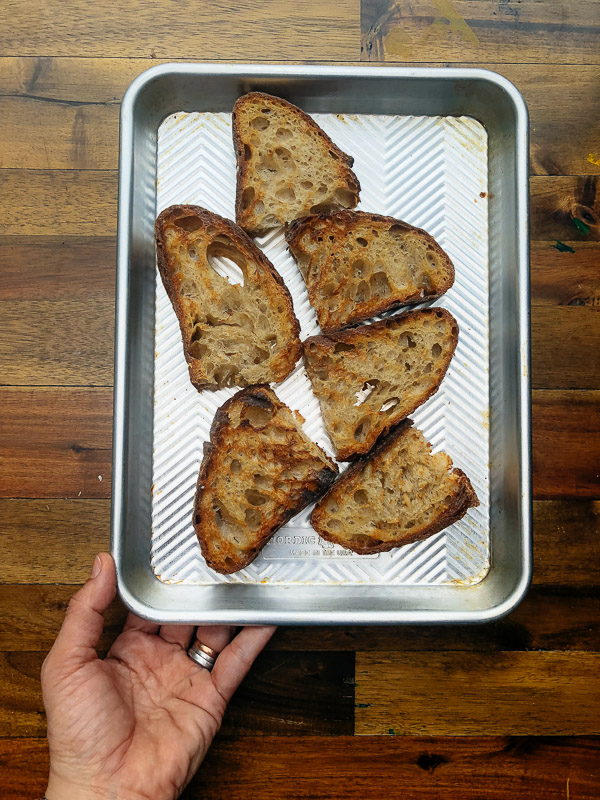 YUMMMMMM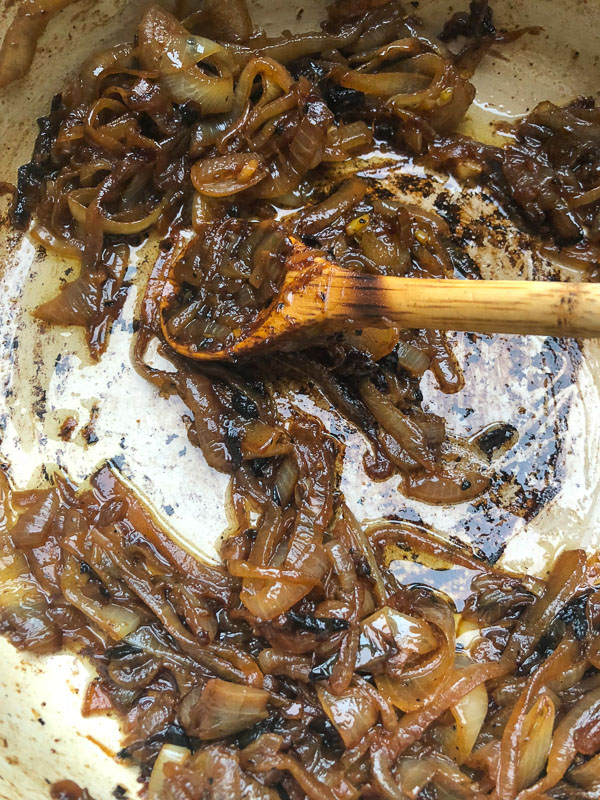 Now we add flour. Followed by white wine.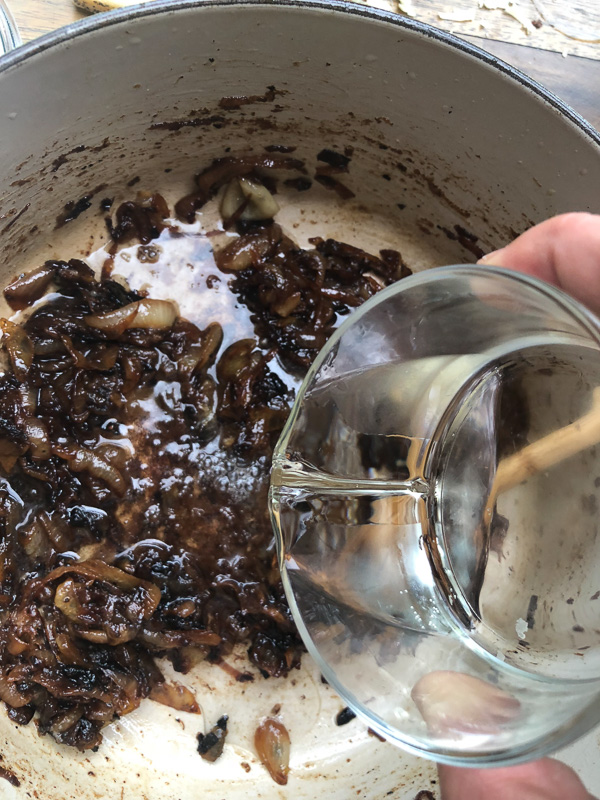 Followed by chicken stock.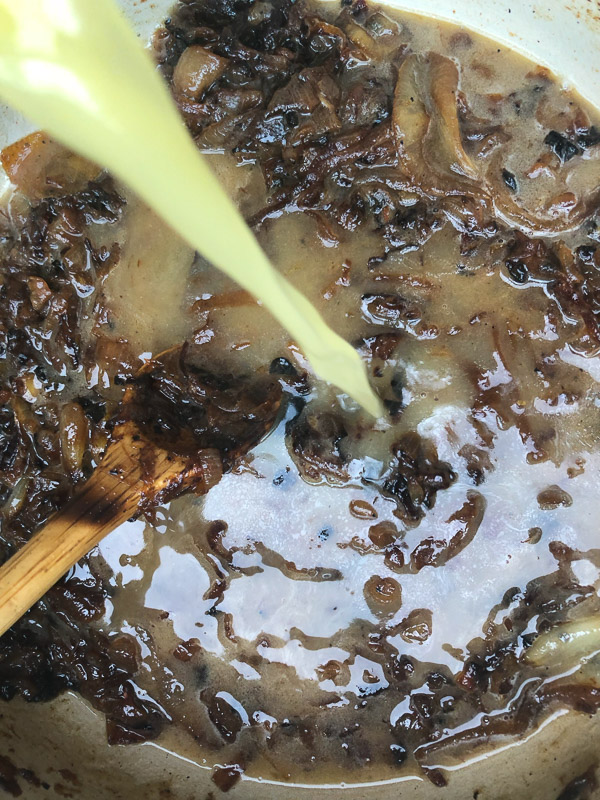 We are ready to dish it out. Oh I forgot you need to add a little vinegar to balance out the soup. It helps cut down the richness.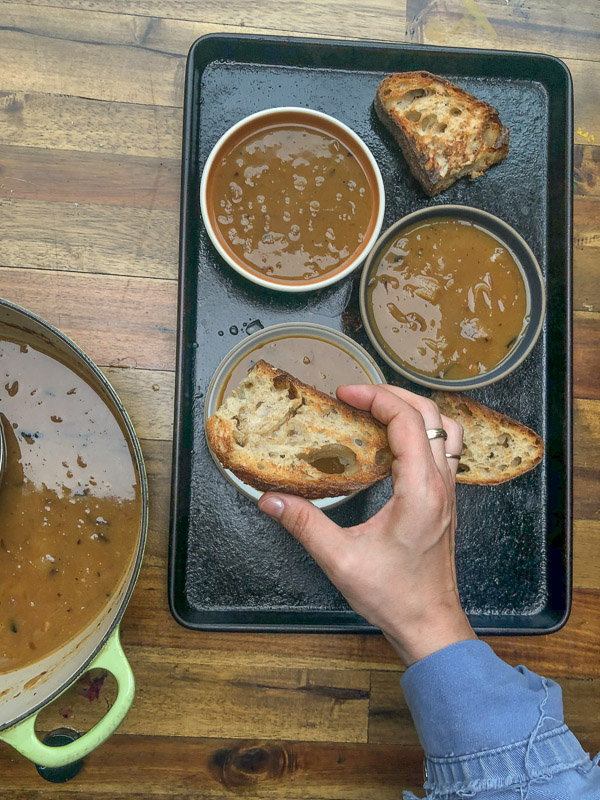 Plop the toasts down in the bowls of soup.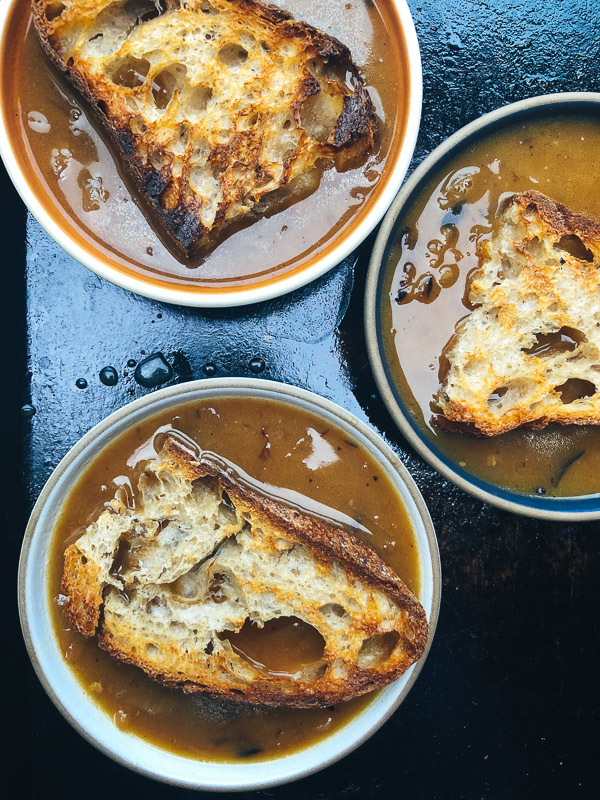 Top with cheese.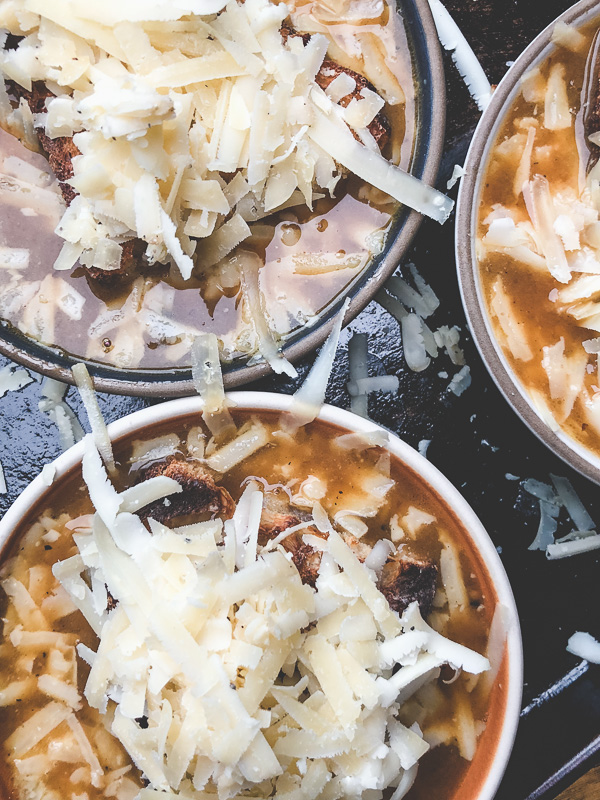 Broiler action.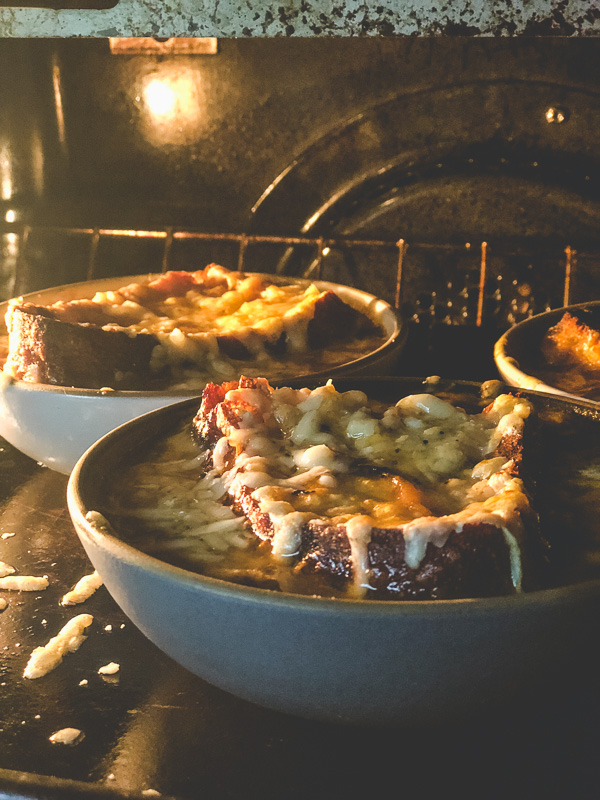 Top with a little fresh thyme. With the heat of the cheese underneath it, you get a nice thyme aroma!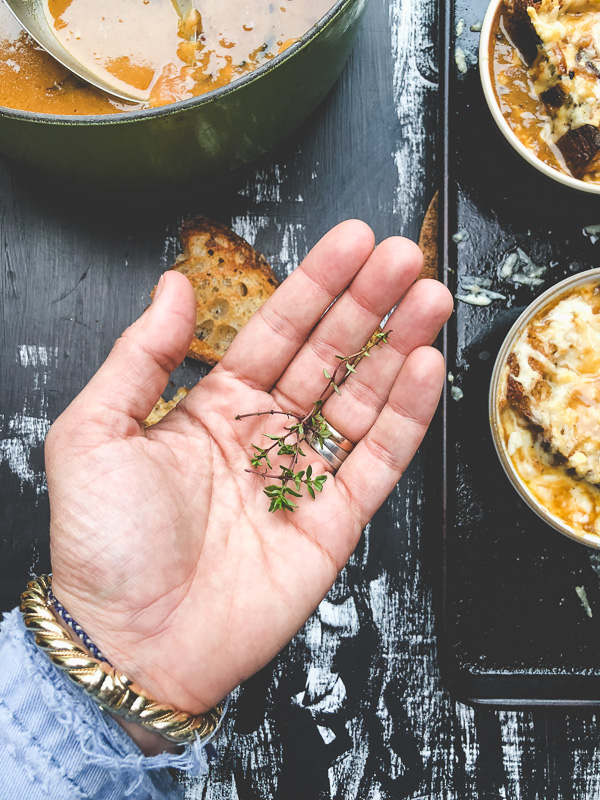 Hello, lover.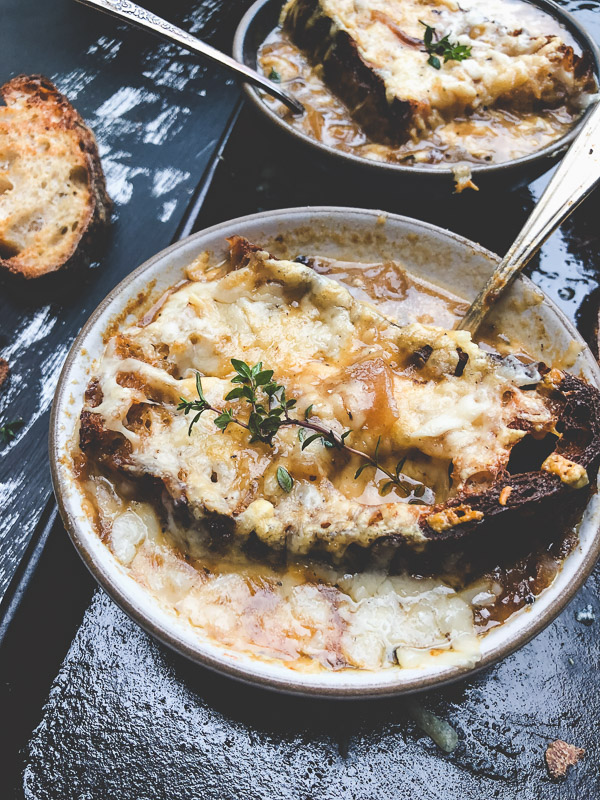 Just as good as the picture!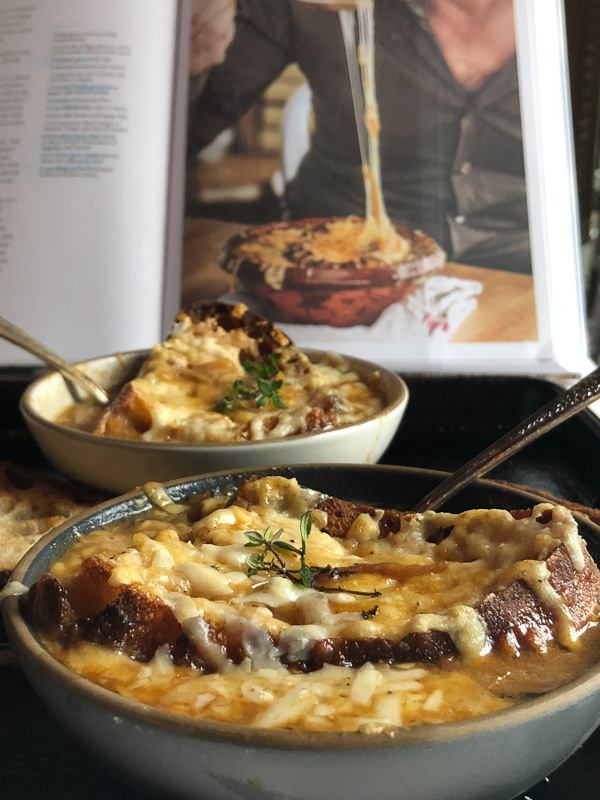 Enjoy!

French Onion Soup

serves 6
recipe slightly adapted from My Paris Kitchen

4 tablespoons unsalted butter
2 1/2 lbs. yellow or white onions, peeled and very thinly sliced
1 teaspoon granulated sugar
2 cloves garlic, peeled and minced
2 teaspoons kosher salt (plus more if needed)
1 teaspoons freshly ground black pepper (plus more if needed)
2 teaspoons all-purpose flour
1/2 cup white wine
2 quarts chicken stock
1 to 2 teaspoons apple cider vinegar, plus more if needed
6 thick slices hearty bread, well toasted
1 to 2 cloves garlic, peeled and left whole for rubbing on toast
3 cups Emmenthal, Gruyere or another melty cheese!

Melt butter in a large pot or Dutch oven over medium heat. Add the onions and sugar and cook for 20 minutes, stirring occasionally, until soft and translucent.

Add the garlic, salt, and pepper and continue to cook for 1 1/2 hours, stirring less frequently and decreasing the heat to avoid burning as the onions continue to cook down. As the onions cook, if they brown on the bottom of the pan in places, use a spatula to scrape brown bits into the onions as they'll help develop the flavor. The onions are done when they have collapsed into a thick amber-brown paste.

Stir in the flour and cook, stirring for 1 minute. Add the wine and use a flat utensil to loosed any remaining brown bits from the bottom and sides of the pan, stirring them into the onions. Add the stock, bring to a boil, then decrease the heat and simmer slowly to 45 minutes. Turn off the heat and add the vinegar, tasting it to get the balance right, adding a touch more vinegar, tasting it to get the balance right, adding a touch more vinegar, salt and pepper, if desired.

Turn oven on to BROIL.

Divide the hot soup among bowls that can withstand high oven temperature. Rub both sides of the toasted bread with the garlic. Put the toasts on the soup, then sprinkle the tops with the cheese.  Place the bowls on a baking sheet and place under the hot broiler until the cheese is melted and starting to brown, about 5-10 minutes. Garnish with fresh thyme. Serve immediately.