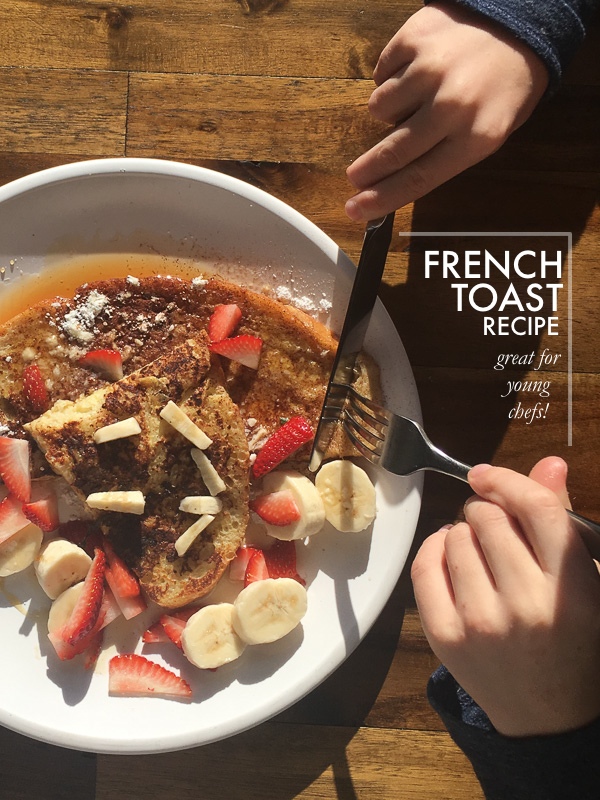 My love affair with cooking started when I brought home my first cookbook (ordered from the Scholastic books fair at school, naturally).  It was the Better Homes & Gardens New Junior Cookbook!  The image of a red checkered cover with two children on the front will forever be burned into my brain.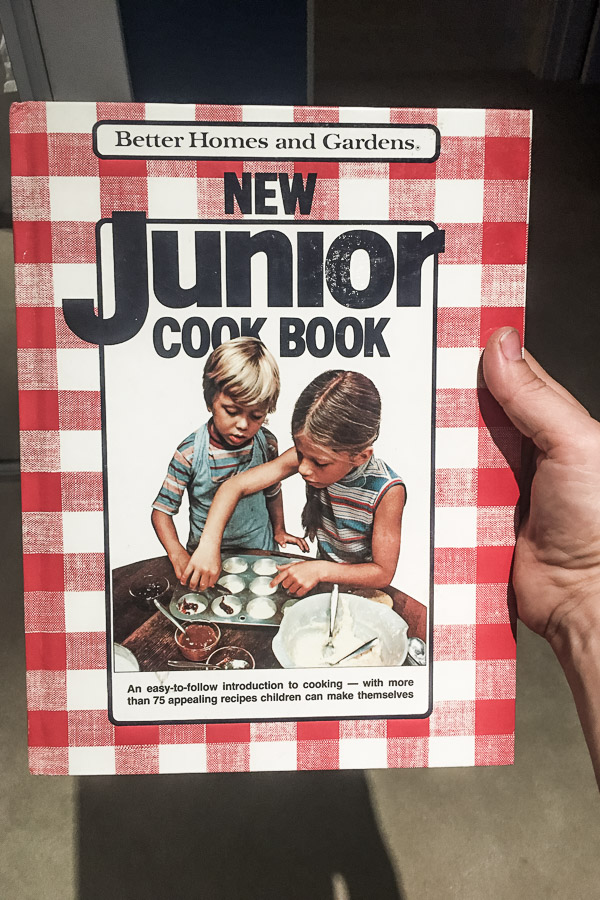 There were a few times I found myself talking to other people in college about this cookbook.
Everyone always said they tried the snickerdoodles recipe.
For me, it was the french toast.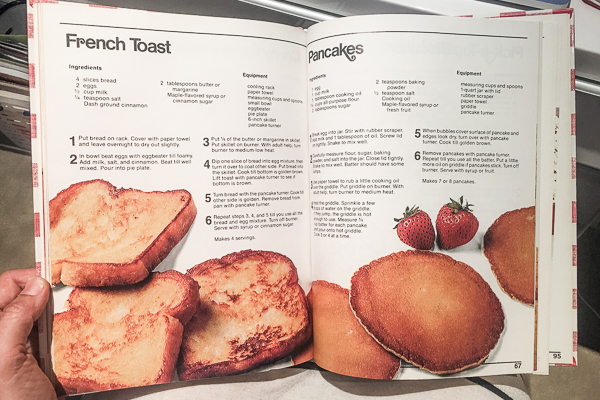 This here french toast recipe changed my life.
Making French toast at 8 years old was a major life skill to have. A skill my brothers had not yet figured out. A skill that would serve me well in life, but most importantly throughout my childhood,  when I had to barter/bribe my older brothers.  French toast, while we were watching Saturday cartoons, could get me out of washing my dad's car sometimes. I imagine I easily weaseled my way out of clearing the dishes with a batch of French Toast. We're Italian. Food is our everything. 
I have to say, that I had a few things preventing me from reaching my french toast potential as a youth. We only ever had whole wheat bread in our house and margarine was the preferred spread of choice. French bread with and butter was reserved for when my parent's had people over. And BOY DID WE INDULGE.
Now, our french toast is mostly made from sourdough bread (my husband's favorite bread) and we use real butter.
One Friday night, with a little extra bourbon in my glass, I inadvertently found my first cookbook on for sale Etsy.  It arrive last week!!!!!!!!!!!!
Feast your eyes on some of the illustrations from the book!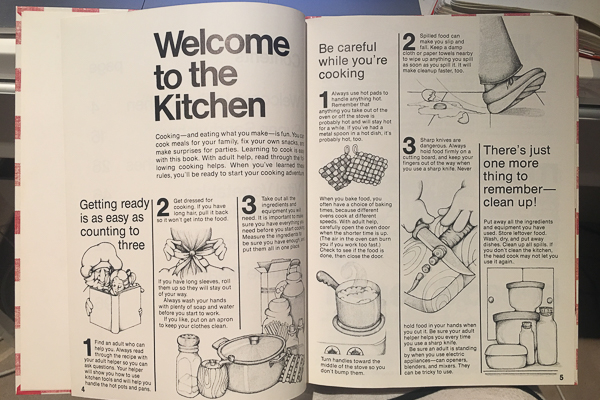 I posted a video of this on my Instagram stories and a few of you also cooked from this book too!
Do you remember it too??? LOOK AT THE R in FRUIT!!!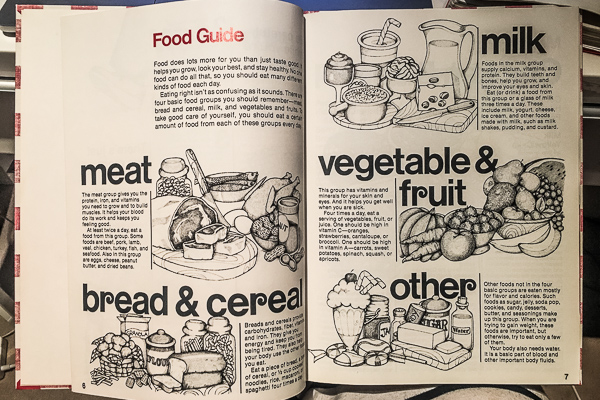 Super sandwiches!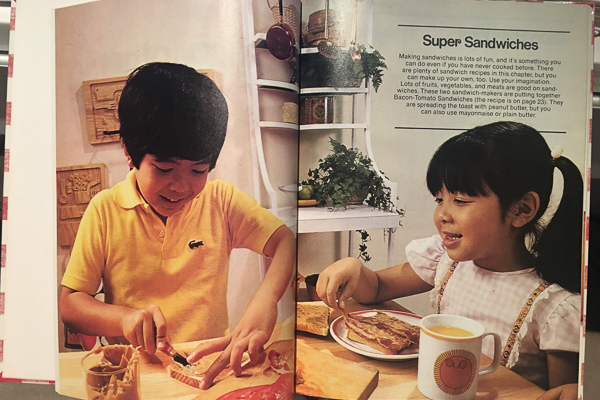 Cooper has been at home this week from school with a really bad case of poison oak. Our schedules have been thrown off and we're busy doing a lot of catching up with school work. 
I thought that it would be fun to throw a Shutterbean cooking lesson in the teaching plan while we're at it.
Yesterday morning we made French Toast together and he said it was one of the best french toasts he's ever had! It's an Easy French Toast recipe. Totally simple and uncomplicated.  We're cinnamon lovers in my house so I add a little bit extra on top of the final result.
It's a special thing to teach Cooper how to make one of his favorite breakfasts. The best part is that we live in the house I grew up in, so we get to be in the kitchen where I learned how to cook.  We stand in the same exact spot where my mom taught me so many important life skills I use to this day (Thanks, Mom! I owe you!!)
My hope is that he remembers these moments of magic in the kitchen when he takes these skills with him into adulthood. Maybe eating french toast on sourdough bread in his first college apartment will remind him of staying at home and spending quality time with his Mom, who did whatever it took to help him heal and feel better.
One can only hope.
Let's gather our ingredients!
Today we do an illustration instead of an overhead photo.
It's mostly because I jumped right into teaching instead of shooting.
But I really liked how this came out so I might keep playing around with this.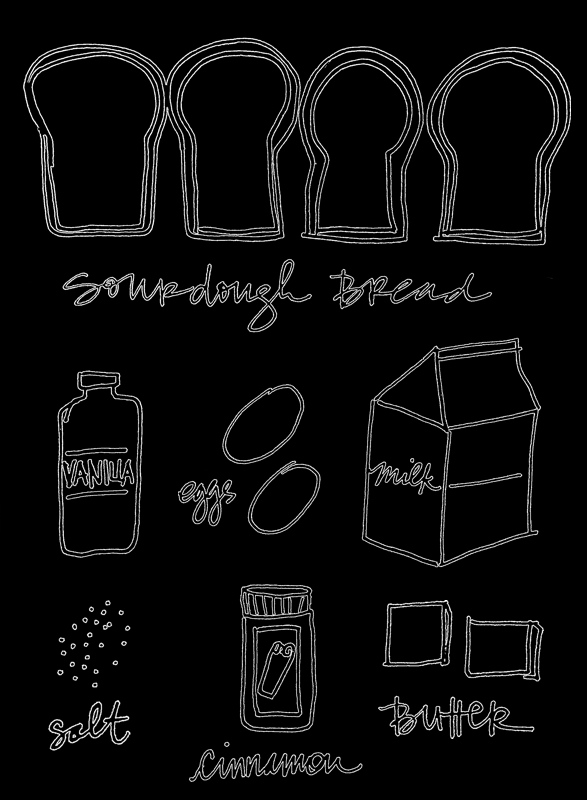 We made the french toast together.
With some patience and instruction, we pulled it off.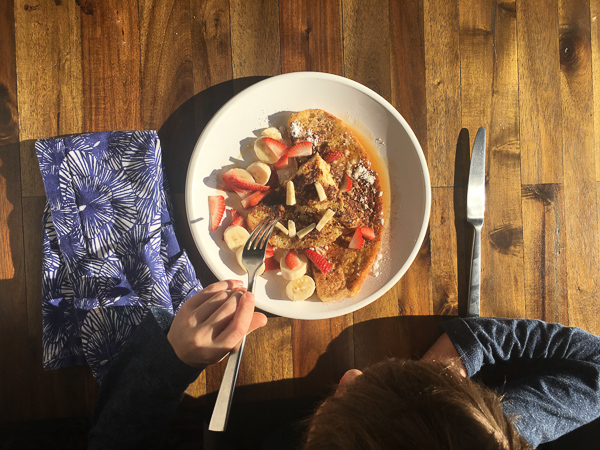 Cooper turned his bananas into a smiley face.
He likes to style his food.
Gee, I wonder where he gets that from?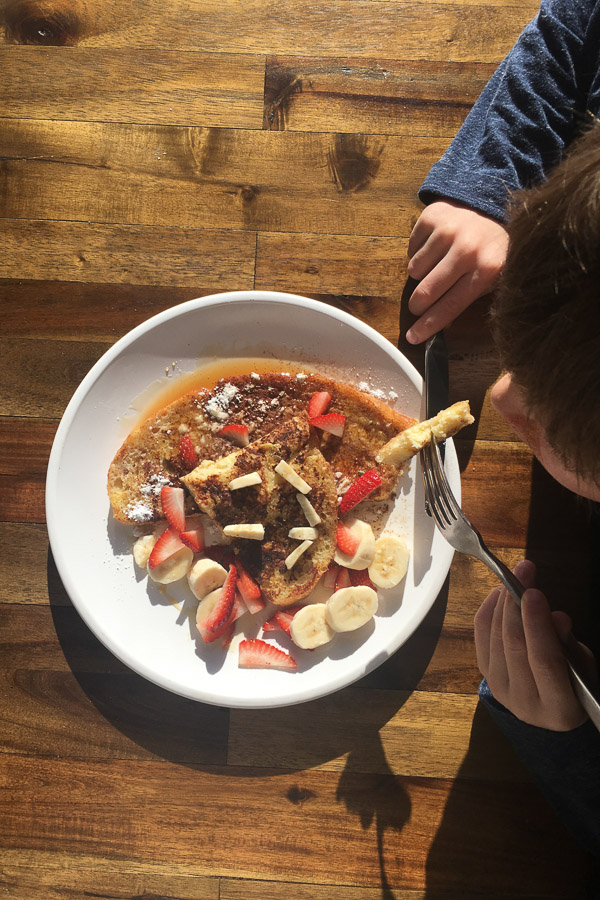 At 8 years old, he did every part of this recipe except for the stove part.
We're still overly-cautious near open flames and heat.
But we're learning!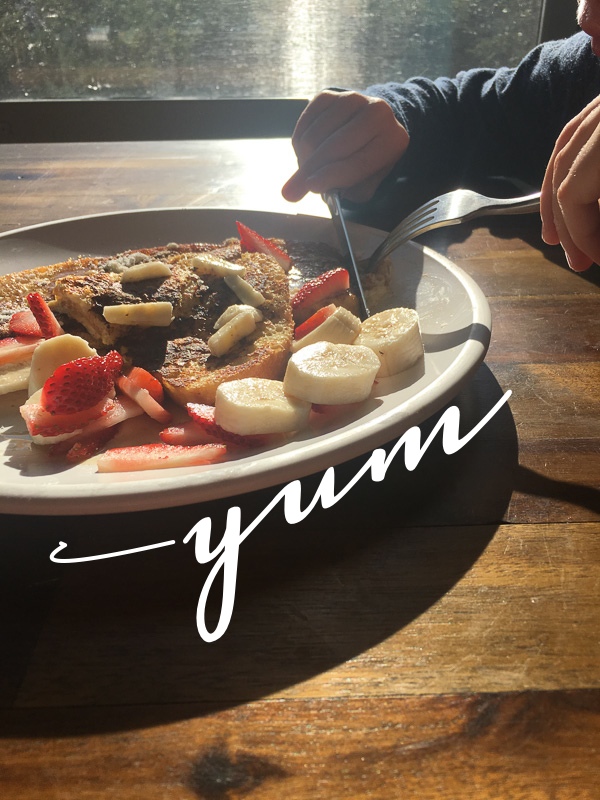 Now he's ready to surprise me with breakfast in bed the way I surprised my Mom when I was a kid!
Wait. I don't want maple syrup anywhere near my bed. Nevermind!
If you want to see more about how I work with Cooper in the kitchen, read my Kids in the Kitchen post! 
serves 2-4

recipe adapted from Better Homes & Gardens New Junior Cookbook

4 slices bread (stale bread is great for this!)

2 eggs

½ cup milk

½ teaspoon vanilla extract

¼ teaspoon salt

2 dashes ground cinnamon

2 tablespoons butter, plus more for serving

syrup, for serving

fresh fruit, for serving

powdered sugar, for serving

In a bowl, beat eggs with a fork until eggs are frothy. Add milk, vanilla, salt, and cinnamon and beat until well combined. Pour mixture into a pie plate.

Put 1/4 of the butter in a skillet over medium-low heat.

Dip one slice of bread into egg mixture, then turn it over to coat the other side. Let sit for a few second and put bread into the skillet. Cook until bottom is golden brown, about 2-3 minutes. Flip and cook the other side for another 2-3 minutes. Repeat until all the french toast is cooked.

Serve warm topped with maple syrup, butter, fresh fruit and a light sprinkling of powdered sugar.