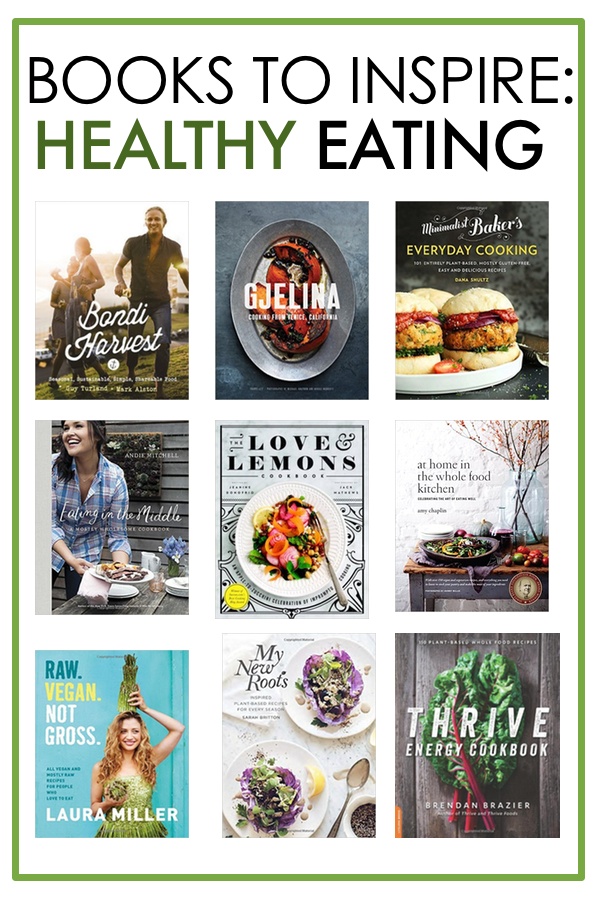 I've been eating like I've been on vacation since we went to Vancouver. My brain didn't get the memo that it's time to eat like I regularly do- a little more balanced.
I'm ready for a few reset button salads, that's for sure. I love eating fruits & vegetables…it's just that sometimes I stop for a bit in favor of all things carbs. Recalibration begins NOW and I suppose it's a good time since Summer is just around the corner. Here are some books I'm going to be cooking from in the next few months.  I have a new swimsuit (ugh) to fit into… I put together a list of Books to Inspire Healthy Eating if you're in the same OMG I NEED HEALTHY EATING INSPIRATION boat as me. Let's see what we've got to pull from:
Bondi Harvest– just got this one! I'm excited to dip into it. Some of the recipes I've earmarked include: Ultimate Hydrating Iced Tea, Herbed Corn & Parmesan Crumbed Chicken with Lemon Kale, Raw Caramel Slice, Chili Lime Ginger Broccoli Salad & Honey Coconut Chips.
Gjelina– I've read through most of this cookbook (it's so beautiful) and am looking forward to making Grilled Kale with Shallot Yogurt Dressing & Toasted Hazelnuts, Mushroom Toast, Strawberry Rhubarb Polenta Crisp & Smoked Trout Salad with Grapefruit & Avocado.
Minimalist Baker's Everyday Cooking– This one is on its way and from what I've seen so far online & on snapchat, I'm in for a real treat. I love Dana's photography, writing & recipes and I'm sure I'll be using this book for when I'm in search of satisfying vegan/gluten free recipes. Way to go, you guys!
Eating in the Middle– First recipe I made from the book was this awesome– Chopped Salad with Spiced Chickpeas. I look forward to making Andie's  Chocolate Raspberry Breakfast Pudding, Peanut Butter Granola Parfaits, and the Cheddar Biscuit Topped BBQ Chicken Pie. YUM. Oh! And I just finished reading It Was Me All Along (SO GOOD!).
Love & Lemons Cookbook– I've always loved Jeanine's recipes on Love & Lemons and now I'm excited to get my hands on a copy of her first cookbook! It looks SO dang beautiful.
At Home in the Whole Food Kitchen– This one has been sitting on my shelf BEGGING me to use it. A quick glance has me excited to try  Pea Zucchini Soup with Dill, Black Rice Breakfast Pudding with Coconut & Banana, Tempeh Portbello Burgers, Cinnamon Caramel Popcorn & Beet Tartlets with Poppy Seed Crust. 
Raw Vegan Not Gross– This will be out soon…and GET EXCITED FOR IT because it's wonderful. I got my preview copy recently and cannot WAAAAAIT to start cooking from it. I heart you, Laura Miller. I'm gonna totally make your When I Dip You Dip We Dip Ranch Dip! And yes… I will definitely put tequila or bourbon up in that pineapple granita, Laura.
My New Roots – I made the Strawberry Chia Jam from this cookbook last year and totally forgot about all the other recipes I had hoped to try like Pan Bagnat with Sunflower Seed "Tuna," Chipotle Sweet Potato & Mushroom Breakfast Tacos, Moon Macaroons, Green Galaxy Smoothie Bowl with Buckwheat Crispies and The Best Lentil Salad Ever.  It's time to get cracking!
Thrive Energy Cookbook– I've made a few recipes from this cookbook for my blog over the past years. When I need a reset, I look through this cookbook to get inspired. Quinoa Tabbouleh & Lemon Ginger Zinger are two of the recipes I've tried so far. I wanna try the waffles and so many of their smoothies!
Last but not least, my friend Heather has a new cookbook called Pure Delicious that came out today. There are over 150 allergen-free recipes in her latest book and each and every one of them looks SO DELICIOUS. Going to share a recipe next week!
Any recipes you've had your eye on? Anything you'd like to see here on Shutterbean? Let me know! Let's get healthy together.
If you'd like to see more books that will inspire you, check out this post.