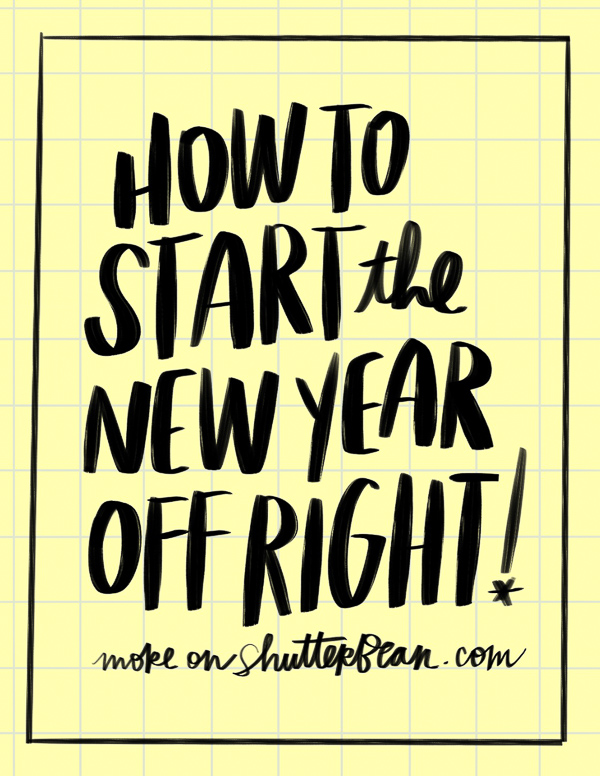 There's usually a rush to have resolutions set and solid goals written down on the FIRST of the month. For me it's impossible to have it all mapped out on January 1st. The holiday season takes a lot out of me and all of December is dedicated to creating holiday magic here and at home. I need a little pause to reflect and process the year that has past before jumping right into a new one. But here we are. It's January 8th and it's time for me to plot out the year. This is How to Start the New Off Right, or at least what I like to do to set myself up for success for the year!
As you already know, I'm a paper gal. My brain doesn't process things well unless I write things down. My whole life is organized in a series of notebooks and journals. It's how I function, even when I live a lot of my life online.
Here's my productivity arsenal: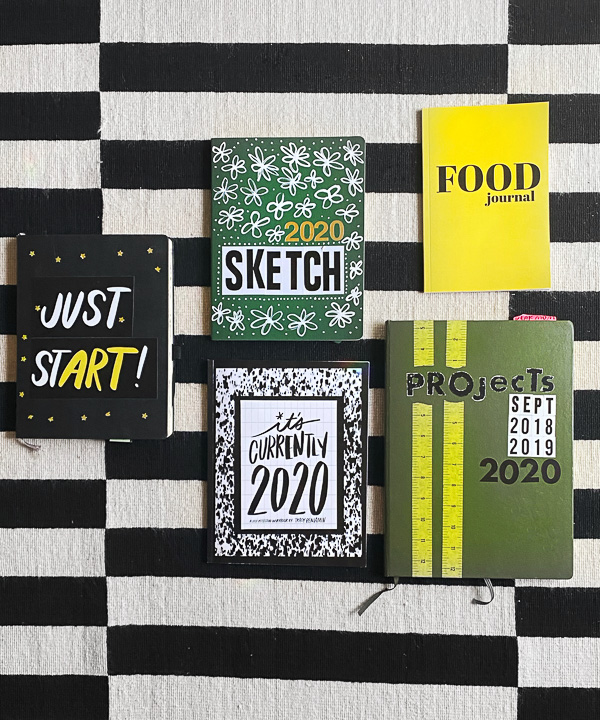 My Essentials:
Let's me show you inside some of these important productivity tools I use as a paper loving gal.
I'm starting the new year with a new currently workbook!
Last year, I made my first Currently Workbook so I could check in with myself throughout the month and reflect on my life and time. It seemed like the past 5 years sped up so fast that I lost all sense of time. This practice has helped slow me down and has made me more deliberate about how I spend my time/what I invite into my life. I used to write things in my sketchbook before I made this workbook and it was really hard for me to find particular months scattered throughout my sketchbook. Plus, I didn't really keep that practice up because sometimes I didn't even want to look at my sketchbook because I was bored with it/ annoyed with how my handwriting/work was looking. Using my Currently Workbook made look for all the good things that happened each month and I am so thankful for that!
Now that I have you (my wonderful readers!) joining in this project, it's so much easier for me to keep at it. So, thank you! If you want to read more about this project, check out my Currently 2020 Workbook post!
I am really excited that Cooper is joining me on this project this year. He's got his own workbook to write in. I'll share some of his pages with you soon!
My first step in starting the year off right is finding a WORD for the year as well as my Intentions for the Year.
Here is the template: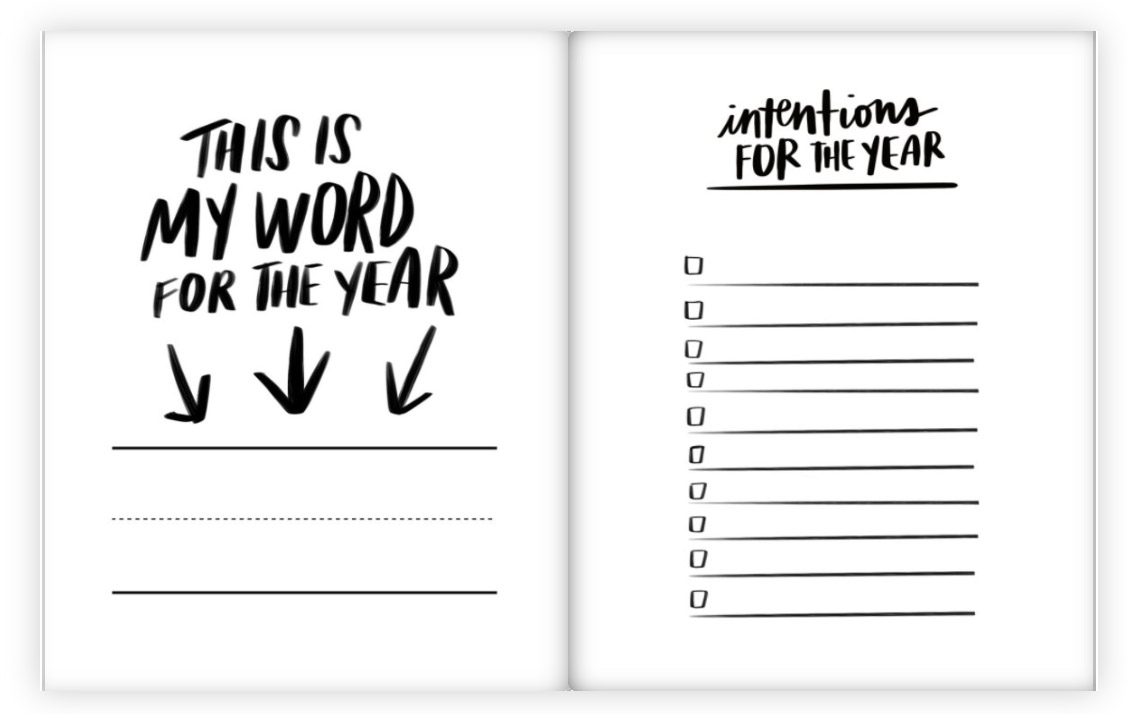 Here is it in use!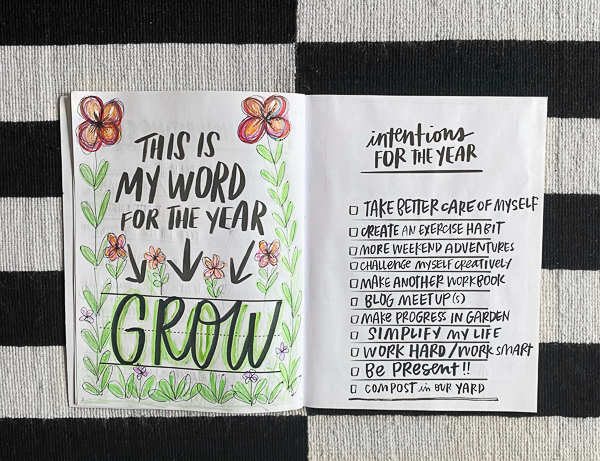 Last year my word was VALUE and this year, I am focusing on the word GROW.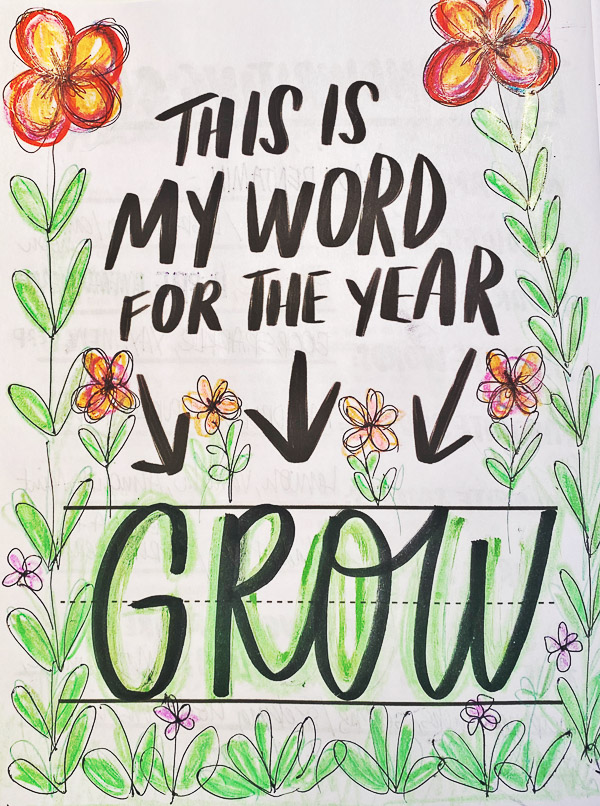 I feel like 2019 was the year that I worked on my tending my "soil" to give projects the nourishment to GROW.
I am also looking forward to making a bunch of changes/additions to my garden this year (which I hope to share with you) and so the word GROW seemed appropriate.
Something I've done for the past few year is writing down my Intentions for the Year. I like it better than making resolutions.
Here's what I am working on in 2020.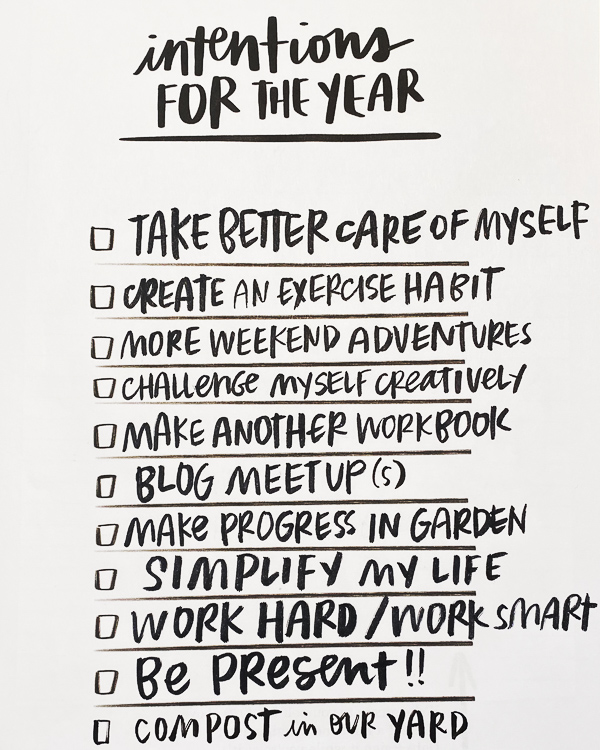 Something new to the workbook this year is a dedicated space to write myself a note.
Here's what I wrote myself.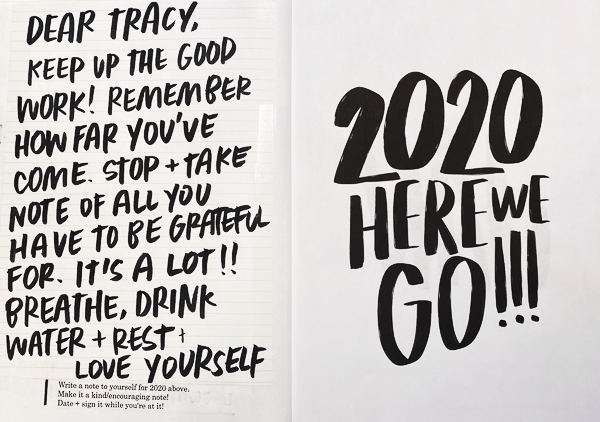 Another thing I've been working on this month is being proactive about writing in my food journal and tracking what I'm eating and drinking and my activity levels.
This is the third food journal I've worked through since I released it in 2019 and I have learned so much about myself/my eating habits and my triggers in the past year as a result. What I have learned about eating well and taking care of myself is that it requires checking in with myself. When I am tracking my food, I am more present and mindful of the choices I make. I have also used it as a way of practicing my handwriting with different pens. It's helped make my handwriting better!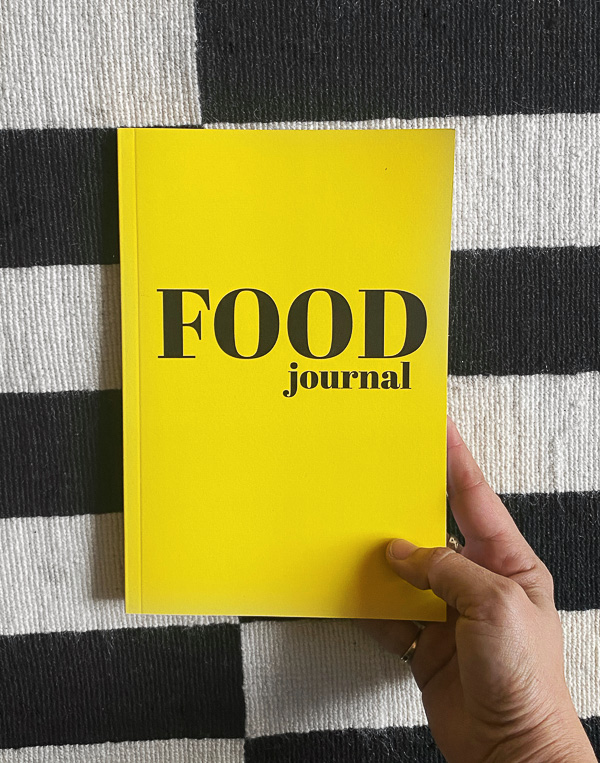 I created a section in the beginning of the workbook where I could write down all of my favorite things to eat for Breakfast/Lunch/Dinner so I would have something to reference.
I am so grateful for this practice. Sometimes I abandon it for weeks and then I pick up the habit again and my life feels like it's under better control. I remind myself that TODAY IS A NEW DAY and begin wherever I am.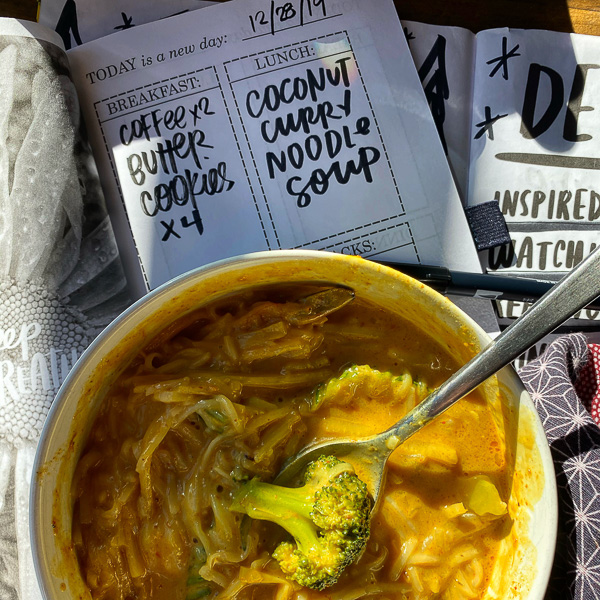 It's also fun to look at some epic meals I've had this past year.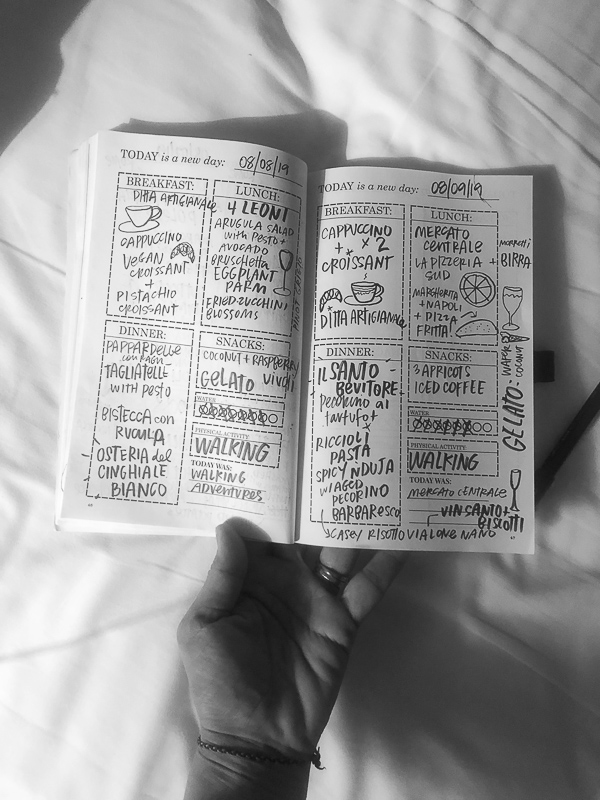 Every year I buy myself a new Sketchbook. Sometimes I go through two in a year.
I have a feeling I will in 2020….
If you want to see inside my sketchbook, I wrote a whole post about keeping a sketchbook here.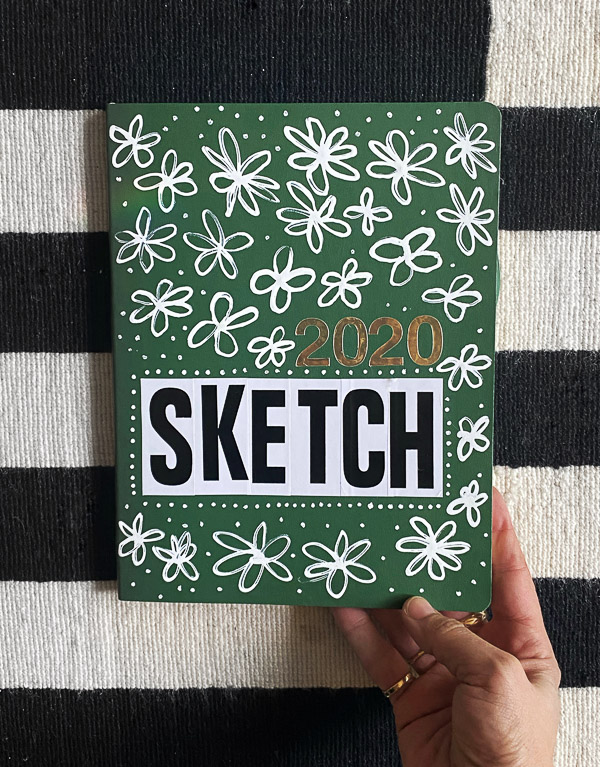 I've watched my creativity GROW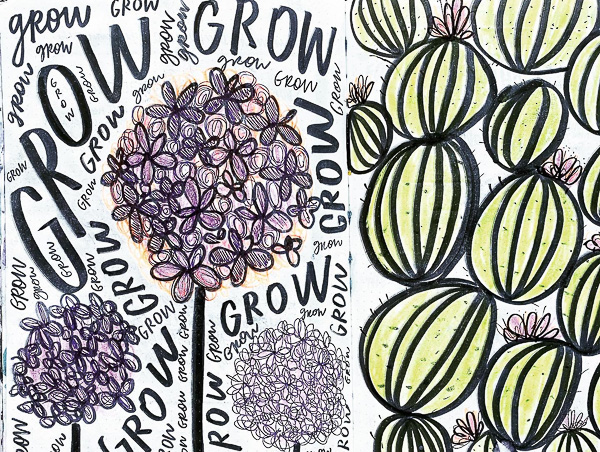 When I am able to look back…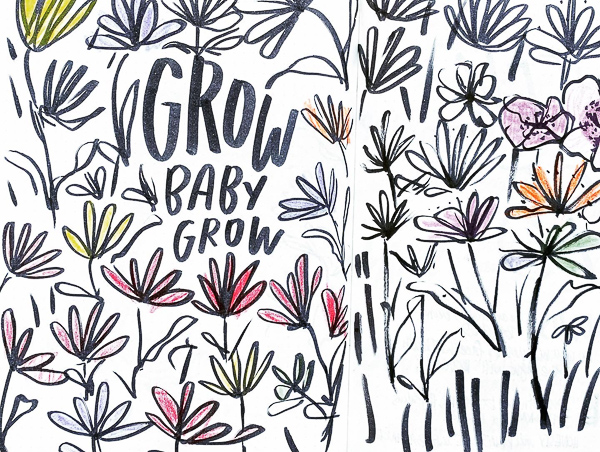 And see how I occupied my time away from my phone & computer and working in my sketchbook.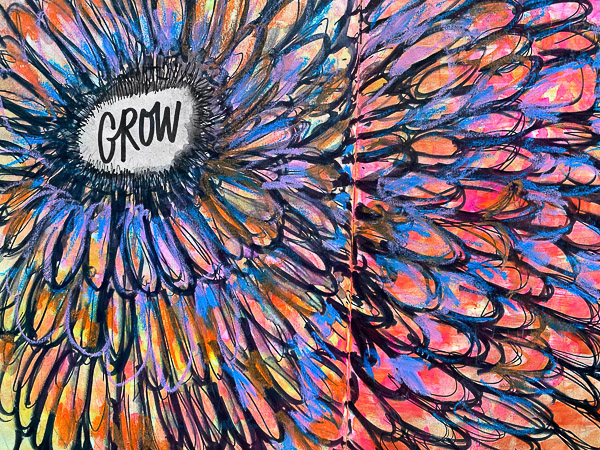 For project mapping and sorting things out, I use a Large Notebook (I like this one cuz it's dotted and BIG! (9×12)
I don't take it on the go. It sits on my desk and when I am ready to manifest a new project, I hash it out in that book.
It's where my goals & plans are. I hope to make it more of a vision boarding book this year.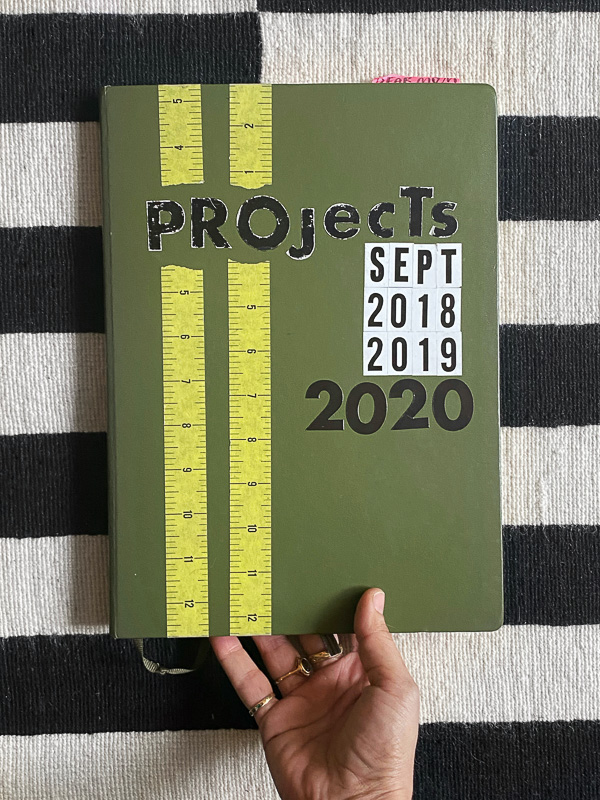 In July of 2019, I switched to a Moleskine weekly calendar because I was getting a little tired of the bullet journal system.
I felt like I wasn't using it as much as I wanted to, so I bought into a system that was already set up and made it work for me.
As you know, I always like futzing with planners. This one has been fun to use! I cut up one of my JUST START stickers to decorate the front. It helps keep me motivated.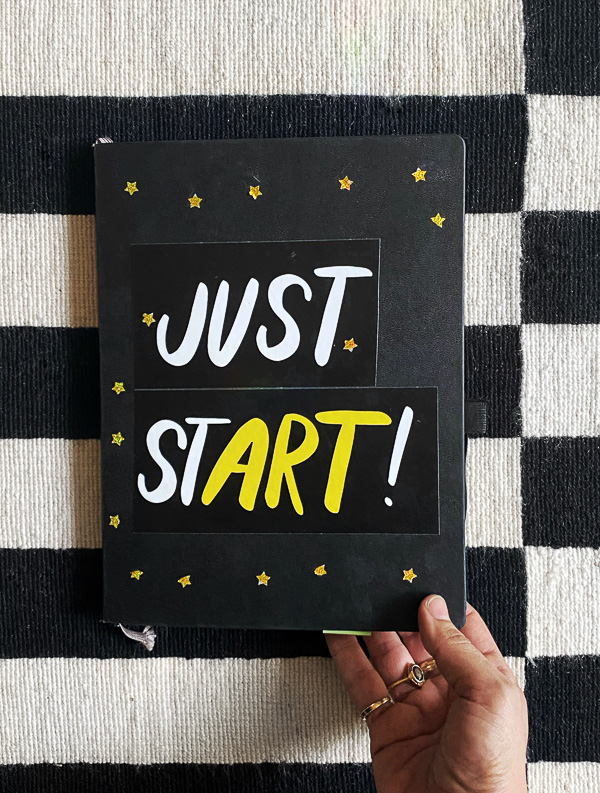 The format of this weekly planner looks like this- with the days on the left and a lined page on the right.
After playing around for 20 + weeks, I landed on this format (using a tombow brush pen
).
As you can see, I like things more contrasty.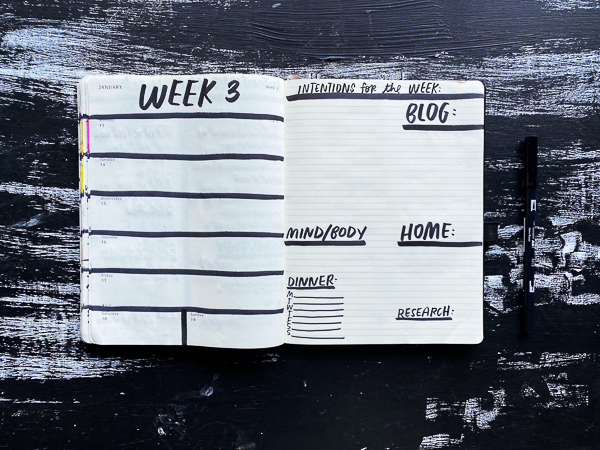 I use the month sections to map out content on my blog and the week sections to stay organized daily.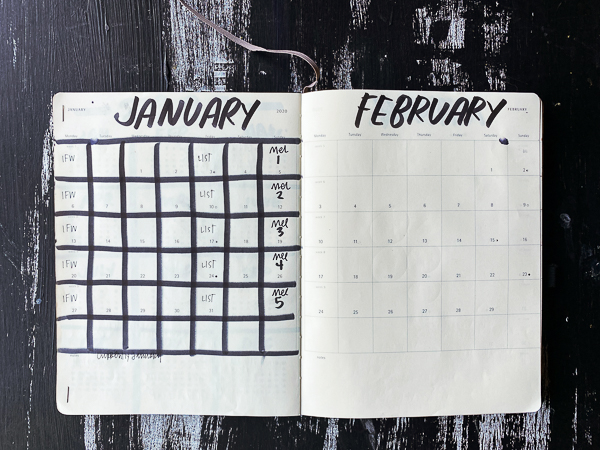 So, how do you start the new year off right? By WRITING THINGS DOWN.
Write down your intentions for the year
Pick a word that will help GUIDE you throughout the year.
Put that word in your life. Write it down and plant it in places in your daily life so you'll see it.
Remember that a goal without a plan is just a wish.
Set out what you'd like to accomplish. PLAN IT OUT.
Take better care of yourself.
Drink more water.
Check-in with yourself.
Push yourself.
Give yourself credit.
Keep up the good work.
YOU'VE GOT THIS.
If you need some inspiration, follow my writing adventures on my Instagram account dedicated to self-reflection & ALL THINGS HANDWRITING @thehandwritingclub
If you're working on a Currently Workbook and want to be part of our private facebook group, here's the link to that too. It's been such fun to see how other people use the workbook!!
Wishing you all the best in 2020! Don't forget to…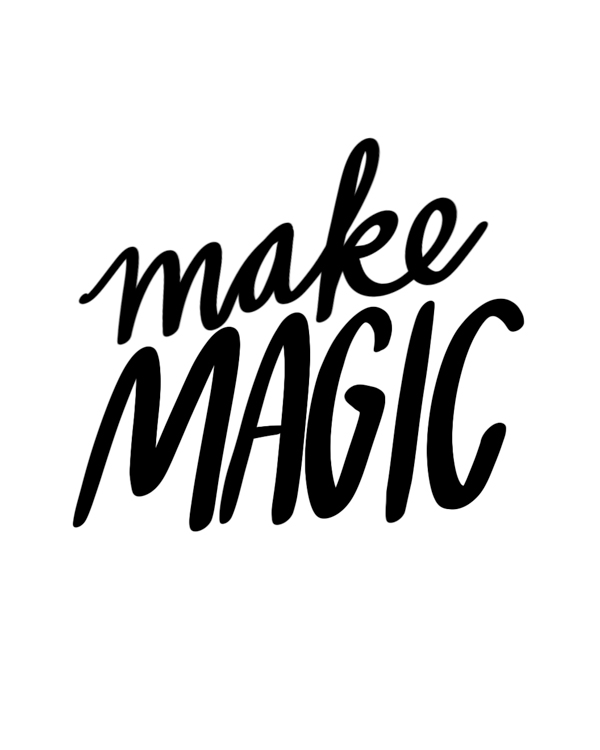 and watch as we all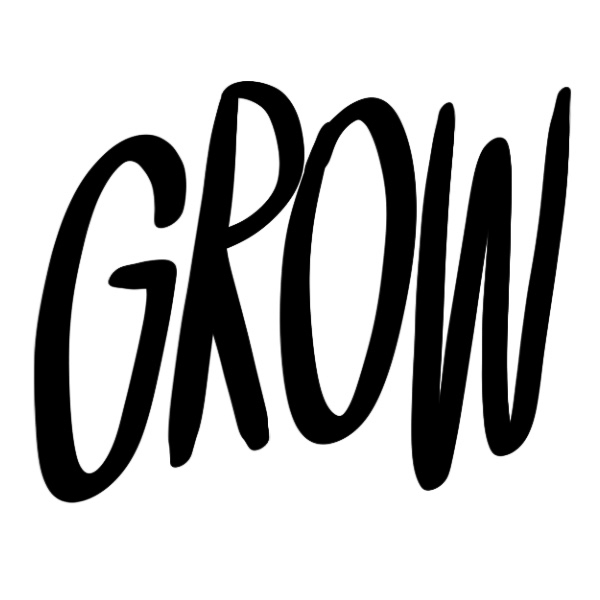 by taking good care of ourselves.
xo
Tracy