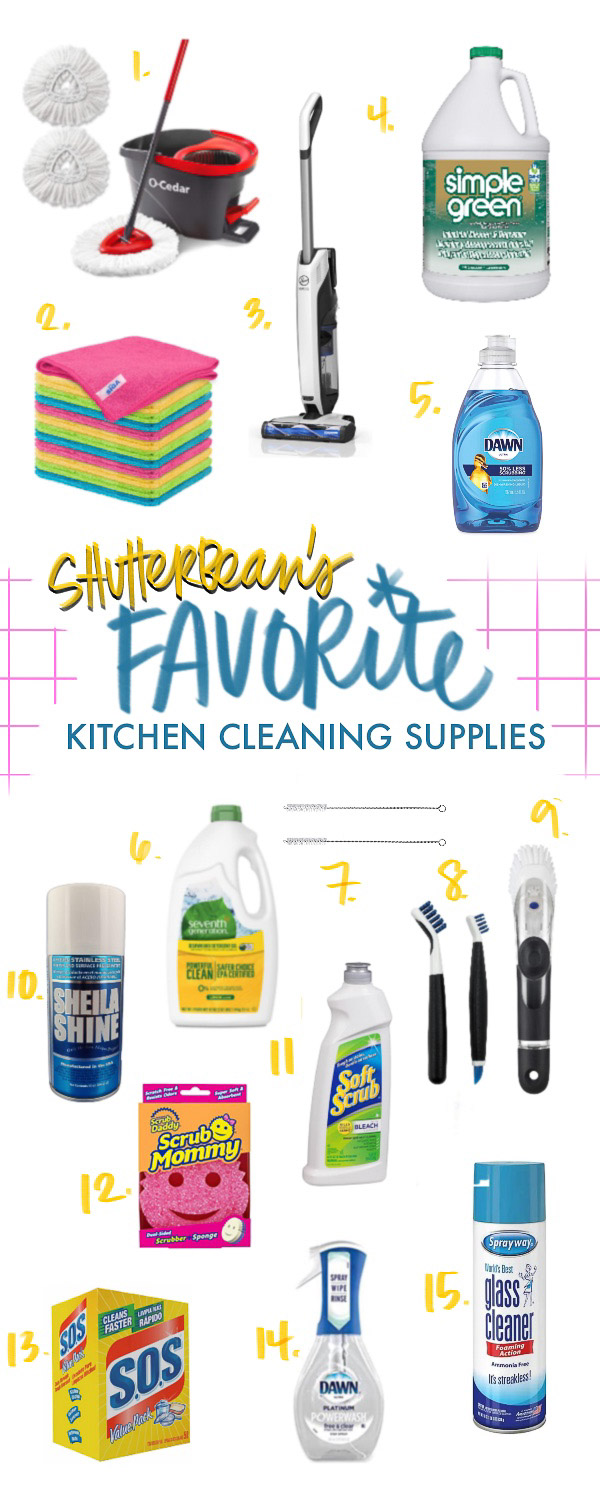 My Favorite Kitchen Cleaning Supplies!
I added it up and I've lived here in my childhood home for about 27 years. For 17 of those years, the house was under my Mom's care. For the last 10 years, it's been under my operation, with my Mom's voice always in the back of my mind while I work. When I miss a spot, I can hear her pointing out the missed spot while imploring me to do the job right! "The dishes don't do themselves!" she'd say.
I know, Mom. I REALLY KNOW.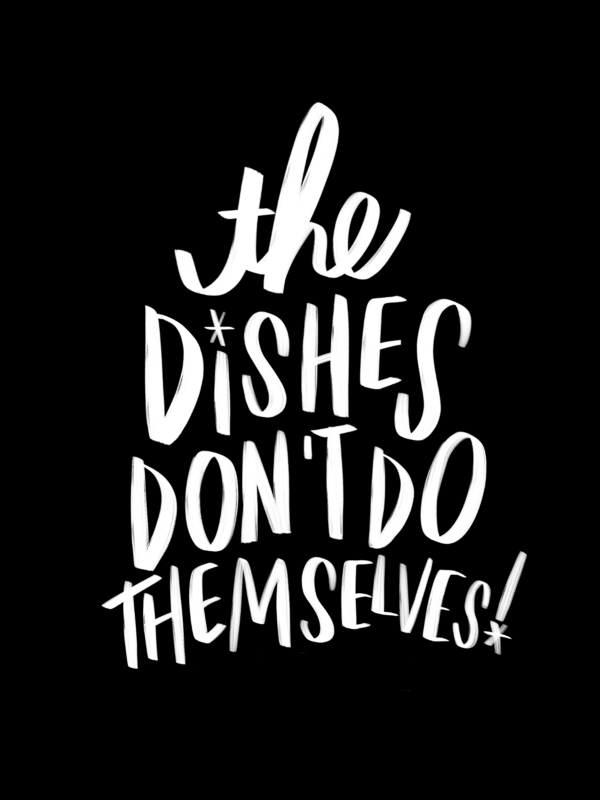 I've been taking stock of the essentials for the past few years. I've worked on being mindful of how I stay organized in the kitchen and figured out my essential meal prep tools. Since I clean my house on my own (with some help from my boys), I figured it might be a good practice to take stock of My Favorite Kitchen Cleaning Supplies. To preface this, my arsenal is a combination of what my Mom used to clean the kitchen with mixed with my own preferences. I do not like a lot of scents and perfumes in my kitchen. I'd prefer to use eco-friendly things but I don't always like how they perform. What I have in this list is what works for me and I hope it does for you as well.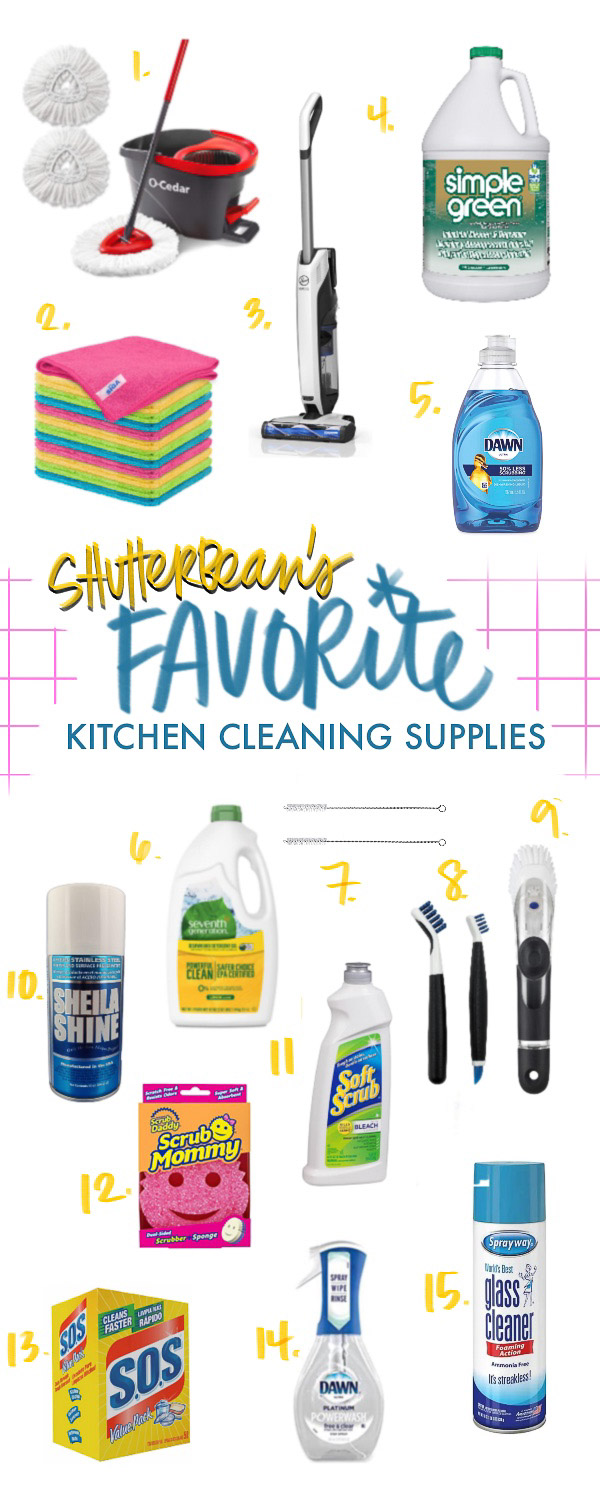 Here we go:
MY FAVORITES INCLUDE:
Spin Mop– I saw so many rave reviews of this mop online and had to try it. Color me impressed! I think it does a great job and I love the theatrics of spinning a mop and watching all the water wring out. It definitely keeps my attention while cleaning floors. I need to get some extra mop heads. We have hardwood floors and I like to use Bona in the bucket for them.
Microfiber towels– They're just magic. They pick up everything and I use them to clean my kitchen counters. We have a hot water dispenser ins our sink and one of my tricks is to get a microfiber wet with hot water and wipe down the counters with it. Cleaning is a dream with these and I like to have different colors for different uses.
Hoover Cordless Vacuum- This has been an absolute lifesaver for me. I can't even begin to tell you how annoyed I get when I step on something in the kitchen with my bare feet. I use this cordless vacuum every other day or so to keep our floors clean.
Simple Green Cleaner – My Mom used Simple Green when I was a kid and THE SMELL TAKES ME BACK! It's heavily concentrated so I mix it with water and fill it up in a spray bottle. This is how I clean the counters and most surfaces in the kitchen. Inside the fridge too!
Dawn Dish Soap– For a long time I used Seventh Generation dish soap but I found my way back to Dawn. It was what my Mom used and WHOA it definitely suds up and cleans things better in my kitchen.
Seventh Generation Dishwasher Gel: Seventh Generation was one of my clients many years ago. I wrote about using their products in my kitchen and laundry. I've been loyal to this detergent because it doesn't leave a smell on my plates. It also works!
Straw cleaner– We use a lot of glass straws in my house and you can't clean them without a brush. I like glass straws because you can see through them and you can watch the straw cleaner do its business.
Oxo Deep Clean Brush Set– I use these to get crevices like…in between the sink and counter as well as the stovetop gunk. Very helpful!
Sheila Shine– My Mom introduced me to Sheila Shine and I am forever grateful because I love it when all of my stainless steel appliances SHINE. I also think of her every time I use and that's just wonderful! A little goes a long way so I usually just spray a bit on a cloth and wipe things up.
Oxo Scrub Brush- This thing is great! I like that you can put soap in it. I also have one in my bathroom that I keep in the shower with a 1:1 ratio of dawn dish soap + white vinegar. Helps me clean the shower in a nontoxic way while I'm in there.
Soft Scrub with Bleach– We have white Corian countertops and if there's any type of stain on them, a little dab of this stuff helps! I also like to use it on the grout of my shower but that's a whole other post!
Scrub Mommy – I tried a scrub daddy and thought it was cool. It really gets stuff off of things but I also missed using a regular sponge so this scrum mommy is the best of both worlds. Mommy adds softness. Daddy is harsh. That's right Daddy, scrub off my egg pan! Mommy can clean out the inside of a wine glass. She's gentle, yet effective.
SOS steel wool scouring pads: I use these on my All-Clad and my Le Creuset. Mostly on the bottoms when things get burned into them and I'm mad about it. My mom always used these to scrub her pans. You have to store them properly or they rust.
Dawn Power Spray free & clear– THIS STUFF IS A MIRACLE WORKER. I prefer the free & clear one because the scent on the regular one is a little too intense for me. If you have a dirty pot to scrub or yucky stove burners to clean this stuff is amazing. It cuts through grease like nobody's business.
Sprayway Glass Cleaner– This stuff is foamy so it doesn't get all over the place (which I appreciate!) I pair it with a microfiber towel to clean the windows of my appliances, mirrors, and anything glass. This one came from my Mom's arsenal.
Bonus helpers:
Junk bowl- Walking over to the garbage wastes time while I am cooking so I always have a junk bowl near me while I'm working. I throw scraps and wrappers in it and sort it when I'm ready. I also wipe up things from the counter into this junk bowl to clean my surfaces before/after I work.
Dustpan & broom: I have a very old dustpan and broom and the pan part is cracked. I'll probably replace it soon but this one I linked to is one that I find aesthetically pleasing. I wouldn't mind looking at in my broom closet.
Barkeeper's friend: I use this stuff occasionally. It cleaned up my cooper mugs really well. I am not super particular about my pans looking sparkling clean but if I was (my mom was!) I would use this. I keep it under the sink in my collection.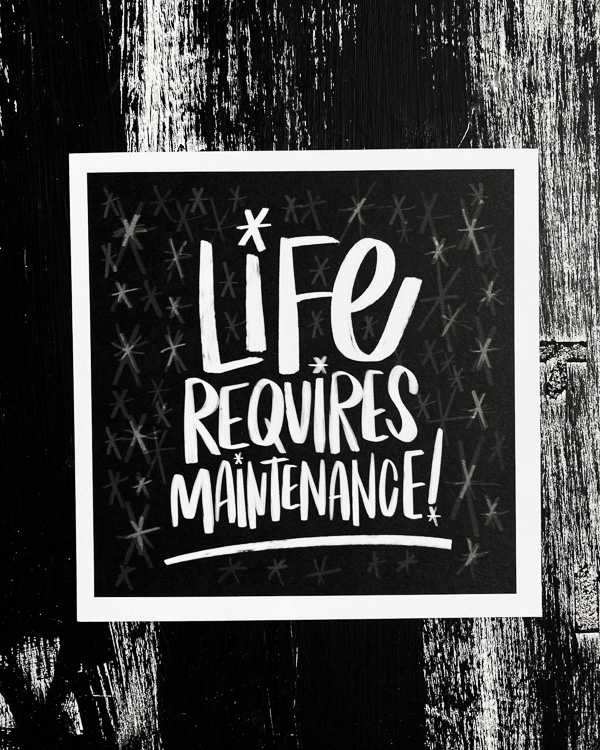 Don't forget, Life Requires Maintenance! (you can find this print in my Etsy shop!)
If you have any Favorite Kitchen Cleaning Supplies that are your faves and they're not on the list, leave a comment I'd love to hear what works for you!