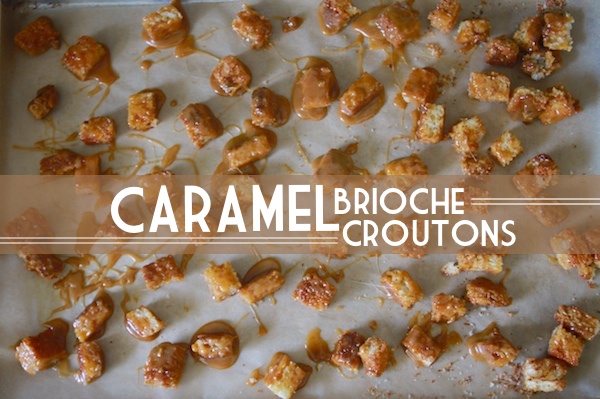 When I'm working in the kitchen and I've made something particularly good I do this thing….this thing that I wasn't aware I did until Casey started working from home. When something blows me away, I do fist pumps and shout out "MMMM. IT'S SO GOOD. MMM. OH MY GOD MMM." Then I proceed to walk through the house while eating…shouting how good it is. I didn't realize I do it until I saw the peculiar look on my husband's face.
Yeah dude, your wife does this weird thing.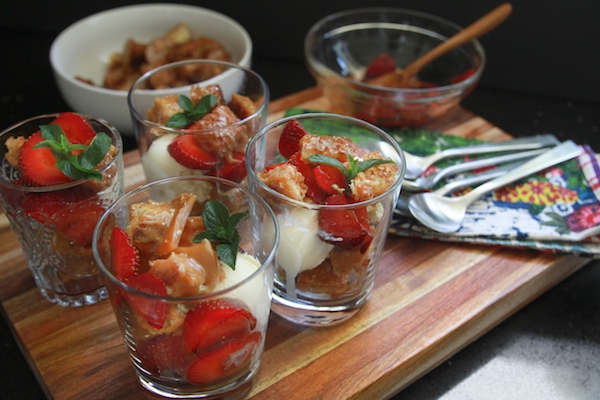 So… that happened with these Caramel Brioche Croutons. Fist pumps, moans, angels sang, and Oprah shouted in my head.
THE WORKS.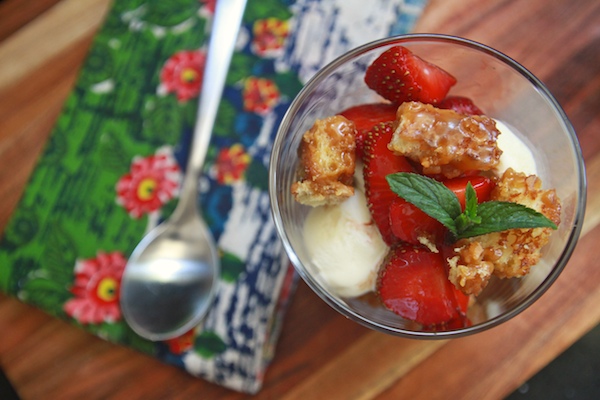 People! This is so good. I want you to make something that will produce FIST PUMPS and weird noises.
Then and only then will my work done. It's caramel. It's bread. It's crunchy sweet Caramel Brioche Crouton time.
And we're off!
Ingredient gathering happens NOW.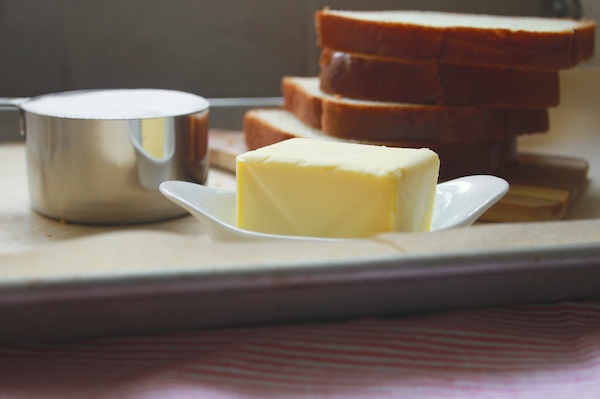 Let's make toast. Toast brioche. Cut off the crust. Cut toast into little cubes. Crouton magic.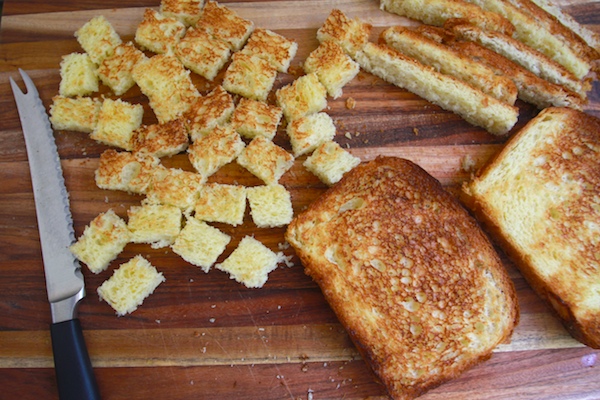 Caramel time!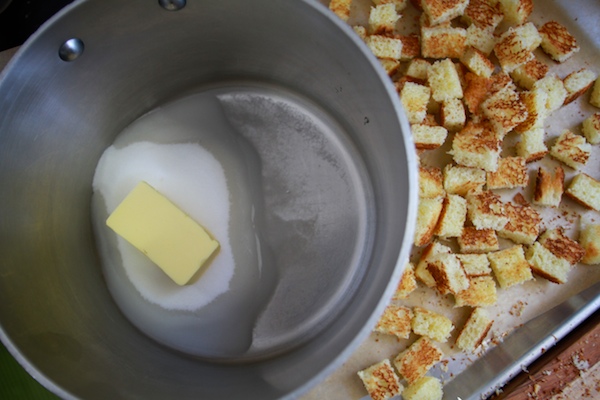 Melt the butter, sugar & water. Make a caramel. Takes roughly 5 mins.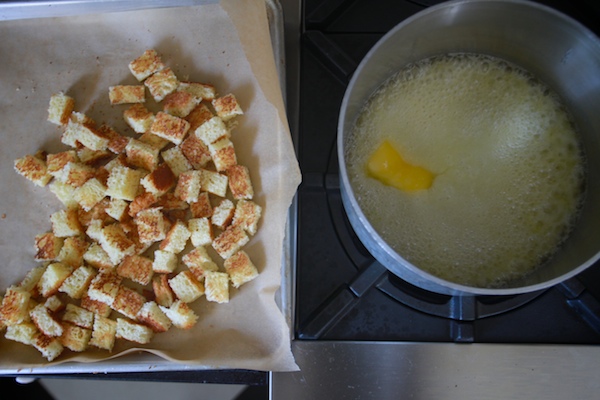 Stop drop & roll. Well…put the croutons in and gently stir.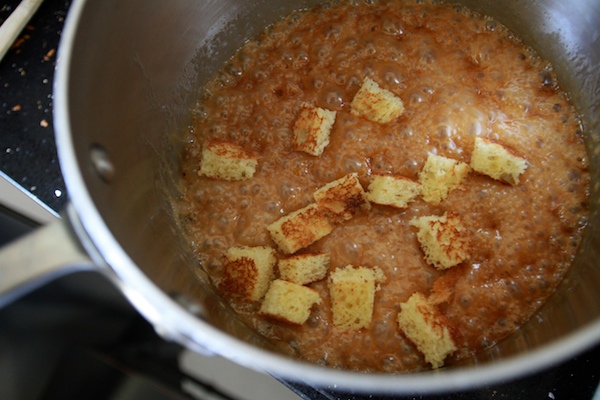 Place them on the parchment paper lined baking sheet. This is at the tail end of the process.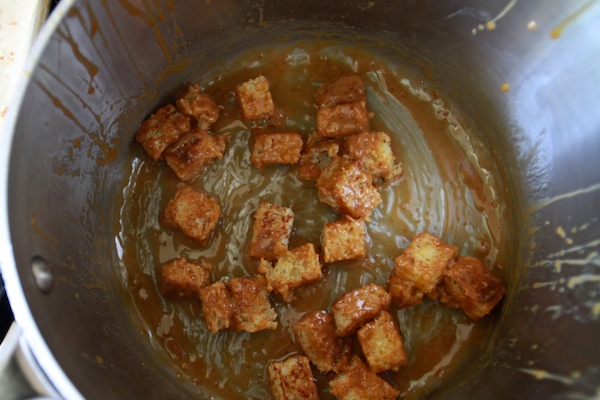 Yeah. This is jealousy inducing. They get hard on the outside and remain soft and light on the inside.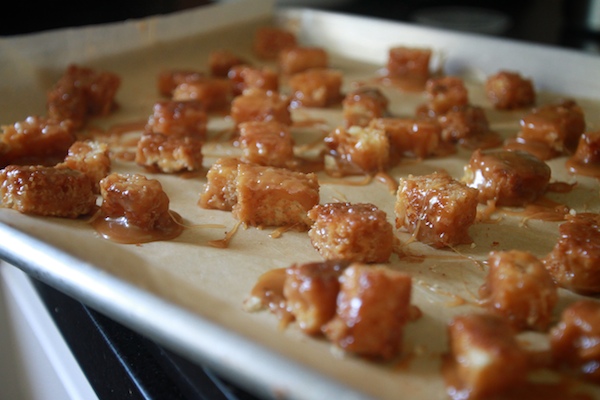 Now we're gonna do something with them. I mean…you could just EAT them on their own…Yeah.
Strawberry time!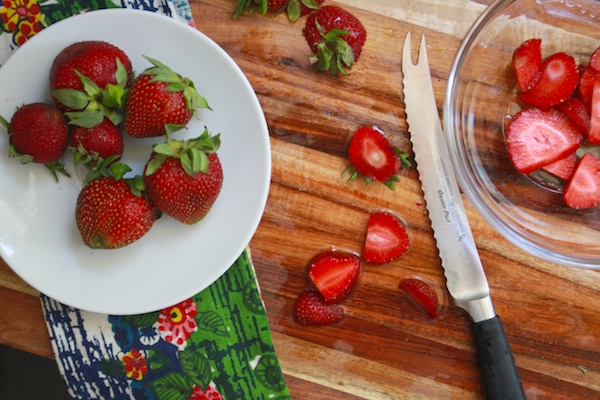 Place cut strawberries in a bowl with a little bit of balsamic vinegar. Let it sit. Done.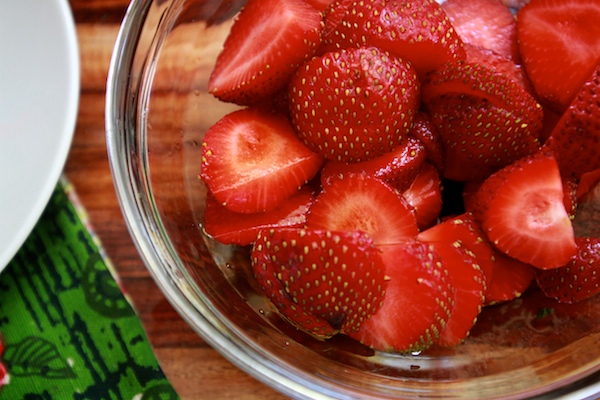 Now we are ready to roll. Dessert style.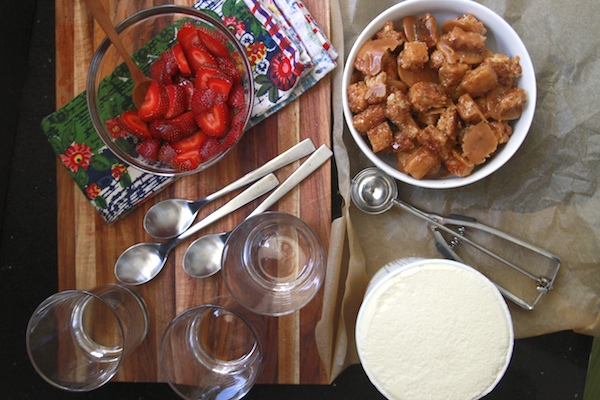 Line the bottom of each glass with some croutons. Look at that caramel!!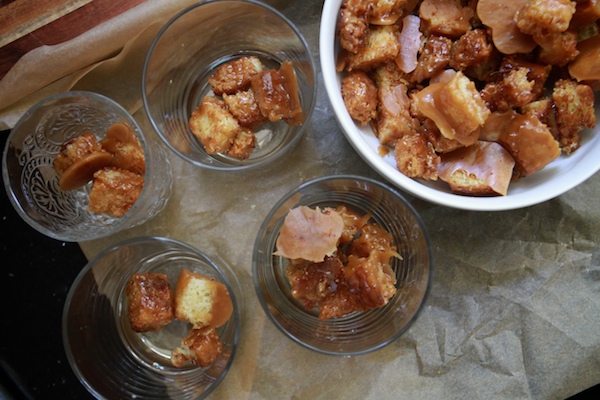 Add a scoop of ice cream & some of the strawberries on top.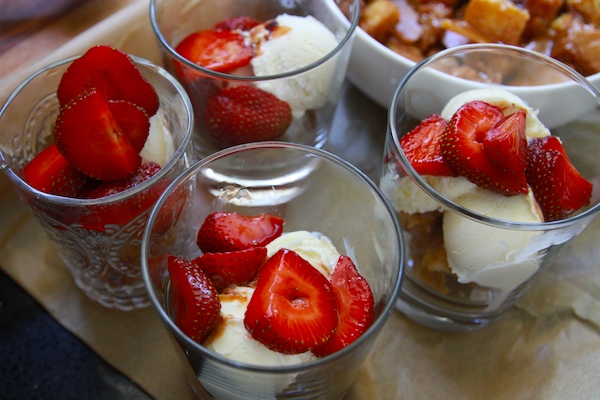 Top with more caramel brioche croutons & a little bit of mint.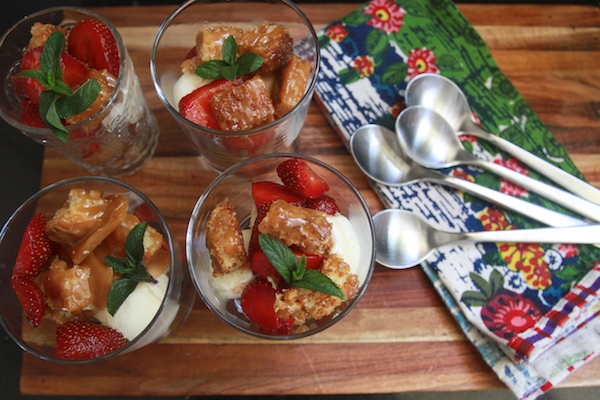 So simple. SO YUM.
Mind=blown.
Caramel Brioche Croutons

serves 4-5

recipe adapted from Martha Stewart Living Magazine

6 tablespoons salted butter
1 cup sugar
1/4 cup water
4-5 slices toasted brioche bread, cut into 3/4 cubes

with Strawberries & Ice Cream:

1 pint vanilla bean ice cream
8 medium strawberries thinly sliced
1 tablespoon balsamic vinegar
mint for garnish

Line a baking sheet with parchment paper and set aside. In a medium saucepan over medium-high heat, combine the butter, sugar and water. Stir until sugar is dissolved, about 2 minutes.

Allow mixture to boil and caramelize until the syrup is an amber color. Remove from heat and add the cubes of bread one handful at a time, and stir gently to coat. Use a fork and gently pull the croutons out and place them on the parchment lined sheet, making sure none are touching. Let cool.

In a small bowl stir together the strawberries & balsamic vinegar. Let sit for at least 15 minutes to marinate. To serve, fill four serving dishes or cups with ice cream, garnish with caramel croutons & strawberries. Drizzle any excess balsamic vinegar on top.