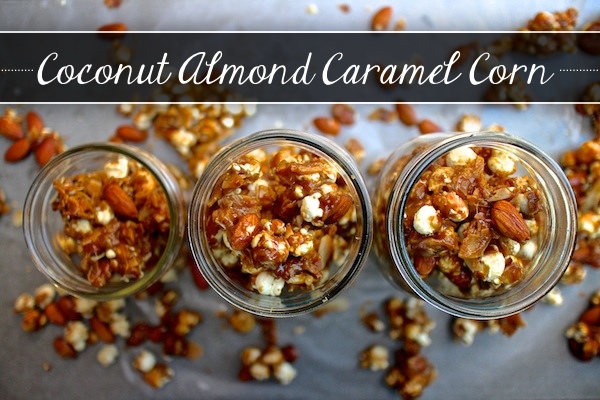 Coconut Almond Caramel Corn aka How to Woo Your Hair Stylist/Mail Carrier/Preschool Teacher/Boss/Neighbor.  It is to be used when you really want to change someone's mind about you…like WHOA!! He/She is AWESOME. I'm pretty sure you already are, but giving people delicious Caramel Corn can take your awesome status to a whole new level.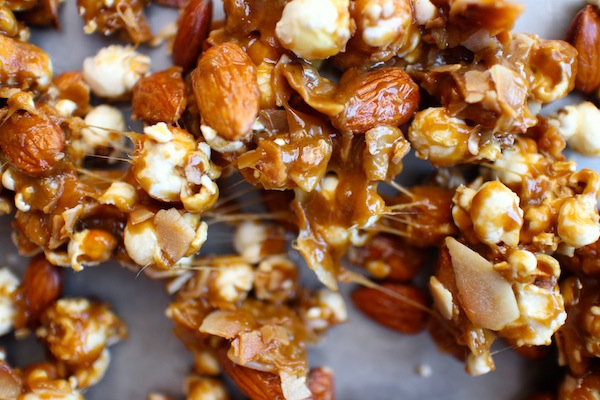 Have you ever tried something that made you speechless? This is the case with this recipe. Crunchy popcorn meets crunchy toasted coconut meets roasted salted almonds meets caramel OMG. Light, buttery, salty toffee-like amazingness.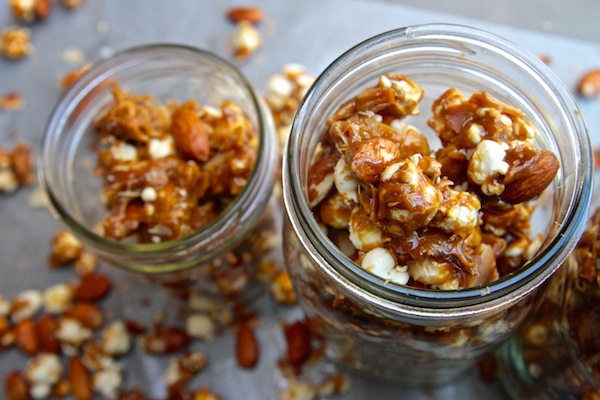 And to think I was super impressed/dang proud of my Caramel Croutons…these might be my new favorite… I have visions of topping dulce de leche ice cream with crunched up bits of this Coconut Almond Caramel. Excuse me while I dream…BIG.
And we're off!
Ingredient gathering. Not pictured: Salt. I seem to always forget to put it in ingredient shots.
Please forgive.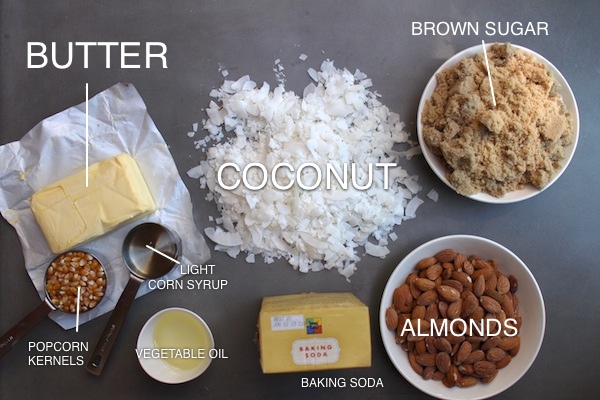 First we want to toast our coconut. In the oven it goes at 350F for about 5 minutes.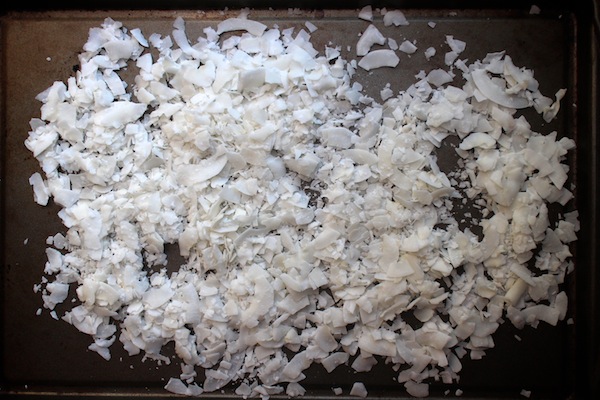 BOOM.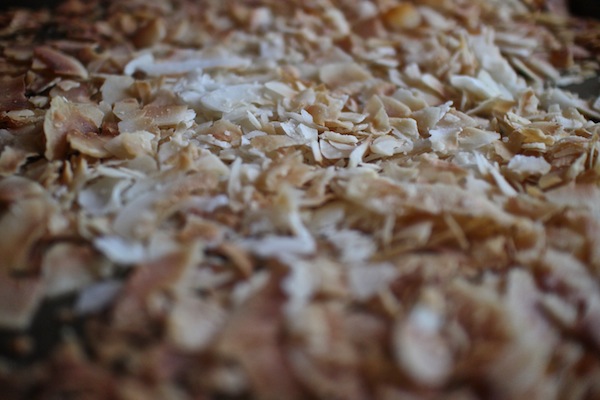 We have got to pop some popcorn!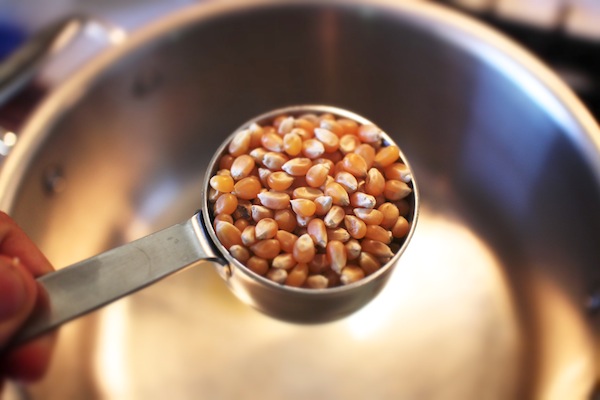 Set the popcorn aside. Sprinkle it with salt.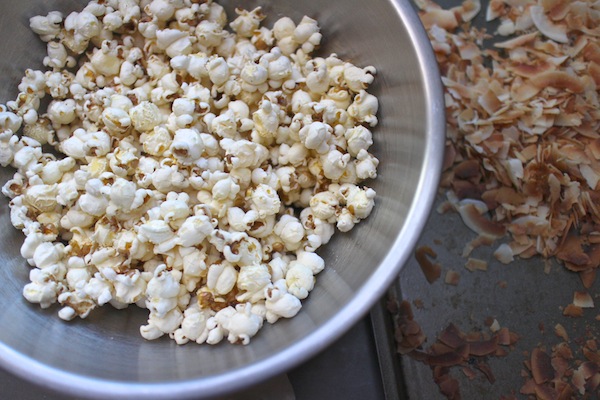 Now we make our caramel base. While that's boiling…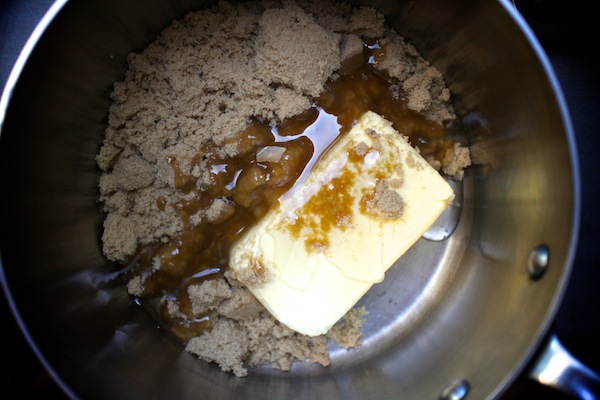 We gather all the fun stuff together.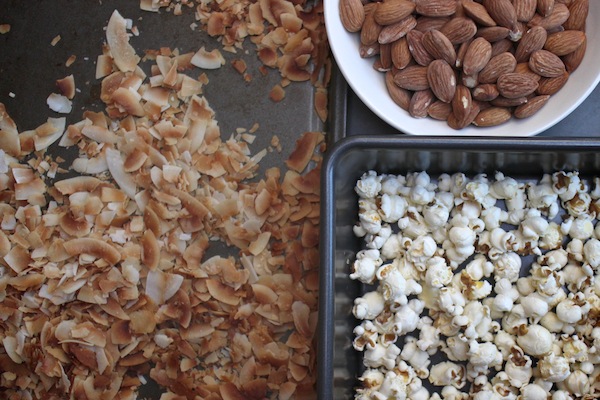 Spread the popcorn, almonds & toasted coconut out on the baking sheet.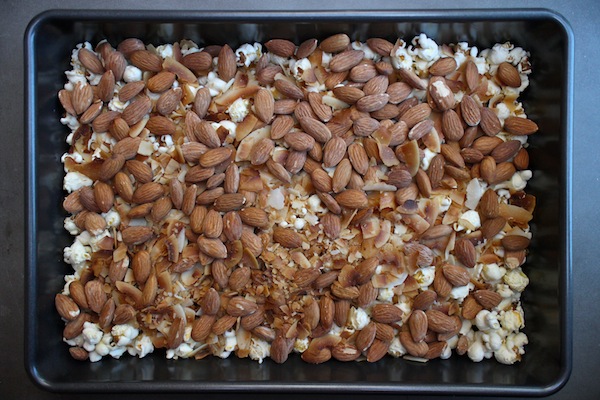 When the caramel is done…add the baking soda. BOOM.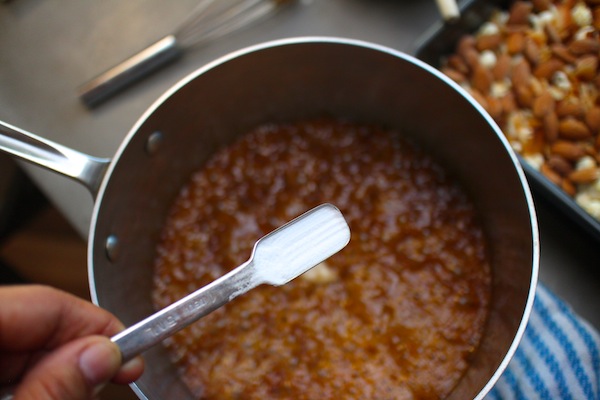 Pour the caramel on top of the popcorn mixture. STIR.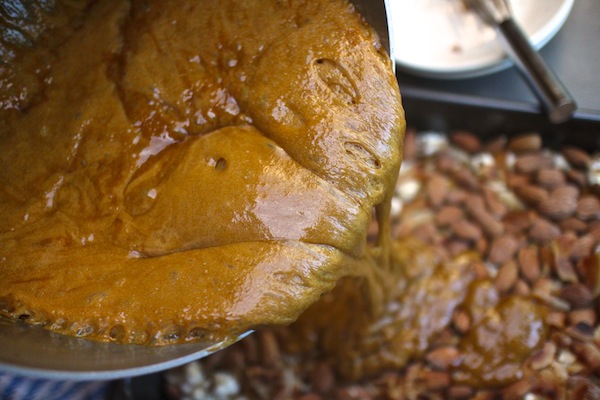 Keep stirring. Evenly coat it.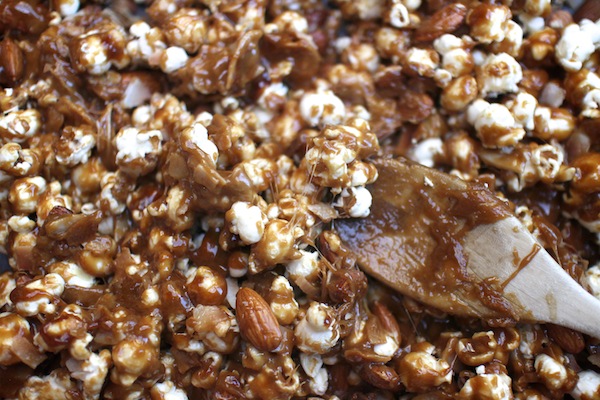 Now it's ready to go into the oven. This makes the popcorn extra crispy!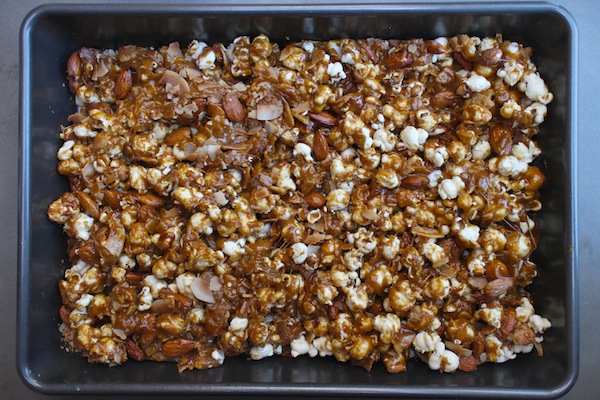 After a few intervals of baking/stirring we spread it out on waxed paper to cool.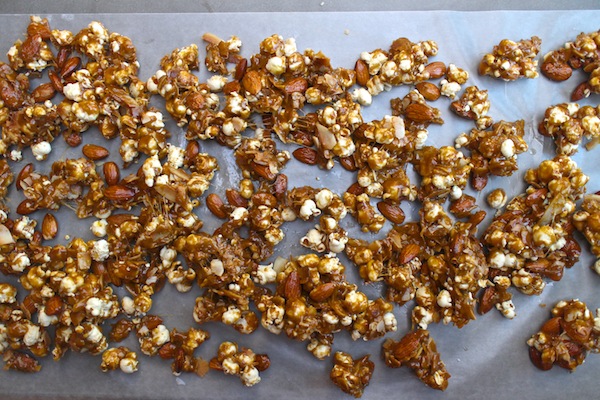 My advice to you is to seal them up once they're cool!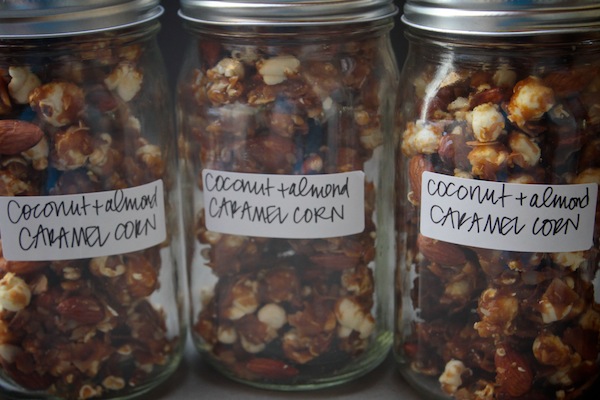 It's so incredibly dangerous.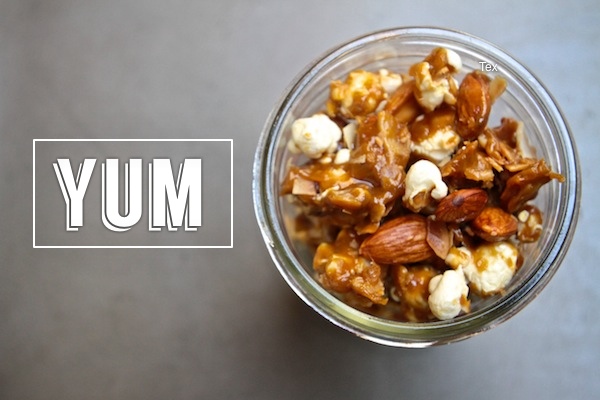 You shouldn't be left alone with a jar…
Coconut Almond Caramel Corn

makes 12 cups

recipe adapted from the The Joy the Baker Cookbook

for the popcorn mixture

2 tablespoons vegetable oil

1/3 cup yellow popcorn kernels
1/2 teaspoon salt
1 1/4 cup dry-roasted almonds
2 cups toasted coconut flakes

for the caramel:

1 cup (2 sticks) salted butter

2 cups packed brown sugar
1/2 cup light corn syrup
1 teaspoon salt
1 teaspoon baking soda

To make the popcorn mixture:

In a large pan over medium-high heat, warm oil. Add the corn kernels and place a lid, slightly ajar, over the pot. Pop the popcorn until the popping sound subsides. Turn off the heat, carefully pour the hot popcorn into a large bowl and sprinkle with the salt.

In a 9×13 pan, measure 7 heaping cups of popcorn, being sure to avoid any unpopped kernels. Top popcorn with almonds & toasted coconut. Set aside.

Place a rack in the center of the oven and preheat to 200F.

To make the caramel:

Combine butter, brown sugar, corn syrup and salt in a medium, heavy-bottomed saucepan. Carefully whisk the mixture as it heats and the sugar melts. Boil the sugar and butter mixture for 5 minutes. Remove from heat and add baking soda. Whisk well. Carefully pour the sugar mixture into the 9 x 13 inch pan over the popcorn mixture. Use a large wooden spoon to toss the two together making sure that every bit of the popcorn mixture is coated with caramel. Be careful not to touch mixture with your hands, as it could burn you.

Place pan in the oven and bake for 30 minutes, removing the pan to toss every 10 minutes. Once baked, remove from oven. Carefully spoon onto sheets of waxed paper to dry.  Once dry, store in an airtight container. Popcorn will last for up to one week.