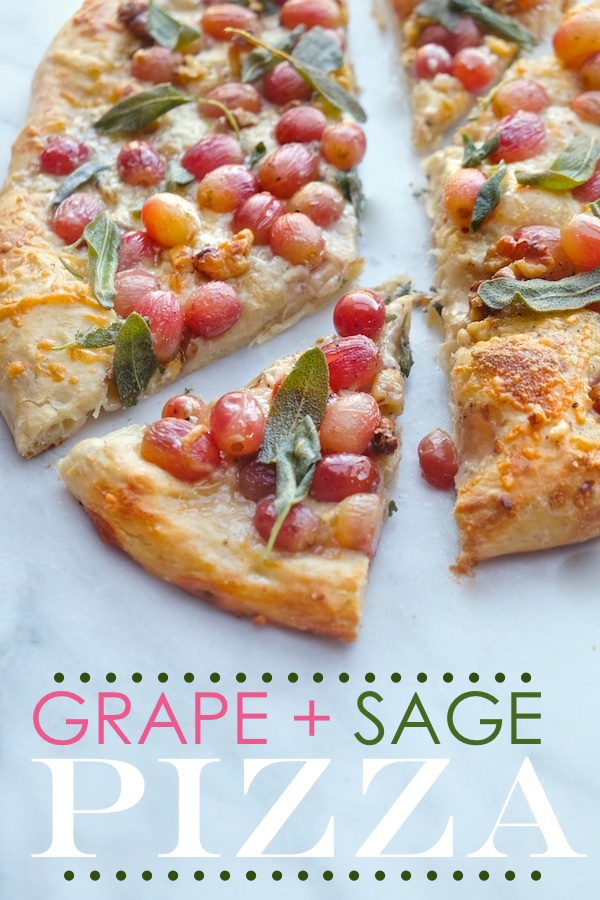 We're about to finish the first season of Friday Night Lights. It's kinda what I'm living for right now. Whoa… that sounds dramatic. But really, it's the only thing that is motivating to get all my work done before 9PM every day.  Why did we wait so long to watch this show? I'm like A DECADE BEHIND in this Tim Riggins crush thing. I get it ladies, I TOTALLY GET IT.  As a result of all of this hoopla, we're having a hard time not watching three episodes in one night and our sleep the past few weeks has been all messed up because of it. Oh…Netflix…you sure do mess with my life…not that I'm complaining or anything.
Side note: Netflix & Chill
I just learned that term this Halloween when I met someone dressed as that (!!!!).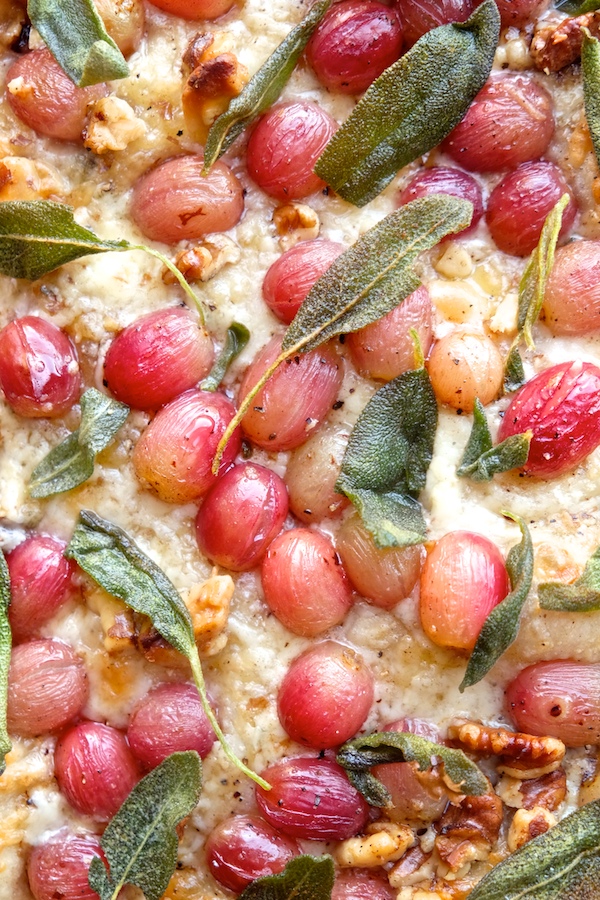 Now that we've gotten my current TV-binge viewing situation out of the way, I'm sharing this fabulous Roasted Grape Sage Pizza I made last week. I had a few grapes sitting around and some sage leftover from this heavenly sandwich so BANG! We have pizza.
I was inspired to do so when I saw this recipe on my Pinterest feed.
Looks super delicious, right?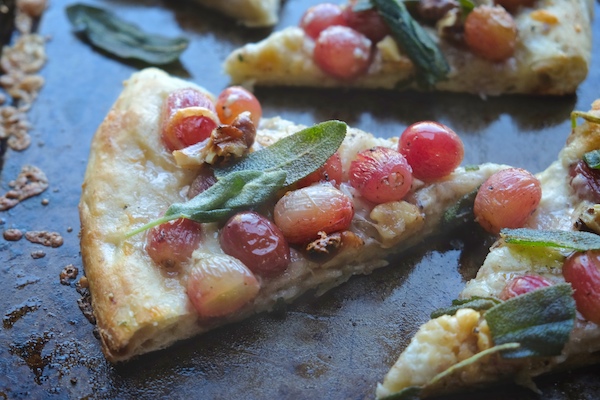 The grapes are coated in sage infused brown butter and get roasted with walnuts, mozzarella, and gorgonzola on the pizza dough. We garnish the baked pizza with crispy fried sage and drizzle a little balsamic on top! It's a sweet savory extravaganza.
Let's gather our ingredients: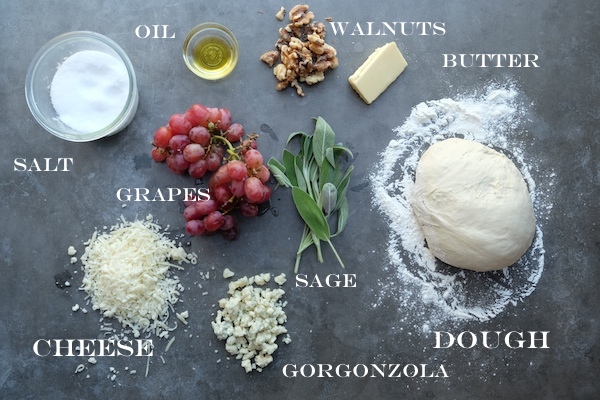 Butter + Sage.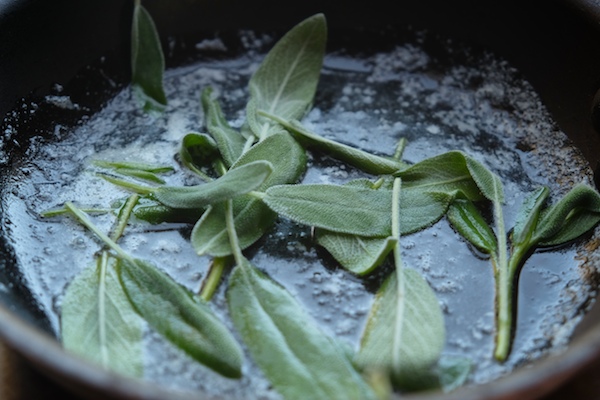 Sage is taken out. Grapes are tossed in that sage infused butter.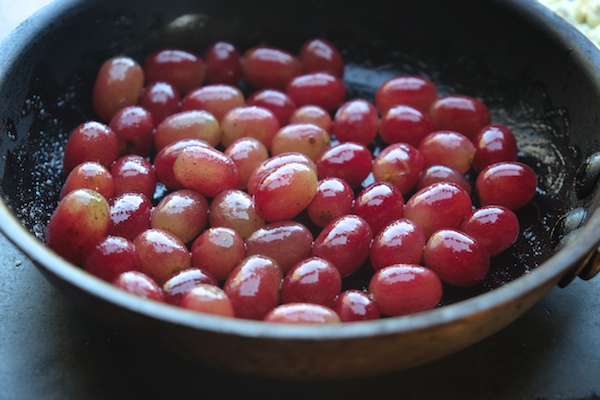 Pizza gets topped with the cheeses, grapes & walnuts.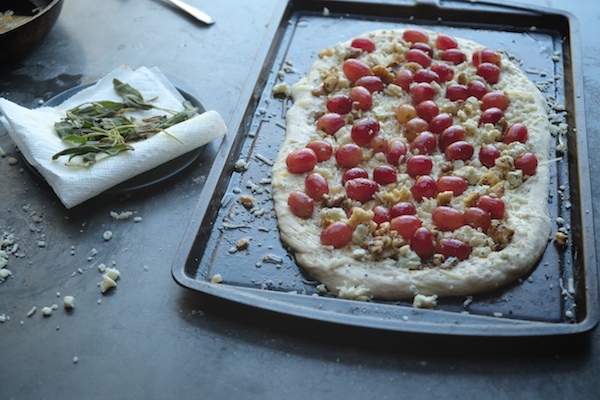 OVERVIEW.  Off to the oven.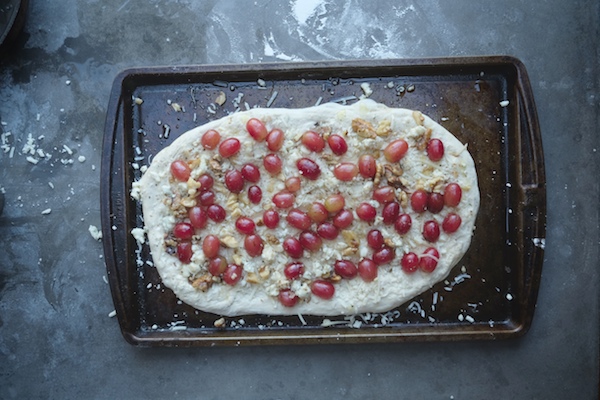 BAKED.  The grapes become super juicy. They're lovely!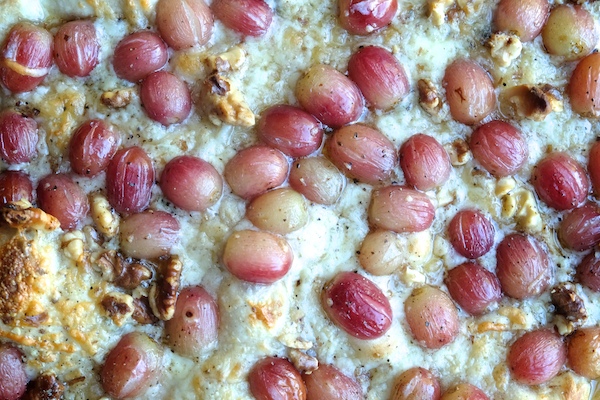 But something is missing….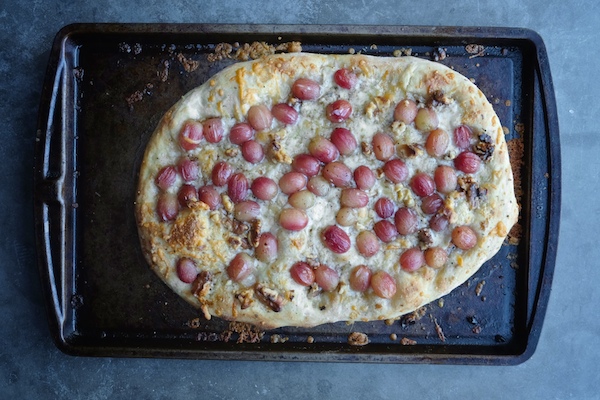 SAGE!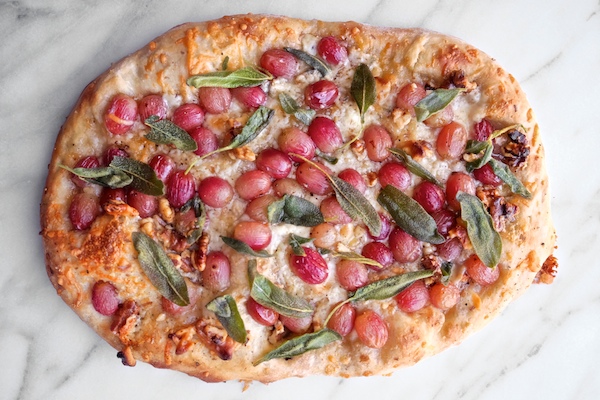 Let's have it. Wait. Let's drizzle some balsamic vinegar on top.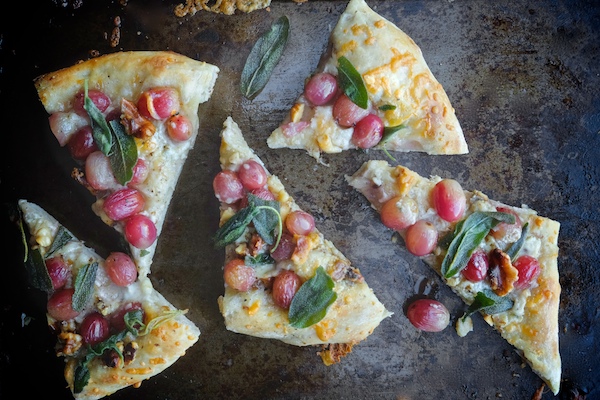 Hope this recipe inspires you to try roasted grapes.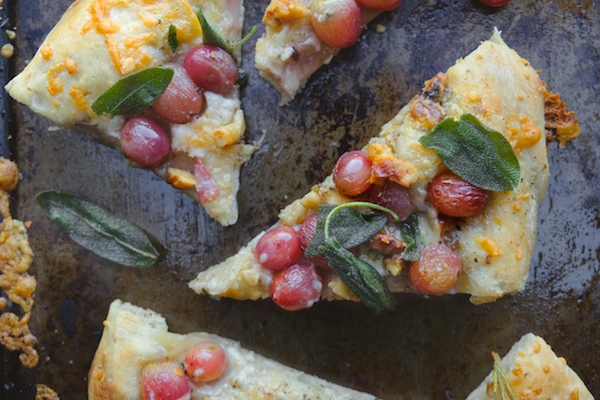 And I hope you're obsessed with frying sage in butter like I am.
If you make one of the recipes you see on Shutterbean, will you snap a photo and share it to the #shutterbean hashtag on Instagram? I LOVE SEEING WHAT YOU GUYS MAKE!!!!!!
Roasted Grape & Sage Pizza

serves 4-5

1 1lb. pizza dough
1 tablespoon salted butter
15 fresh sage leaves
1 1/2 cups red grapes
1  1/2 cups shredded mozzarella
1/2 cup crumbled gorgonzola cheese
1/3 cup chopped walnuts
salt & pepper
balsamic vinegar, for serving

Preheat oven to 450F

In a small skillet over medium-high heat, melt butter. Add sage and cook for 2-3 minutes, or until sage is crispy. Set sage aside on a paper towel and stir the grapes into the infused sage butter to evenly coat. Set grapes aside.

Stretch pizza dough into a 14 inch circle onto a pizza pan or baking sheet.  Top with mozzarella and gorgonzola cheese. Evenly distribute grapes on top of pizza followed by walnuts. Season with salt and pepper and bake until crust is nicely browned, about 15-18 minutes.  To serve, top pizza with reserved fried sage and a light drizzle of balsamic vinegar.