Heart Shaped Cinnamon Sugar Tortilla Chips
I got a comment the other day from a SUPER old post saying that I should make these Cinnamon Tortilla Chips heart-shaped for Valentine's Day. Comment noted. Action COMPLETED. I love my readers (thanks for the idea, Sandi!). Also, that note that I wrote my 7-year-old self in that post cracked me up. I need to write a note to 31-year-old Tracy. There's a lot she needs to know.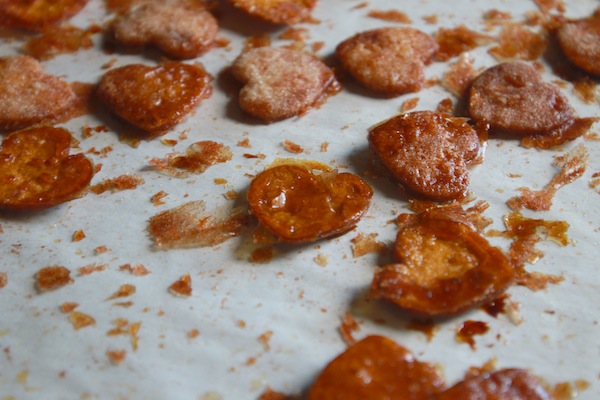 If you're looking for a super last minute sweet treat for Valentine's Day, this is IT. Look no further.
You can complete this recipe the night before your Valentine's date or even while you have a movie going and your significant other is chilling on the couch.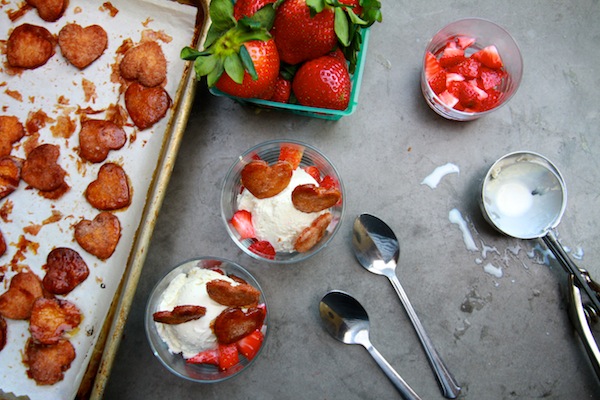 If you haven't noticed, the sugar gets all melty and hard which creates a cinnamon-y caramel-like coating!
It reminds me a lot of these Caramel Brioche Croutons. I've been meaning to make those and dip them in white chocolate…or maybe dark chocolate. I dunno. I digress. 34-year-old Tracy is easily distracted.
And we're off!
Super simple. As per usual.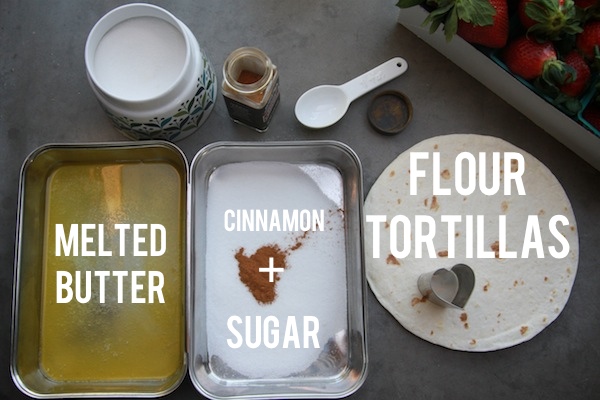 Cut out your hearts! I used a small cutter- it's about an inch and a half across.
Double up your tortillas and punch!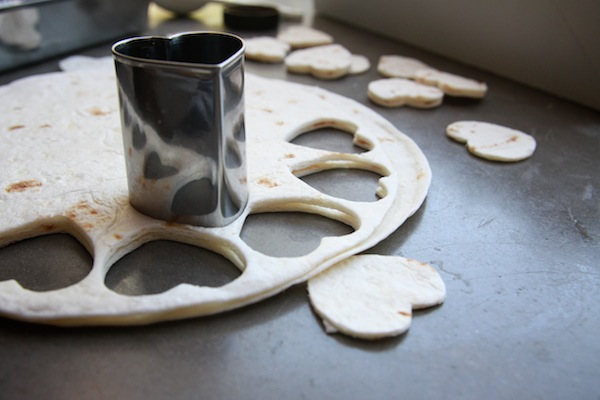 Super satisfying.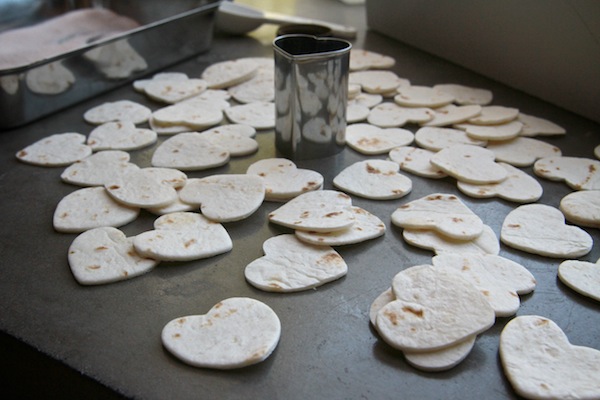 Toss the hearts in the melted butter. Salted. Of course. Mix the cinnamon & sugar together.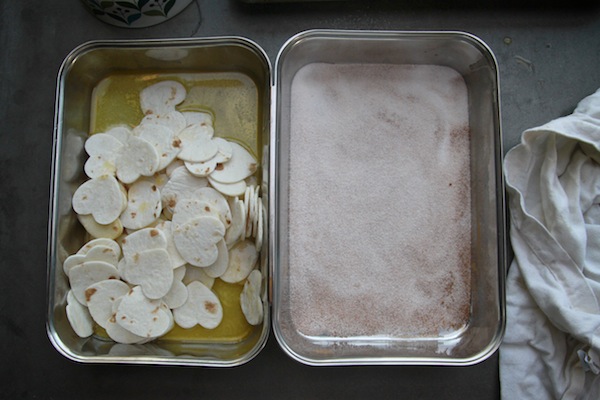 Dredge/coat the tortillas in the cinnamon sugar.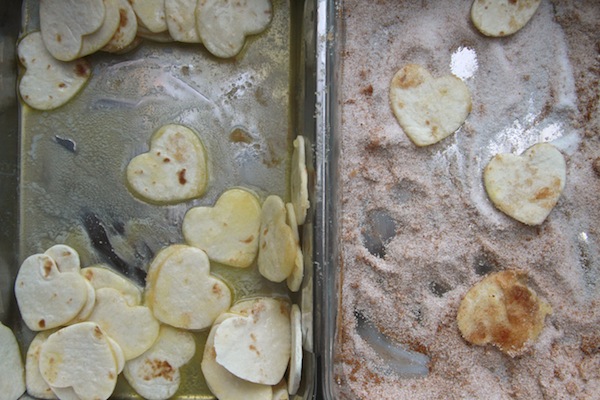 Line them up on a parchment-lined baking sheet and BAKE.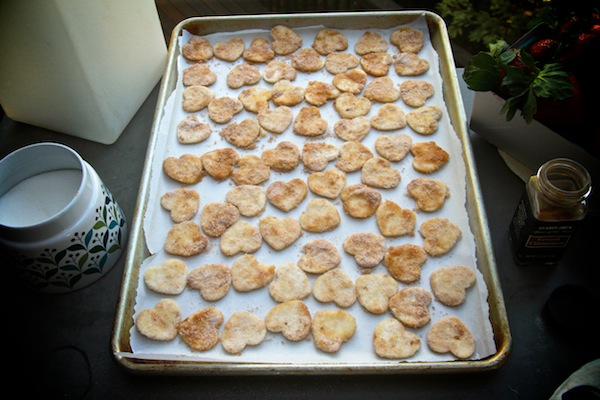 Hello MELTED CINNAMON SUGAR!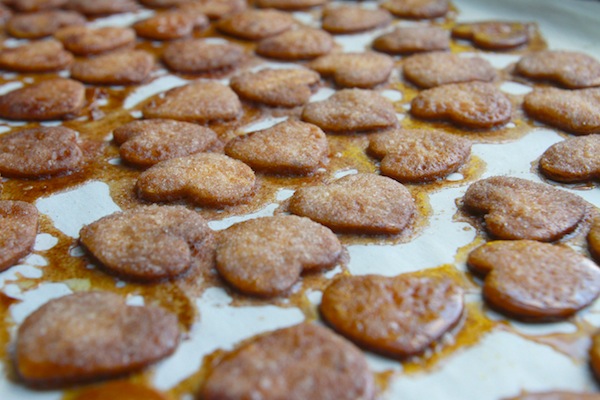 This is the cool part- they kinda stick together with the cinnamon sugar "candy." It easily breaks off if you're getting worried.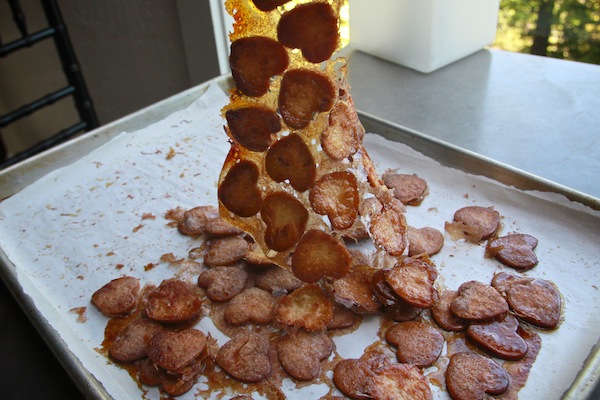 So what to do with them? You could coat them in chocolate. You could eat them plain… you could add them to ice cream and strawberries and make a yummy little sundae. You could add hot fudge on top or some spicy hot caramel would REALLY be good.
If you go the sundae route, add a layer of hearts to the bottom and top with your ice cream and then MORE hearts.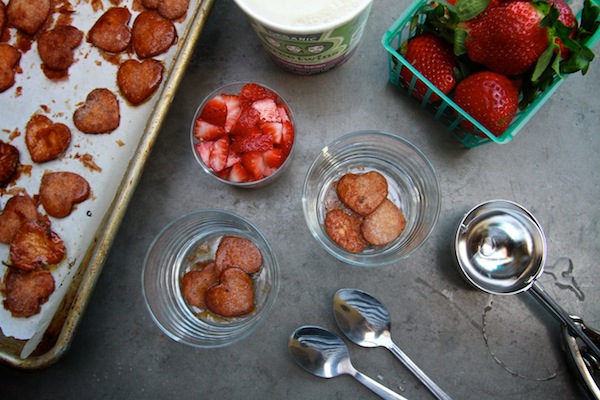 Super cute, huh?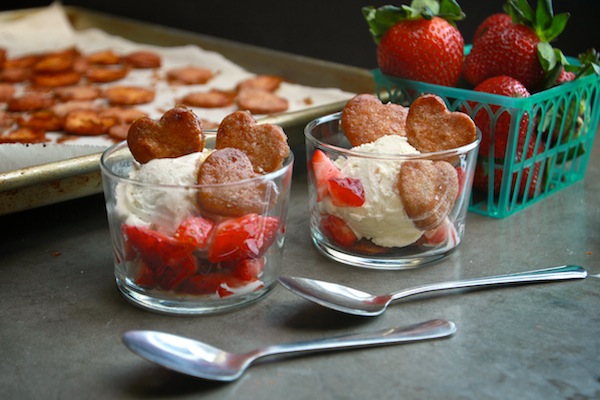 You'll love the crunch.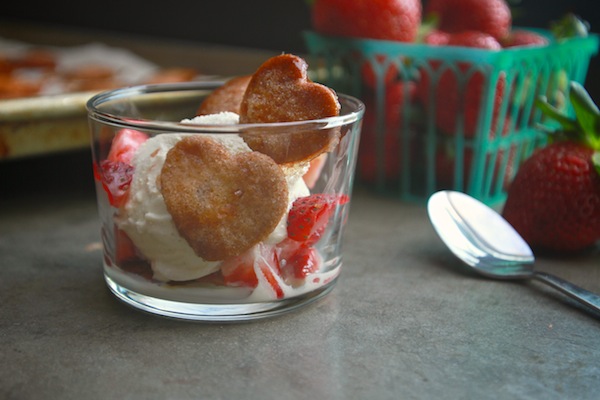 And you could also sandwich a little ice cream between two hearts.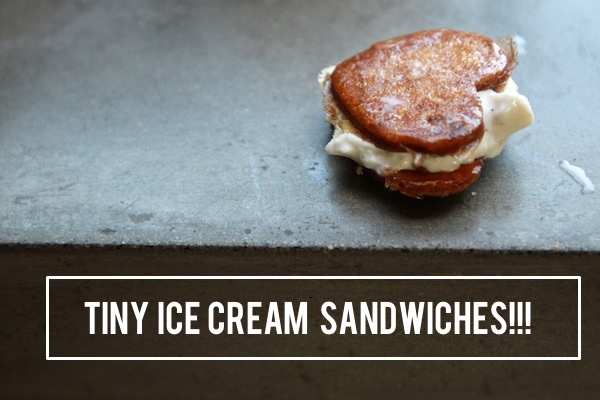 It's out of this world. I hope you love these Heart Shaped Cinnamon Sugar Tortilla Chips!
Heart Shaped Cinnamon Sugar Tortilla Chips

makes about 70

recipe adapted from Everyday Food

4 flour tortillas
4 tablespoons salted butter, melted
5 tablespoons sugar
2 teaspoons ground cinnamon

Preheat oven to 400F.

Stack 2 tortillas together and cut small hearts with a cookie cutter making sure not to waste too much tortilla. Repeat with other 2 tortillas and set hearts aside.

In a large bowl, toss heart shaped tortillas with melted butter until well coated. In a shallow bowl, combine sugar and cinnamon. Roll heart shaped tortillas in cinnamon sugar mixture until well coated. Place tortillas on a large (or two small) parchment lined baking sheet, making sure to leave a small amount of room between tortillas. Transfer sheet(s) to the oven and bake until golden and crisp, 10 to 15 minutes. Remove from the oven and let hearts cool for 5 minutes until removing. Serve warm with ice cream or store in an air tight container for up to a week.