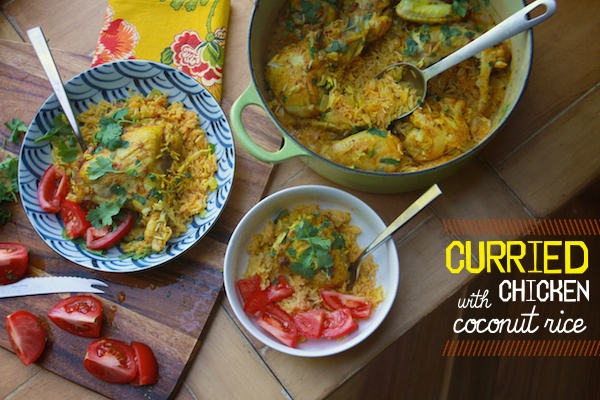 Mom guilt. It's pretty crazy, right? You with me, moms?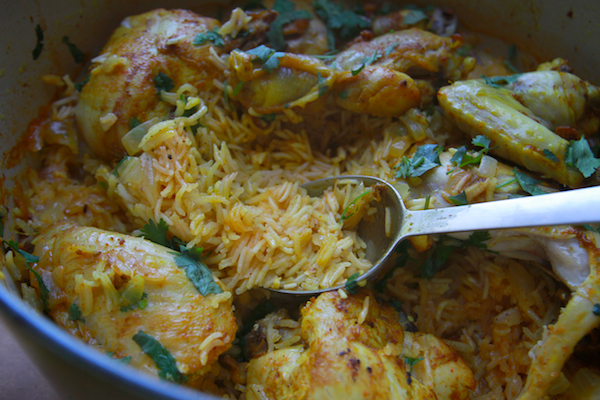 I had to go out to dinner the other night for work and I was feeling mom guilt because I wasn't able to pick Cooper up from school and see how his day went. I also wasn't there to eat dinner with him or read him a story before bed.  But! I was able to make sure there was something left for dinner for my boys and this was it.
When I made it home 10 minutes after Cooper was tucked in for bed, I popped into his room to say goodnight and he greeted me with "Mama, I'm so happy to see you! I ate all my yellow rice and chicken!"  Hehe. Yellow rice. Kid knows just the right words to make me happy. Guilt? What guilt?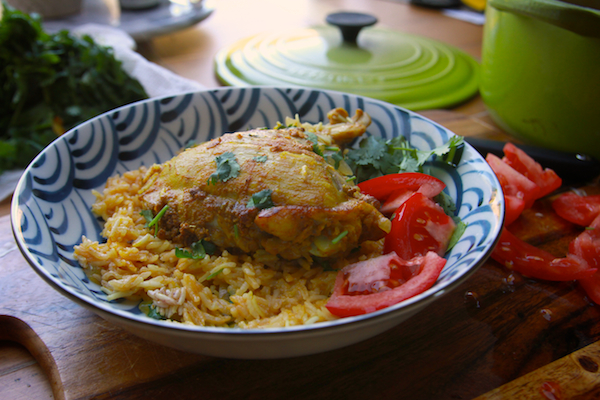 If you're in need of a hearty/easy dish, THIS IS IT. The only difficulty I had was taking pictures along the way (my hands got messy!). The rice is so flavorful & fluffy while the chicken is super tender. I had enough leftovers to feed me and three of my coworkers for lunch the yesterday. I love a one pot meal, don't you?
And we're off!
Let's gather our ingredients. GO.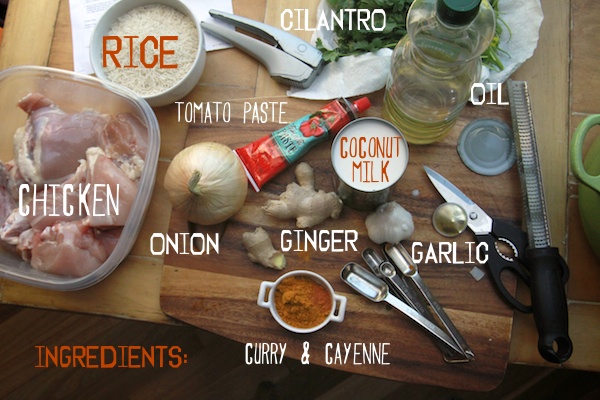 Curry, cayenne & salt get tossed with the chicken.
I used my hands. Two days later and I still have curry stained cuticles. Lesson learned.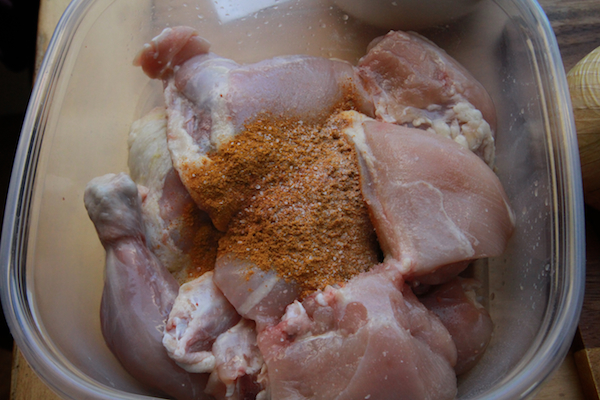 Here's all the good stuff.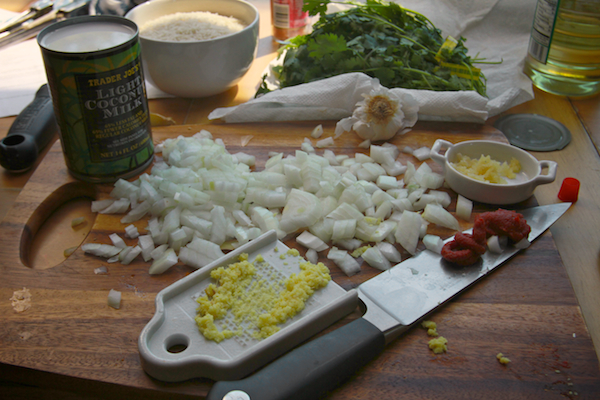 Take the chicken and brown it in the big pot you're gonna bake it in.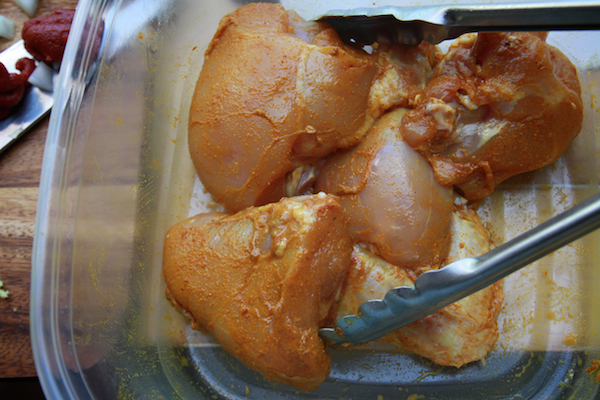 Chicken browning. I took the skin off of half of them. They stayed moist! Less fat. YAY.
Brown on both sides.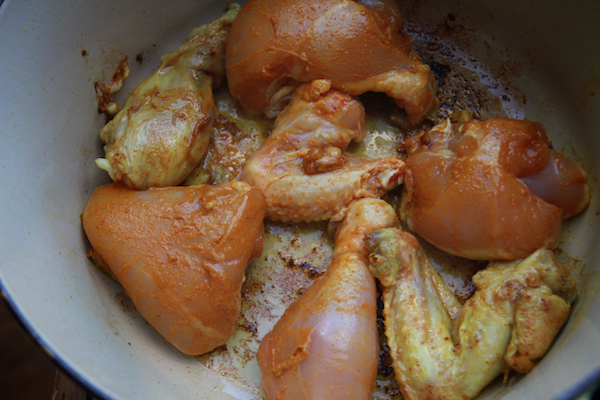 Take the chicken out. Set it aside.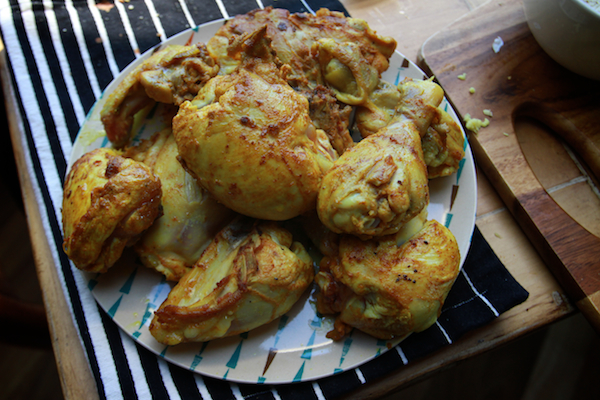 Toss the onions, garlic & ginger in the pot. Look at those brown bits. That's FLAVOR.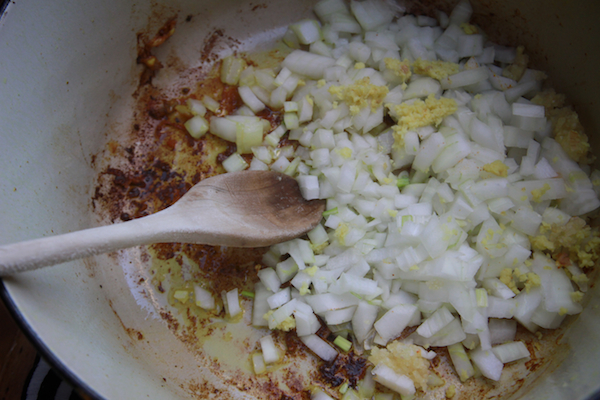 Sweat the onions. Add the tomato paste. Tomato paste in a tube is genius btw.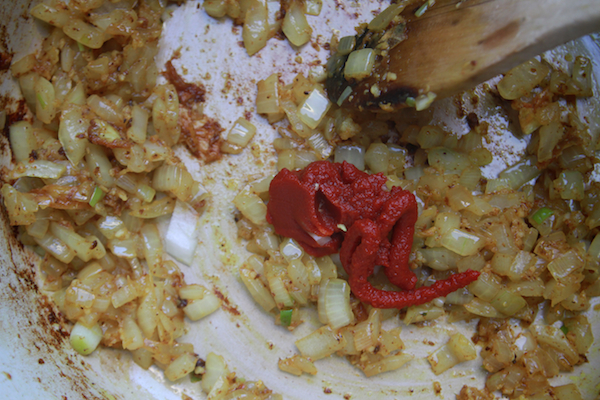 Now add in the coconut milk & water. You're on your way. Boil it on the stove.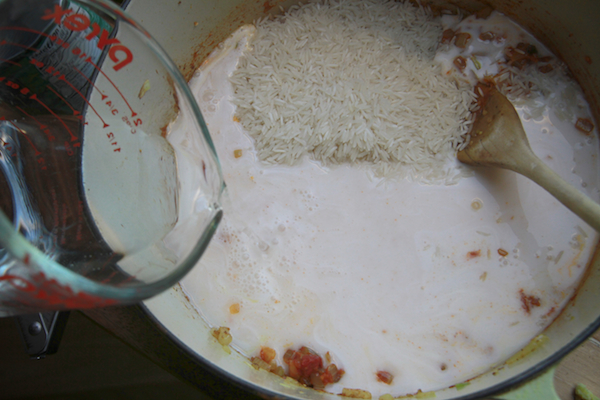 Nestle the chicken on top. NOW BAKE with the top on.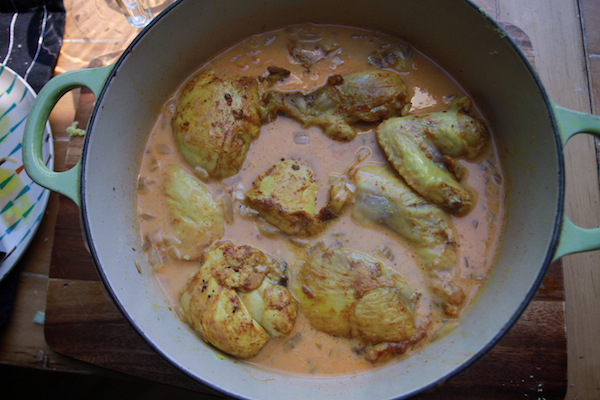 After the oven time you have this. All the sauce is absorbed into the rice. The rice is cooked & so is the chicken.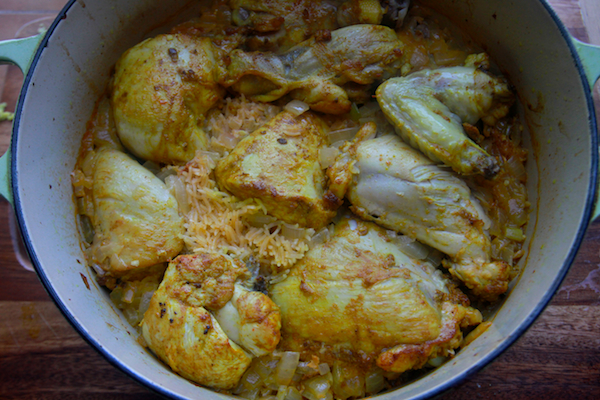 Top with chopped cilantro for garnish. Makes it pretty, huh?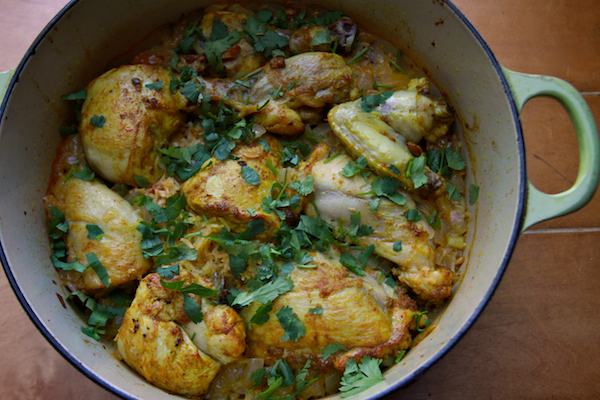 Get your bowls ready. Serve with sliced tomatoes & more cilantro.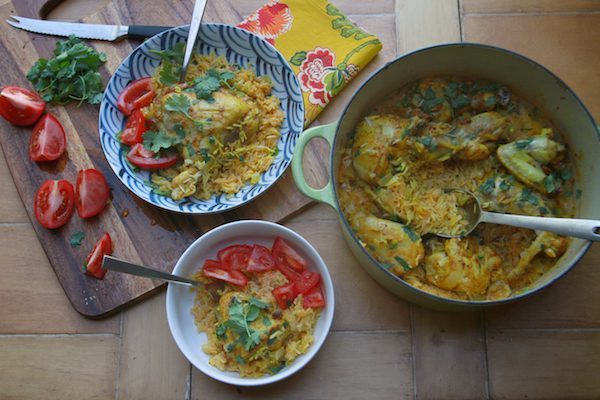 We've got dinner  & lunch covered for a few days.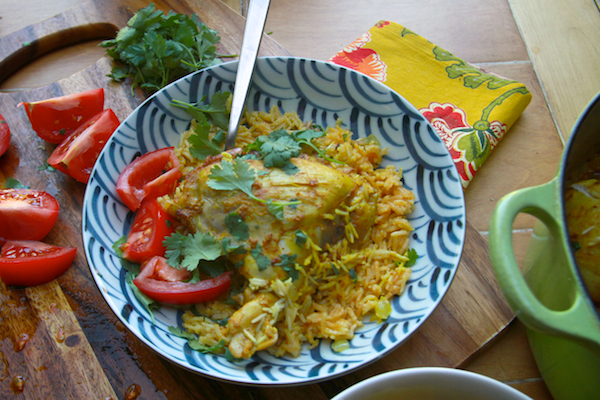 Oh! If you're a fan of chicken, you might like this dish too. Crazy simple. It's hearty meal season!

Curried Chicken with Coconut Rice

serves 8

recipe from Everyday Food Magazine

1 whole chicken (3 1/2 to 4 pounds), cut into 10 pieces
4 teaspoons curry powder
1/2 teaspoon cayenne pepper
coarse salt
1 tablespoon vegetable oil
5 garlic cloves, minced
3 tablespoons minced peeled fresh ginger (from a 3-inch piece)
1 medium yellow onion, diced small
2 tablespoons tomato paste
2 cups basmati rice
1 can (13.5 ounces) unsweetened light coconut milk
fresh cilantro leaves, for serving

Preheat oven to 350 degrees, with rack in lower third. Toss chicken with curry powder, cayenne, and 1/2 teaspoon salt. In a large Dutch oven or other heavy pot, heat 2 teaspoons oil over high. In batches, cook chicken until browned on all sides, about 12 minutes total. Transfer to a large plate

Reduce heat to medium and add 1 teaspoon salt the oil, garlic, ginger, and onion. Cook, stirring and scraping up browned bits with a wooden spoon, until onion is translucent, 6 minutes. Stir in tomato paste and cook 1 minute. Add rice, coconut milk, and 2 cups water; stir to combine and bring to a boil. Arrange chicken in pot, skin side up, cover, and transfer to oven. Bake until chicken is cooked through and liquid is absorbed, about 20 minutes. Sprinkle with cilantro and serve.