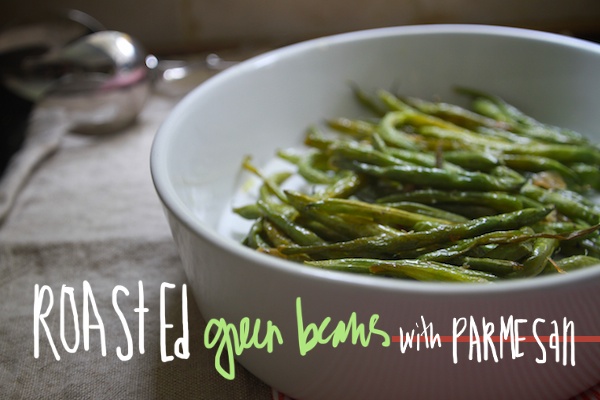 When I'm suuuuper busy, the first thing to go is dinner. I come home from work and don't even want to THINK about what to make. When I'm talking on the phone with my mom, she always asks me what's for dinner and I get all panicky because it never dawns on me that I need to have a dinner plan for the evening. Work totally fogs my brain!! Ummm…cereal? Mexican pizzas?  But then I survey our fridge and notice we've got some green beans in there. Let's roast them!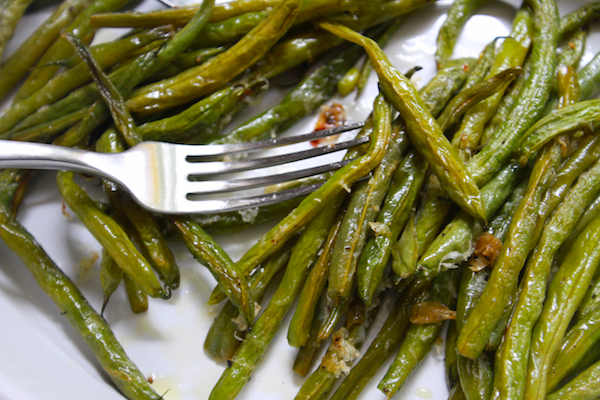 Anything roasted is considered dinner in my book! This my first time roasting green beans and it most certainly won't be my last.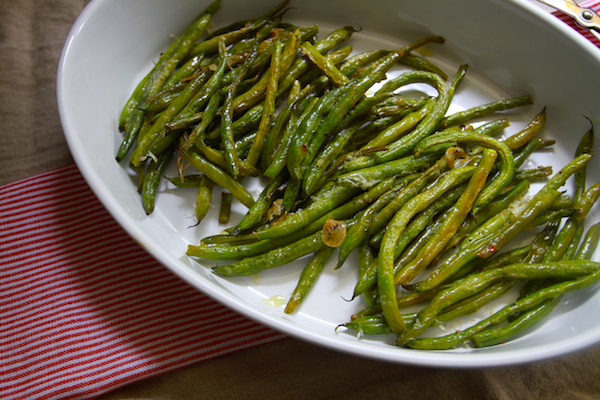 They remain crunchy and turn a little sweet! Add a little bit of lemon juice & Parmesan and they're perfection.
Did I mention that they're INCREDIBLY easy? Perfect thing to put in while you sit on the couch with a glass of wine at the end of a looooong day.
If I didn't have two other mouths to feed, I most definitely would consider roasted green beans a full on legitimate dinner. The Parmesan seals the deal.
And we're off!
Trim the green beans. I use scissors. It's just what I do. It's the crafter in me.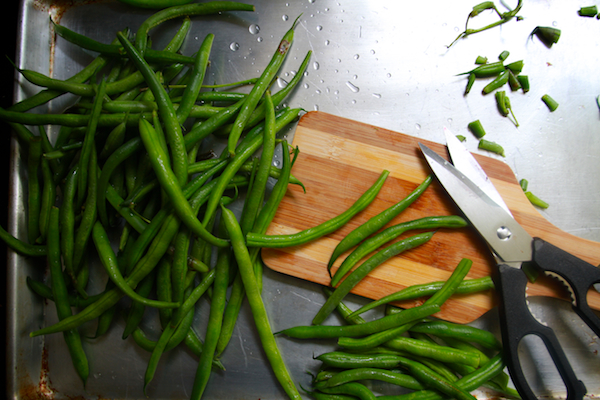 Get out a baking sheet. Toss those green beans with two cloves garlic. Add in a few glugs of olive oil.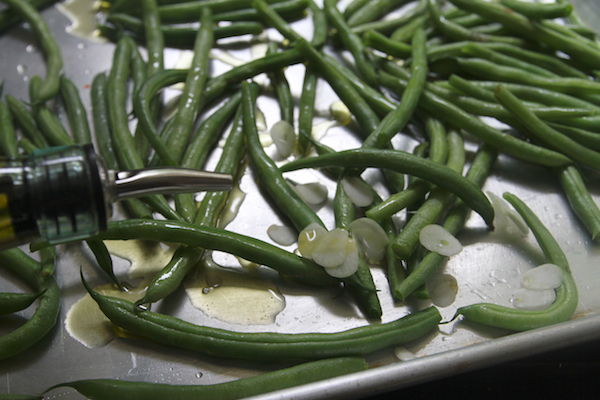 Add a pinch of crushed red pepper flakes.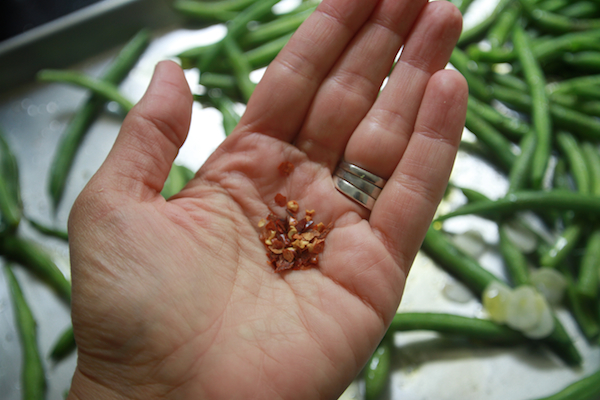 Squeeze lemon juice on top…toss more! Now roast.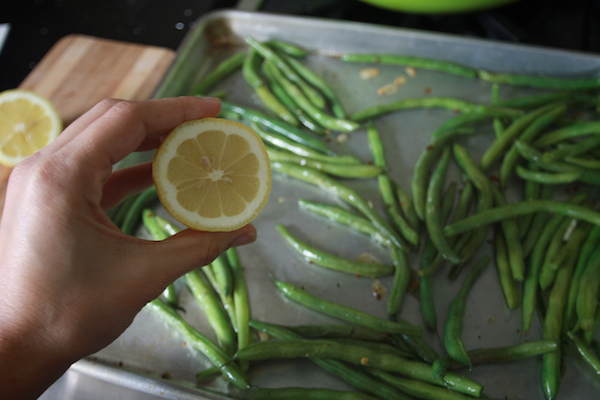 Get the Parmesan grated. GREAT!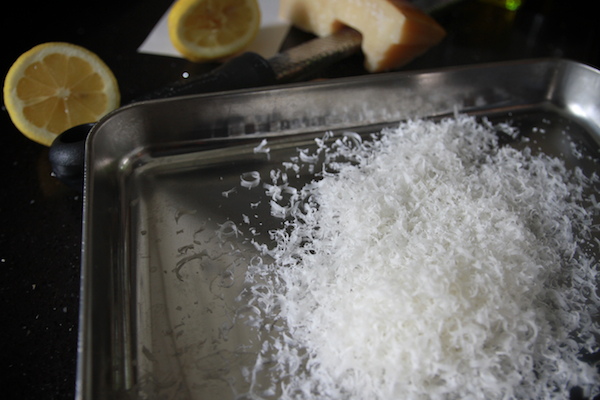 Add it to the beans halfway through the cooking time. Roast!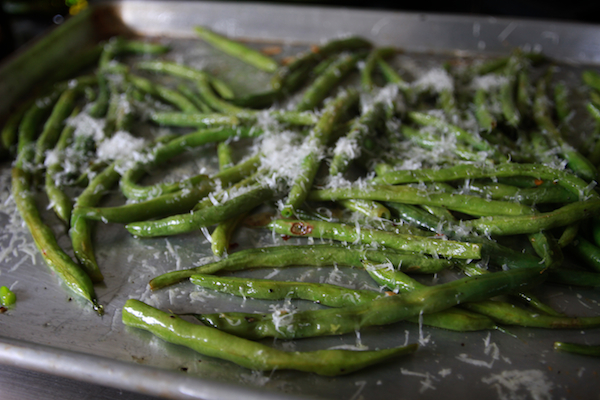 Serve it up. Eat it up. These beans are so hearty. Turn it into a meal!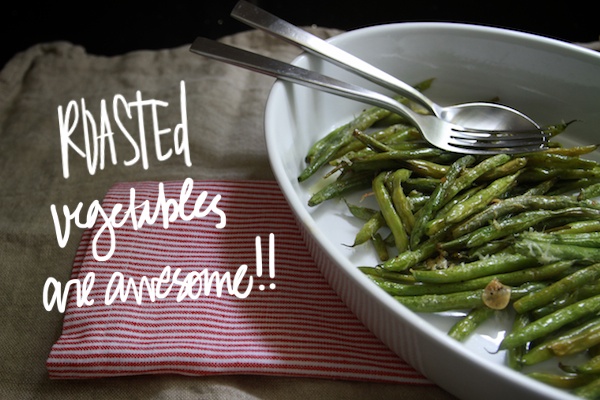 Also! This is how we roll in my family. Cold green beans & red wine vinegar. Nothing better. NOTHING.
My dad makes his own red wine vinegar. It's so good that we DRENCH our beans with it.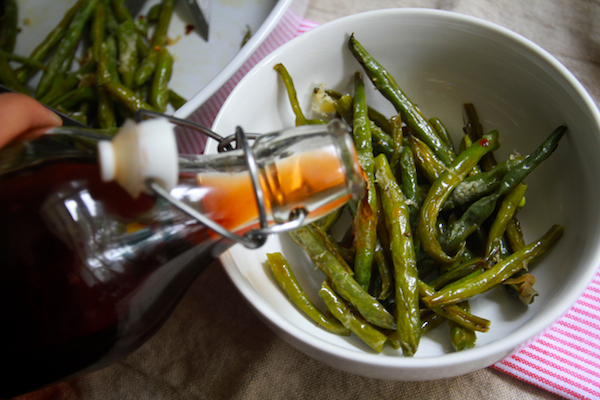 Turn those roasted green beans into a salad!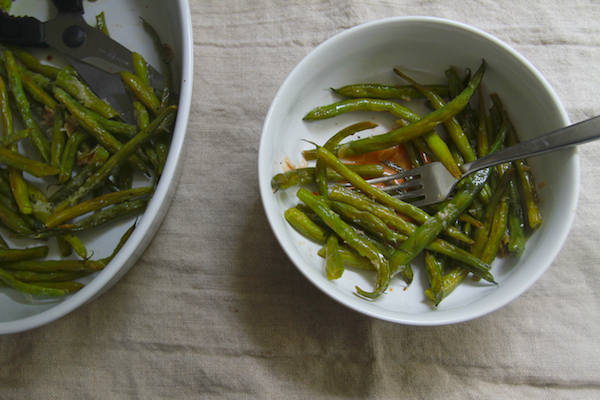 It's one of the many ways I inhale vegetables.

Roasted Green Beans w/ Parmesan

serves 4

recipe inspired by Tyler Florence

1 lb. green beans trimmed
2 cloves garlic, sliced
2 glugs olive oil
pinch crushed red pepper flakes
fresh lemon juice (ab 1/2 lemon)
salt & pepper
1/3 cup grated Parmesan Cheese

Preheat oven to 400F. Place green beans, garlic, olive oil, pepper flakes and lemon juice on a baking sheet and toss well.  Season with salt & pepper and roast in the oven for 10 minutes.  Toss green beans and continue to cook another 10 minutes. Sprinkle Parmesan cheese on top of green beans and cook for another 10 minutes until cheese is crispy & melted. Serve warm with squeeze of fresh lemon juice on top.

If you have leftovers, cut up the beans & toss with a tablespoon of red wine vinegar. They're exceptional that way!