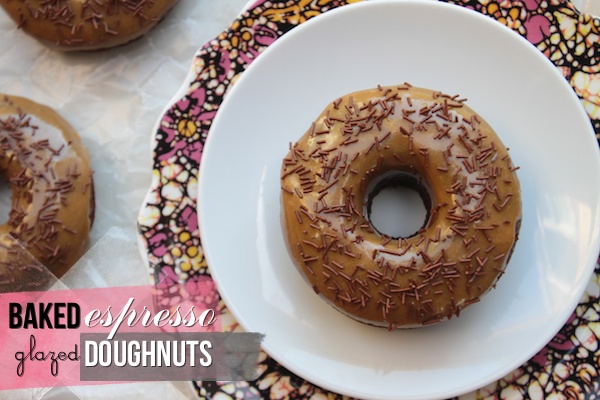 Everyday at 3PM I crave doughnuts. It was waaaaaaay worse when I was pregnant. I should tell you about that Krispy Kreme incident. Wait. I'll keep that between me and my husband. When I have these daily doughnut fantasies, they usually involve a cup of coffee. I'm sitting at a table all by myself, inhaling my first doughnut and then savoring every last bite of the second. Unfortunately in real life, I can't fully give into my coffee & doughnut fantasy because if I drink coffee after 12pm, I turn into a gremlin. Even decaf is no good. My mind & body are weird. That's a fact.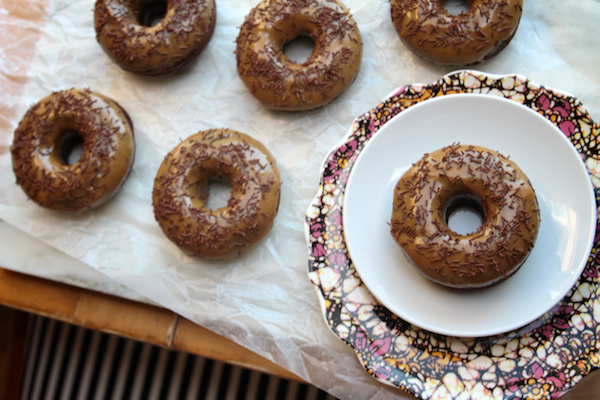 Let's smash/bang the two and give you the best of both worlds. Coffee & Doughnuts? How about coffee IN doughnuts. Yeah, I did it. Can you imagine if you drank coffee with espresso glazed doughnuts? That's like uber meta, is it not? I can't deal with that fantasy! No sleep for days!! College final exams, anyone?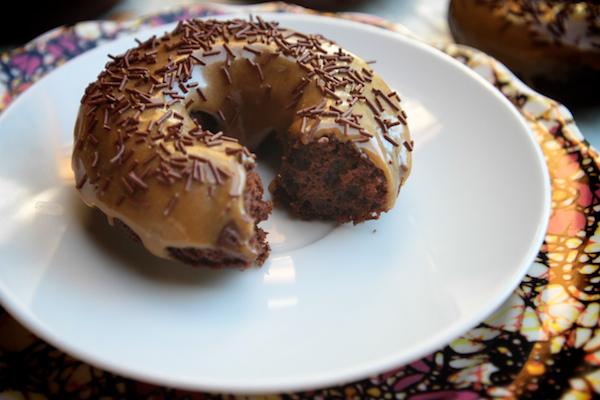 I have to tell you that these baked chocolate doughnuts have a little espresso kick in them but they're pushed over the edge of deliciousness with a creamy espresso glaze. They're almost like caramel chocolate candies but with no caramel. Maybe they're kinda like Vietnamese coffee? Hmm! All I know is that they're deeeeeeelish and yes, definitely caffeinated. I did my fantasy right and ate two…bites? doughnuts? Wait. I'm not telling.
And we're off!
Ingredients! Round one!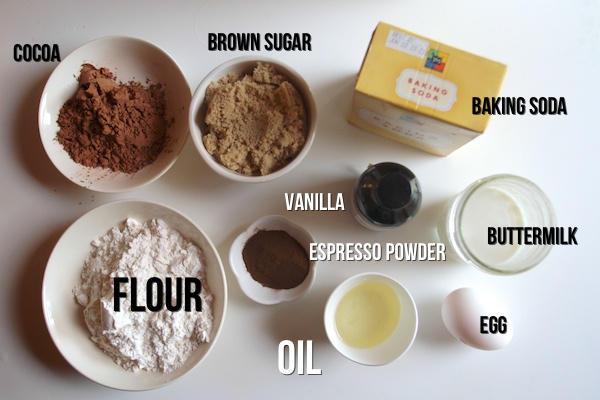 Dry ingredients? Check!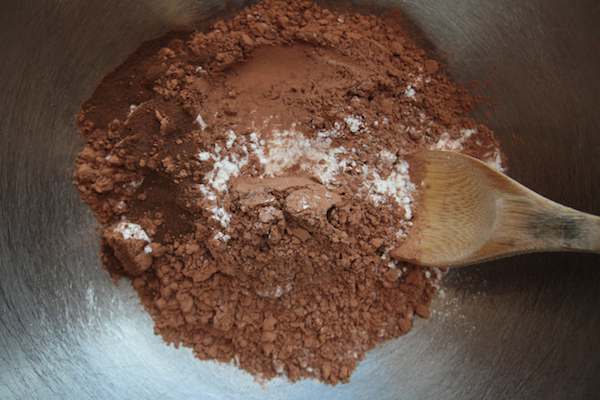 Wet ingredients start getting mixed up. Vanilla, oil & egg. CHECK.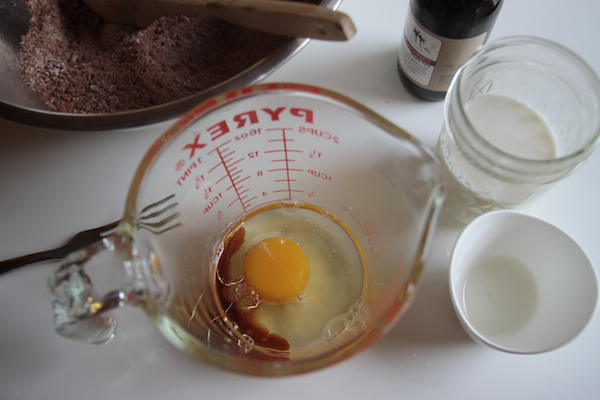 Buttermilk & brown sugar go in. MIX.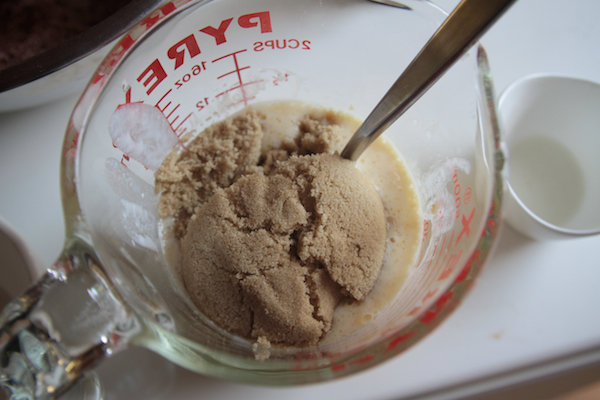 Dry meets wet.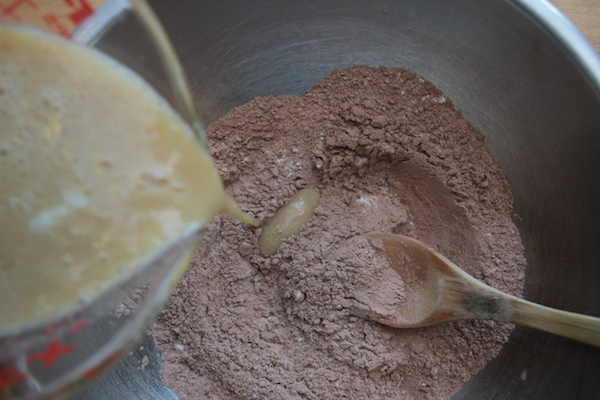 Batter is made. I put the batter in a ziplock bag and piped it into prepared doughnut pan.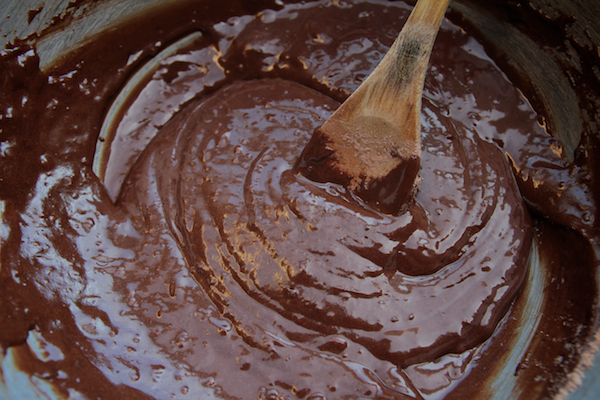 TADA! Doughnut pan is full and ready to go in the oven!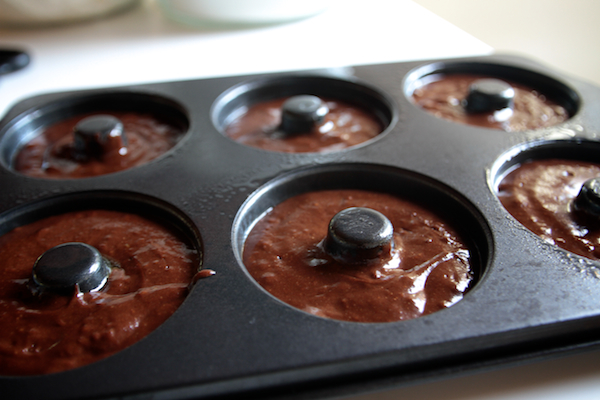 After about 10-12 minutes they're done!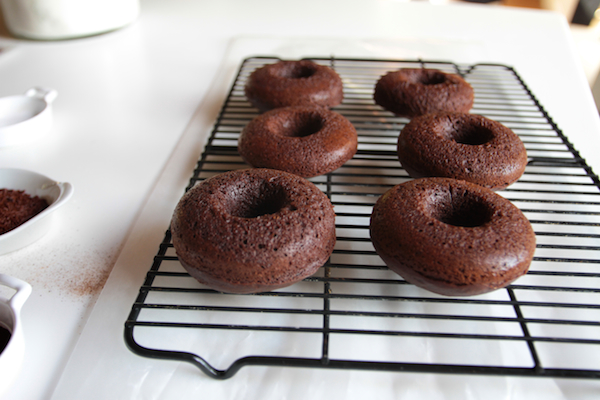 While they're cooling, we make the glaze. It starts with melted cream cheese! We mix the espresso powder with boiling hot water and stir it into the cream cheese. Then we add vanilla, powdered sugar and stir stir stir. To make the glaze more glazey, we add milk to thin it out.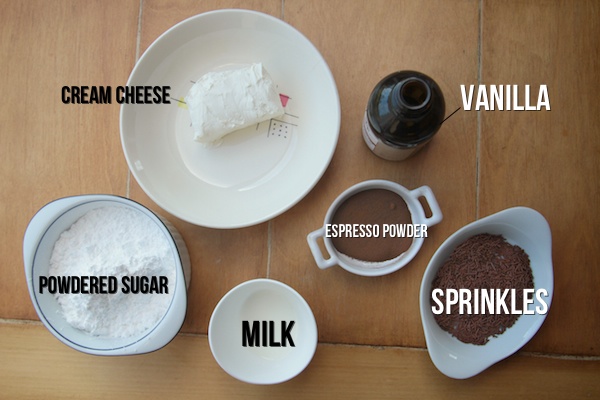 Here's the consistency. It almost has a sweetened condensed milk vibe!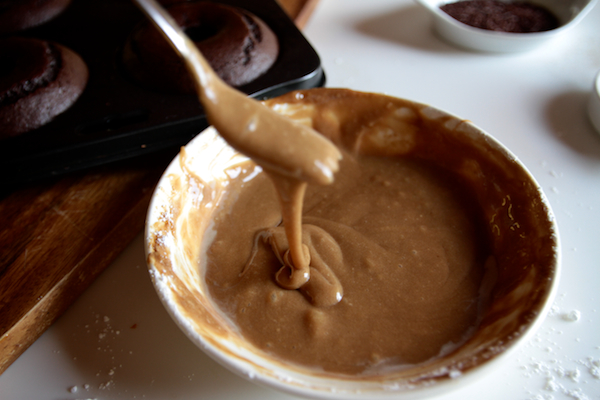 One by one we dip the doughnuts in.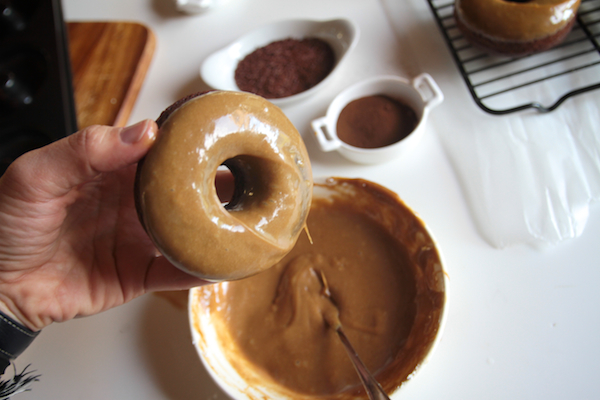 And then one by one we sprinkle them with chocolate sprinkles.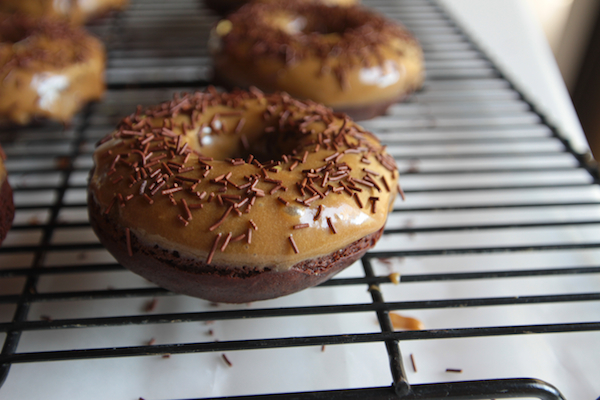 And then we marvel….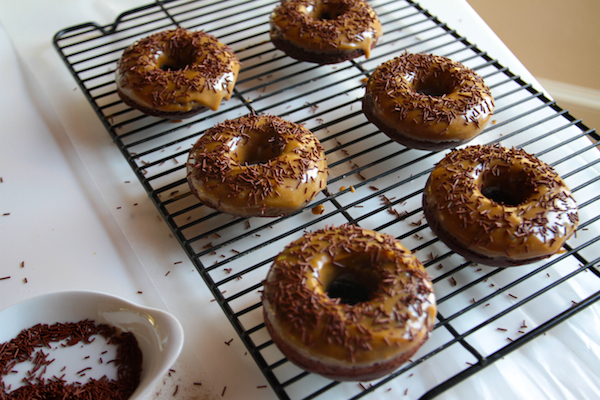 And then we dig in…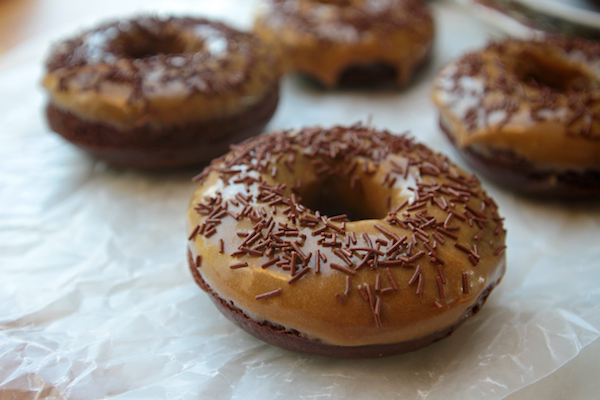 And then we get our coffee & doughnut fix ON.

Baked Espresso Glazed Doughnuts

makes 6

1 cup all-purpose flour
1/4 cup unsweetened cocoa powder
1/2 teaspoon baking soda
1 tablespoon espresso powder
1/4 teaspoon salt
1/2 cup low-fat buttermilk
3/4 cup packed brown sugar
1 egg
1/4 cup vegetable oil
1 teaspoon vanilla extract

for the topping:

1 teaspoon espresso powder
1 tablespoon hot water
3 oz. (6 tablespoons) cream cheese, melted
1 cup confectioners' sugar
1 teaspoon vanilla
2-3 tablespoons milk
chocolate sprinkles (optional)

Heat oven to 325 F. Coat doughnut pan with non-stick cooking spray & set aside. In a large bowl, whisk flour, cocoa, baking soda, espresso powder and salt. In a small bowl, whisk buttermilk, sugar, egg, oil and vanilla until smooth. Add milk mixture to flour mixture; whisk until blended & well incorporated.

Spoon batter into a large resealable plastic bag. Cut of the corner and squeeze batter into prepared doughnut pan about 2/3 full. Bake for 10-12 minutes, until doughnuts spring back when lightly pressed. Cool in pan on rack for 3 minutes, then carefully turn out directly onto rack to cool.

In a small bowl, combine espresso powder with hot water and stir until dissolved. Add melted cream cheese and stir until well incorporated. Slowly combine confectioner's sugar, adding vanilla & milk to thin out glaze. If the consistency is too thin, add more sugar. If too thick add a bit more milk.

Dip cooled doughnuts into bowl of glaze and allow excess frosting to drip back into bowl. Transfer to rack. Top with chocolate sprinkles and serve. Doughnuts will keep in an air tight container for 2-3 days.