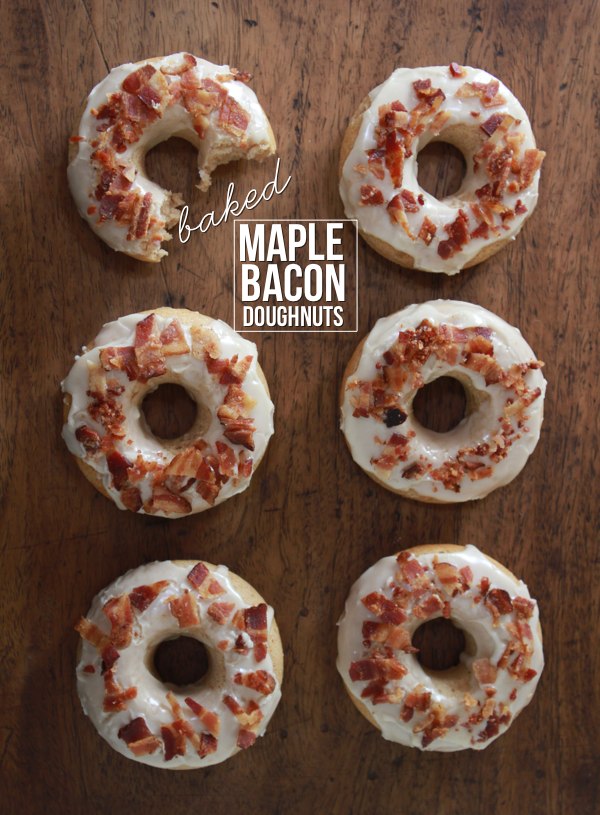 Putting bacon on Baked Maple Doughnuts is kinda like ordering a Diet Coke when you get a double double with animal style fries at In & Out Burger. Or maybe it's like getting your burger protein style (lettuce instead of bread)? I dunno. Baking a doughnut is just one simple way of sparing the littlest of calories.  What happens is that it tricks your brain into eating more…and you know what. THERE'S totally JUSTIFICATION in that.
I give you permission to make these for your friends.  I give you permission to be the cool one at the office who brings in the best treats. I give you permission to use the "But they're baked!" line because sometimes you have to help people see the beauty in balance.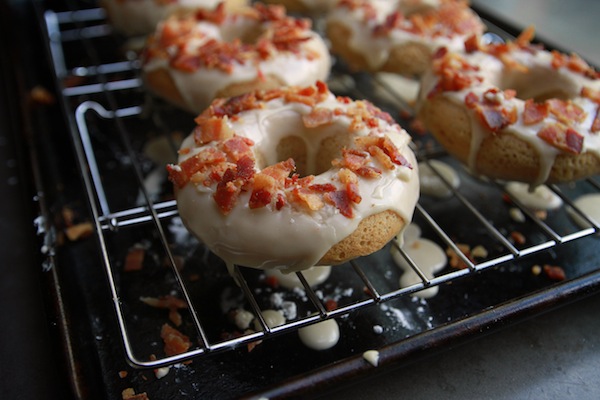 I give you permission to eat one and then turn that into two because you really want to appreciate the nuance of maple glaze with bacon. It's like a doughnut was put on a plate of pancakes with a side of bacon then someone who doesn't mind their foods to touch let it alllll happen. It's everything right.
Lastly, I give you permission to blame your sudden weight gain on me. But that now means you have my permission to buy a cute oversize sweater to cover said weight gain cuz DOUGHNUTS!
And we're off! Ingredient gather! Bacon is not IN the doughnut…but maybe it should be…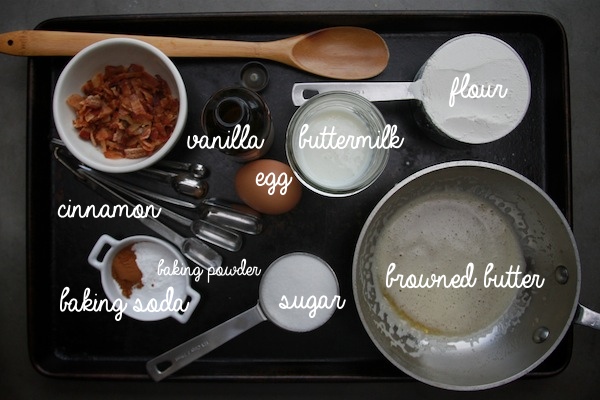 Dry meets wet. HELLO BROWNED BUTTER.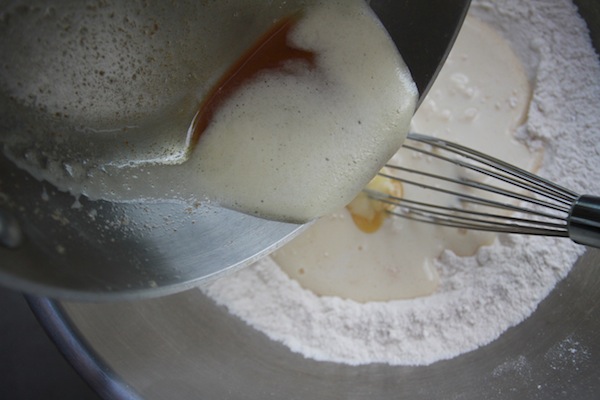 The batter is made. I scoop it into a sandwich bag, snip off the tip and pipe it into prepared Donut Pans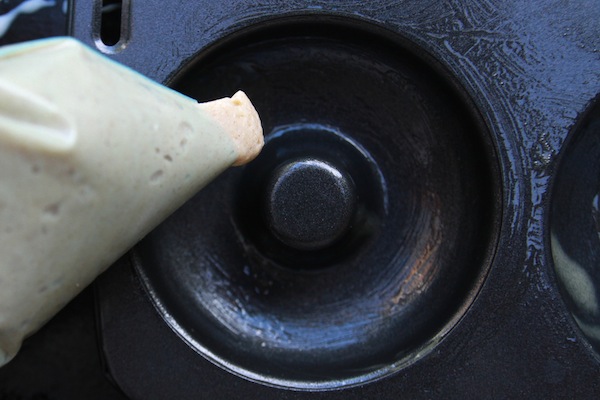 That was easy.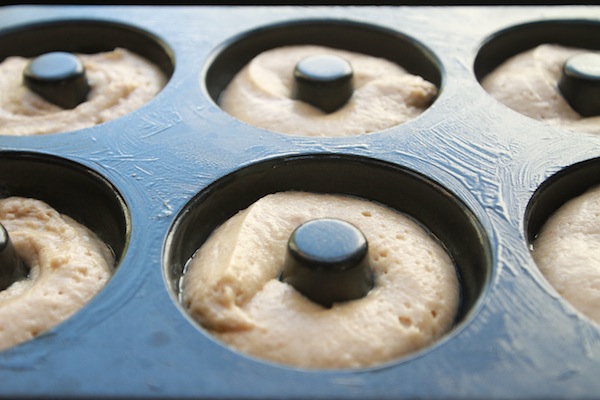 While they're baking, lets work on the maple glaze.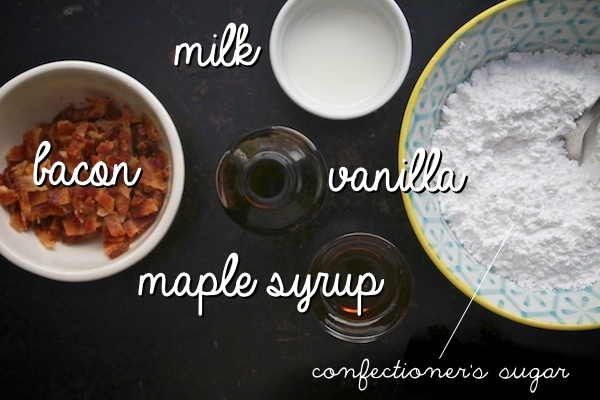 Maple meets confectioner's sugar. Add a little bit of milk to thin it out. Vanilla too!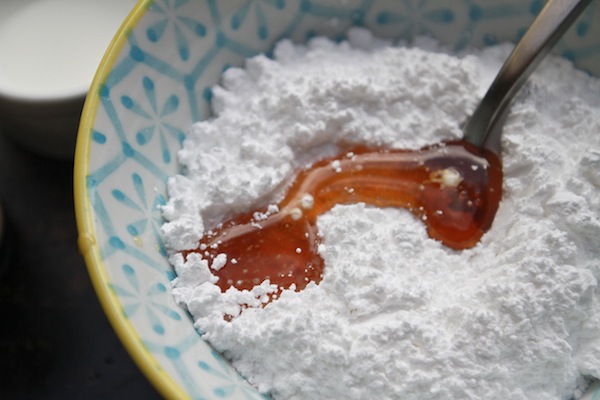 Doughnuts are baked & cooled. GLAZE IS ON.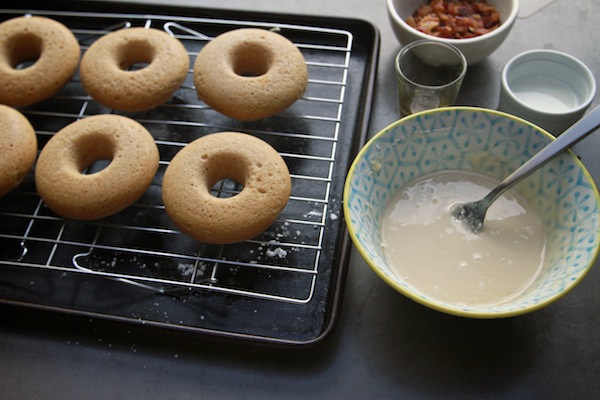 Drizzle glaze on top of each doughnut.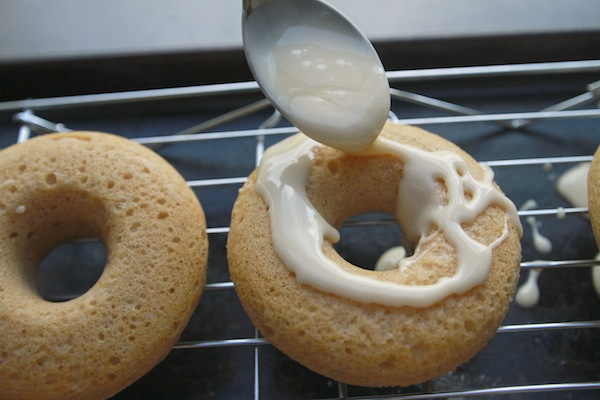 YESSSSSSSS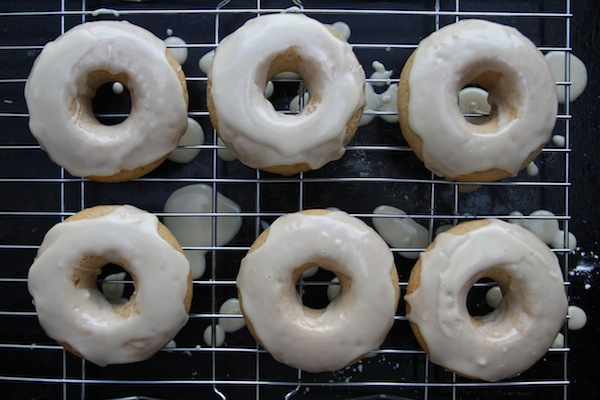 Even more YESSSSSSS. Bacon gets sprinkled on.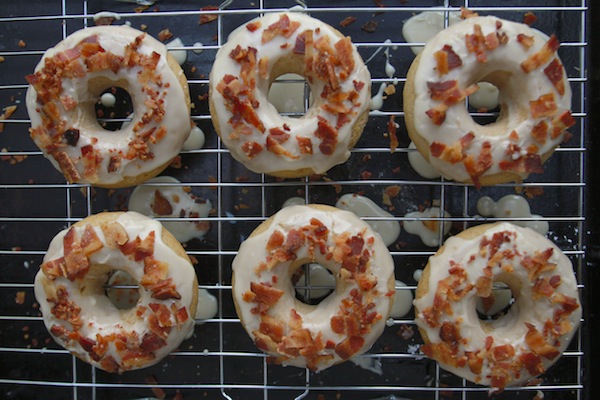 Black background!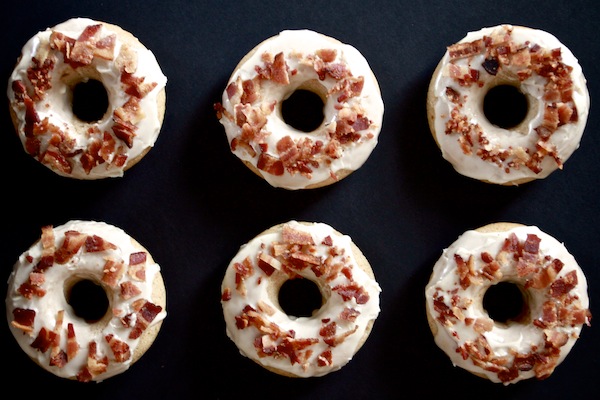 Who wants to lick the pan??!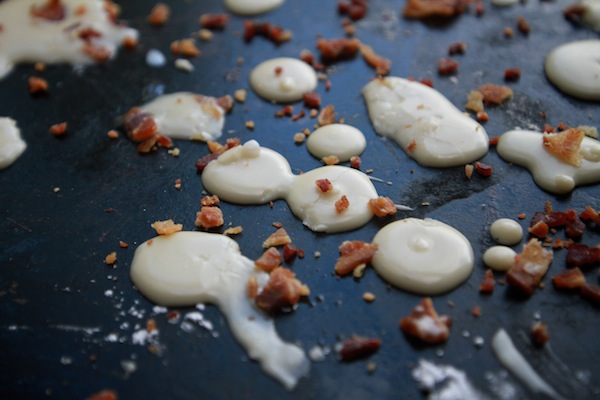 I couldn't resist biting into one.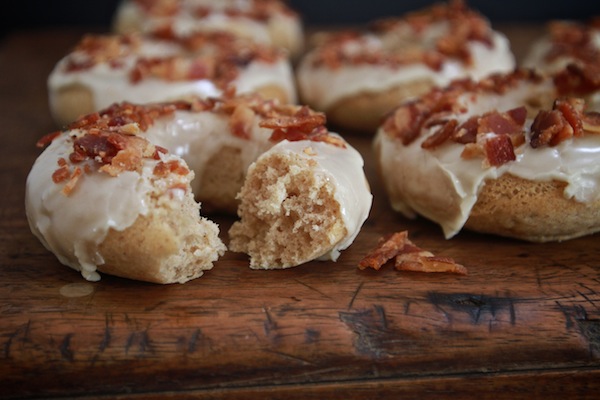 I uhhh just wanted uhhhhh you to see the inside of the doughnut. I don't see anything wrong with that….
In summary, Donut Pans are awesome. If you don't have one, you should get one so you can make things like:
You'll win the hearts of friends & family if you haven't already!

Baked Maple Bacon Doughnuts

makes 6

recipe adapted from Joy the Baker

for the doughnuts:

1 cup all-purpose flour
3/4 teaspoon baking powder
1/4 teaspoon baking soda
1/2 teaspoon salt
1/2 teaspoon ground cinnamon
1/3 cup granulated sugar
2 tablespoons unsalted butter
1 large egg
1/2 cup buttermilk
1 teaspoon pure vanilla extract

for the maple bacon glaze:

1 cup confectioner's sugar
2 tablespoons maple syrup
1/2 teaspoons vanilla extract
1-2 tablespoons whole milk
5 strips bacon, cooked & crumbled

make the doughnuts:

Place a rack in the upper third of the oven and preheat oven to 350 degrees F.  Lightly grease a doughnut pan and set aside.

In a medium bowl, whisk together flour, baking powder, baking soda, salt, cinnamon, and sugar.  Set aside.

In a small saucepan over medium-low heat, melt butter.  Butter will begin to crackle and pop as it melts.  Once the water has evaporated the butter will quiet down and begin to brown.  Keep an eye on it, it browns quickly.  The butter will begin to smell nutty.  Remove from heat and immediately and set aside to cool.

In a small bowl whisk together egg, buttermilk, and vanilla extract.  Add browned butter and whisk into the wet ingredients.

Add the wet ingredients all at once to the dry ingredients.  Stir together until no flour bits remain and all of the ingredients are well combined being sure not to overmix batter.

Transfer batter into a plastic sandwich bag. Snip the tip with a pair of scissors and pipe batter into each doughnut mold about  three-quarters full with batter.

Place in the oven and bake for 8 to 10 minutes.  Keep an eye on them and try not to over-bake them.  Remove from the oven and allow to cool in the pan before inverting onto a wire rack to cool completely.

While the doughnuts cool, make the glaze.

make the glaze:

In a medium bowl, mix the confectioner's sugar with maple syrup and vanilla extract until sugar starts dissolving. Slowly add milk to thin out the glaze. You might only need 1 tablespoon so mix as you go. Add more if necessary.

Spoon glaze over each doughnut. While glaze is still wet, add the bacon crumbles on top of each doughnut. Doughnuts are best served the day they're made. Store in an air-tight container and refrigerate if you have any left after day one (doubtful!).