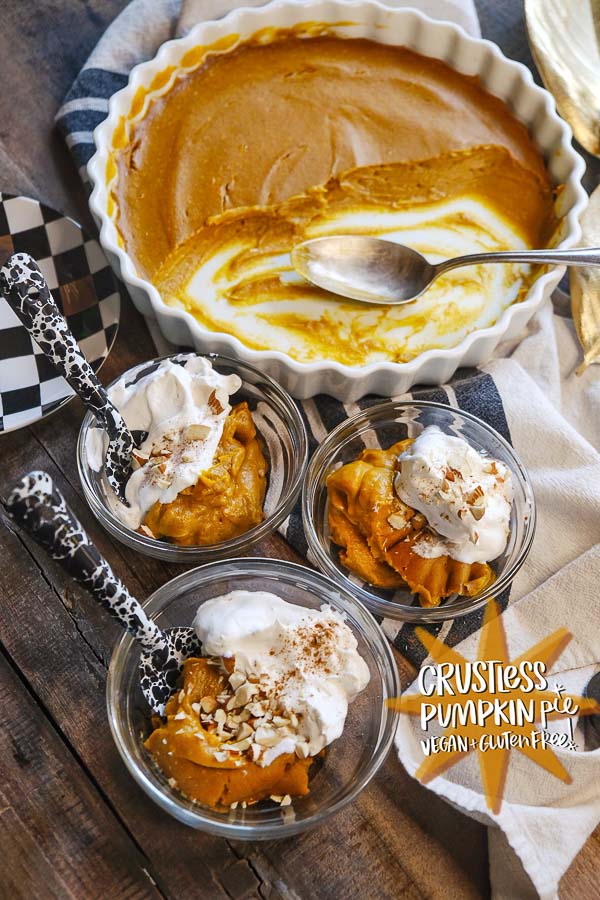 When we were growing up, my Mom always made an additional pumpkin pie during our Thanksgiving holiday to bring to St. Vincent de Paul's soup kitchen. She somehow always ended up with too much filling and would portion out some of it into ramekins and bake them alongside of the pumpkin pies for us kids. We were so desperate to break into the pies the night before Thanksgiving that she appeased us with these little cups of Crustless Pumpkin Pie. I remember eating them in our dark kitchen the night before Thanksgiving with nothing but the glow of the oven to light the way.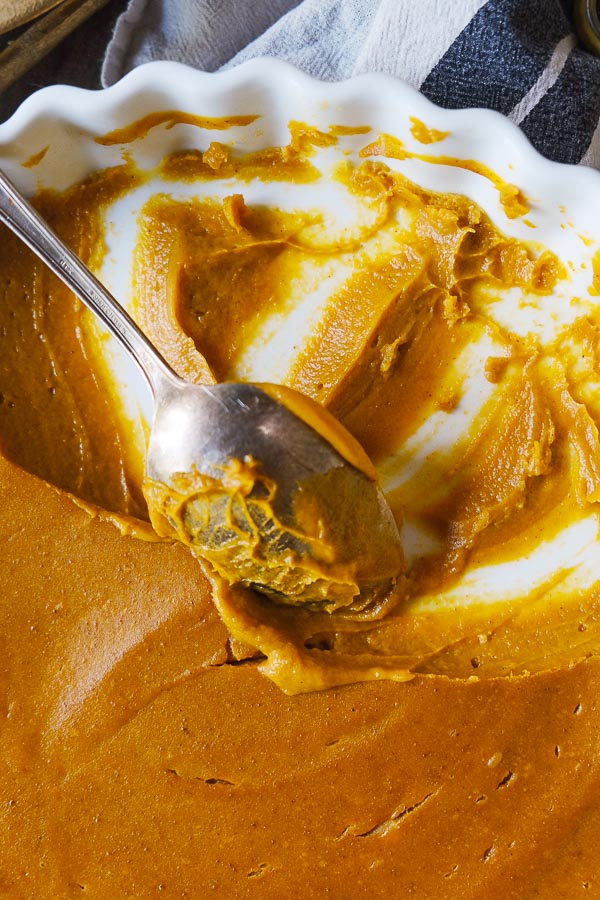 I haven't made pumpkin pie since my mom died. I've actually had a hard time eating it. When my Dad found my Mom dying in the kitchen a day before Thanksgiving, she was in the process of making pumpkin pies for the family & the soup kitchen. Her pies were never finished. She made the filling and that was it. She died while doing something out of pure love for her family so it's hard to not feel emotional about it.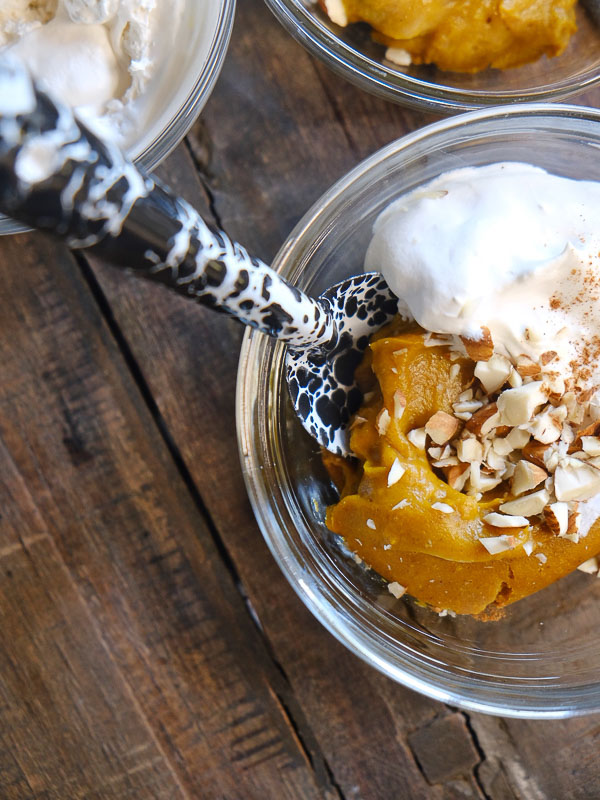 The holidays are unfortunately a time when food and grief are intertwined. As a way to help process grief, I thought it might be nice to recreate that crustless pumpkin pie my Mom used to make for us.
I made a dairy/egg free on a whim and OH MY GOD it is hard to taste the difference. Pure alchemy! I almost ate half of it on my own. I am happy that I found a recipe that would please my anti-carb Dad and my oldest brother who is vegan. My Mom was always so accomodating of anyone's dietary needs and I'm happy to be that person in our family now. If someone was gluten-free in the family, they would be covered too! Pumpkin pie without all of the crust fuss. Everyone wins.
Ingredients involved: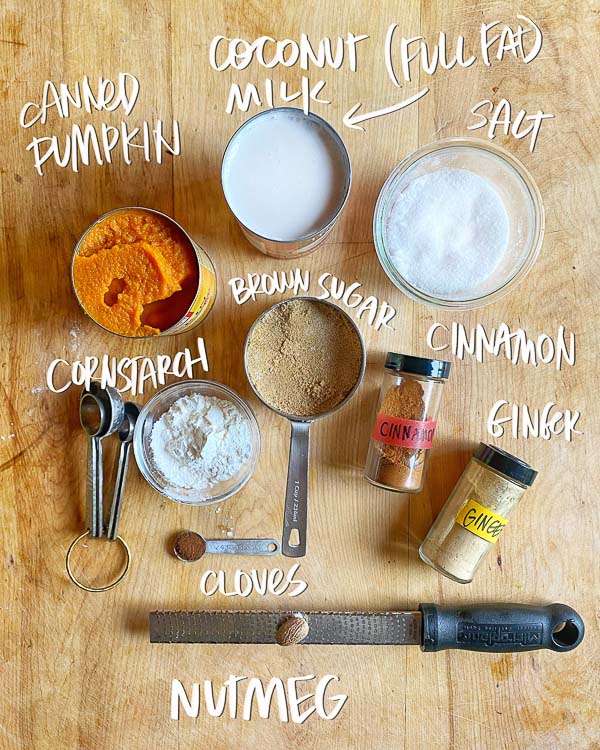 Everything goes in a blender!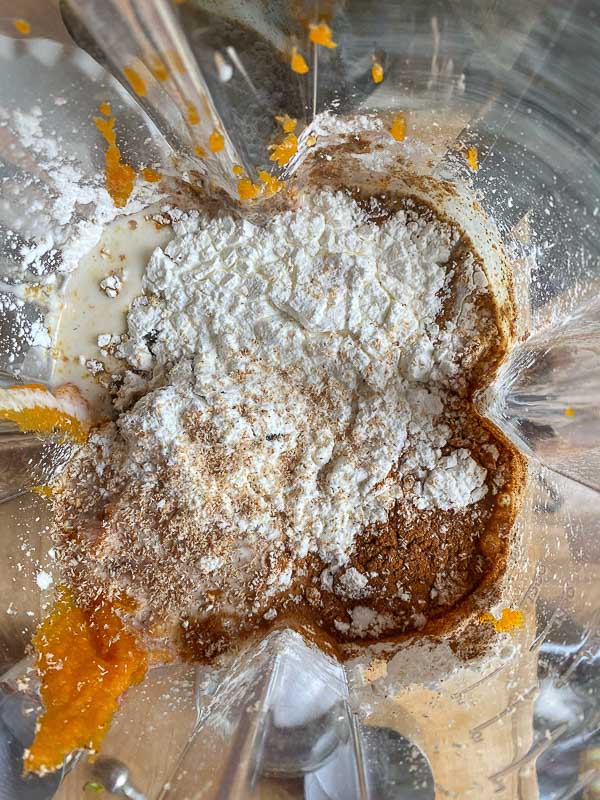 Then we pour the mixture into an oiled tart pan. I used coconut oil spray 🙂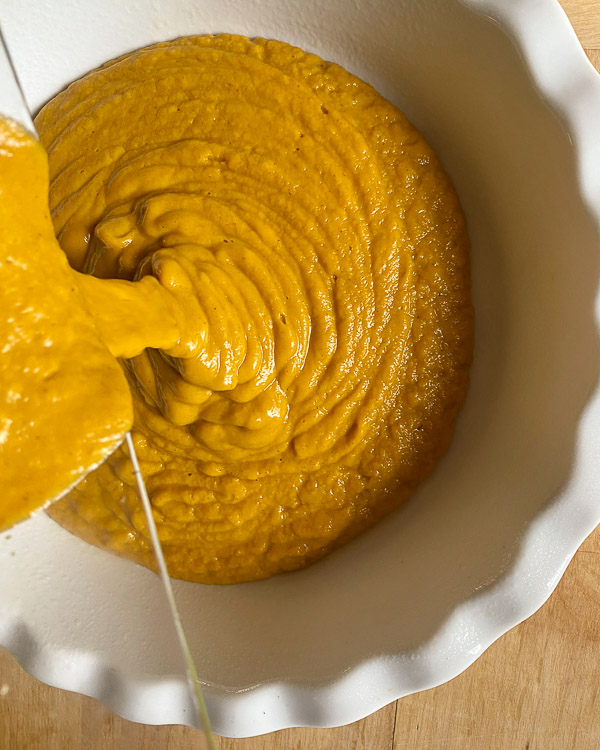 Smooth the top. Tap it a few times on the counter to get the bubbles out.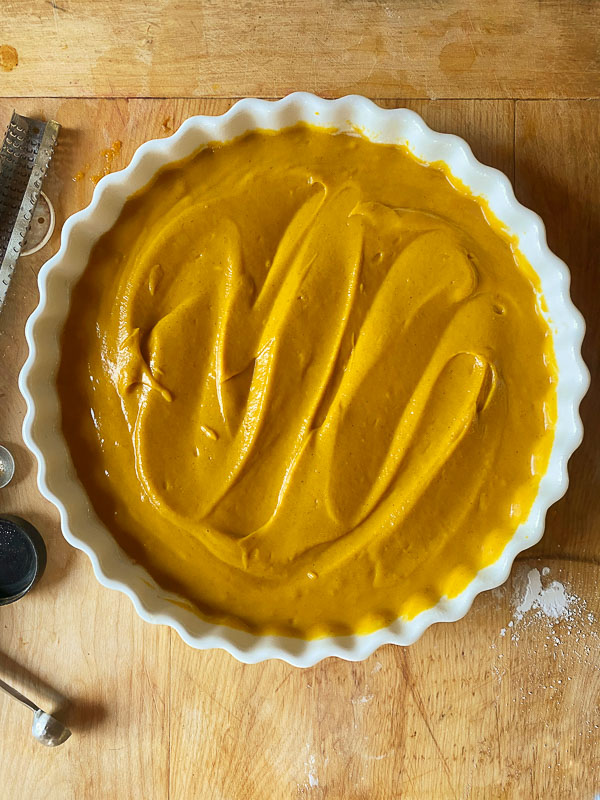 Bake!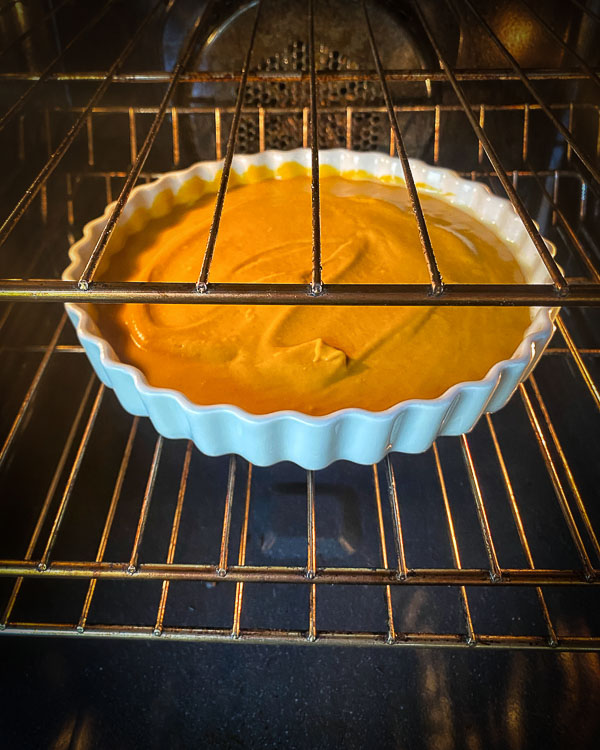 DONE! Let it cool and then pop it in the fridge to let it set.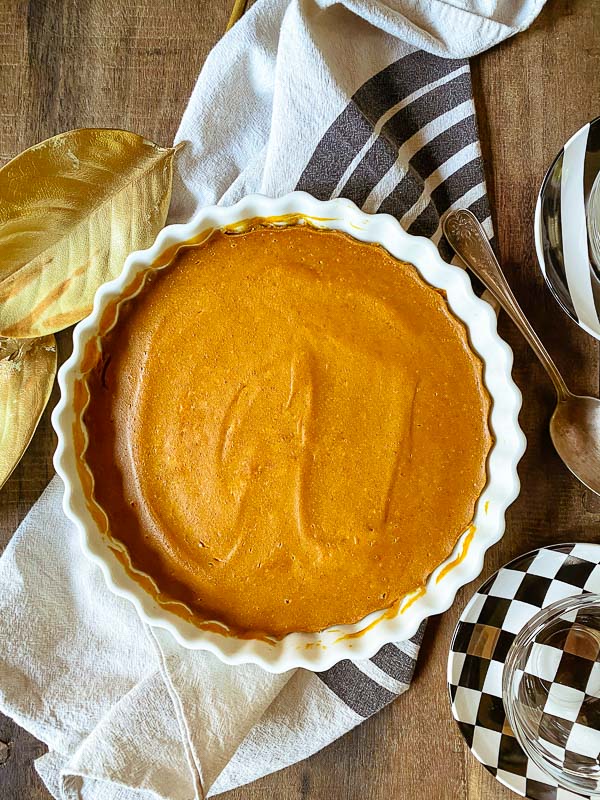 You could try to cut perfect slices but you could also just use a spoon and scoop it out!
There's no crust. You can do whatever you want. There are no rules.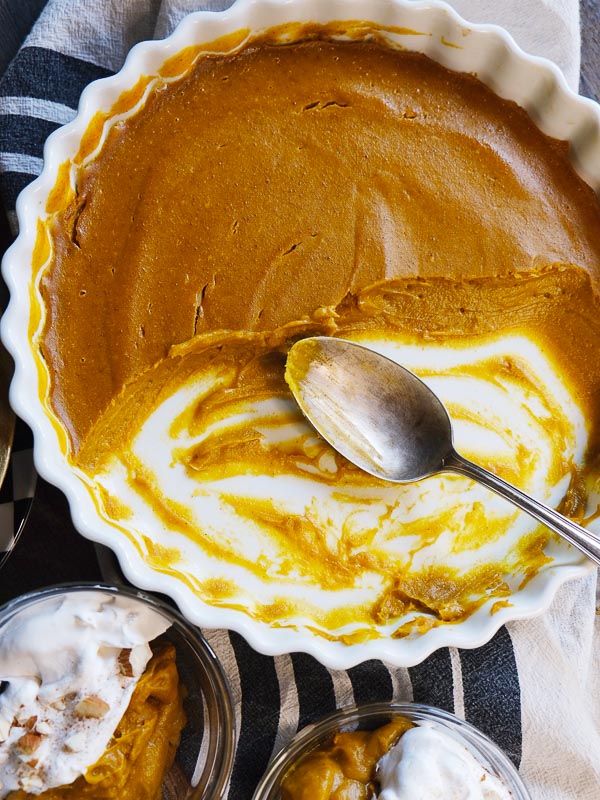 I topped ours with whipped coconut cream. Here's a recipe if you want to make your own.
I like this stuff called truwhip- it's like a vegan/healthier version of cool whip.
Not sponsored- but I love this stuff with frozen fruit in a bowl for dessert. Try it.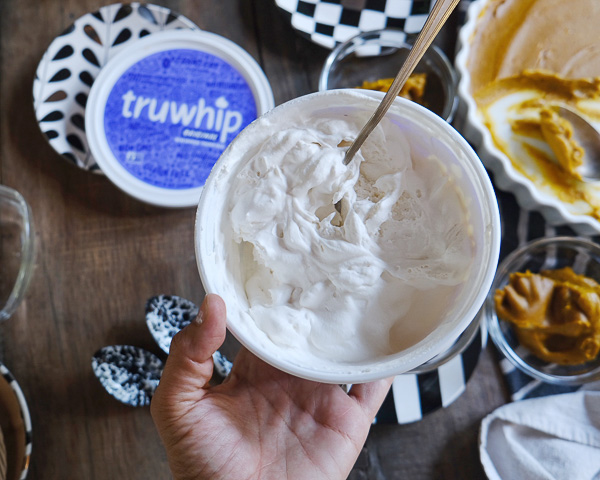 I had that OH CRAP I USED THE PECANS FOR DOUGHNUTS moment so here we are with backup roasted almonds. Pecans/pralines/ginger cookies/ granola would all make good toppings.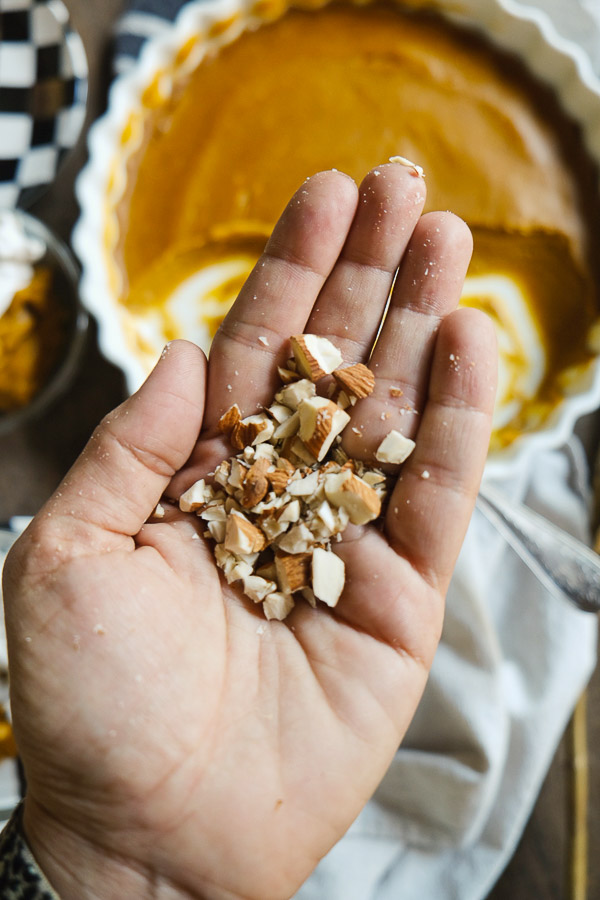 Scoop it up in a bowl.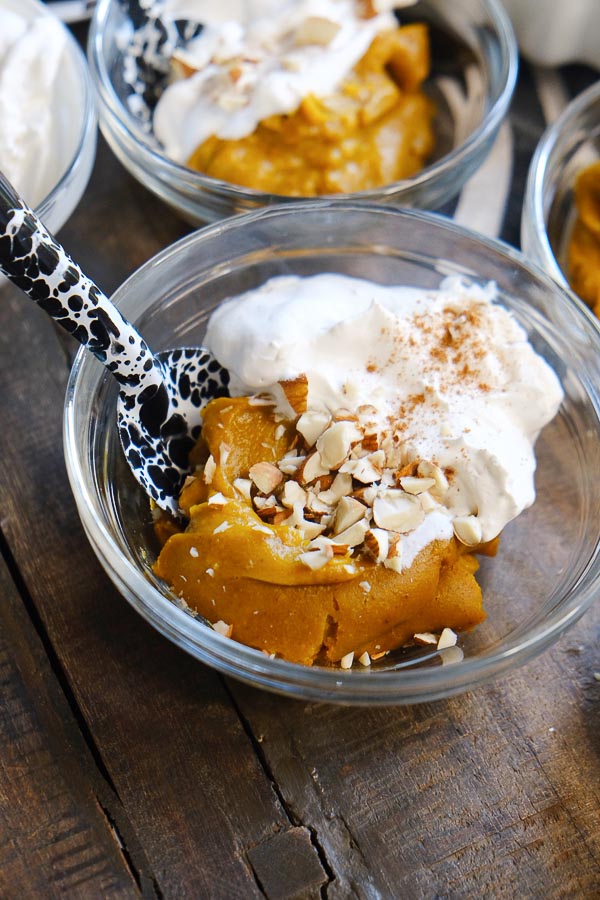 Hello magical food memories!
Crustless Pumpkin Pie

serves 6

1 15oz. can pumpkin puree
1 cup full fat coconut milk
3/4 cup brown sugar
1 teaspoon ground cinnamon
1/2 teaspoon ground ginger
1/4 teaspoon ground cloves
1/8 teaspoon ground nutmeg
3 tablespoons cornstarch
1/2 teaspoon salt

Preheat oven to 350F. Grease a 9-inch pie dish/tart pan and set aside.

Place all ingredients in a blender and blend until well combined. Transfer mixture to prepared dish/pan and bake for 35-40 minutes or until set. The middle will slightly wiggle. Let pie cool for 30 minutes on the counter. Cover and place in the fridge for at least 2 hours to set even more. Serve with whipped cream or toppings of your choice.