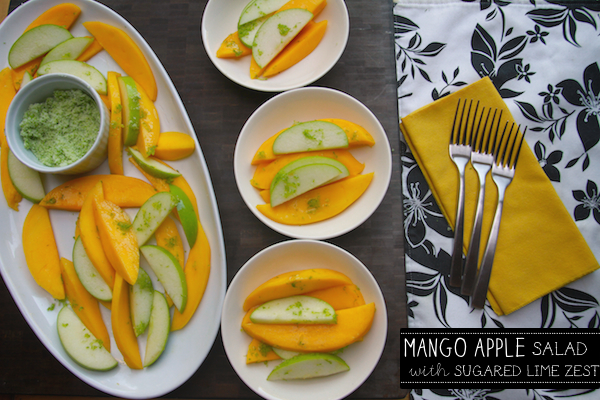 This salad is like an edible mango margarita. It's sweet, zesty and with the addition of a little salt, it's downright tangy! The good news is that it won't get you in a lot of trouble like a margarita can. OOOOH tequila…there's a reason why I call you ta-kill-ya!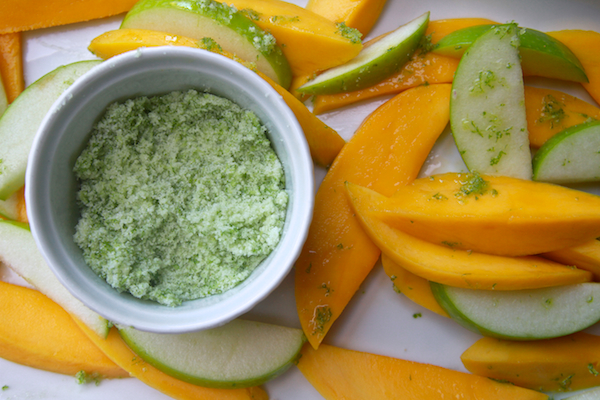 Let's take a moment to talk about fruit salads. People always ask you to bring one when they invite you over. You have to put at least 4 fruits in to make it a legit fruit salad….OR you could just cut up two fruits (in this case mango & apple), put sugared lime zest on top and call it a day! That sugared lime zest earns your EXTRA bonus points. It's like two extra fruits or something.
This means your fruit salad task was ridiculously simple and people are utterly impressed.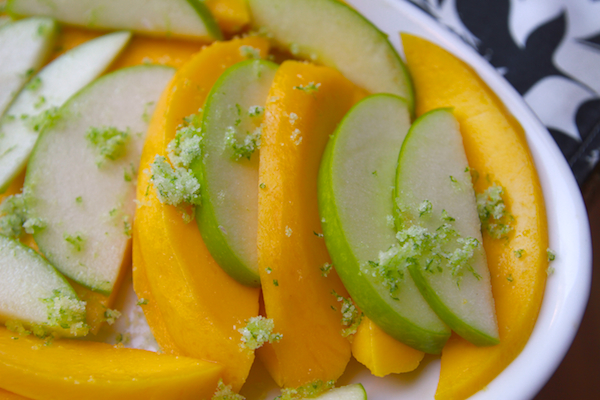 What would happen if you drank a margarita while eating this salad? Brain explosion from awesomeness?
I think it would be an excellent ending to a Shrimp Taco Night.
Discuss.
And we're off!
Ingredient gathering time. Bust out your microplane zester.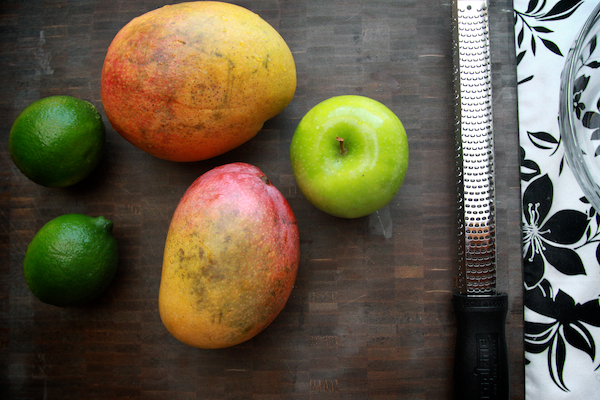 Zest limes!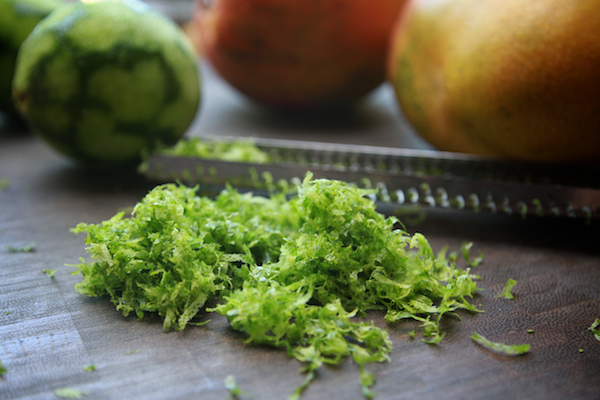 Slice up your apple. Squeeze some lime juice in a bowl and toss the apples in.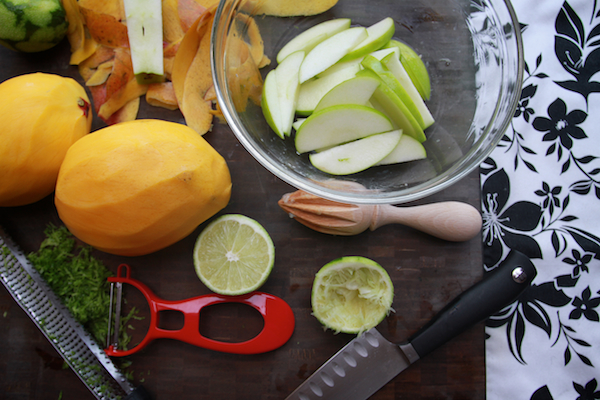 That will prevent them from browning. Now slice up your mango.
Do you have a mango peeler? They are super awesome. You should get one if you don't.
You just peel the mango, cut the pit out of each half and then slice it up!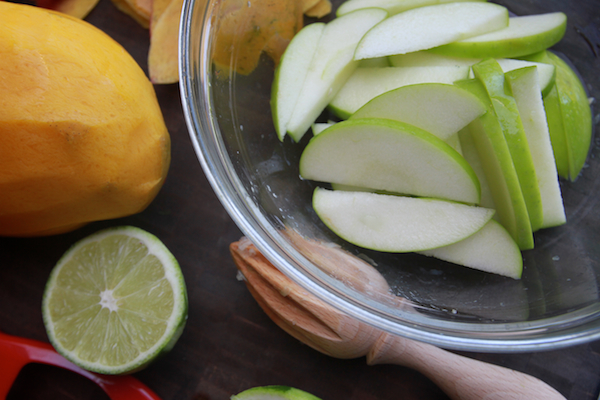 Put the sugar, zest & salt into a mini food processor. PROCESS!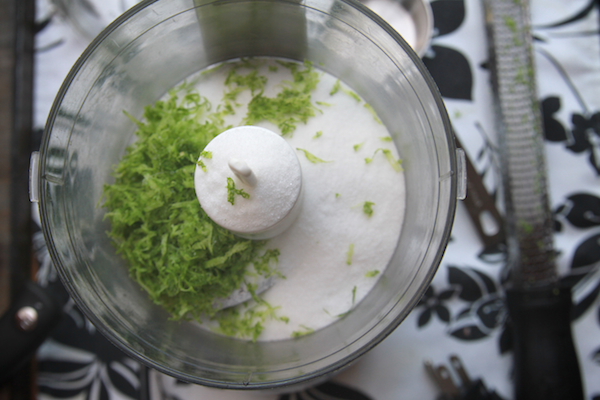 It's magic! It's soft, fluffy and full of FLAVOR.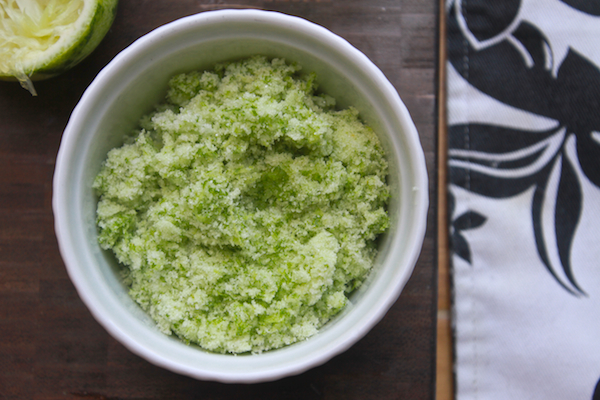 Arrange fruit on a plate…or in bowls. Sprinkle the sugared lime zest on top. Keep some hanging out on the side.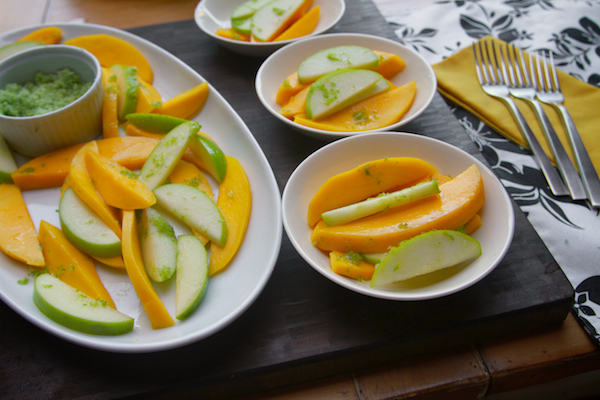 You might find yourself eating all 4 servings.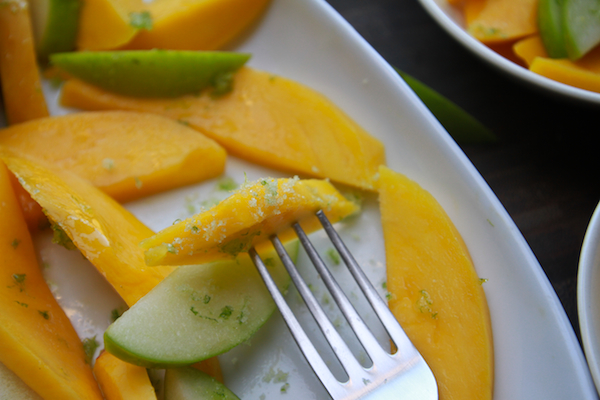 HOORAY FOR FRUIT!
You should try this sugared lime zest on: strawberries, pineapple, papaya, watermelon, your finger, a rim of a cocktail glass & on top of a cheesecake. It's amazing.
Mango Apple Salad w/ Sugared Lime Zest

serves 4

recipe slightly adapted from Martha Stewart Living

2 limes
1/4 cup sugar
1/8 teaspoon salt
1 Granny Smith apple
2 mangoes

Grate zest from limes. Squeeze 2 teaspoons juice from 1 of the zested limes into a bowl. Process lime zest, sugar and salt in a food processor until zest is coarsely ground.

Core apple, then cut in half and slice thinly. Add to lime juice, and toss. Peel mango; cut flesh away from pit and slice thinly.

Arrange apple & mango on a serving platter or plates. Sprinkle with some of the sugared lime zest and serve remaining zest mixture on the side.