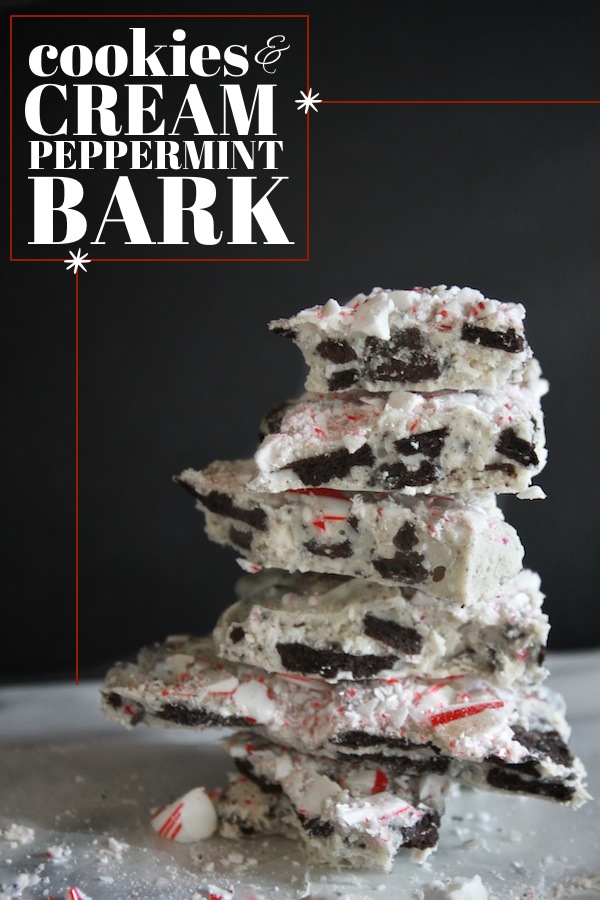 Question: What would happen if I crushed up Trader Joe's Candy Cane Joe Joe's, mixed them with white chocolate and turned them into bark? Uhhh. Could I make a ridiculous bark that would rival my Crunchy Peppermint Bark with puffed rice cereal?
Answer: DING DING DING! YES. And it will be this Cookies & Cream Peppermint Bark!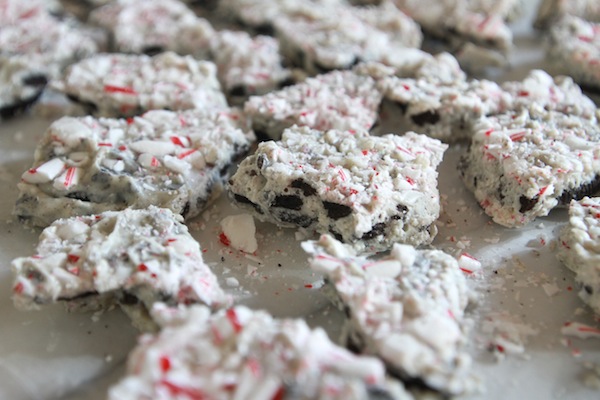 I feel like I hit the jackpot with this one. The creamy minty filling mixed with white chocolate and cookies is WONDERFUL. When you get a crunchy peppermint bite of the crushed up candy cane?? OH YES. Heaven.
I'm going bark crazy this year. It's just too dang easy to make something SO GOOD. I have another bark recipe coming this week. I can't stop this bark train.
And we're off! This recipe has ONLY THREE ingredients.
Crushed candy canes (from about 6-7 candies) Put them in a freezer bag and bash them!
Also I use Guittard's Au Lait Chips for my white chocolate. They're SO good!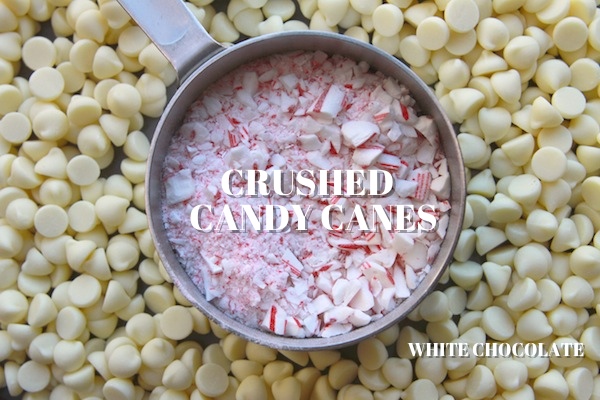 Have you had Candy Cane Joe Joe's?? They are basically Trader Joe's version of Oreos BUT they have crushed candy canes in the creamy filling. They're also VEGAN and that's just CRAZYTOWN cuz they are so good. If you don't have access to them, you can use Oreos and maybe add a teaspoon of peppermint extract to your melted white chocolate? Or! Just let the peppermint come from your candy canes and taste more of the cookie. Either way, it's gonna be good.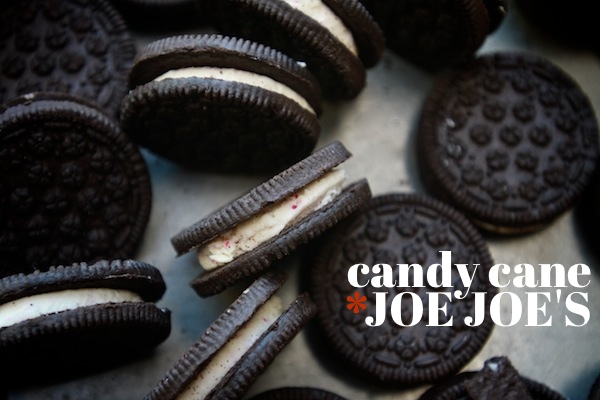 Ok. So we bash our cookies. We want them in big chunks. I gave them a good whack with a mallet.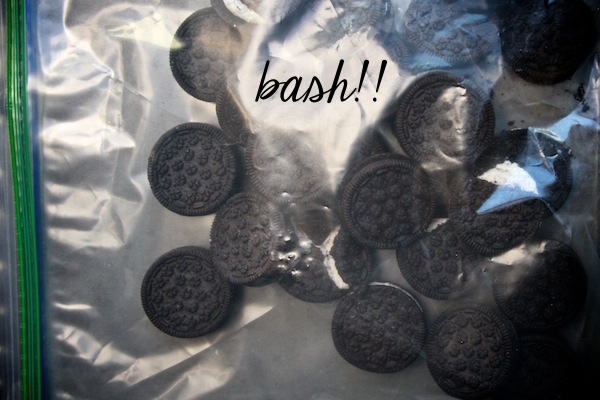 Done bashed. That filling is gonna give your bark secret
pockets of goodness.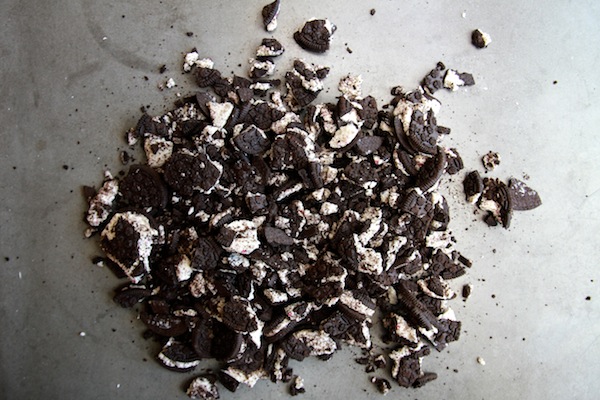 We melt the white chocolate in a microwave safe bowl. 2-3 increments of 40 seconds. Melted!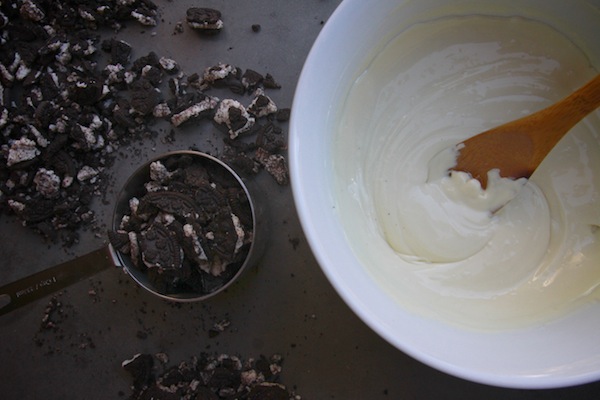 Now we mix the cookies in with the melted chocolate.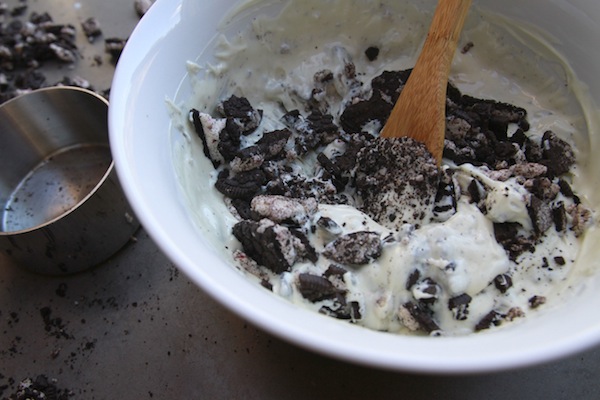 Lay a sheet of waxed paper on a baking sheet. Spray with cooking spray. Spread out the candy mixture.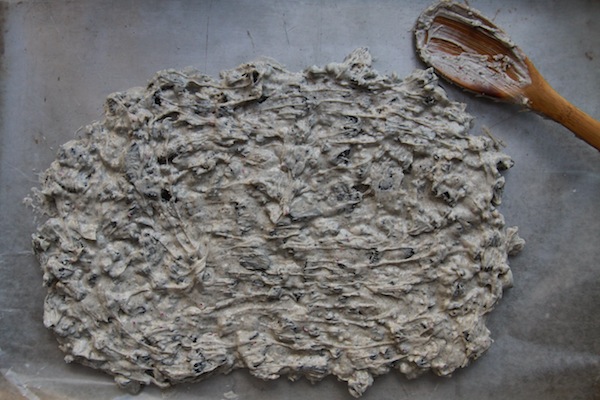 Add the crushed candy canes on top. Put another piece of wax paper on top and press the candy canes into the bark.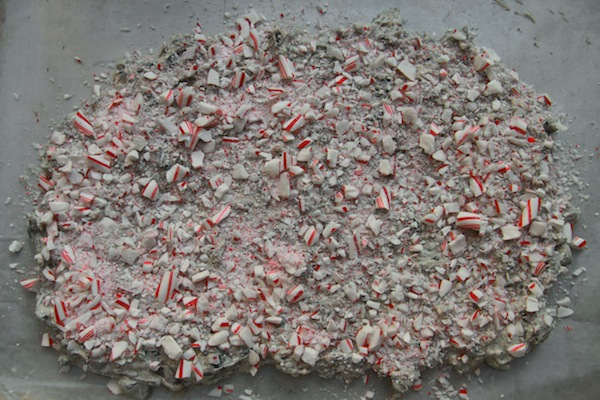 Pop in the fridge. Let it cool for 15-20 minutes. Now break with your hands!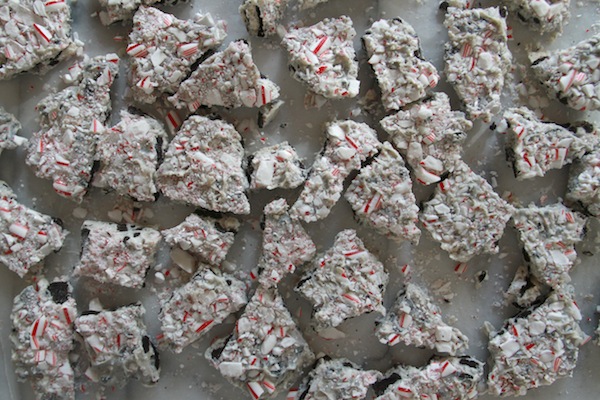 Cookies and cream GOODNESS.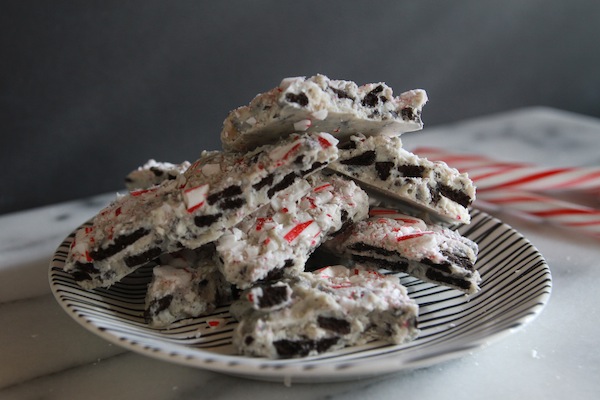 I had a hard time giving these away…
Cookies & Cream Peppermint Bark

makes about 35 pieces

1 pound white chocolate, chopped (use GOOD white chocolate chips)
2 cups crushed Candy Cane Joe Joe's (about 22 cookies)
6-7 candy canes, unwrapped
nonstick cooking spray

Spray a 10-by-15-inch rimmed baking sheet with nonstick cooking spray; line with a piece of waxed paper. Crush candy canes in a Ziploc bag—strain out the powder. In another Ziploc bag, crush cookies into large pieces.

Place white chocolate in a heatproof bowl set over (not in) a saucepan of simmering water. Heat, stirring occasionally, until smooth, 4 to 6 minutes. Alternately, you can melt in a microwave safe bowl in the microwave. Heat for three 30-40 second intervals on high power until melted. Remove from heat; stir in crushed cookies.

Transfer mixture to prepared pan; with a spatula, spread to edges of pan.

Sprinkle with crushed candy; with a piece of waxed paper covering the entire surface, press in gently (paper prevents hands from sticking to candy and chocolate). Remove wax paper from the top and chill until firm, 20 to 30 minutes (no longer, as candy will begin to soften).

Break bark into 2-inch pieces. Store at room temperature in an airtight container, up to 1 week.