Best part of summer? Outdoor grilling! Can I make a confession? I do almost all the grilling at home. It's not that Casey doesn't want to. He totally wants to! But… I might be a bit of a control freak about grilling. Since I do all of the shopping and I know how much our organic meat costs, I'm like SUPER paranoid of over-cooking anything. When you're grilling, you have to be ON IT. You can't get distracted with ANYTHING…like outdoor speakers, drink mixing or stressful Red Sox games.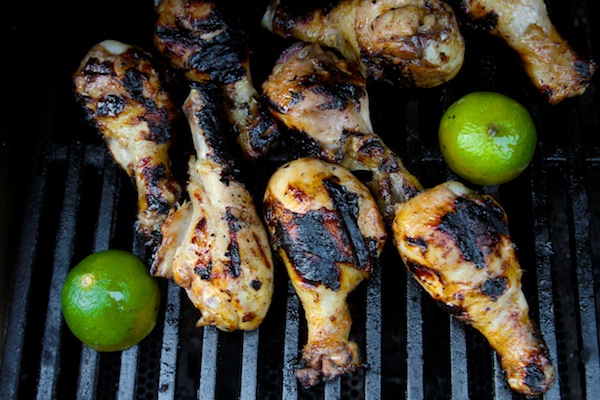 In order to excel at grilling, you have to have a good sense of time. You have to park yourself there and be patient.  That's the key to grilling. Grilling gives me a chance to sort of meditate and relax while sipping on a cocktail while I dodge basketballs & soccer balls Casey & Cooper are playing with. I really love it.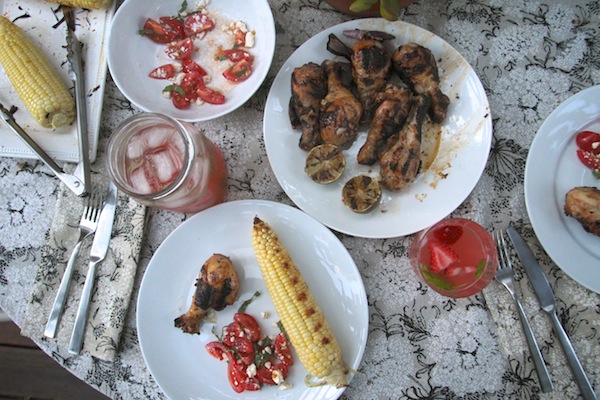 I paired these Honey Lime Drumsticks with Honey Butter Grilled Corn (recipe soon!) and a simple tomato salad dressed with feta, mint & lemon juice. It's such a simple meal to throw together on a weeknight. Now what's for dessert? How about some Lemon Blueberry Ice Cream Sandwiches? Yeah baby!
And we're off!
First we make the marinade. It's super simple!
This recipe comes from The Fresh 20 Cookbook. Have you heard of The Fresh 20?  It's an awesome online subscription service. Every week you get a list of 20 ingredients to shop for. You get 5 recipes using those ingredients and details of how/what to prep during the week in order to make dinner super fast & tasty. Organization at its best! My friend Melissa is a genius.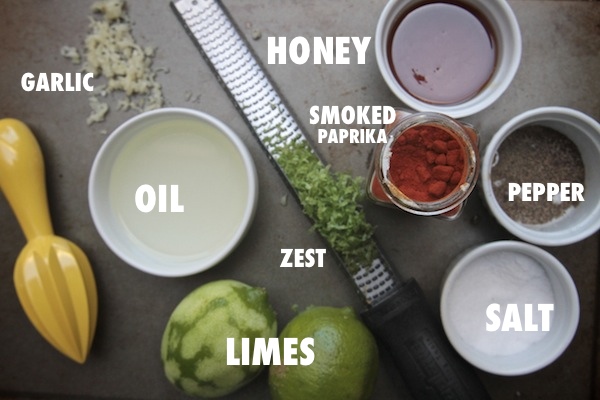 OK! Marinade. Mix everything together in bowl. It's the perfect balance of citrus & honey.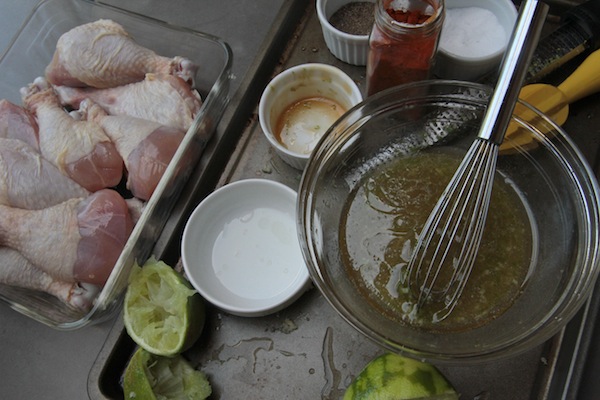 Add extra flavor to the drumsticks by rubbing them with salt, pepper & the smoked paprika.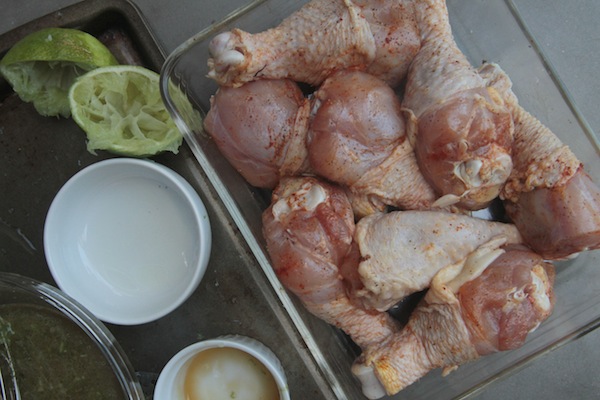 Pour the marinade over the chicken.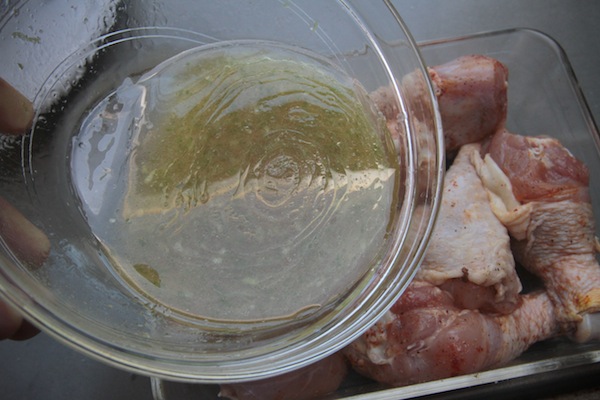 Let the flavors develop! Cover. Marinate!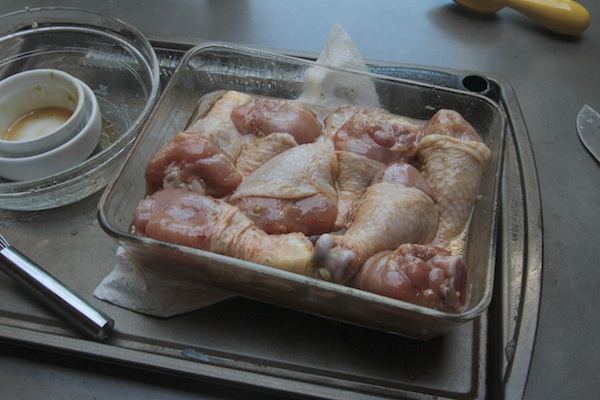 Heat up the grill! Add the chicken. I added a few slices of lime to the grill to grill!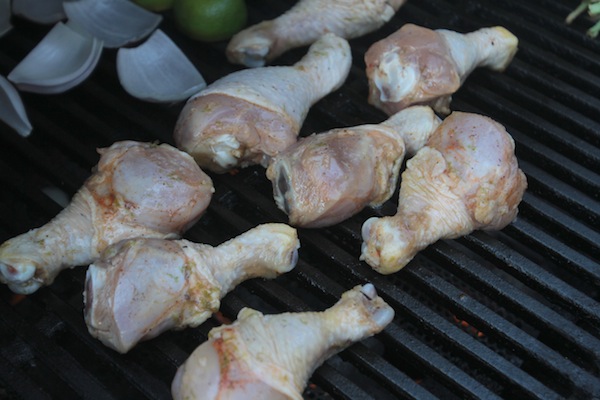 Keep your eyes on the drumsticks!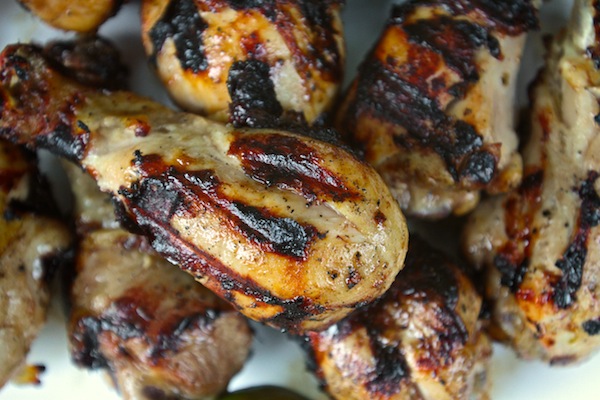 Perfection!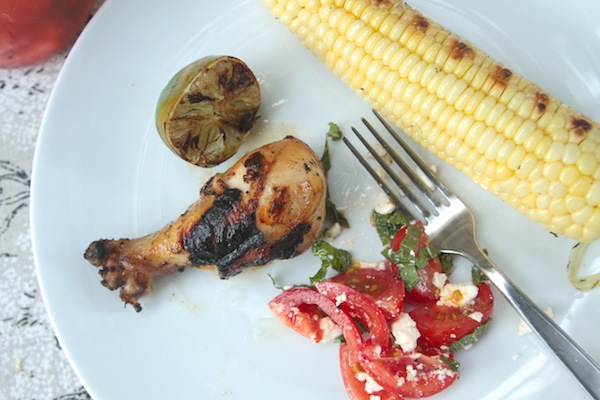 If you love the combination of honey & lime, I highly recommend this Honey & Lime Strawberry dessert!
Honey Lime Drumsticks

serves 4
recipe slightly adapted from The Fresh 20 Cookbook

grated zest & juice of 2 limes

3 tablespoons honey
3 tablespoons vegetable oil
2 garlic cloves, minced
8 chicken drumsticks (about 1 1/2 lbs.)
1/2 teaspoon kosher salt
1/4 teaspoon black pepper
1/4 teaspoon smoked paprika

Whisk together the lime zest and juice, honey, oil, and garlic in a small bowl. Season drumsticks with the salt, pepper and paprika and arrange in a glass container. Pour the marinade over the drumsticks, seal the container and marinate in the refrigerator for at least 2 hours, and up to 24 hours.

Preheat an outdoor grill. Remove the drumsticks from the marinade (discard marinade), arrange the drumsticks on the grill over a medium flame and cook for 15 minutes, rotating the drumsticks every 3 minutes or so, until internal temperature reaches 165F and juices run clear.