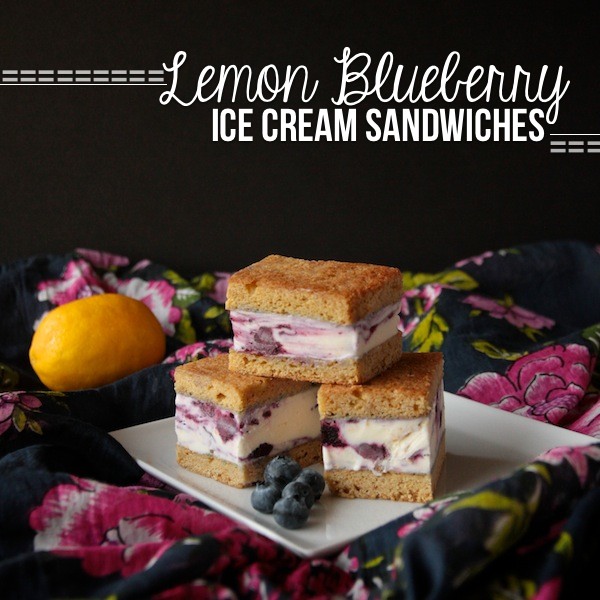 New recipe! Lemon Blueberry Ice Cream Sandwiches
My parents switched schools on me when I was in 7th grade. I was super nervous and pretty upset to be changing schools because I had been with my friends since kindergarten. On my first day of the new school I found out that they sold ice cream sandwiches after lunchtime. SCORE! When my friend Caley bought me one to welcome me, it was then when I knew my parents made the right decision. It was also then that I knew I had made a solid friend.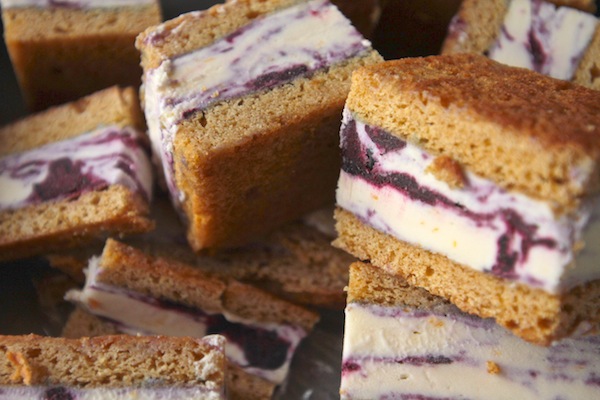 This is my first time making ice cream sandwiches and it definitely won't be the last. There's something so satisfying about spreading
melty ice cream over a sheet of cookie and squishing another cookie on top to make a sandwich. And when you cut out individual sandwiches, it's like jackpot!! Who wouldn't want this ice cream sandwich loot in their freezer?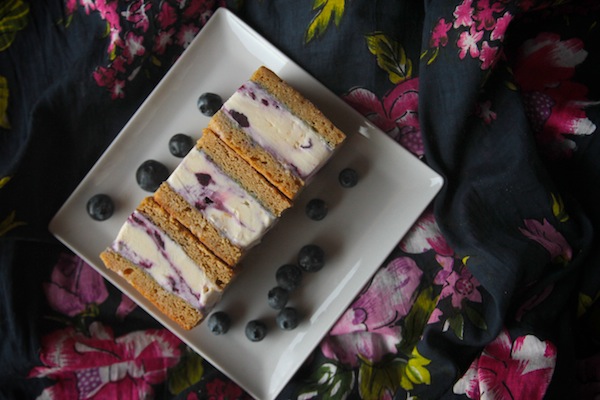 These sandwiches are packed with flavor! The lemon zest & juice really enhances the vanilla ice cream. It's tastes like blueberry muffin ice cream! The blueberry swirl captures my heart and adds such a pretty color to what would have been a very monotone ice cream sandwich. I'm quite smitten with these and I'm sure you'll agree when you share your first (of many batches!) with your loved ones. Ice cream sandwiches are how friends are made.
And we're off!
First we are going to make the blueberry swirl in our ice cream sandwiches.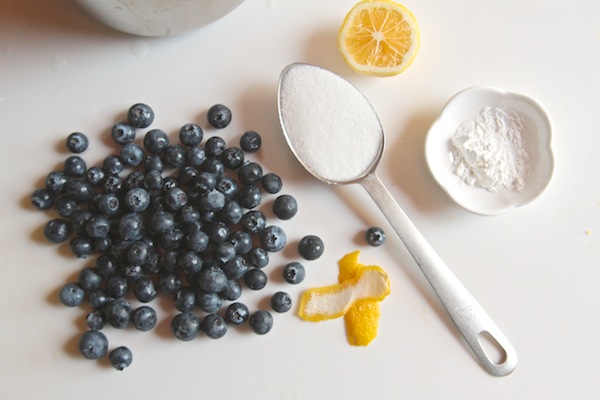 All of this goes into a pot. You reduce it a bit, pull out the lemon peel and BOOM. Blueberry compote.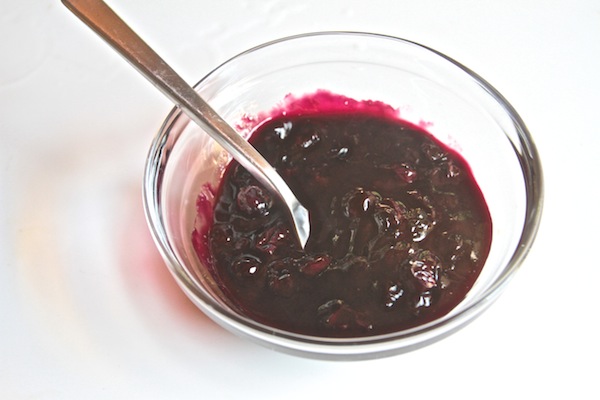 Now we move onto our sandwich component. Let's make the cookie layers!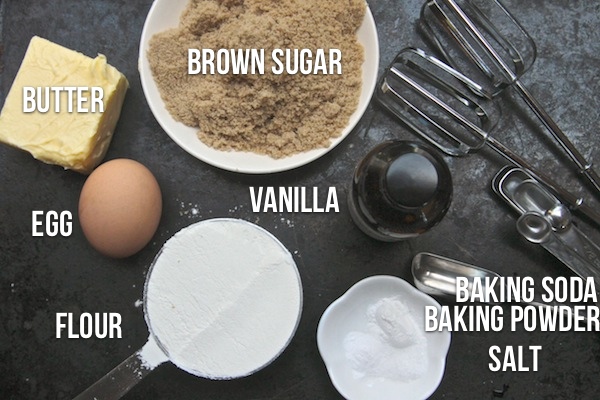 Cream butter & sugar. Add in egg & vanilla. Add the flour mixture in two stages.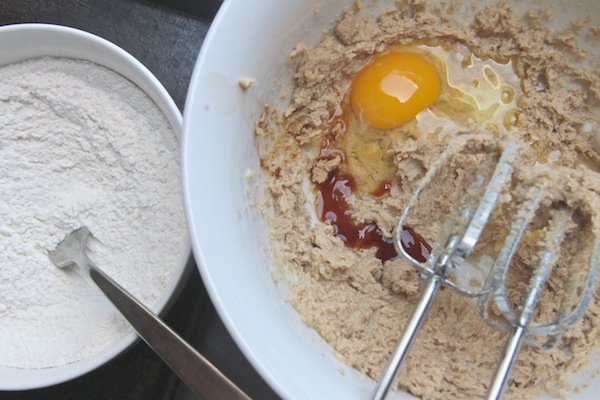 Done! You will need two 8 inch baking pans for this recipe. Borrow one from a neighbor!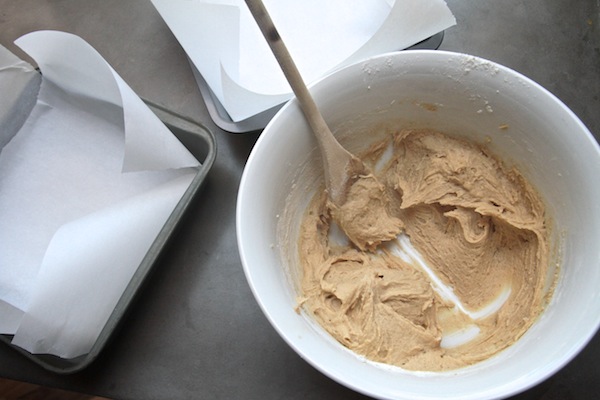 Split batter in half. Spray a parchment-lined baking sheet with cooking spray. With an off-set spatula smooth the batter into each baking pan. We're gonna make cookie cake!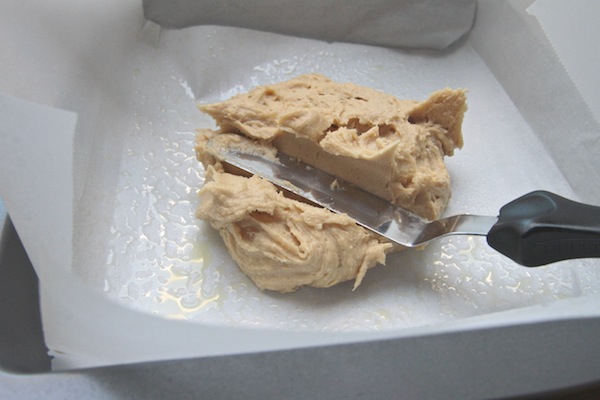 Done did.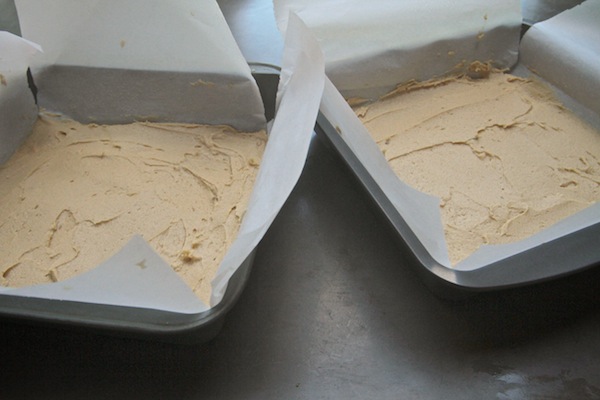 Baked! Let them cool.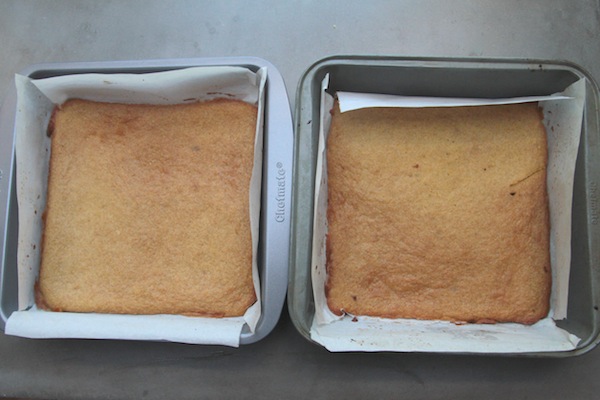 Vanilla ice cream gets melted. Lemon zest gets stirred in & so does lemon juice. Instant lemon ice cream!
Now lemon ice cream gets its blueberry swirl on.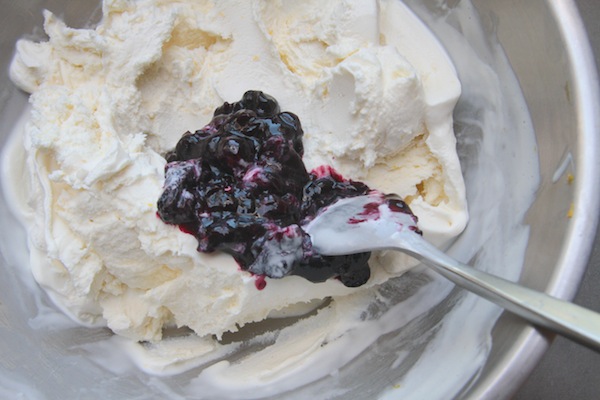 Transfer ice cream to the bottom layer of cookie cake!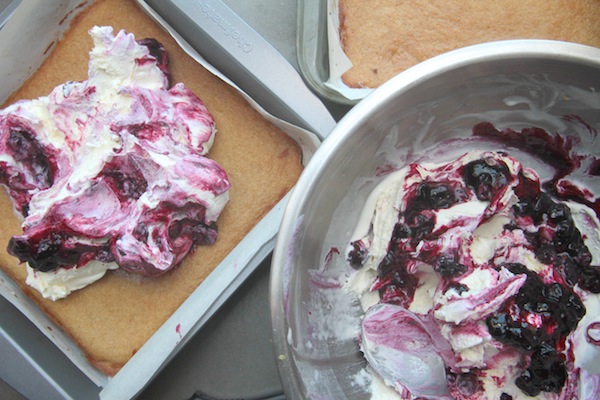 Fill it all up. Take the top and SANDWICH!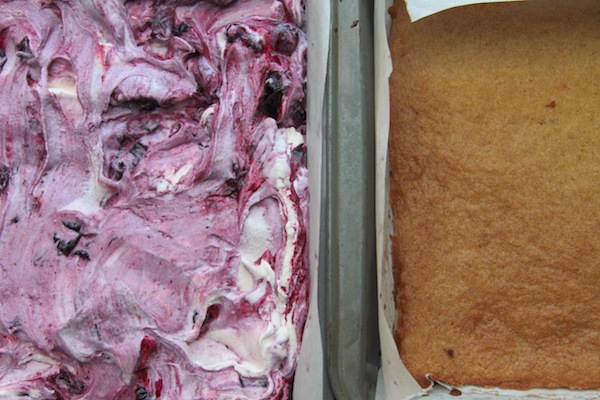 SANDWICHED! You're gonna wanna freeze this for a while before you cut into it.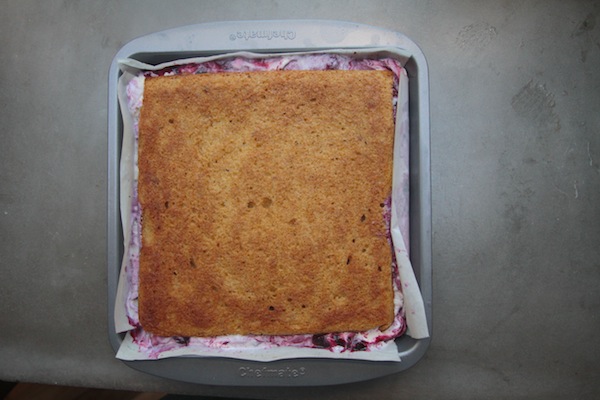 Trim the edges and start cutting into it. Make sure it's frozen solid!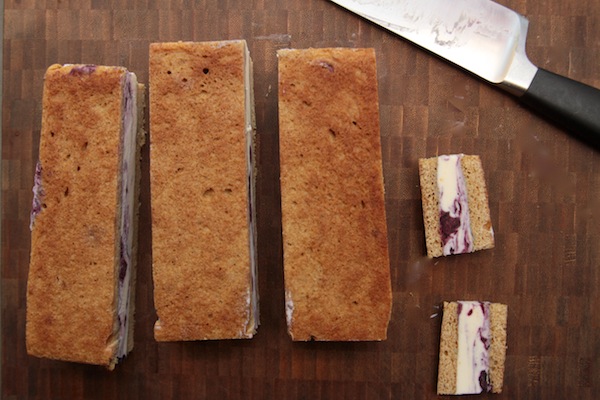 I cut mine into 12 pieces.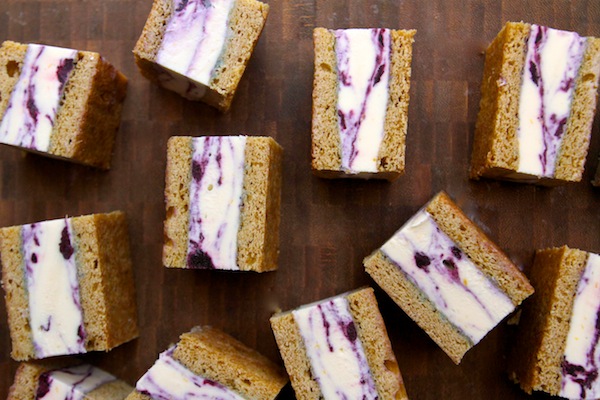 Insanely good.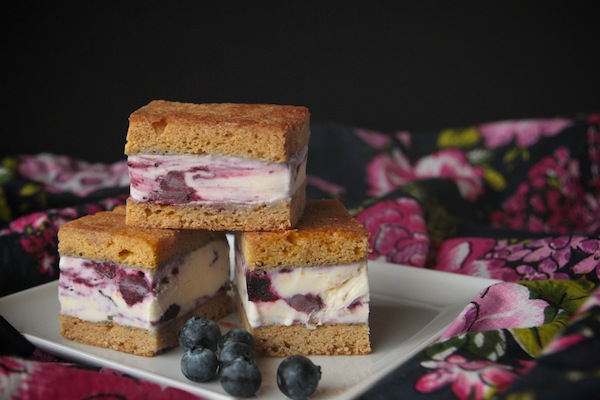 So much goodness in here.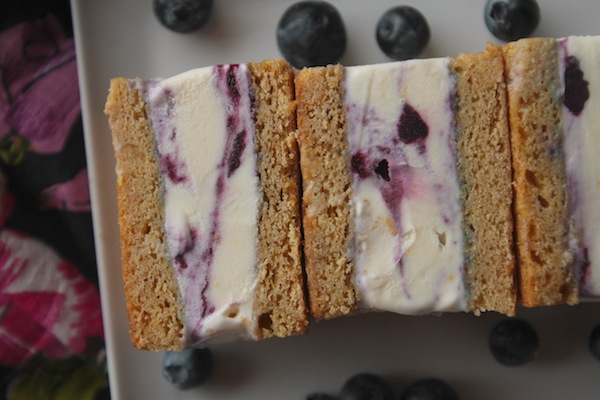 This is just the beginning! I can't wait to experiment with more flavors this summer.
Lemon Blueberry Ice Cream Sandwiches

makes 12

recipe adapted from Gourmet Magazine

For lemon ice cream:

For blueberry compote:

1 cus blueberries
1/8 cup sugar
1 tablespoon fresh lemon juice
1 teaspoon cornstarch

For sandwich layers:

1 cup all-purpose flour
1/2 teaspoon baking powder
1/4 teaspoon baking soda
1/4 teaspoon salt
1 stick unsalted butter, softened
3/4 cup packed light brown sugar
1 large egg
1/2 teaspoon pure vanilla extract

Make lemon ice cream:
Let ice cream sit out for 10-15 minutes at room temperature, until it reaches the consistency of soft serve. Transfer ice cream to a large bowl and stir in lemon zest and juice. Cover the bowl with plastic wrap and freeze while making compote and sandwich layers.

Make blueberry compote:
Cook blueberries, sugar, and zest in a 12-inch heavy skillet over medium-high heat, thoroughly crushing blueberries with a potato masher, until juices are released and sugar has dissolved, about 2 minutes.

Stir together lemon juice and cornstarch, then stir into blueberry mixture. Boil, stirring, 1 minute (mixture will thicken).

Transfer blueberry compote to a bowl and chill until cold, about 1 hour. Discard lemon zest.

Make sandwich layers while compote chills:
Preheat oven to 375°F with rack in middle. Butter baking pans and line with foil, leaving a 1-inch overhang on each side, then butter foil.

Whisk together flour, baking powder, baking soda, and salt in a small bowl. Beat together butter and brown sugar in another bowl with an electric mixer at medium-high speed until pale and fluffy, about 3 minutes. Beat in egg and vanilla. At low speed, add flour mixture in 2 batches, mixing until just combined.

Divide batter between baking pans and spread into thin, even layers with offset spatula. Bake until golden-brown but still tender, 10 to 12 minutes. Cool completely in pans, about 30 minutes.

Assemble sandwiches:
Dollop tablespoons of blueberry compote all over ice cream, then swirl it gently through ice cream with a spoon. Spoon all of ice cream over 1 sandwich layer (in pan) and spread evenly using clean offset spatula. Invert second sandwich layer over ice cream, pressing gently to form an even sandwich. Wrap baking pan in plastic wrap and freeze until firm, at least 3 hours.

Transfer sandwich to a cutting board using overhang. Trim edges if desired, then cut into 12 pieces.