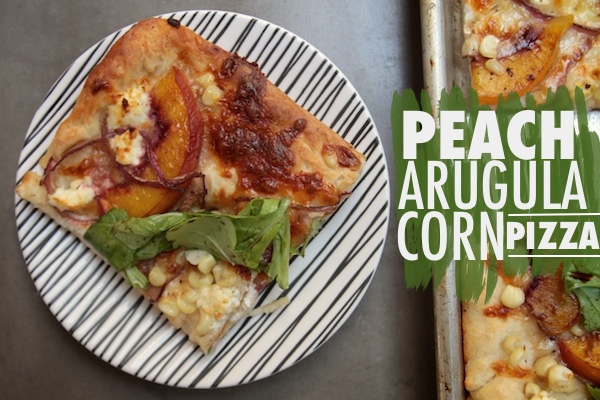 PEACHES. Glorious peaches. It's like eating a piece of sunshine–sweet, sweet sunshine. I don't even want to talk about how the leaves on the trees outside our house are changing color and how Target is in FULL ON BACK TO SCHOOL SHOPPING mode. NO. I wish it would stop. I feel like I was just getting settled into my summer time habit of buying too many peaches…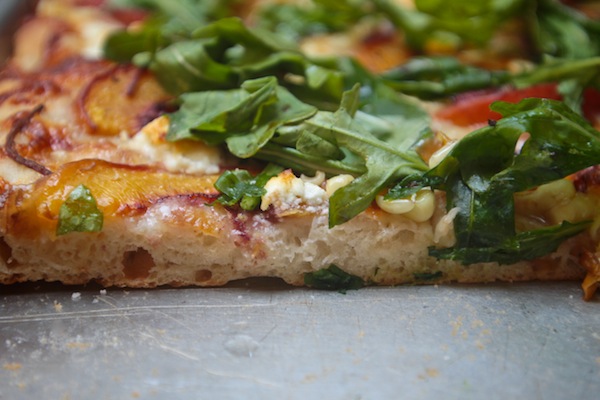 Can I tell you something? I'm obsessed with arugula on pizza. You might already know this by my Goat Cheese/Tomato Arugula number and my Breakfast Pizza concoction. I just won't quit. If I ever see arugula on a pizza menu, I almost always convince someone to split it with me.  I also am a big fan of corn on pizza (hello CORN LIME ZUCCHINI!). It adds a deliciously sweet crunch!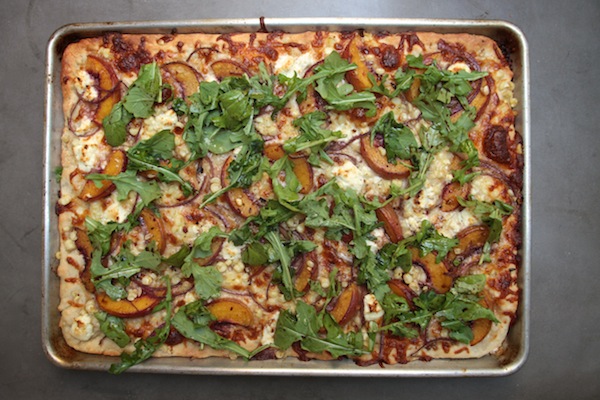 I love the balance of this pizza combo. Tart goat cheese, creamy mozzarella, peppery arugula, sweet roasted peaches and corn, the bite of red onion and the balsamic!! It's a flavor explosion. I think I might add a jalapeño next time because this lady sure loves all things SPICY.
And we're off!
For this pizza, I made my no-knead pizza dough. The recipe makes two pizzas, but I used the dough to make one GIGANTIC pizza.
It was a thicker pizza, and I liked it. I feel like you need a thicker dough to carry the weight of this topping extravaganza!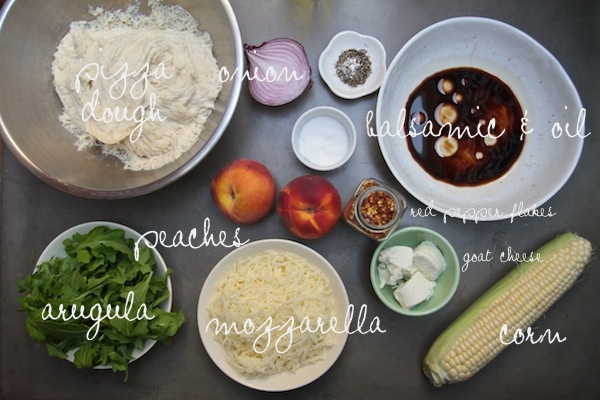 First item of business is to toss the red onions in balsamic & vinegar. This reduces the sharp oniony bite.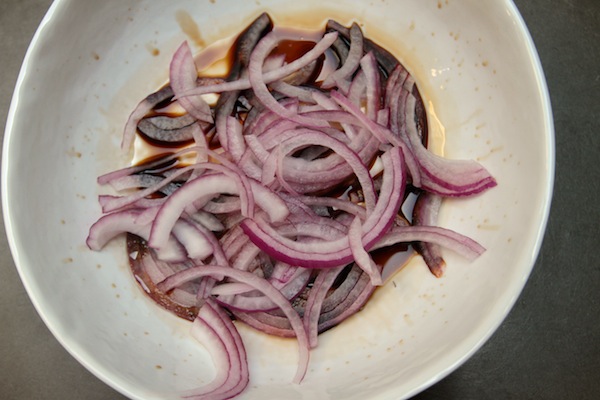 After about 15 minutes, add in the sliced peaches and toss. Keep the bowl with all the dressing out!
We're gonna use that to toss the arugula in.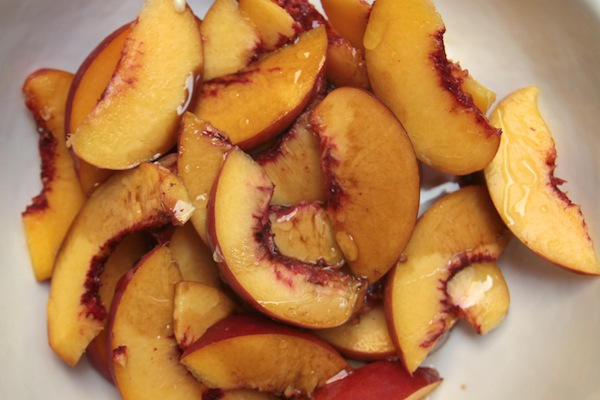 Corn is shucked & off the cob. Dough has been spread out in an oiled baking sheet.
You'll find instructions in my post here. It's the only pizza crust that works perfectly for me.
Well… I'm sure there are others that will do the job, I just rely on this one, HEAVILY. Plus, I like rectangles.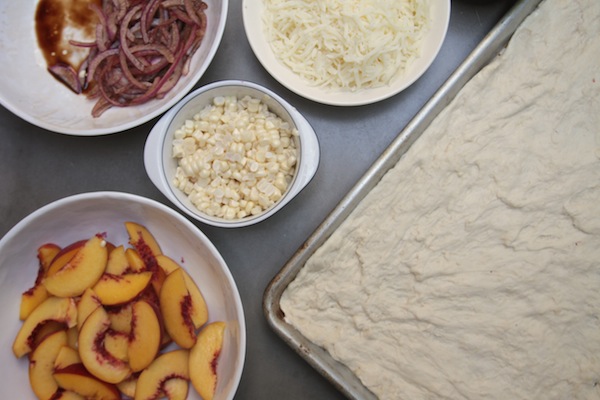 And we top!! Mozzarella first, followed by peaches, onions & corn.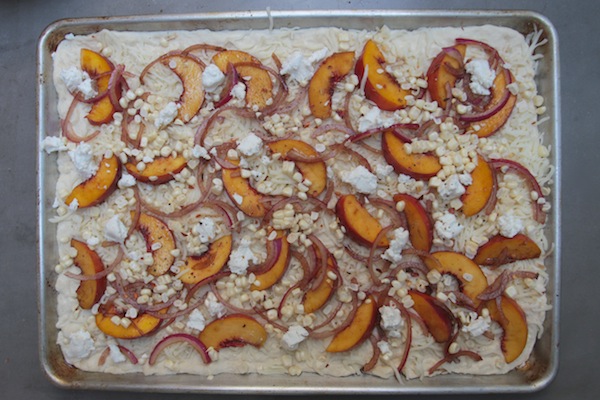 Goat cheese follows. Salt/Pepper and red pepper flakes. Off to the oven it goes.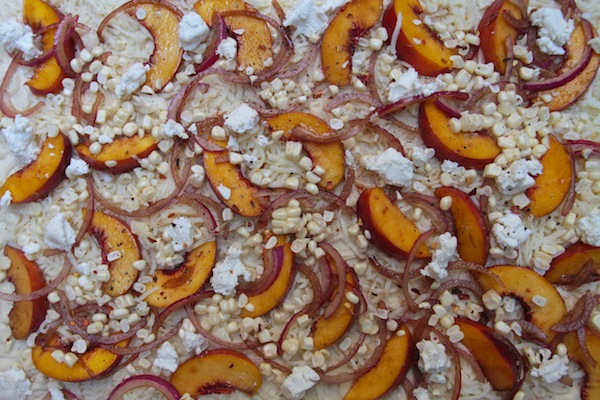 Hello delicious PIZZA!!! Would you look at that?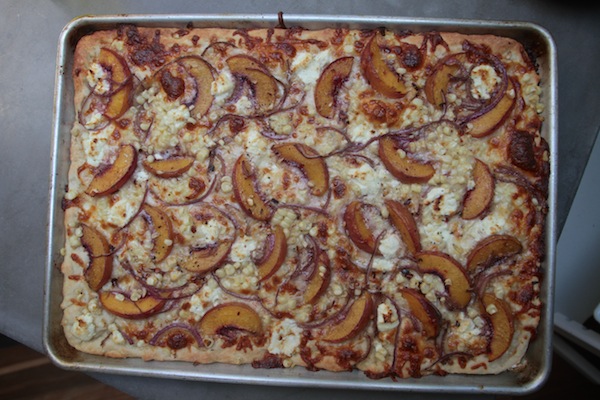 One more closeup. Check out those roasted peaches and onions. YES, SIR.
The balsamic vinegar is a fine flavor enhancer!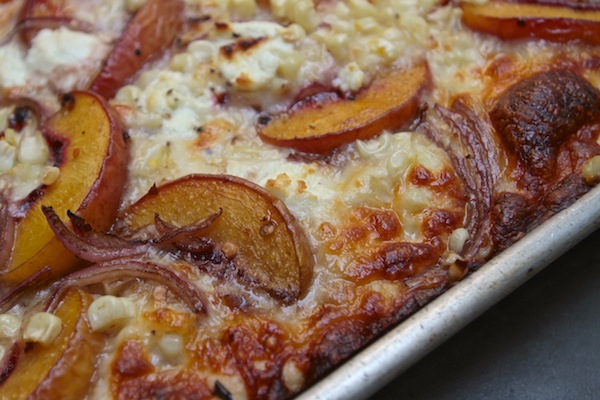 Now you take the residual dressing and toss the arugula in it.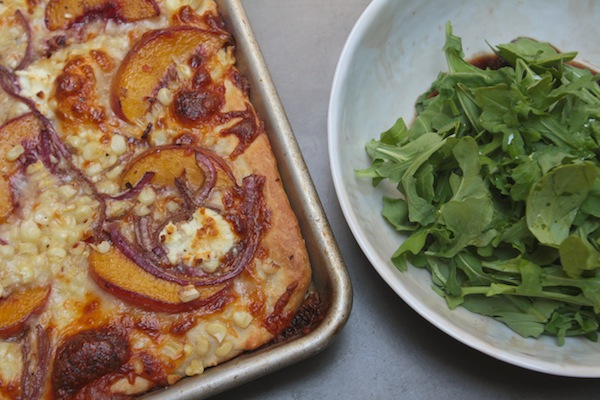 Top that pizza.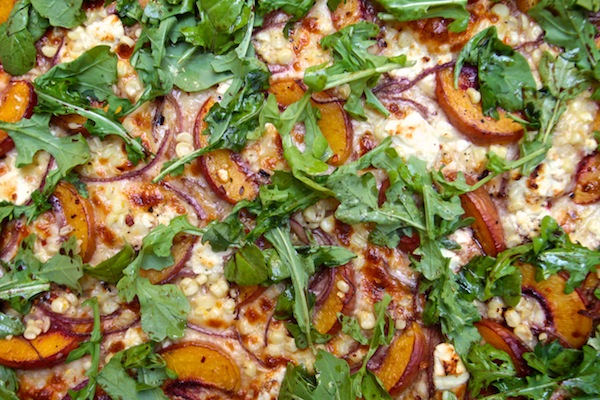 EAT THAT PIZZA. Let's not talk about how Autumn is just around the corner. I won't have it.
Peach Arugula Corn Pizza

makes one 13 x18 inch pizza

3 tablespoons balsamic vinegar
1 tablespoon extra virgin olive oil, plus more for pan
1/2 medium red onion, thinly sliced
1 full batch no-knead pizza dough

2 peaches, thinly sliced (about 1/4 inch thick)

1 1/4 cups fresh corn (from 1 ear)
2 cups shredded mozzarella
4 oz. goat cheese, crumbled
salt & pepper
red pepper flakes
4 cups arugula

Preheat oven to 500F.

In a medium bowl, toss sliced onions in balsamic vinegar & olive oil. Let sit for 15 minutes. Add peaches to onions, toss a few times and set aside.

Oil a 13×18 inch rimmed baking sheet liberally with good extra virgin olive oil. Then gently plop the dough on the pan.  Stretch and press it out to the edges. If it springs back wait five minutes and then proceed. The dough is very thin. If it tears, piece it back together.

Layer the mozzarella on top of the prepared pizza dough, followed by the peaches, corn, and goat cheese. Reserve bowl with olive oil & vinegar. Top with salt & pepper and red pepper flakes.  Place in the oven and cook for 15-18 minutes, or until crust is nicely brown around the edges. While pizza is cooking, toss the arugula in the reserved olive & vinegar mixture and spread on top of the pizza after it has cooled for 5 minutes. Serve immediately.