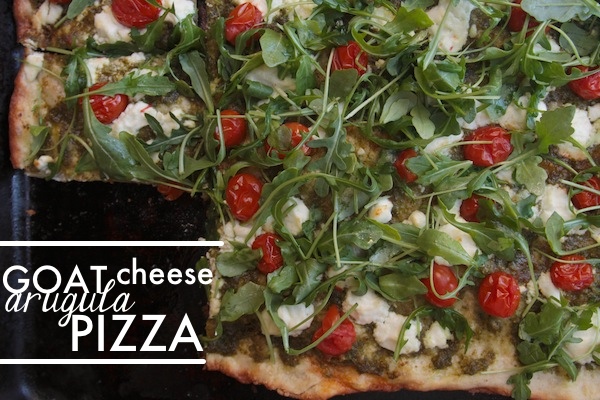 Now that we're creeping into the warmer weather months (at least here in California!) it's time to start thinking about a new food season! My brain is preparing myself for bathing suit weather which means I'm beginning to think about adding greens like WHOA to my diet. My brain is also trying to convince me that it's cool to eat 5 pieces of pizza. This brain can't be convinced otherwise.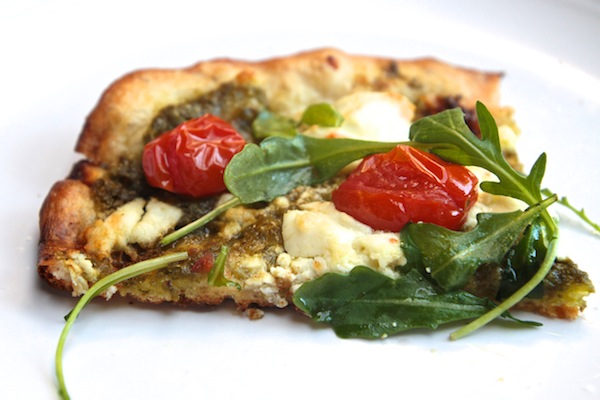 Let's compromise. Let's make baby steps to getting bathing suit ready. Sure, I really just want to eat potatoes on my pizza, but that's not gonna get me into a bathing suit anytime suit. Sidenote: Have you ever eaten pizza in a control top bathing suit? It's the worst.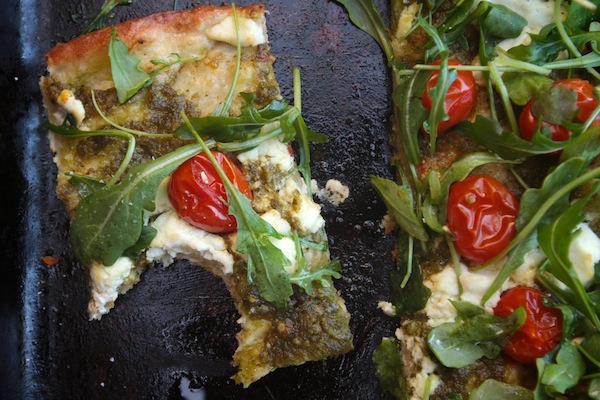 I think this pizza is practically salad. Pesto coats the dough (that's green!), goat cheese adds a creamy tang, roasted tomatoes provide sweetness and that mound of arugula on top? Peppery salad component! Control top bathing suit, here I come!
Just not while eating pizza…
And we're off!
The beauty about this recipe is that you could easily buy store bought pizza dough & pesto.
But I didn't feel like doing that. Good pesto can be so dang expensive if you buy it in a store. Let's make some!
Here's a new technique I learned from Keys to the Kitchen . Soak the basil leaves in water for 5 minutes.
It reduces the sharpness/bitterness of basil leaves.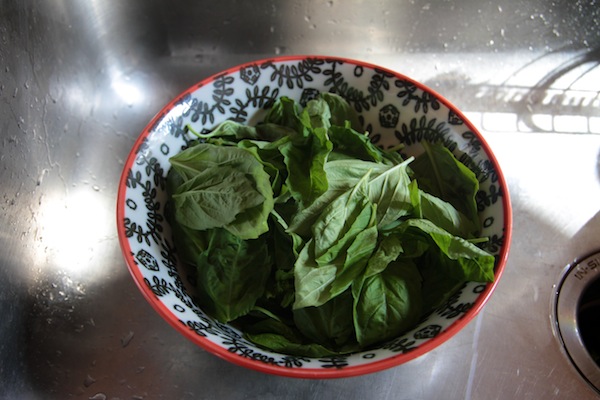 Can I tell you something? I am over pine-nuts. I knoooooooow. It's silly.
I got pine mouth once and I just can't trust pine nuts. I love using toasted walnuts in my pesto.
It makes it less bitter. It's AMAZING.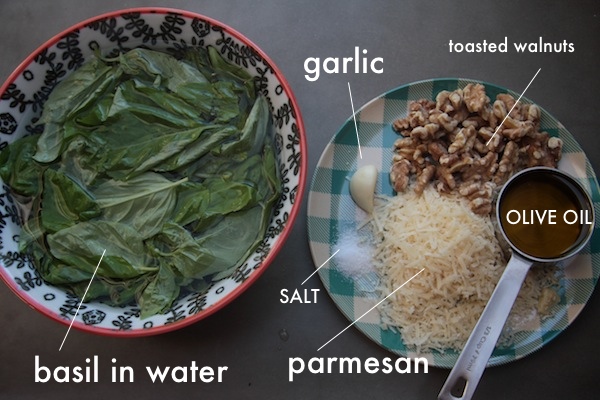 Step by Step (I'm trying to get TKOTB stuck in your head) to pesto.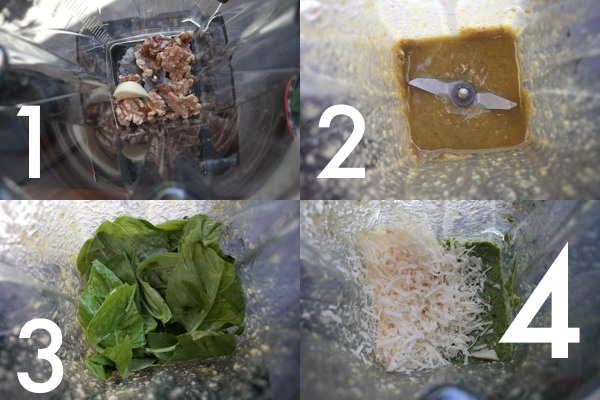 Presto! Pesto.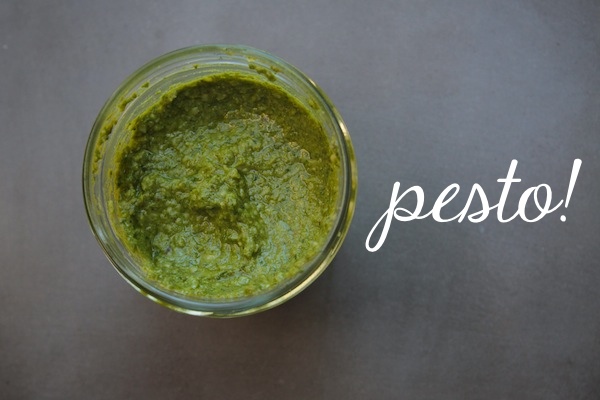 No Knead Dough! It's my go-to dough. You make two pizzas with one recipe. I grabbed one of the mounds to make this pizza. You could totally buy pizza dough if you want….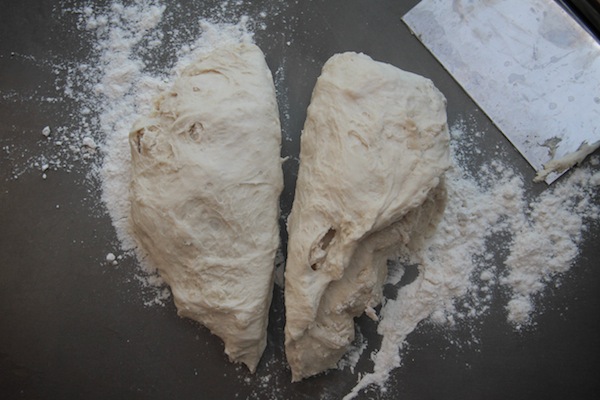 Now we're ready to top our pizza. Not pictured. Garlic. Oops. I forgot.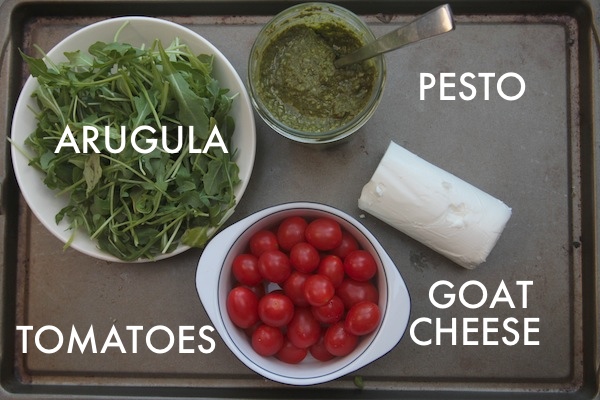 With the No Knead Pizza recipe, we coat the bottom of a baking sheet. And we stretch the dough out on top.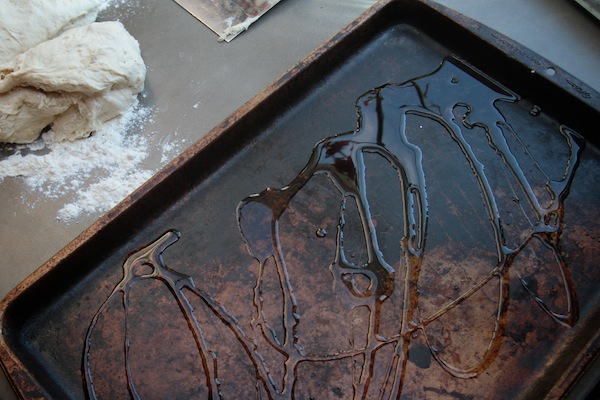 If you ever have a hard time getting the dough to stretch out to the edges, let it sit. Come back to it. It loosens up.
Pesto layer.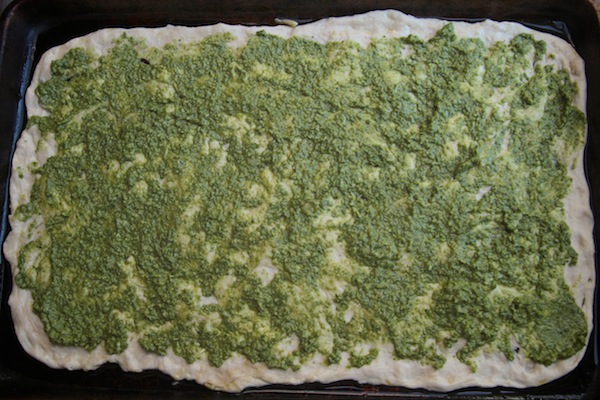 Goat cheese & tomato layer. Add a few minced cloves of garlic on top. Now BAKE.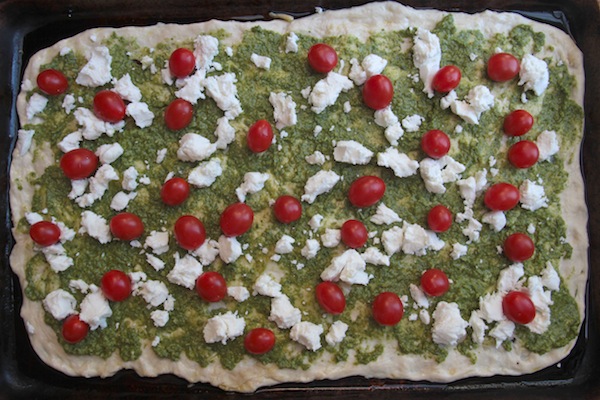 We're gonna dress the arugula with lemon & olive oil.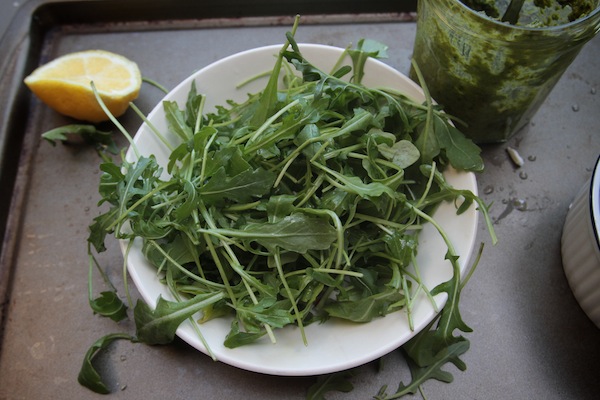 DONE.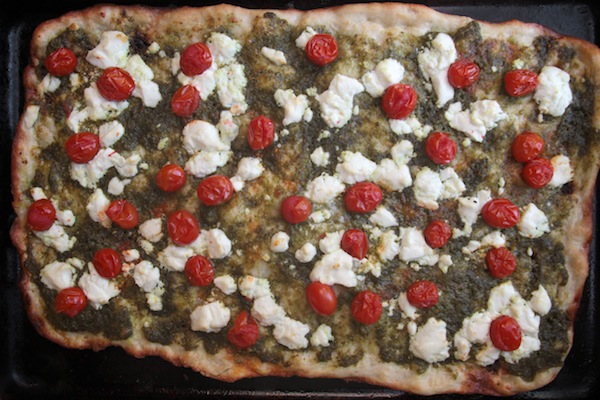 I mean…just….look…at that….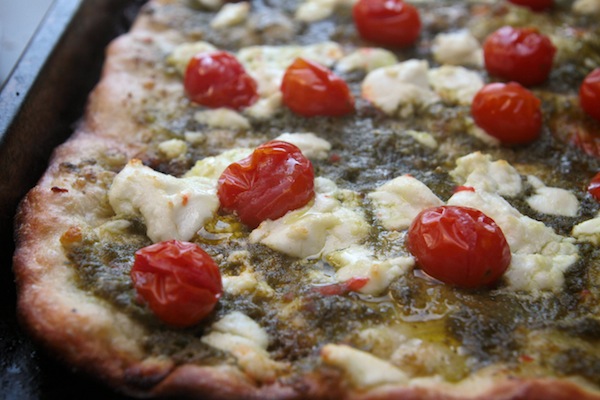 Top with arugula!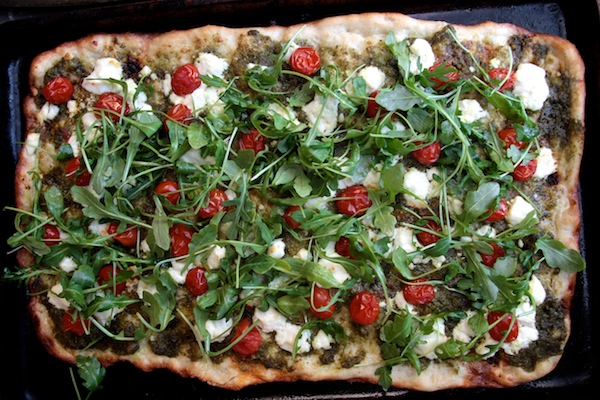 I get dibs on the edge pieces!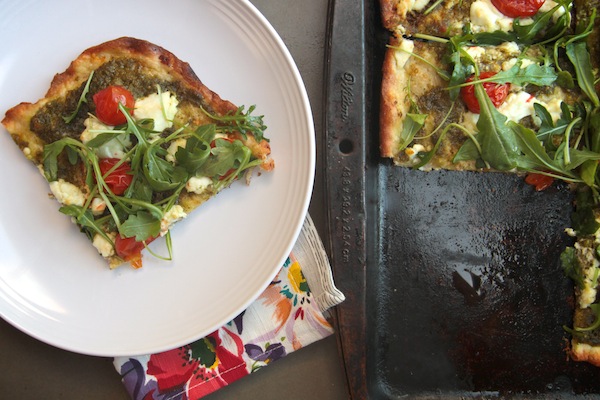 Salad pizza!
Here are a few of my favorite pizzas:
Goat Cheese & Arugula Pizza

makes ONE 13 x18 inch pizza
recipe adapted from AllRecipes

1/2 recipe no knead pizza dough (or your favorite pizza dough)
6 tablespoons fresh pesto (recipe below)
8 oz. goat cheese
1 cup grape tomatoes
2 cloves garlic, minced
1 cup fresh arugula
1 teaspoon freshly squeeze lemon juice
1 teaspoon olive oil
salt & pepper

Preheat oven according to directions on your pizza dough. If using the No-Knead dough recipe, preheat to 500F. Spread pizza dough out on an oiled baking sheet. Put an even layer of pesto on top of the dough. Crumble goat cheese on top and scatter the tomatoes & minced garlic over the pizza. Bake in an oven for 10-12 minutes, until crust is slightly browned. Let pizza sit for 2-3 minutes. In a small bowl, mix arugula, lemon juice & olive oil. Place dressed arugula on top of the cooked pizza and serve.

HOMEMADE PESTO

makes about 1 cup of pesto

recipe adapted from Keys to the Kitchen

2 cups fresh basil leaves
1/3 cup toasted walnuts
1 clove garlic
1/3 cup Extra virgin olive oil
1/2 teaspoon kosher salt
1/2 cup grated Parmesan

Put basil leaves in a medium bowl filled with cold water. Let leaves sit for 5 minutes, set aside. In a food processor or blender, blend walnuts, garlic, olive oil and salt. Drain basil leaves (it's OK if they have excess water on them) and blend with the nut mixture to combine. Add in the Parmesan and pulse/blend a few times until fully incorporated. Store in an air-tight container.