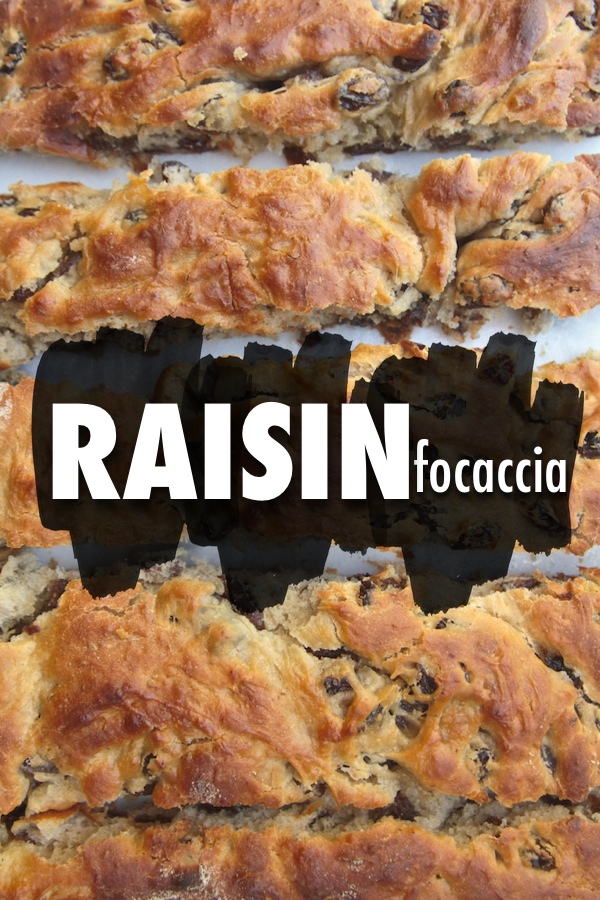 Murphy's Law says that if I am trying to watch what I eat, my coworker will bring indulgent things into the office like raisin or jalapeño focaccia from Liguria Bakery. These  things, I cannot resist.  But now, it's time to fight fire with fire. Little does he know I'm the one bringing in the Raisin Focaccia now.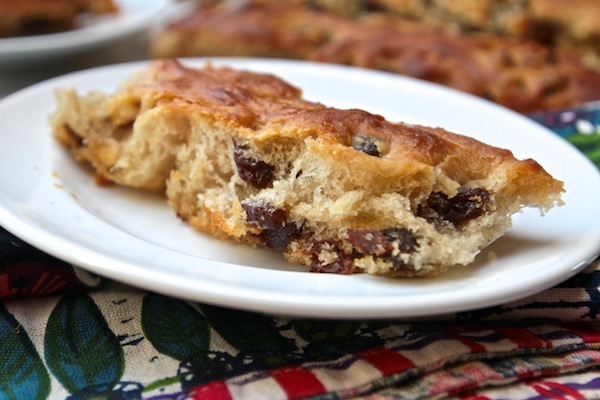 Let's back up! A few weeks ago my dad and I ventured into Liguria Bakery to get some different kinds of focaccia and this cold lady told us curtly that we missed the window for having raisin focaccia. She scoffed at us for trying to buy it an hour past her cutoff and it was followed by a huge "Pssshaw!!" I actually did a web search and found THIS PICTURE. HAHAHA. That's the lady!  If Seinfeld was back on, I'd suggest they create an episode called The Focaccia Nazi.  You should have seen her face when we politely asked if she could cut our focaccia in half, as we were splitting it. Oof. Too much!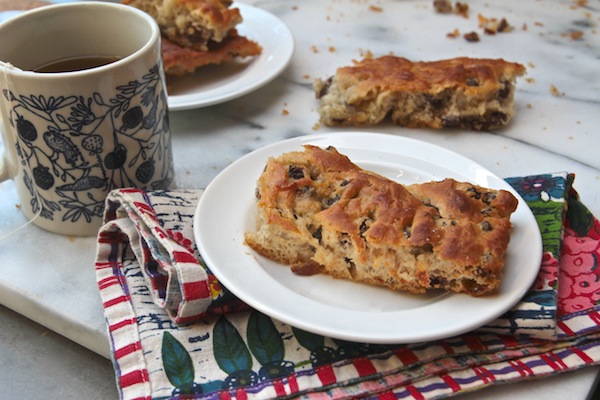 The only problem is that their raisin focaccia is really really good; definitely worth a trip if you're in San Francisco. Make sure you go early in the morning or you won't get their beloved raisin focaccia. Pleasantries don't work. Even killing her with kindness won't get a smile from her. Just get in and out with that focaccia! The raisin focaccia is light, fluffy and the raisins are juicy and plump. It's a bit savory and a bit sweet. It's perfection! To avoid another encounter where I missed the cutoff, I took the bull by the horns and made my own. And for you, I'd gladly cut you a slice or three.
And we're off!
Gather your ingredients. I love when I stumble upon an accidental vegan recipe. Wait! Is yeast vegan?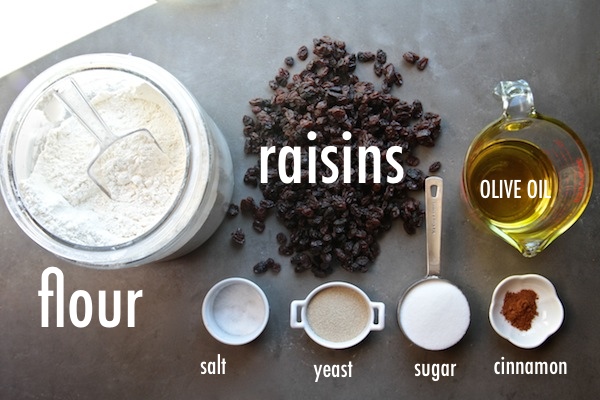 The first step is to soak the raisins in boiling water. This helps make them plump and juicy.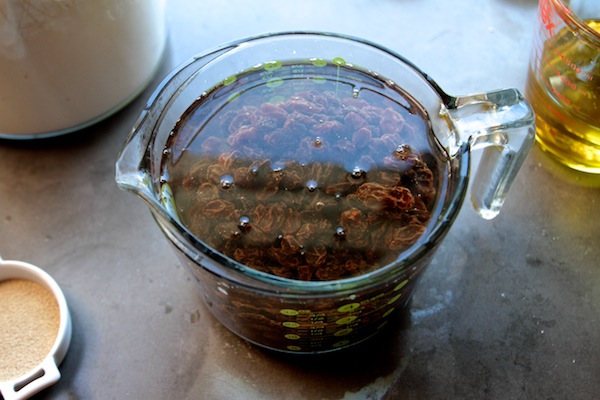 Drain the raisins and reserve 2 cups of the liquid. Add olive oil to that liquid. This will go into the dough.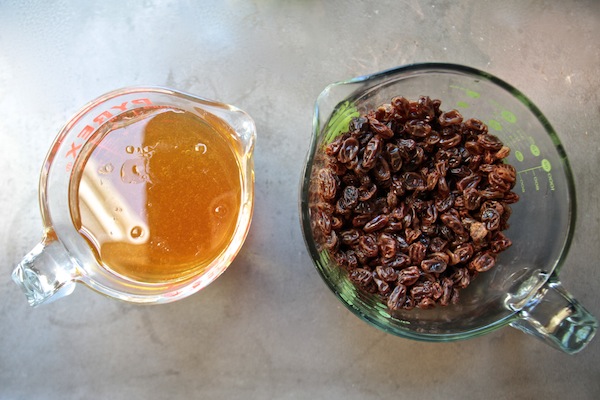 In a stand mixer, with a dough hook attachment, mix all the dry ingredients.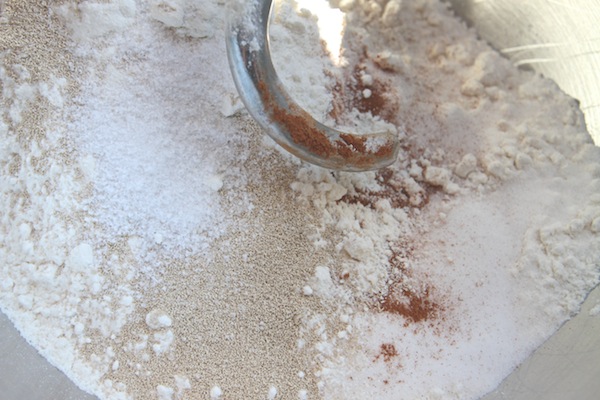 Now slowly add the raisins.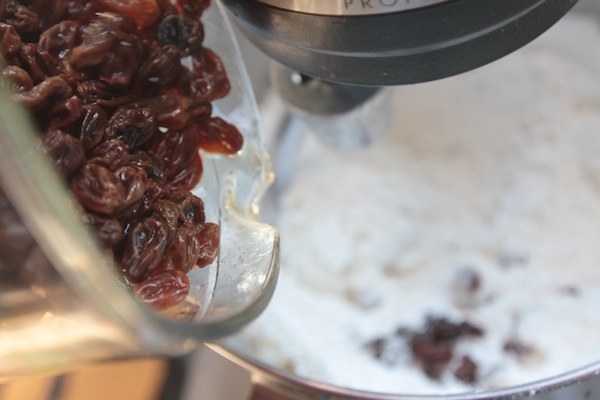 Followed by the liquid!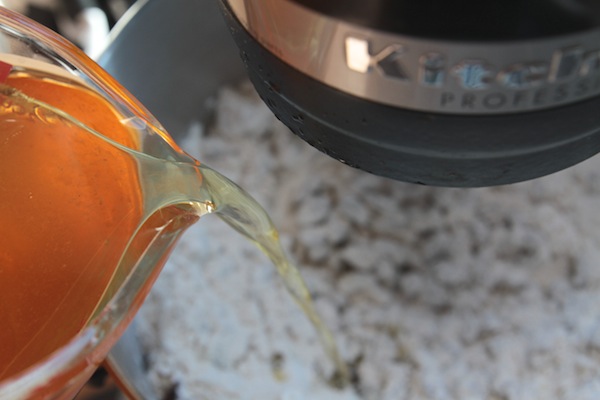 DOUGH!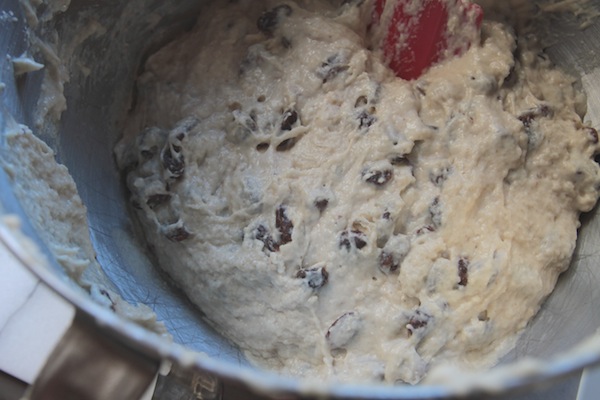 This is the part where I tell you to get a baking sheet and spread oil on top of it.
Then dump out your dough on a floured work surface and knead until it all comes together.
Plop dough on the baking sheet and stretch it out. There's a series of letting it rest and then spreading it out til it reaches the corners. I would have taken pictures during this process but SOMEBODY was working with floured hands and a dead camera battery. Note to self, buy a spare battery.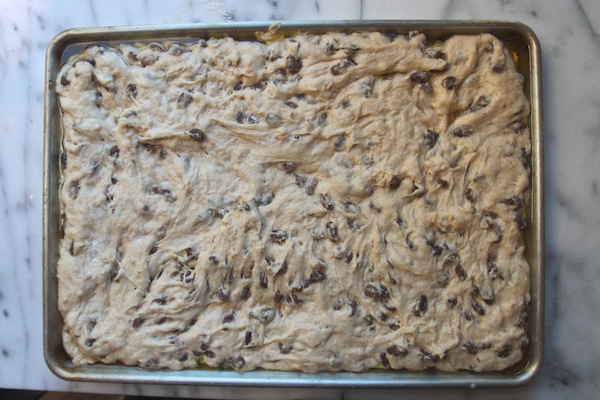 After the dough has risen…You poke your fingers in there. I didn't poke it enough (I was scared).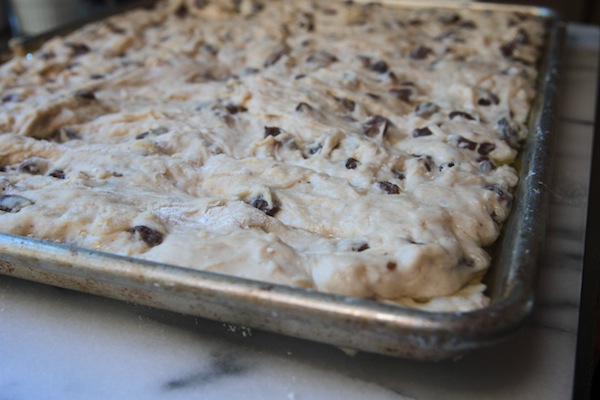 And spread oil on top. In Martha's recipe, she calls for sanding sugar but I skipped it.
I don't want an overly sweet focaccia. You know what I mean?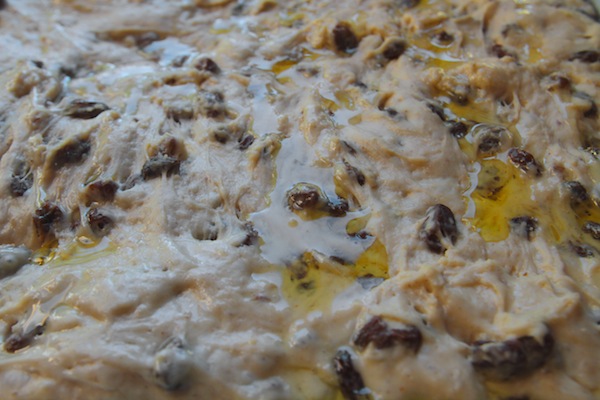 Ahhh. BAKED. A thing of beauty. When I say this makes A LOT, a lot is an UNDERSTATEMENT.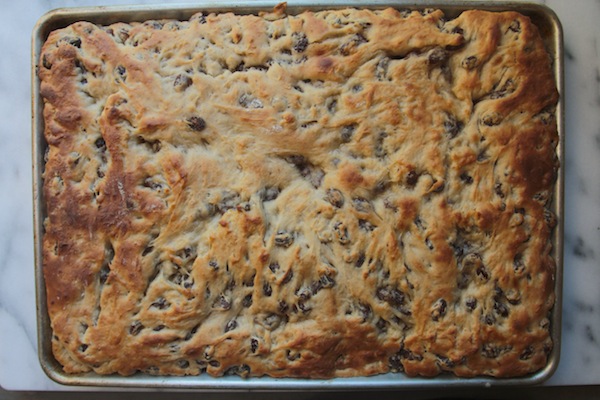 For example, this is only half of the focaccia! If you're not making it for a crowd, you should totally freeze the rest!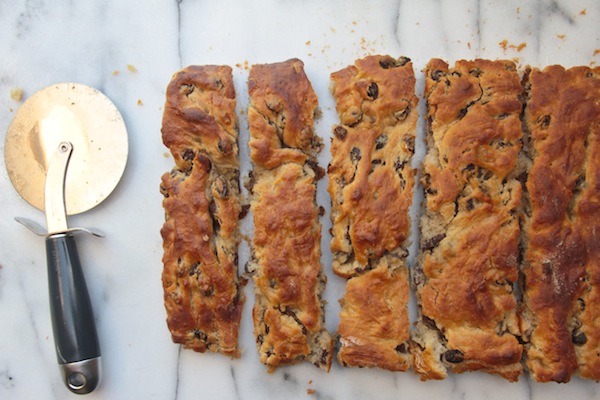 But then you might find yourself trying every section…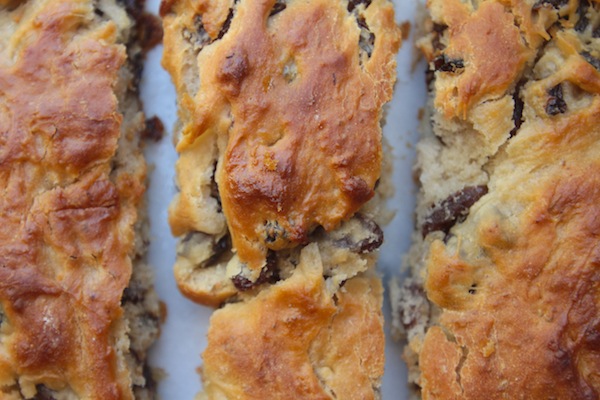 Wait! I didn't get a RIGHT end piece…or an UPPER right end piece… You catch my drift…
Wait till you get a piece that has extra olive oil on it. SO GOOD.
Raisin Focaccia

makes 1 17x 12 inch bread

recipe adapted from Martha Stewart's Baking Cookbook

3 cup  raisins
3 cups boiling water
1 cup extra-virgin olive oil
1 pound 10 ounces (about 5 cups) all-purpose flour, plus more for dusting
1/2 cup granulated sugar
1 tablespoon instant yeast
1 tablespoon coarse salt
1/2 teaspoon ground cinnamon

In a large bowl, combine raisins with the boiling water; let soak for 10 to 15 minutes. Drain fruit, reserving 2 cups of the soaking liquid; set fruit aside. Add 1/4 cup olive oil to the soaking liquid. In the bowl of an electric mixer fitted with the dough hook, combine the flour, granulated sugar, yeast, salt, and cinnamon; mix just to combine. With mixer on low speed, add raisins and soaking liquid. Mix until the fruit is evenly distributed but the dough is still tacky, about 3 minutes.

Turn out dough onto a lightly floured work surface, and knead for 1 minute. Pour 1/2 cup olive oil onto a 17-by-12-inch rimmed baking sheet, coating the bottom completely. Place the dough on top of the oil, and use your hands to spread it out as much as possible without tearing (it doesn't have to fit the pan). Cover the dough loosely with plastic wrap, and continue to pat and press the dough toward the edges. Set pan in a warm place, and let rest, pressing out the dough every 10 minutes until it fills the pan, about 45 minutes. Let rest until doubled in size, about 1 hour. Meanwhile, place a baking stone on the floor of the oven. Preheat oven to 425 degrees

Using your fingers press dimples into dough. Drizzle dough with remaining 1/4 cup olive oil. Set the baking sheet directly on the stone and bake, rotating sheet halfway through, until focaccia is deep golden brown on top and bottom, 35 to 45 minutes. Immediately slide the focaccia onto a cutting board to cool. Use a pizza wheel or a serrated knife to cut bread into triangles, and serve warm. Focaccia can be kept at room temperature, wrapped in plastic, for 2 to 3 days.

***notes***

Keep an eye on the focaccia in the oven, it might take less than the called for time to bake. If you see that the focaccia is turning golden too quick, put a sheet of aluminum foil on top to prevent it from burning.