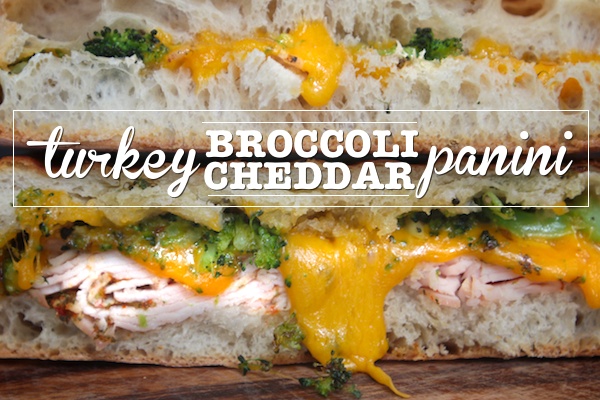 I had the idea to make this sandwich for weeeeeeeeks. In my head I was thinking of the beauty of roasted broccoli & melted cheddar mixed with the crispy crunch grilled foccacia. It had to be mine. Oh yes, it had to be mine. I can't begin to tell you how much brain energy went into thinking about this sandwich. #ALOT.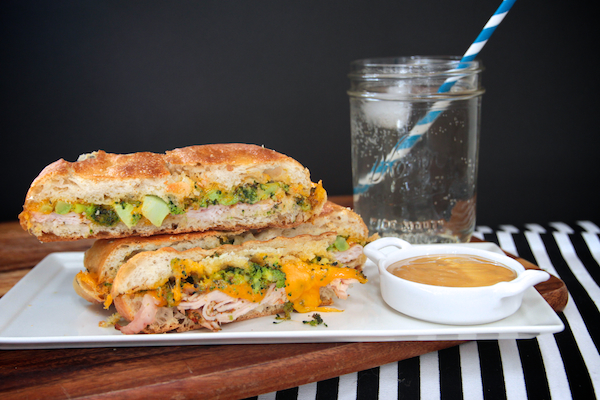 And when I went to execute it, my husband suggested I put turkey up in it. WHAAAT?! My food fantasy went screeching to a halt. Turkey? Hmmm. I think he wanted me to recreate his favorite hot pocket flavor… You know, to maybe reminisce on his bachelorhood.
Those were the days!  <— (we need a font that connotes sarcasm)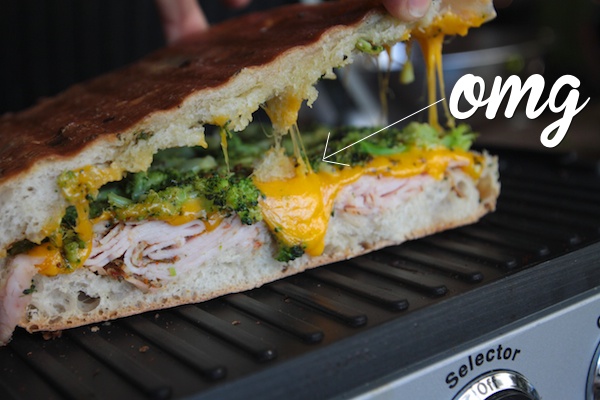 He was definitely onto something…and it's a good thing he's married to me because I have a way of taking an idea and running with it…
Hot Pockets, you ain't got nothing on this! Go, Team Benjamin, GO.
And we're off!
First we roast some broccoli. We're gonna lay down the flavor foundation. Red pepper, garlic, olive oil & broccoli.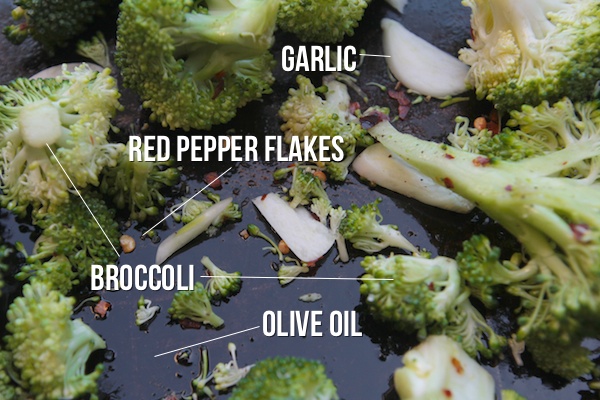 It all gets mixed up and goes into the oven. ROAST. Do what you're told.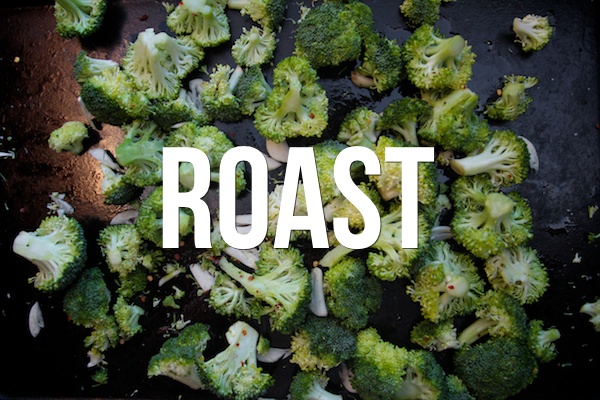 And once it's done and roasted, CHOP.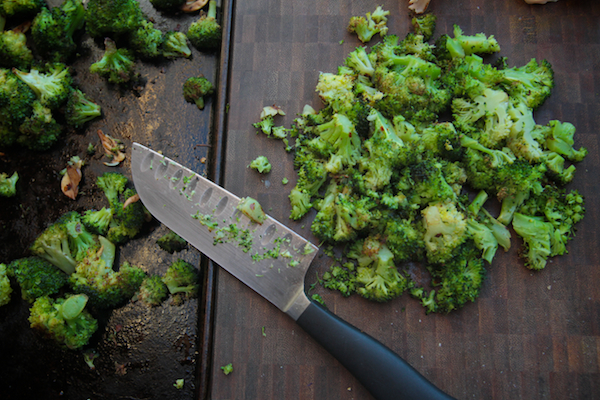 Now let's set up our assembly line.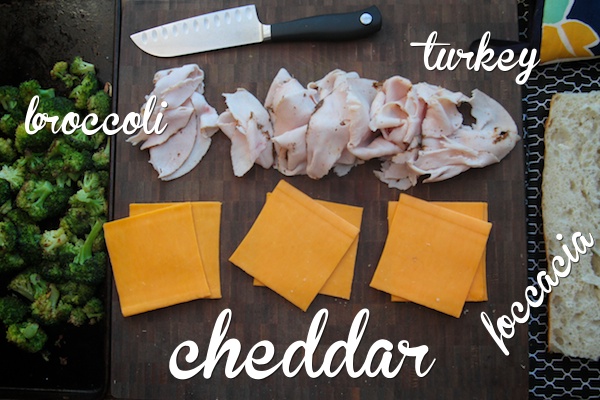 STEP 1.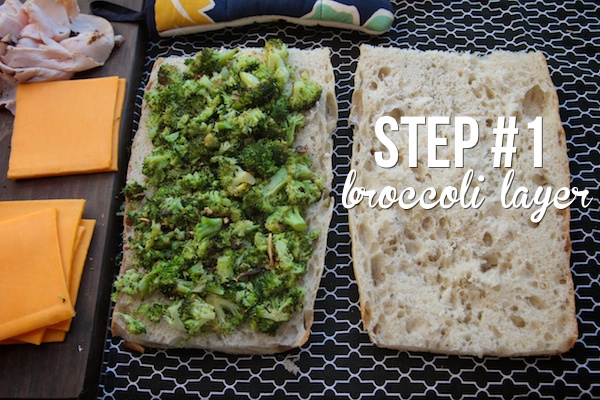 STEP 2.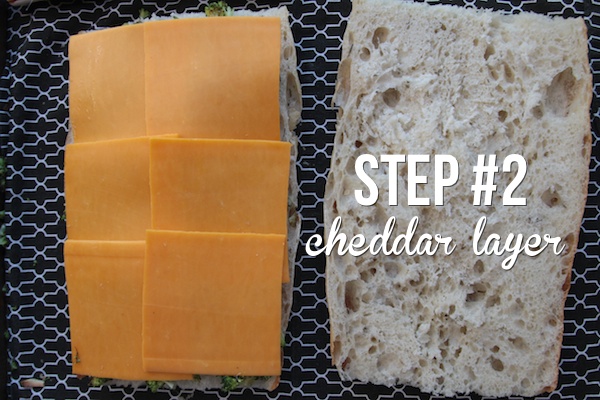 STEP 3.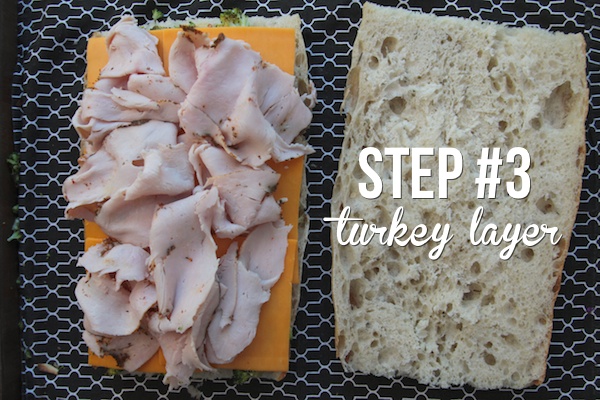 SIDE VIEW, OMG.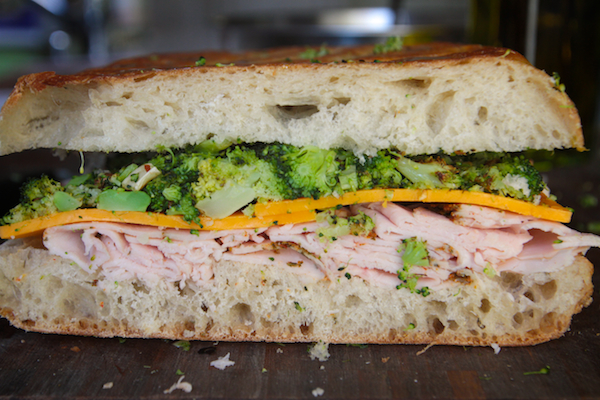 Grill it in your panini press.
Slowly…magic happens.
Cut it up. Stack it up. Get out your favorite mustard.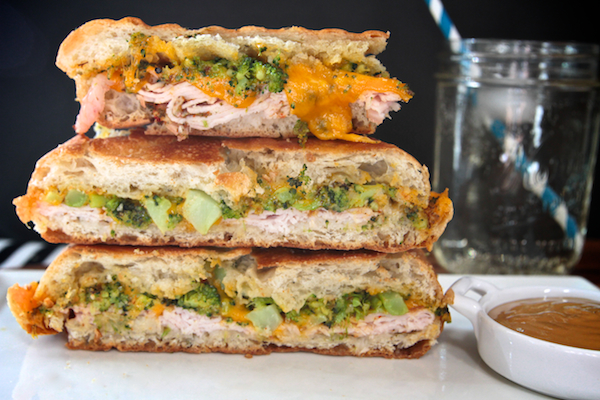 Things are about to get UNREAL.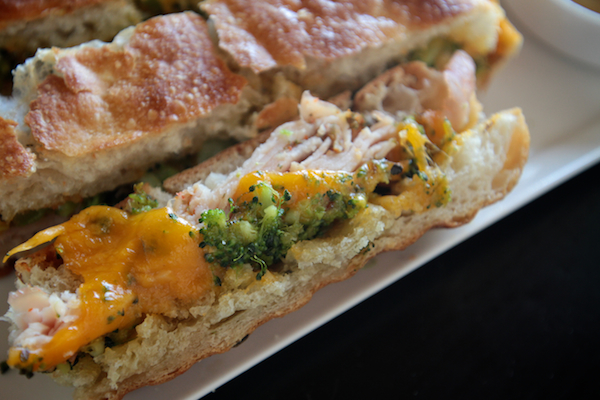 Just another reason why I'm obsessed with panini press.
Turkey Broccoli Cheddar Panini

serves 3-4

1 head broccoli (about 4 cups florets)
4 tablespoons extra virgin olive oil
2 cloves garlic, thinly sliced
pinch red pepper flakes (or two)
salt & fresh ground pepper
1  8×12 inch slab herbed foccacia, edges trimmed
6 slices sharp cheddar cheese
8 slices roasted pepper turkey breast
spicy honey mustard (optional)

Preheat oven to 400F. On a large rimmed baking sheet, mix broccoli, 2 tablespoons olive oil, garlic,and red pepper flakes. Season with salt & pepper and roast for 10-15 minutes, until broccoli is soft and slightly browned. Let broccoli cool for 5 minutes and then chop. Set aside.

Heat panini press to HIGH. Trim off the ends of foccacia and cut in half to create a sandwich. Top one side chopped roasted broccoli, followed by a layer of cheddar cheese, and then turkey. Sprinkle with salt & pepper. Top the sandwich with the other piece of bread and brush both sides of sandwich with remaining 2 tablespoons olive oil. Place sandwich in panini press and grill for 10-15 minutes until the cheese melts & starts sizzling. Cut into 4-6 pieces and serve with a side of spicy honey mustard.