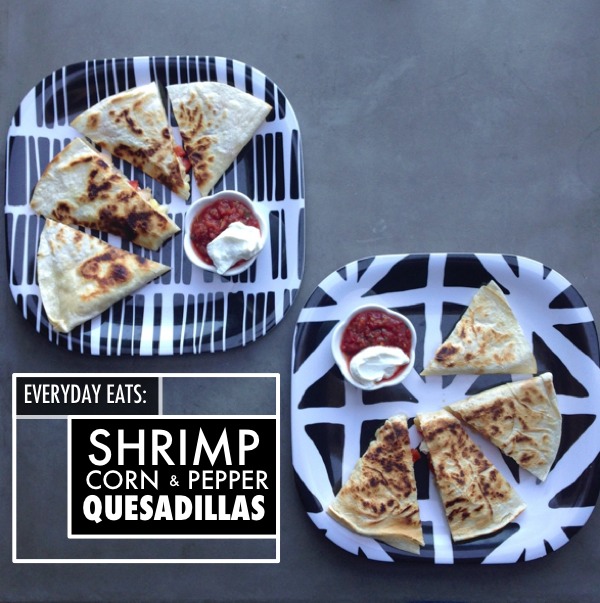 When I don't feel like doing much in the kitchen after a long day, I make quesadillas for dinner. Fortunately Casey and Cooper really like quesadillas so I haven't totally tired them out (YET) with my I don't really want to be making dinner, I'd have cereal if it was just me, but here's dinner in a form of a quesadilla trick.  Sometimes I feel guilty about the lack of variety, so I try to switch it up and put actual THINGS in the quesadilla besides just cheese.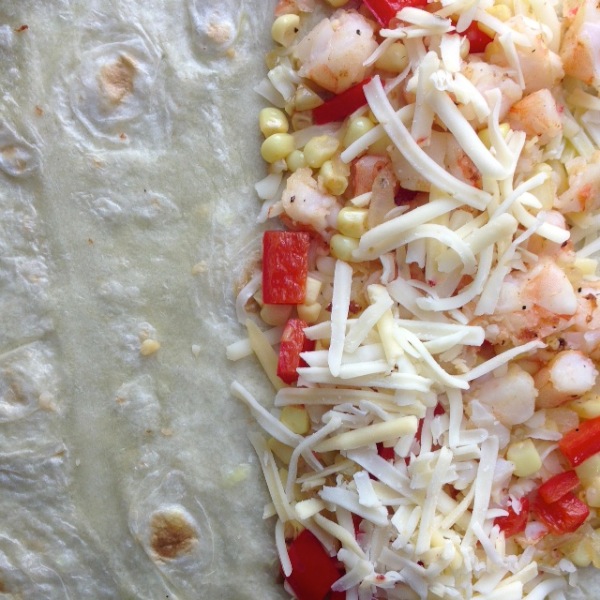 When I was younger, I'd always order a fajitas platter at Chevy's. People thought I was so fancy with my sizzling meat & peppers (HELLO SHOW-STOPPER!!) but rarely did they realize how much food comes out on one plate when you order a fajita! Which *ahem* was my motivation to order it in the first place…. That, and all the fixings too… I like having options and customizing what I eat.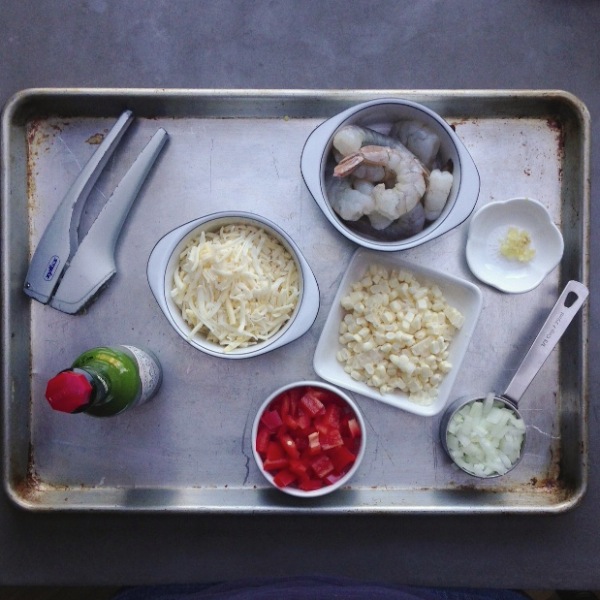 This quesadilla combines my favorite elements of a fajita plate but jams them all into a crispy /cheesy quesadilla. Shrimp gets cooked in a skillet. Peppers onions and corn get a little char on with a garlic bite. They all meet again and get tucked into a pepper jack lined tortilla with Tabasco Green Jalapeno Sauce. I love the green sauce because it adds a nice tang and a little bit of heat.  With the magic of a skillet and a little bit of oil, we've entered crispy Quesadilla Land and all is right with the world. WAY TO SHAKE THINGS UP, TRACY!!  Now I wonder how I could shake up cereal for dinner…hmm….
Shrimp Corn & Pepper Quesadillas

serves 3-4

1 tablespoon extra virgin olive oil
8 medium uncooked shrimp(tail off)
1/2 medium onion, chopped (about 1/3 cup)
1/2 red pepper, diced
1 cup fresh corn (from 1 ear)
1 clove garlic, chopped
4 flour tortillas (burrito size)
1 1/2 cup pepper jack cheese, shredded
Green Jalapeño Tabasco
salsa, for serving
Greek yogurt or sour cream, for serving

In a 12 inch non-stick skillet, heat 1/2 tablespoon olive oil over medium-high heat. Add shrimp, season with salt & pepper and sauté for 4-5 minutes or until shrimp is fully cooked (pink & coral in color). Set shrimp on a cutting board and  when cool to touch, roughly chop into dime sized pieces, set aside. Add onions, red pepper and corn to the skillet and cook for 5-6 minutes, until vegetables are cooked & slightly charred. Add garlic and return shrimp to skillet and cook for 1 minute more, being careful not to burn garlic.

Lay tortillas on a flat surface. Sprinkle pepper jack cheese on each half of tortilla and spoon the shrimp/vegetable mixture on top. Top mixture evenly with 6-7 dashes of Green Jalapeño Tabasco and fold each tortilla in half to create a half moon shape.

Clean out skillet and add the remaining oil. Cook each quesadilla, one at a time over medium heat, making sure to flip when lightly brown for about 4-5 minutes total. Serve immediately with a side of salsa & sour cream.