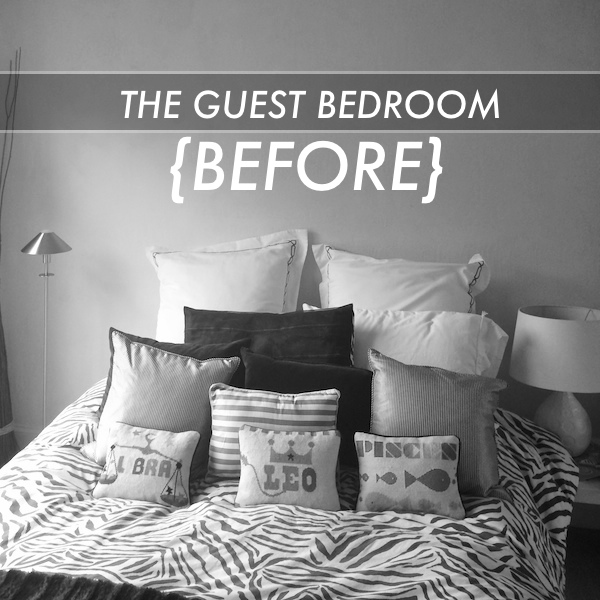 I can't believe we've lived in this house for over two years. Where does the time go?? We spent the first year moving things around, trying to make our old furniture work in this new space and moved the rest of my parent's stuff into another room of our house.  If you don't already know, we moved into the house I grew up in in 2012.  During the second year of living here, we slowly started painting a few rooms, just to test things out and see what things would look like on a much larger scale.  This home requires a lot of thought because there are so many different architectural elements to consider whereas our last home just needed paint! Although it's frustrating for a visual person like me to live with a mishmash of furniture in rooms that are not even close to being done, it's been good to REALLY think about how we want to live/utilize this space.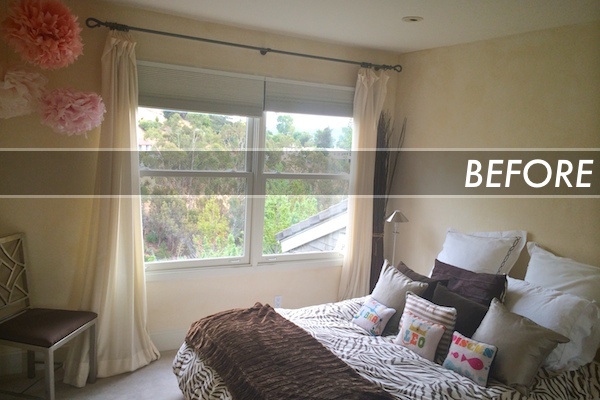 We're starting with the guest bedroom first because it's a simple space that needs paint and new furniture (the bed has no frame and it's been sitting on the floor WITH the box spring for the past two years). I also should say that the guest bedroom happens to be my childhood room! When I was a kid I had this crazy yellow flower wallpaper that had a gold-like stripes in it and when I moved out and left for college,  my mom painted the room this buttery yellow.  This may or not be the reason why I do not like a yellow wall color.  But as a Mom, I understand that my mom was the boss and she liked yellow so I had to live with it.  Cooper may one day hate dark blue walls and that's totally my fault! Sorry, boo! When you're an adult you can paint your room red like you want but I advise against it.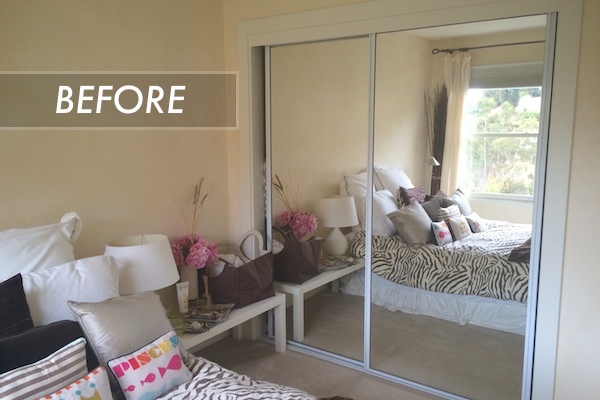 Thanks to this partnership with Valspar Paint, I am going to be able to move forward and actually COMPLETE a room in my house.
YOU HAVE NO IDEA HOW HAPPY THIS MAKES ME.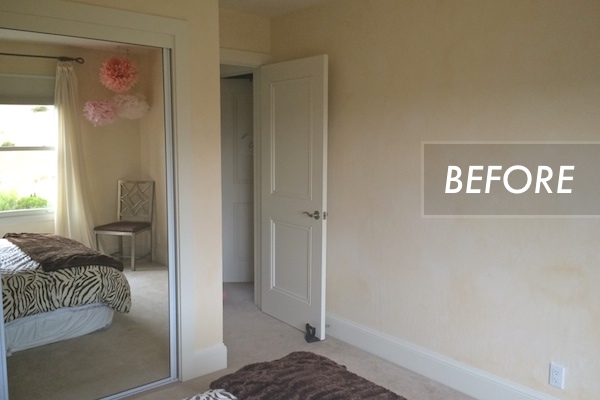 The bedding in the guest room actually came from our old bedroom. We used to have dark brown walls with white trim. It sorta works with this buttery yellow, but you know how I feel about yellow….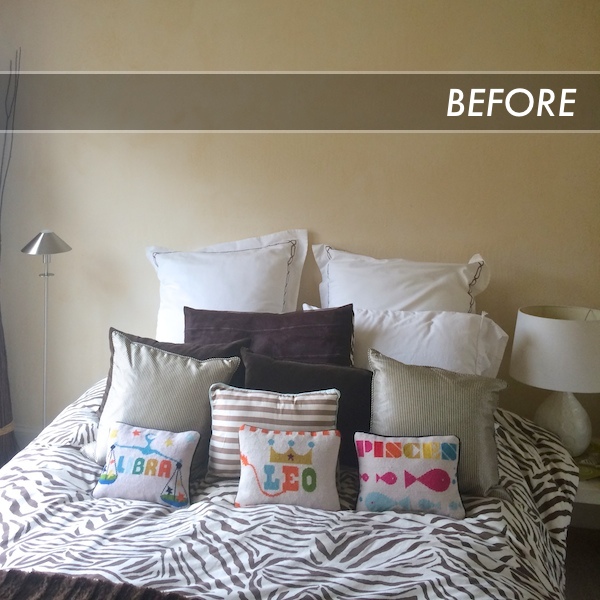 This is out master bedroom at our old house. I have always loved the look of a dark wall with contrasty white trim.
I repeat: THIS IS OUR OLD BEDROOM. 🙂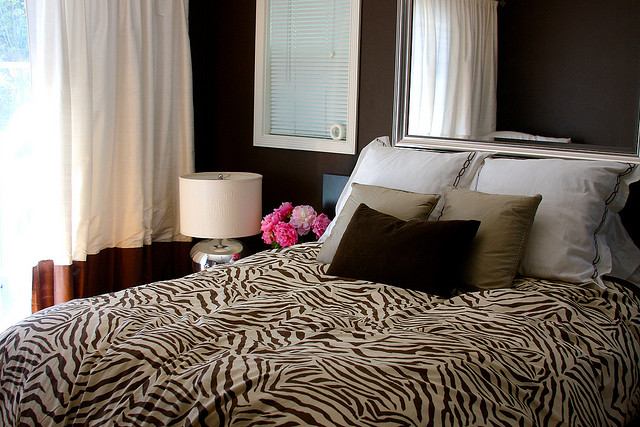 Let's talk about the inspiration for the guest bedroom.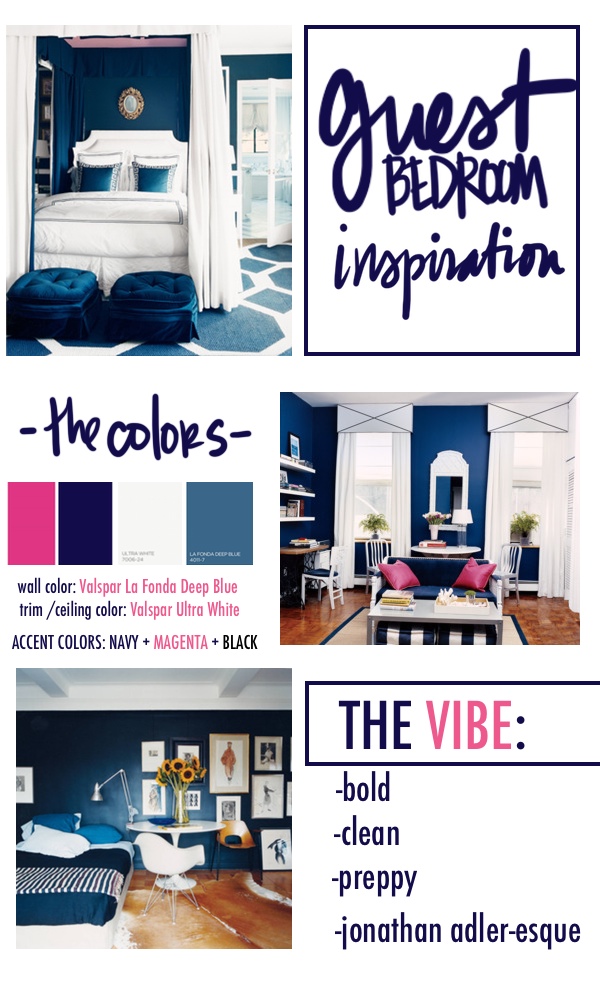 image from:  Domino Magazine
WHAT DO YOU THINK??!
As you can see we have decided to paint the guest room blue. Our last guest bedroom was also painted blue (see below).  In our old house, we started transforming the room into the image you see in the middle with the magenta pillows. But! We had a baby and lost steam….so yeah.
Here's what the OLD GUESTROOM at our last house looked like: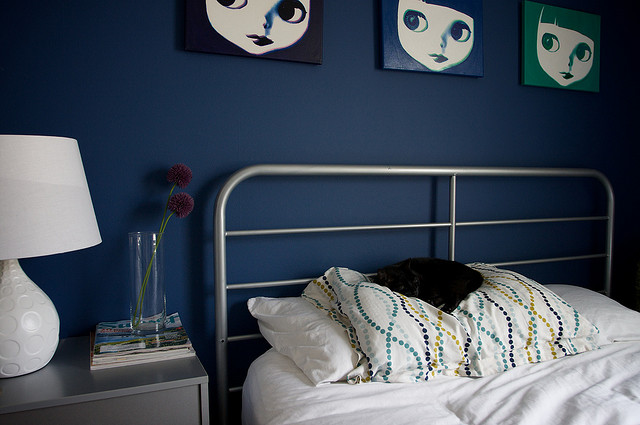 Another view of our OLD GUESTROOM… We started doing the valance but we didn't get very far. I never settled on the pink pillows and bedding…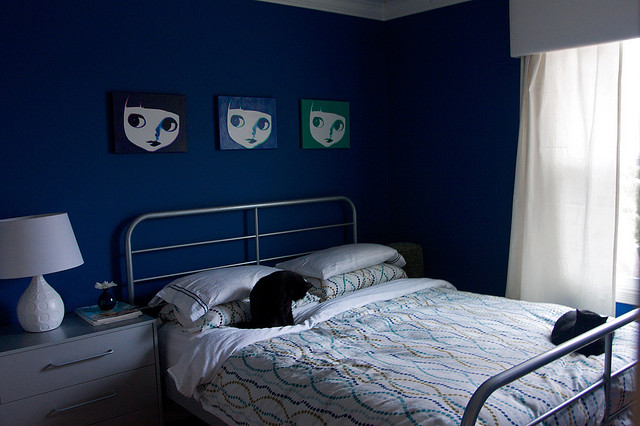 And here we are. I can't believe I get to have my childhood bedroom look the way I want it to look (!!!!)
Our major step to this process is paint color. After looking through the Valspar Paint swatches, we've decided to go with La Fonda Deep Blue and for the white trim/ceiling we will be using Ultra White. One of the reasons why we're excited to use Valspar® Reserve™  (their new premium paint!) is that it has unbeatable durability, superior adhesion, washability and unsurpassed stain + scrub resistance that stands up to stains. If you have kids or guests who accidently scuff up your walls with their suitcases, you know how important this is!  Another bonus is that the Valspar® Reserve™  delivers one-coat coverage and maximum hide with built in paint + primer.  So we shouldn't have a problem covering up the yellow walls. If you're wondering where to find Valspar® Reserve™, it's sold exclusively at Lowe's stores nationwide.
To balance the deep blue hue of the room, there will be A LOT of white in the furniture & bedding some pops of pink throughout the room too. One of the reasons why I picked this color scheme was so I could easily swap out another color for pink one day. You can see how pretty it is with that bunch of bright orangey-yellow sunflowers in the bottom inspiration photo. I can imagine a purple/teal/green- peacock feather vibe would be pretty one day too.
For this project, we're working (remotely! yay technology!) with my friend Dean of South Social & Home. She's been really helpful being the medium between Casey's "I have to see it before I believe it," mentality and my "LET'S PAINT EVERYTHING RIGHT NOW AND SEE WHAT HAPPENS," deal.  Her professional input has been valuable and she found some pieces I'm super excited about.
With that said, the past week or so has been filled with online shopping, measuring, sewing and decision making. We should be finished painting sometime in the next few weeks. I can't wait until it's all done!! Stay tuned for the AFTER.
This post is sponsored by Valspar Paint. Thanks to them, I am finally able to make my guest bedroom vision a reality!