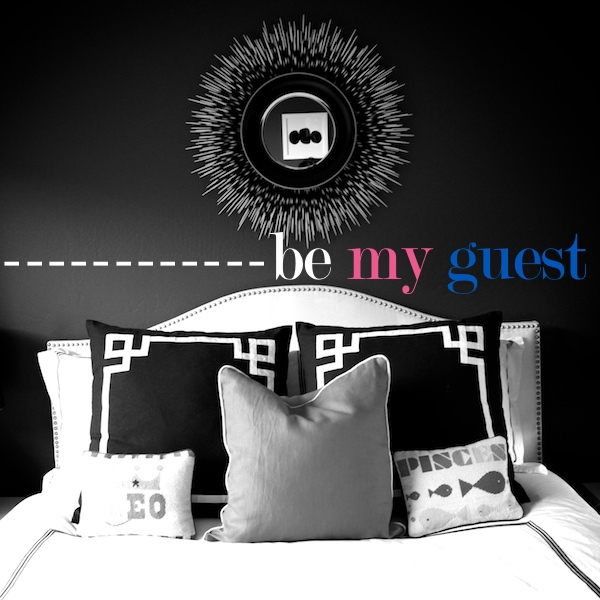 Wait for it… WAIT FOR IT.
Wait. We should look at the Before real quick.
So…. yeah. This is the guest bedroom BEFORE.  You can see more of that here.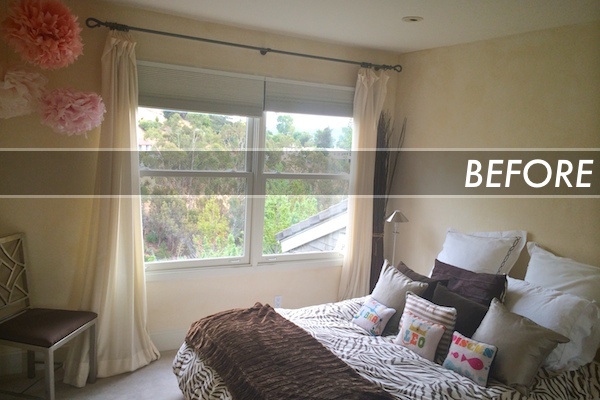 Wait. I want to keep you in suspense. Let's look at my mood board: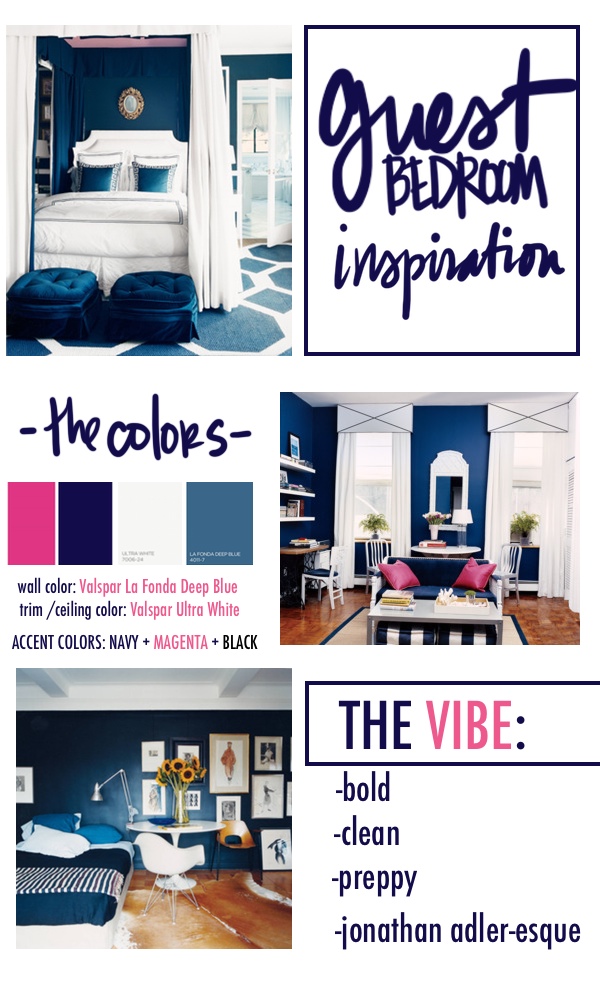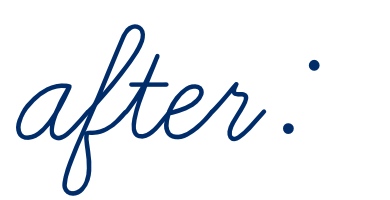 It's amazing what a little paint, new furniture and some accessories can do, huh??!
I can't believe my bed is actually OFF THE GROUND and not on the floor. YES.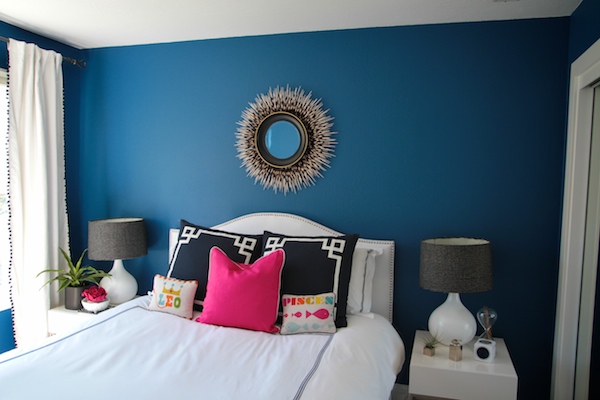 As you can see, I wanted a guest room with contrast!  I wanted a room that would be cheerful and relaxing with interesting things to look at. I wanted it to feel a little polished, a little fun and unexpected.  I think I got that!  It all started with the selecting our paint color– Valspar Reserve in La Fonda Deep Blue
As you can see, we have textured walls which aren't necessarily ideal but do you know how expensive skim coating is? I like to pretend my wall texture is like snake skin. It makes me annoyed less when I look at it that way. What I love about this particular paint color is that is changes throughout the day based on the lighting. This shot right here was taken in the afternoon.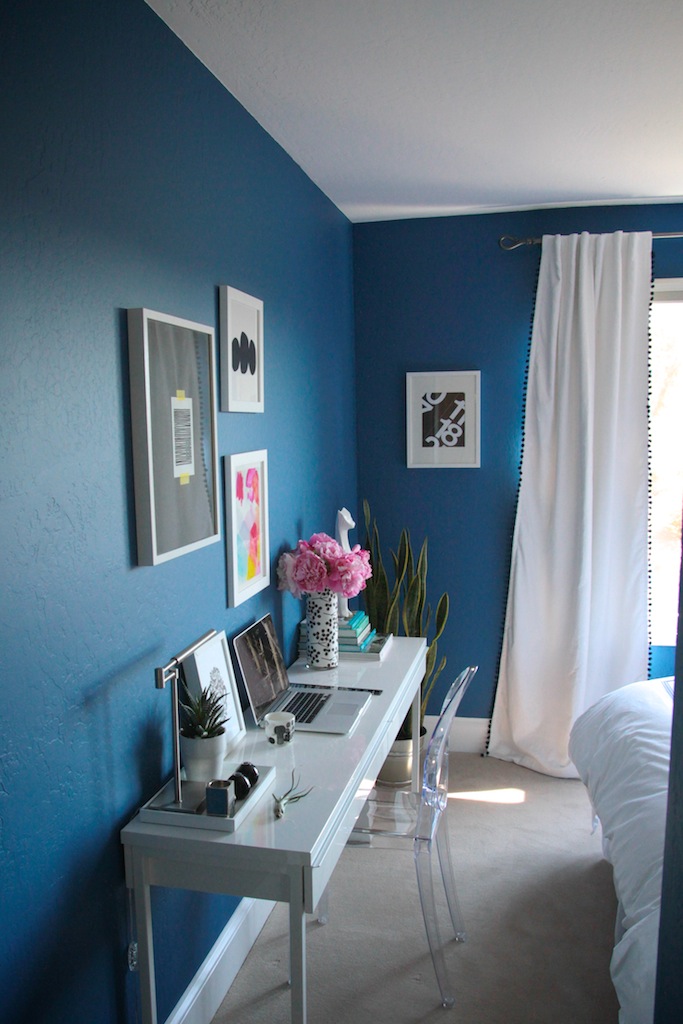 This shot was taken in the morning with bright sun. It's glowy!
Our new curtains are actually black out curtains so it helps filter all the light we get in the morning.
Those dark navy pom poms are super cute, huh?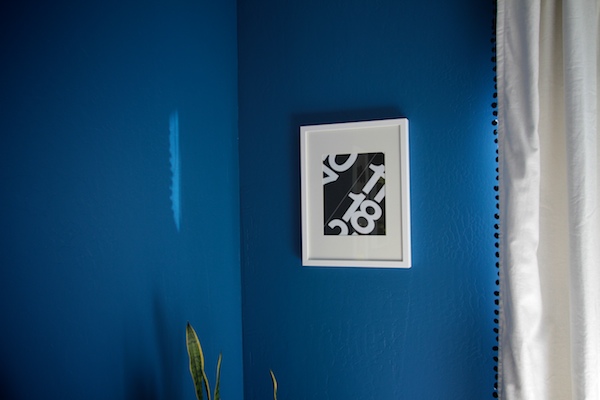 And here's afternoon light again.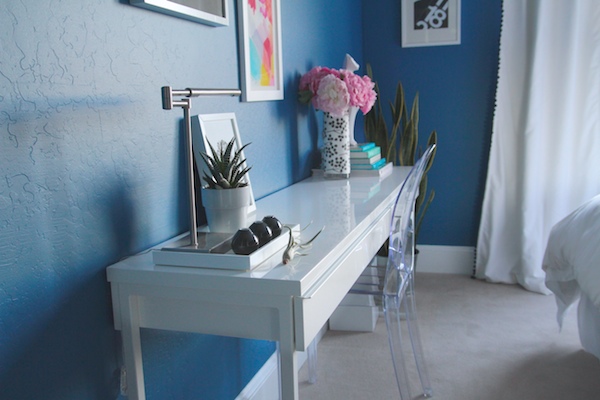 Night time is pretty fun too. Let me show you!
Pardon the cell phone pics.
You can see how deep the blue is at night!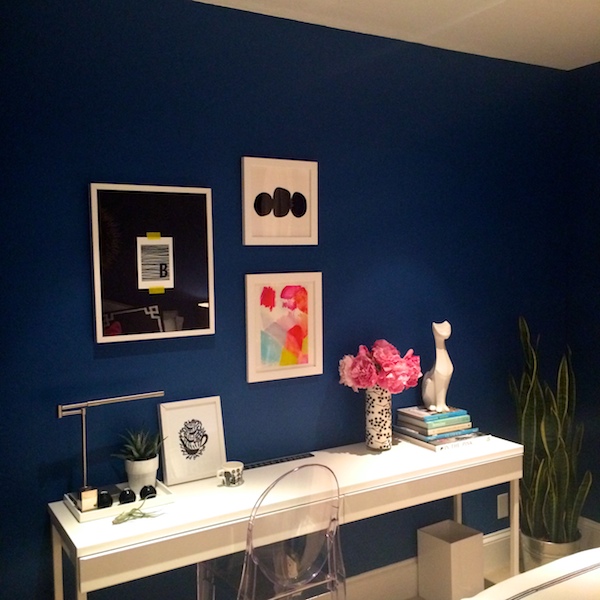 OK so let's talk a little bit about the room.  We put a desk in the room for guests who have a little work to do while they're visiting. I think I'll eventually frame a little card that has our WIFI information so I don't have to be called in to be tech support when I'm in my pjs… Would it be too weird to print out a room service menu?  It would probably say Eggs + Toast or waffles maybe. Tips are appreciated.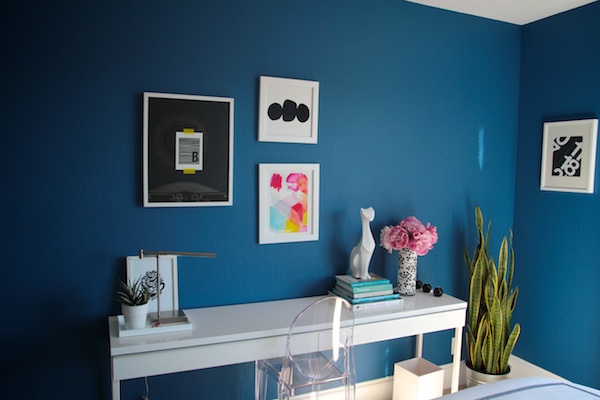 Here it is staged with a laptop and a cup of coffee.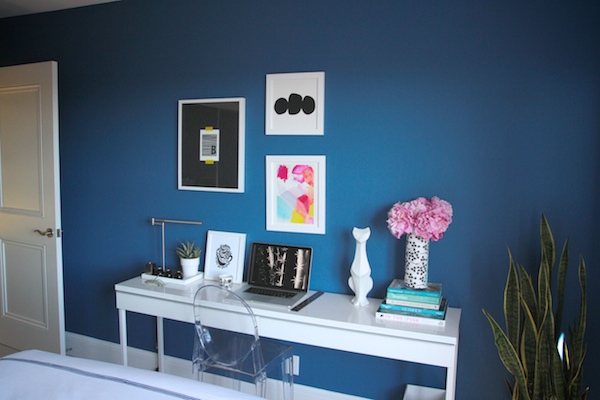 A perfect place to check your emails when you're on the road. I actually wrote a few while I was staging this laptop.
It was heavenly.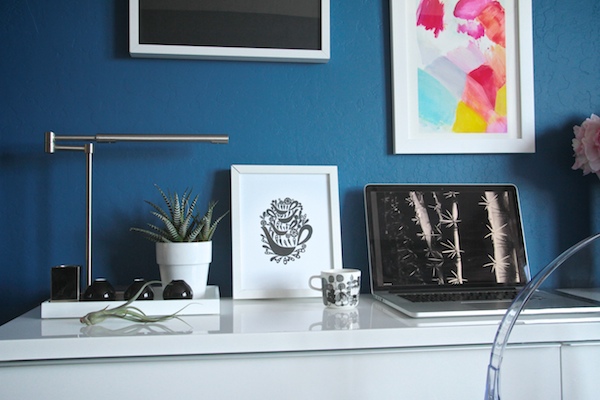 To keep with my color scheme of White/Blue/Magenta/Black I chose these prints from Minted.
Minted provided me some art for this project! Thank you Minted!
The Three Again dots print on the top right made me think of my family of three. Love that.
The Fragment 3 pink print was a bit out of my comfort zone, but I love the pop of color!
I got the small line drawing print on the left and framed it in a white Ikea frame and taped it to a piece of black foam core board (with regular tape underneath and yellow washi tape on top) and added a B sticker on top. B for Benjamin.
I'm not quite sure where I got that print that's on the desk. I've had it for YEARS!
You see those flowers? I took a piece of fun paper and wrapped it around a tall glass vase and secured it with washi tape in the back. The flowers are these artificial peonies I bought when we lived in our old house. I love the how much they brighten the room and add a feminine element it needed.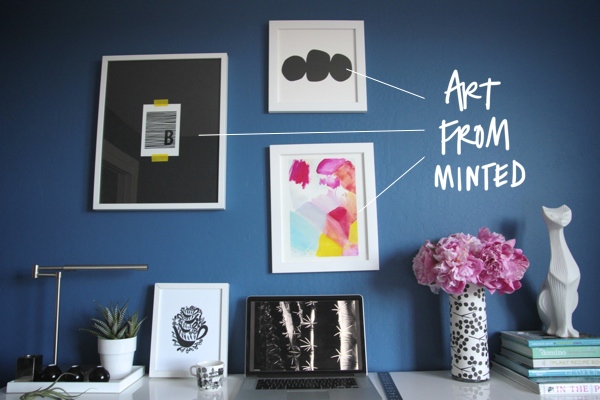 I'm pretty happy with how the art turned out.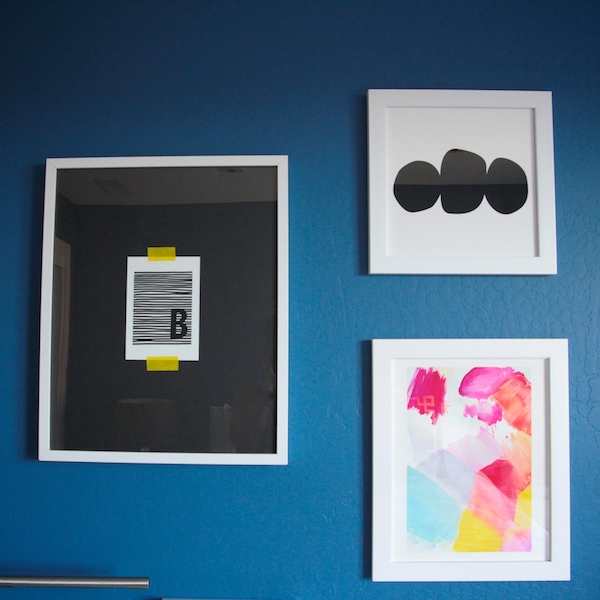 Below the art, we have a little light I picked up from Crate & Barrel and some other fun things to look at.
Must remember to water that air plant & succulent. Don't let me forget!
Over to the left on that small strip of wall, I took a little chunk out of one of my old Stendig Calendar  and created a little art with it. I was born on the 18th so that number makes me happy.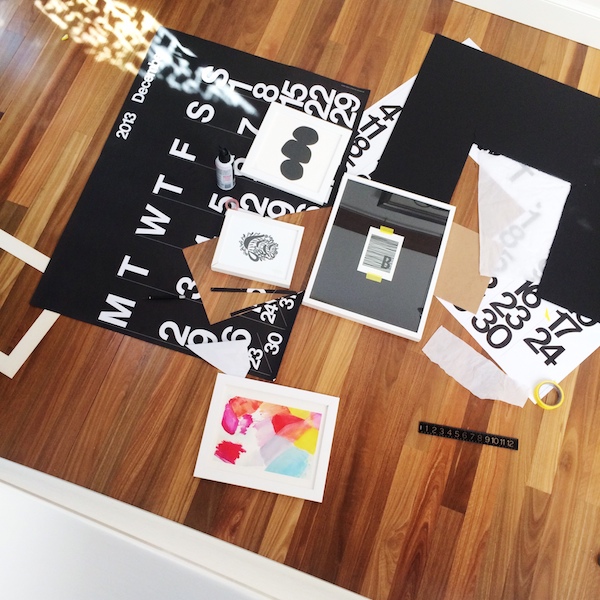 See?! It's in an IKEA frame.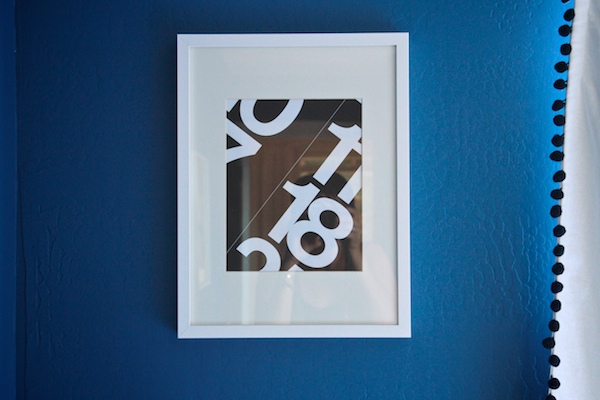 My snake plant in the corner to add a bit of green to the room.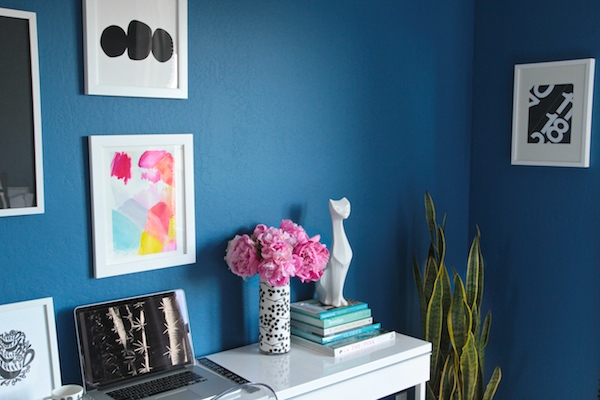 The showstopper…. and where we put a large chunk of our decorating budget towards was this custom faux porcupine quill mirror.  I love how it reflects the artwork on the opposite wall. Thank you for helping me pick this out, Dean! We're seriously in love with it.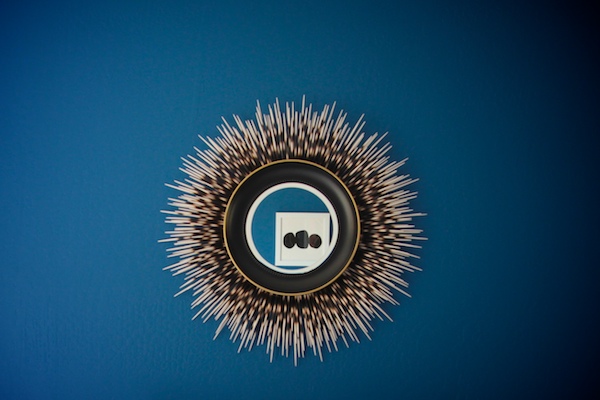 This would be my side of the bed if we were to sleep here. LEO power!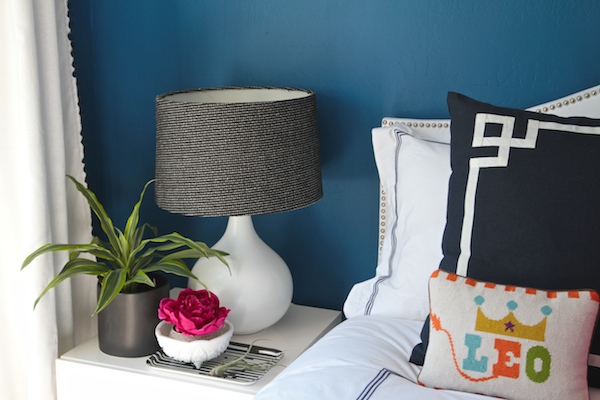 We thought about taking out the mirrored closet but decided against it. It brings extra light to the room and I think it's nice to have a mirror for guests. That way they know they're looking good in their pjs before they come down for breakfast.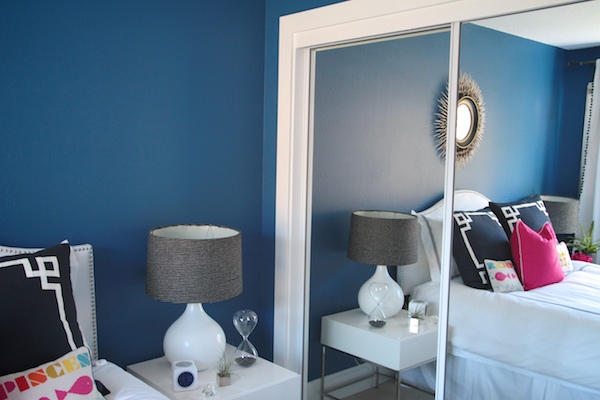 The Pisces side would be Casey's side.  I'm not sure why he gets the alarm clock….he'd just press the snooze button…over and over again….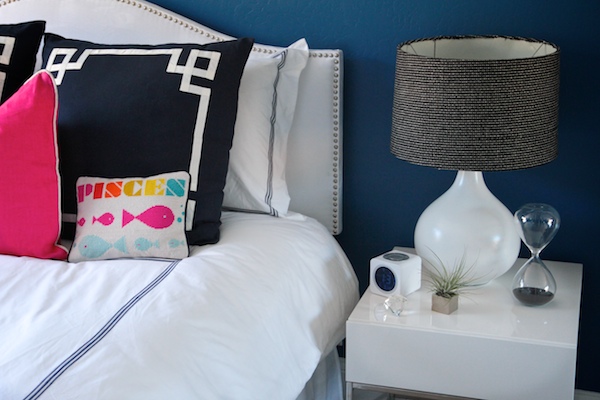 I bought a really awesome steamer for this project and steamed my heart out, but oh my goodness it's so hard to keep wrinkles away from linens. Do we just go with it? Do I just have someone stand off to the side while I pull the sheets taut? Maybe in my next life I'll have a whole team of people and someone can help me with that.
For now, I'll just be a wolf pack of one.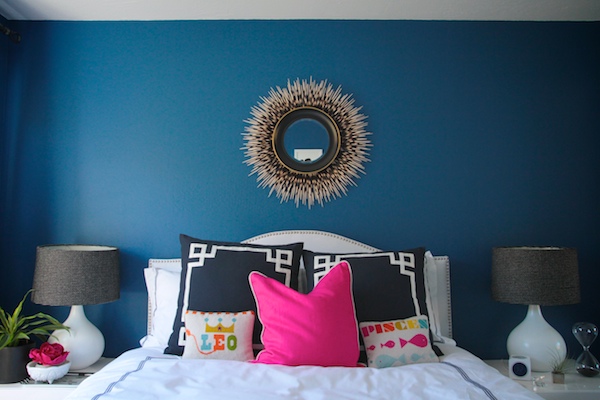 And there you have it!  Our guest room is complete. Now I'm just waiting for guests. My brother is actually coming over tomorrow so he gets to be our first guest. Wahoo!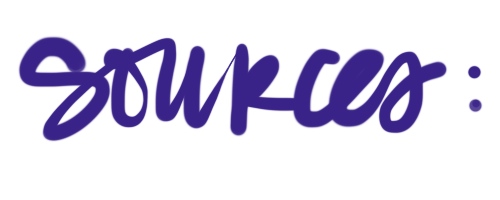 PAINT:
Walls: Valspar Reserve in La Fonda Deep Blue
Trim/Windows: Valspar Reserve  in  Ultra White

Valspar® Reserve™ is new premium paint from Valspar that stands up to your life, available in interior and exterior paint. Valspar Reserve is available exclusively at Lowe's stores nationwide. It has unbeatable durability, superior adhesion, washability and unsurpassed stain + scrub resistance that stands up to stains for a cleaner appearance. All things that you want when you live with a 6 year old boy 🙂
Things I bought for this makeover project:
Things that were already in my collection:
Lamps (I got them from Kmart like 7 years ago!)
White Tray from The Container Store
Fancy Ceramic Cat from Jonathan Adler
Hourglass (wedding present)
Alarm Clock from Target (it's super old!)
This post is sponsored by Valspar Paint. Thanks to them, I was finally able to make my guest bedroom vision a reality!
And a big thanks to my friend Dean who helped me make this whole bedroom look come together!