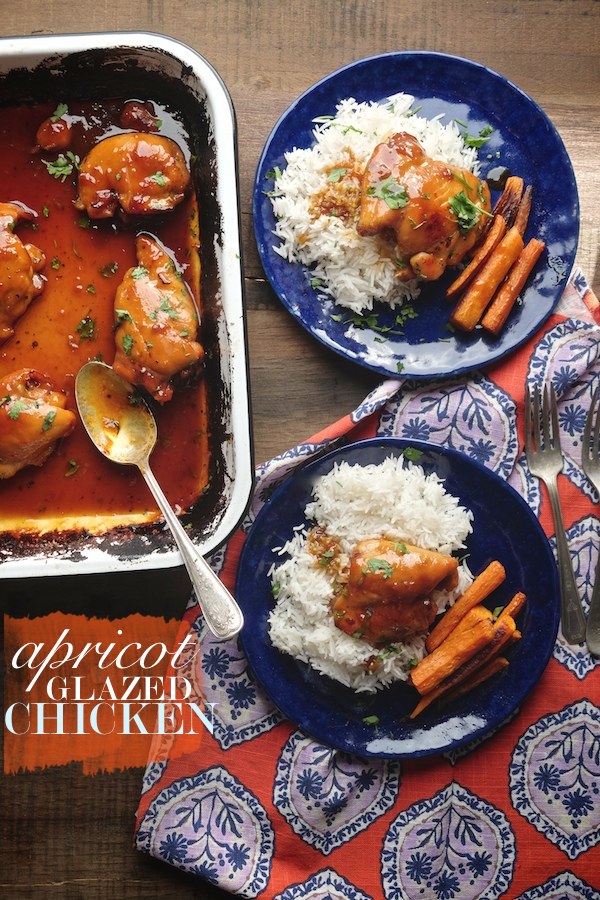 Let's not forget that with all of the commotion of cookie baking, home decorating, DIY gift making and gift procuring that we need to make a real weeknight dinner. As much as I love snack dinner, my family needs a home cooked meal every once in awhile.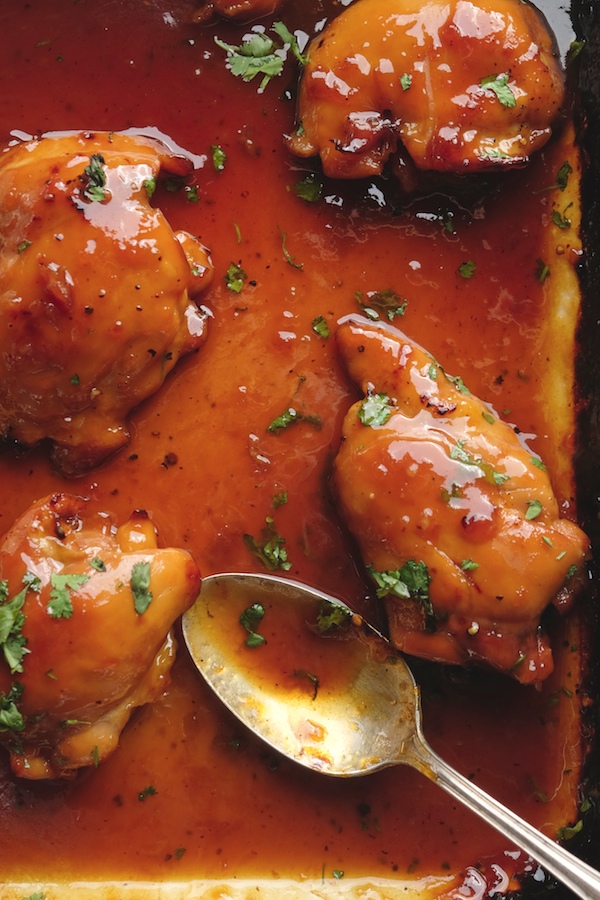 I was making room in my pantry  for my December baking bonanza and I noticed that I had two jars of apricot jam that needed to be used. A trip to the store for chicken and not too long after we have Apricot Glazed Chicken for dinner.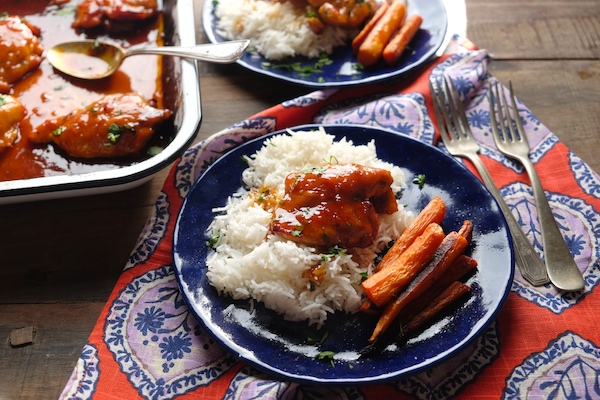 The apricot glaze in this recipe is ridiculously simple. All pantry staples–soy sauce, hot mustard, apricot jam and garlic. The original recipe called for 8 chicken thighs and that amount would have been just fine…but I happen to LOVE the apricot glaze, so I downsized and left the sauce amount the same. I roasted bunch of carrots on a baking sheet with the chicken in the oven and made a batch of rice in the rice cooker .  The chicken is tender, crispy, caramelized and that sauce is so wonderful spooned over the rice. If you're looking for additional heat, a little sriracha drizzled on top makes it extra delicious.
Let's gather our ingredients: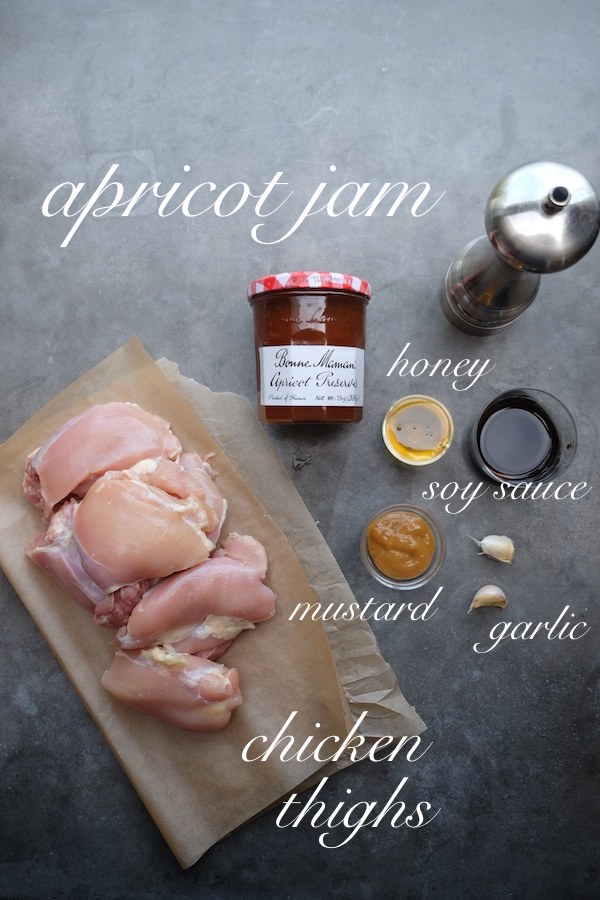 Salt & pepper the chicken thighs.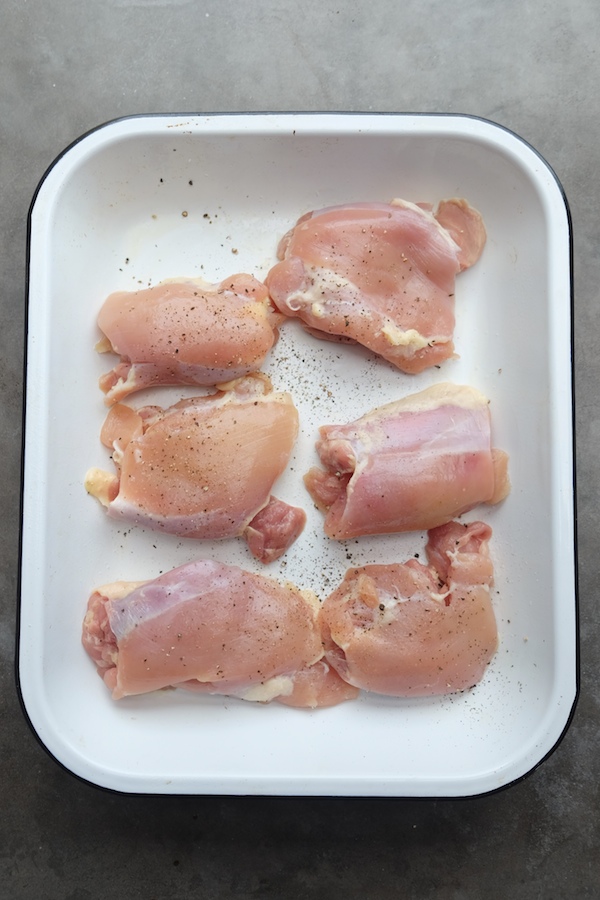 Glaze ingredients get cooked down a bit over the stove.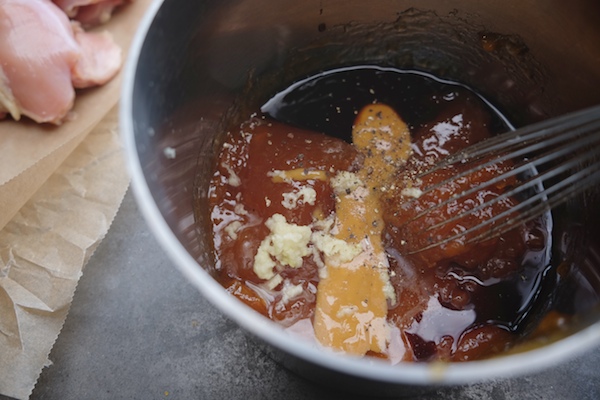 GLAZE.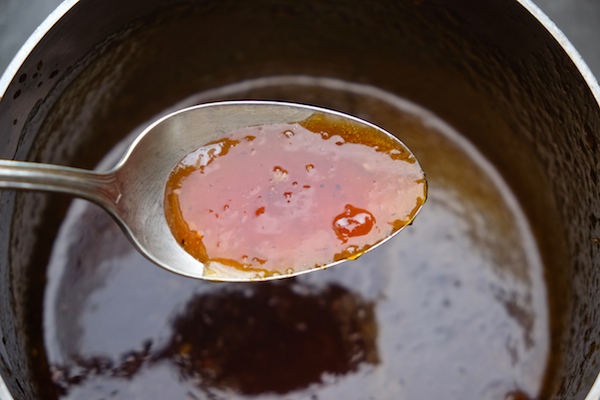 Glaze over chicken.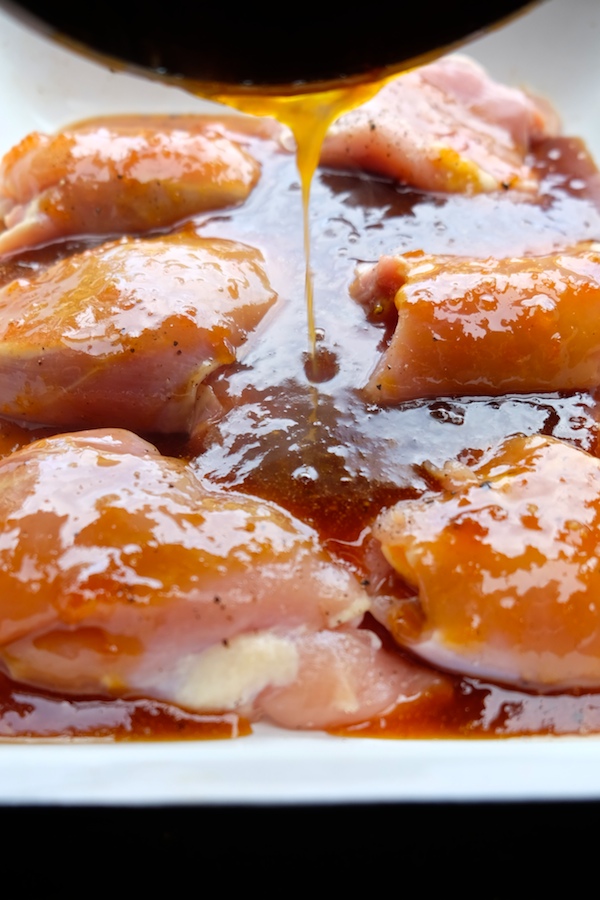 Glaze on chicken. Off to the oven. We spoon the sauce over the chicken every 10 minutes or so.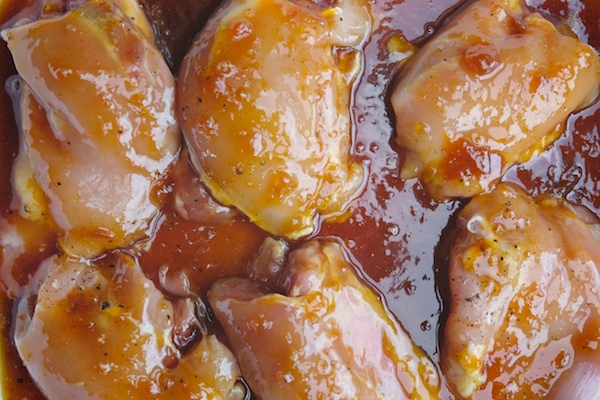 Look at that glazed chicken.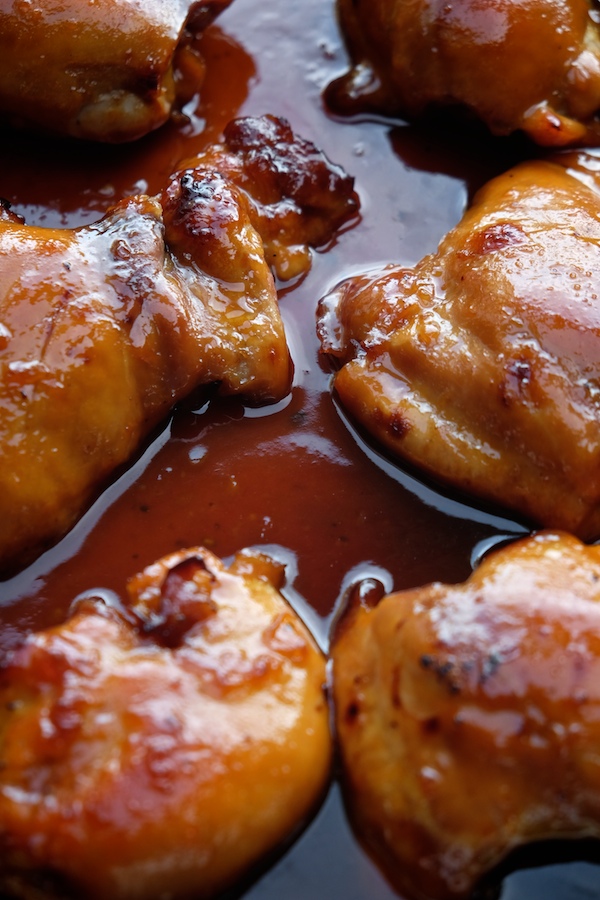 A little cilantro addition because we're fancy.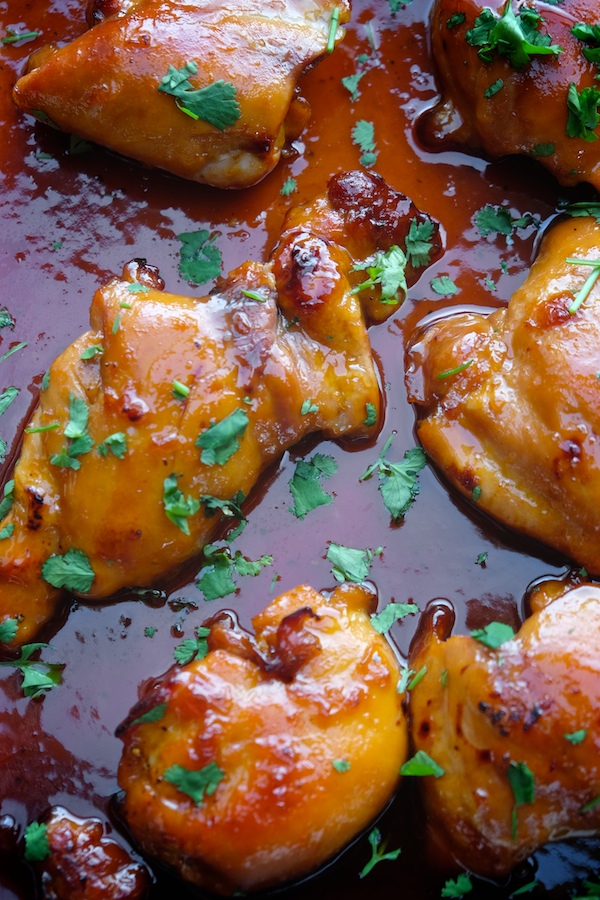 Roasted carrots…rice….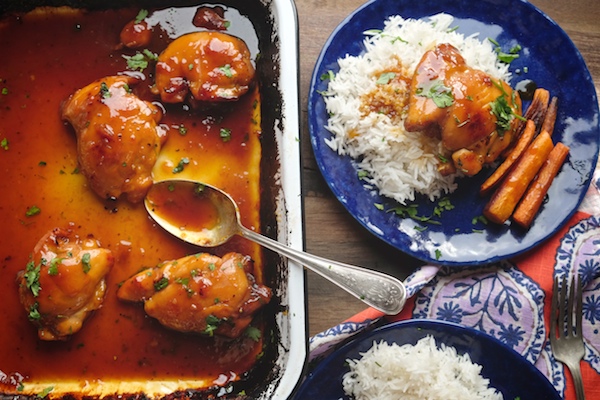 THE SAUCE. OMG THE SAUCE.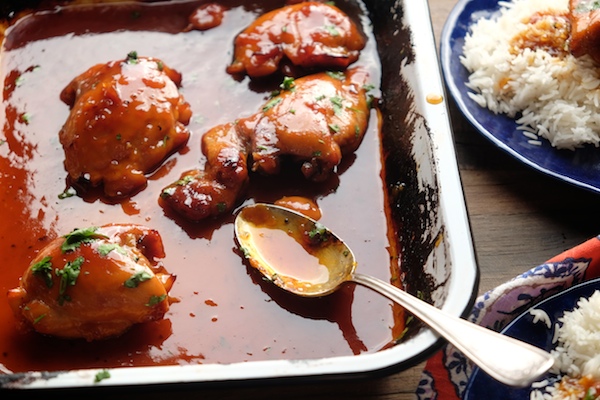 Seriously. So effortless.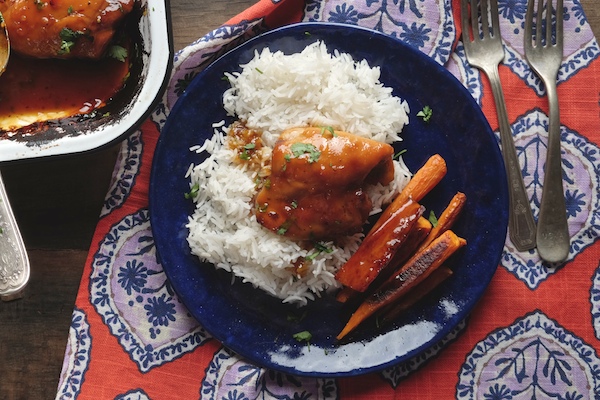 So rewarding. Now…off to address holiday cards….sigh.
Apricot Glazed Chicken

serves 4-5

recipe adapted from Martha Stewart

6 boneless/skinless chicken thighs
coarse salt and freshly ground pepper
1 jar (13 ounces) apricot jam
1 tablespoon honey
1 tablespoon hot mustard
2 tablespoons soy sauce
2 cloves garlic, minced

Preheat oven to 425F. Rinse chicken thighs; pat dry, and transfer to a baking dish. Season well with salt and pepper; set aside.

Bring jam, honey, mustard, soy sauce and garlic to a boil in a small saucepan over medium heat. Reduce heat to medium-low; simmer until thickened and reduced by half, about 10 minutes. Spoon apricot mixture over chicken thighs, spreading with back of spoon to coat evenly.

Bake chicken, basting with sauce from bottom of dish every 10 minutes, until juices run clear when chicken is pricked with a fork, about 40-45 minutes.