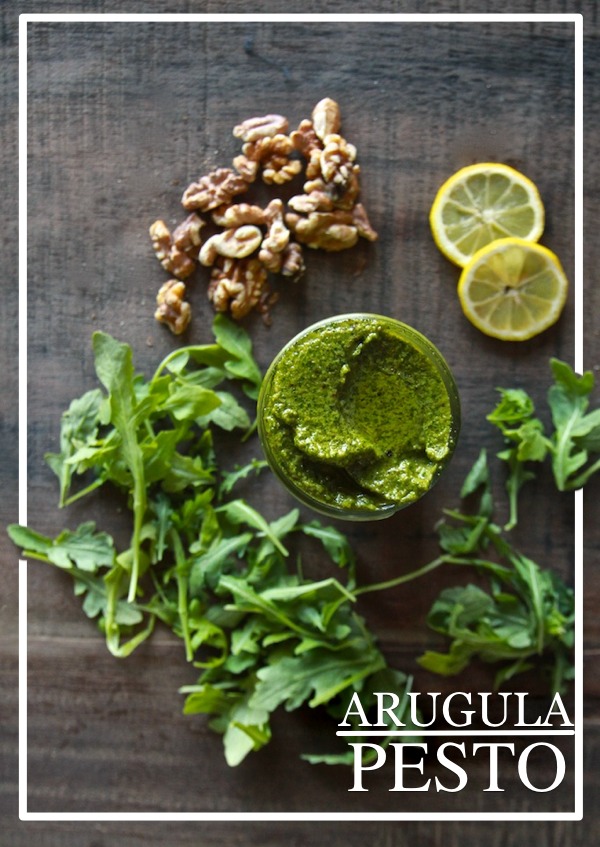 I went to make a salad the other day and realized that I went a little crazy on buying arugula last week. I reached into the crisper to find another bag just chilling under a bag of carrots. OOPS. So, instead of letting it go to waste, I decided to make Arugula Pesto. Regroup!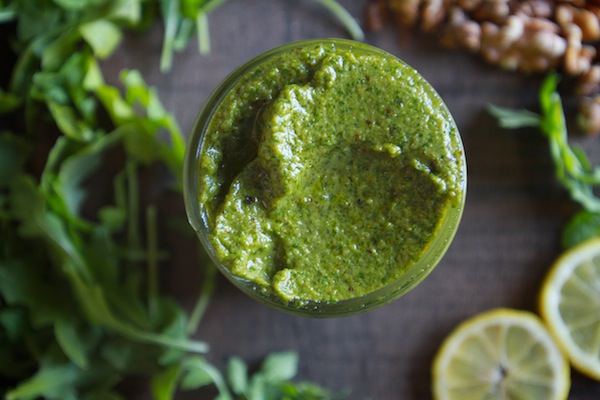 But then I realized I didn't have Parmesan… and then I remembered that time recently when I went a little overboard on buying nutritional yeast in bulk at the store and BING! My arugula pesto turned into a VEGAN Arugula Pesto. If you haven't already figured out….I have a problem of going overboard when it comes to food.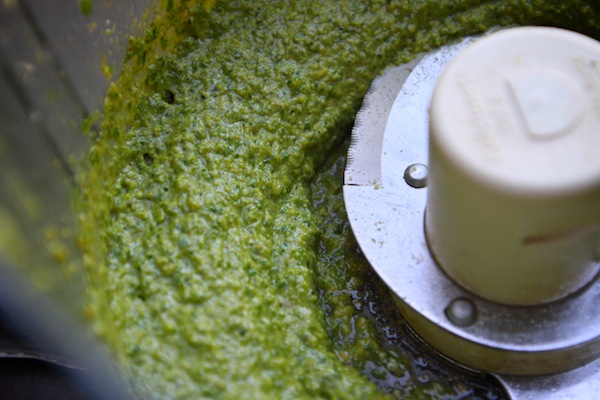 This pesto is super green! I really thought it would be potent and spicy because I added a ton of arugula, but it's not. It is heavy-handed on the garlic and the lemon & nutritional yeast add that nice tang a good pesto needs. I love using toasted walnuts in here because it makes for a creamy consistency and base. The kick comes right after you have a bite but it's almost like a mellow red pepper flake sensation. I crave that kick. Perhaps that's why I'm arugula obsessed.
Arugula completes me.
And we're off!
Your kitchen will surely smell good during this recipe.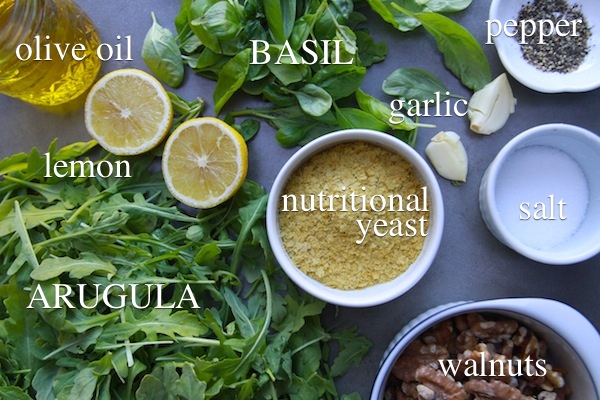 Let's talk about Nutritional Yeast for a second. It's amazing! I get it at my local Whole Foods in the bulk section. It's really inexpensive when you buy it in bulk. I usually put it on popcorn, but it's a great tool to fake cheese if you need to. All the vegans love it. Just be careful when you're eating it with popcorn…you can inhale it and then spur a crazy coughing fit. Lesson learned from eating popcorn too fast. Don't be me.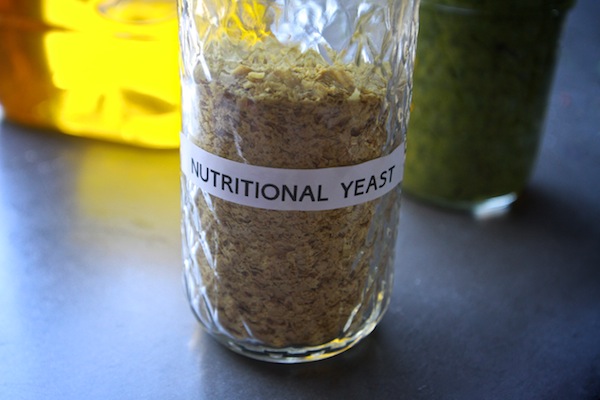 I like to process garlic first when I use my food processor. Mostly because it makes me feel better about not having to chop it.
You can also use blender to complete this activity! My mom always made pesto in a blender when we were young.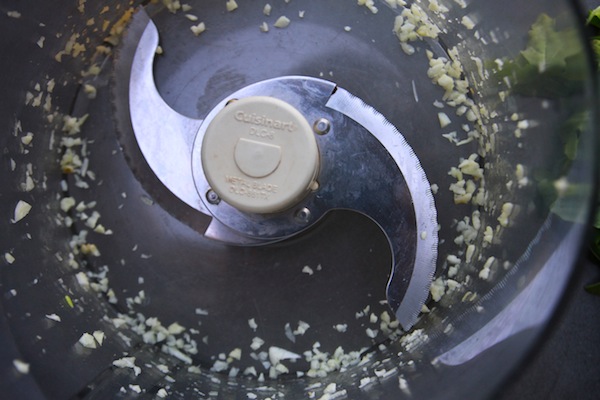 Arugula and Basil!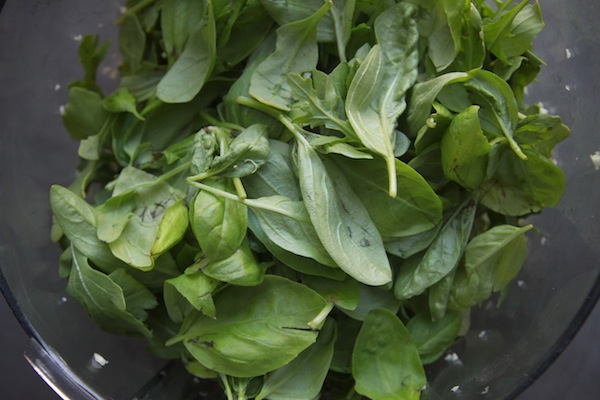 Now add in the walnuts, nutritional yeast & lemon juice.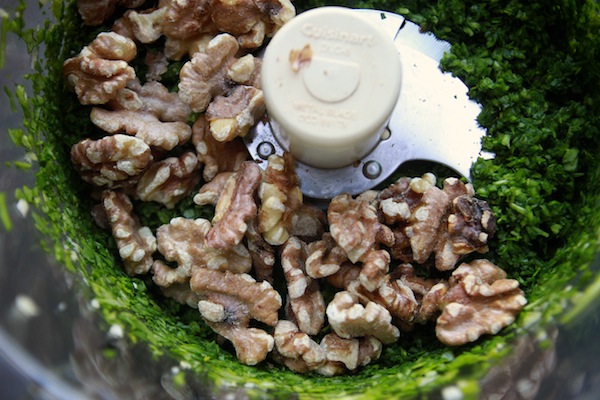 Add the olive oil. Season with salt & pepper. PROCESS. You can also add the oil while the machine is going, but that wouldn't really provide the greatest photograph. Either way, you get the point.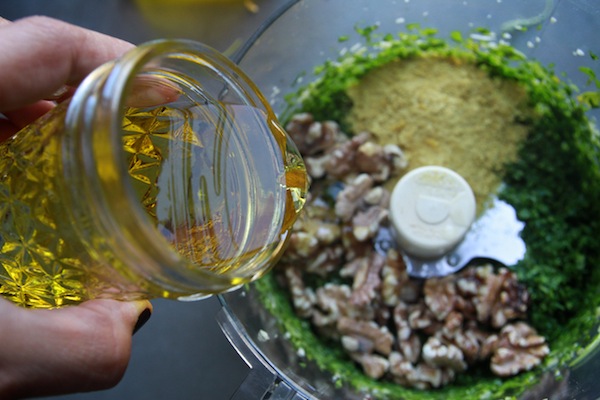 Hummina Hummina Hummina.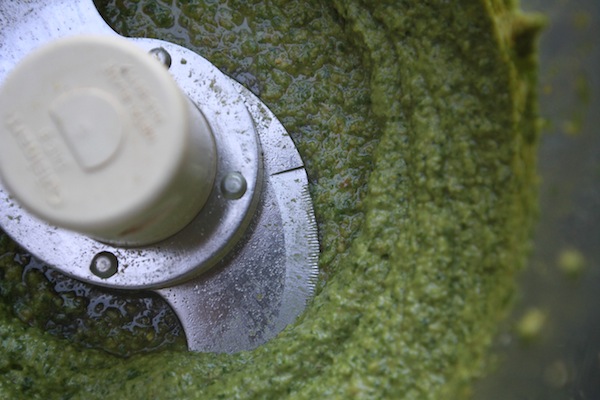 Put it in a jar! Huff that pesto. It smells divine!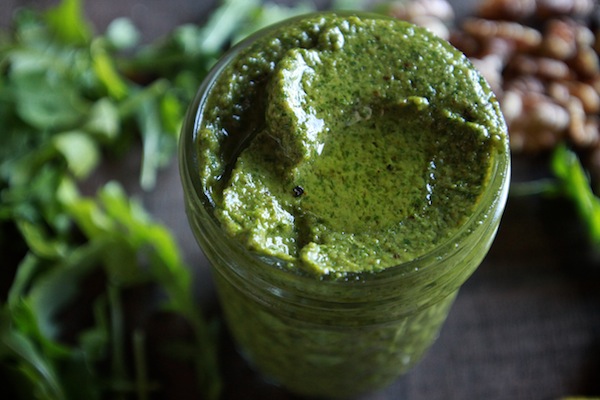 And then put it in your fridge and every time you open the door, steal a spoonful from the jar. Wait, I'm telling you my secrets.
But really…it's SO GOOD ON PASTA, in eggs and on sandwiches too!
Here it is on top of spaghetti squash (on the left) with tomatoes & toasted walnuts.
Casey got a pasta version with extra Parmesan!
Arugula Pesto

makes about 1 cup

recipe inspired by thekitchn

2 cloves garlic
6 cups arugula
1 cup fresh basil
1 cup toasted walnuts
1/2 cup extra virgin olive oil
juice of 1 lemon (about 2 tablespoons)
3 tablespoons nutritional yeast
kosher salt & fresh cracked pepper

In a bowl of a food processor process garlic until nicely chopped. Next add in the arugula and basil and continue to process until leaves are minced. Add in the walnuts, olive oil, lemon juice and nutritional yeast. Season with salt & pepper to taste and process until the pesto is smooth & creamy. Transfer to an airtight container and store in a refrigerator for up to 1 week.