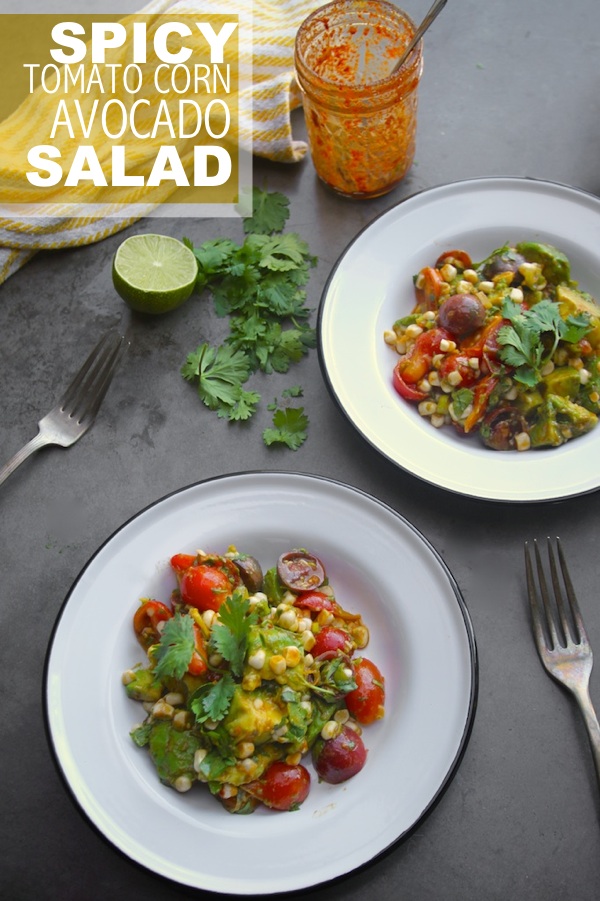 A few years ago I realized that I have a few weird issues when it comes to tomatoes. I also have feelings about eggs. Like…I will not eat a hard-boiled egg unless I make it myself and I will not eat a cherry tomato if it's in a pre-packaged salad or at a salad bar. No. Just. NO.  I don't always trust how fresh the tomato or egg is going to be…and I get scared (I know I'm being dumb) when I bite into an egg that's overcooked and a tomato that's tasteless, under ripe or rotten. All it takes is one bad experience and you can easily be done for…
No wonder my kid has picky eater issues.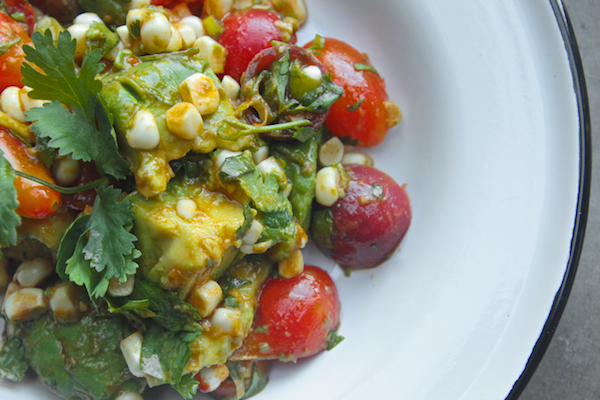 This salad, however has ALL THE THINGS I LOVE in it. And yes… the tomatoes were a divine mix of ripe mini heirlooms that I chose myself! They didn't come in a package. Nope. After I mixed them with corn and  I stirred in the spicy/smoky lime dressing, I thought "Hey! Wait. This is practically salsa!"  But then I realized it's so much more.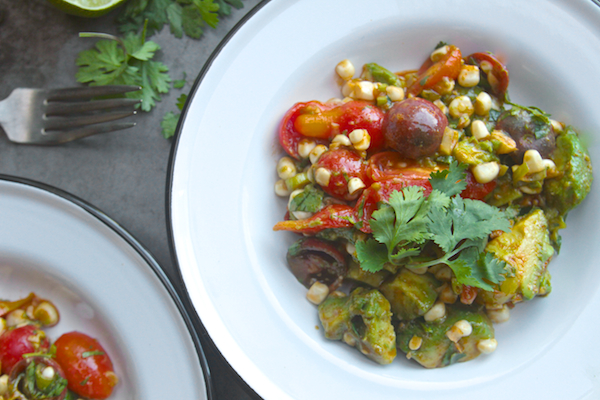 It's essentially summer in a salad. The sweet tomatoes and crunchy corn are balanced by the spicy lime dressing. The creamy avocados break up the texture party with the corn creates. If you wanna stretch it out, add the salad on top of crostini or mix in a bunch of arugula. Feta would be a welcomed addition!  You could always throw some tortilla chips up in and call it a taco salad…
And we're off!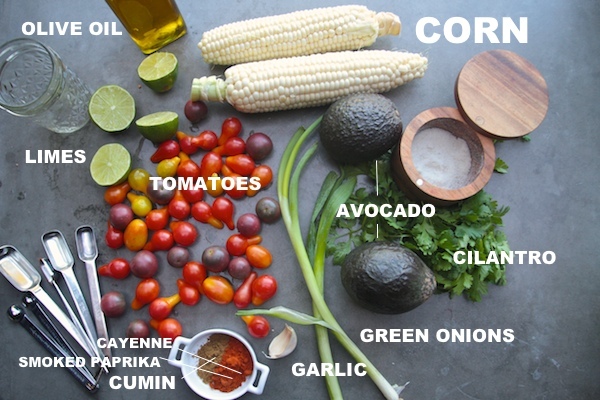 We start by making our vinaigrette. Mix the garlic with cayenne, smoked paprika and cumin.
Top with lime juice! Let that mixture sit for a little bit.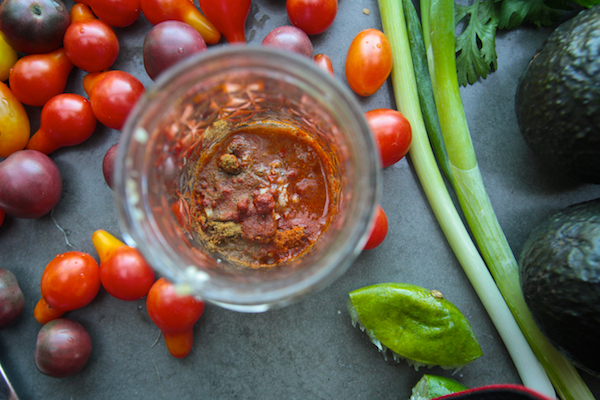 The flavors meld beautifully.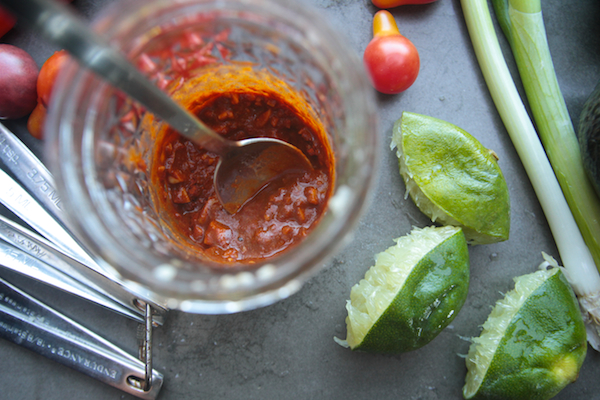 Now we add the olive oil.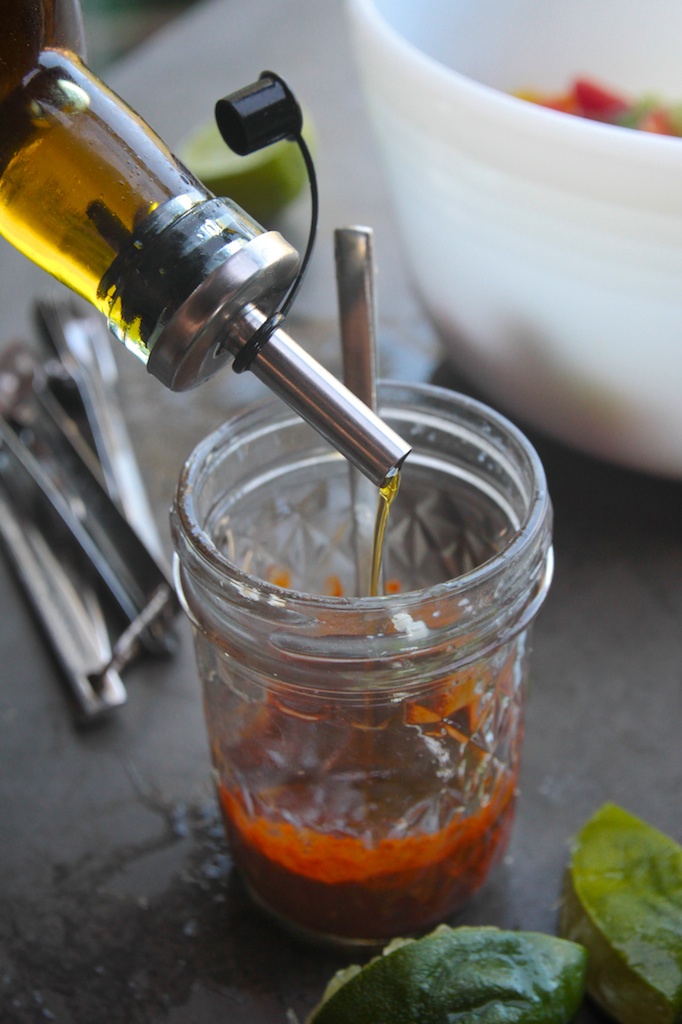 Time to chop the tomatoes and cut the corn off the cob.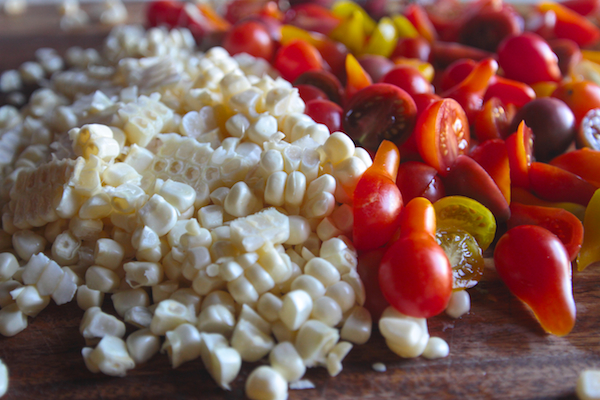 Add the vegetables to a bowl with the green onions.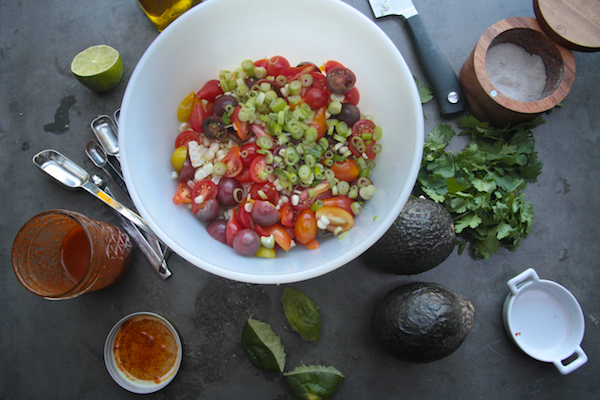 Pour the vinaigrette on top of the salad. Mix! Season with salt.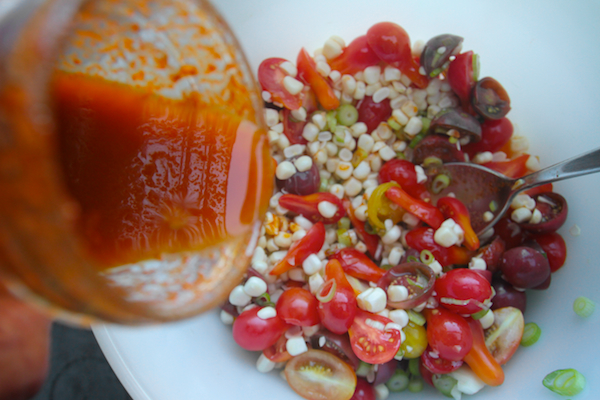 Fold in the avocado and chopped cilantro.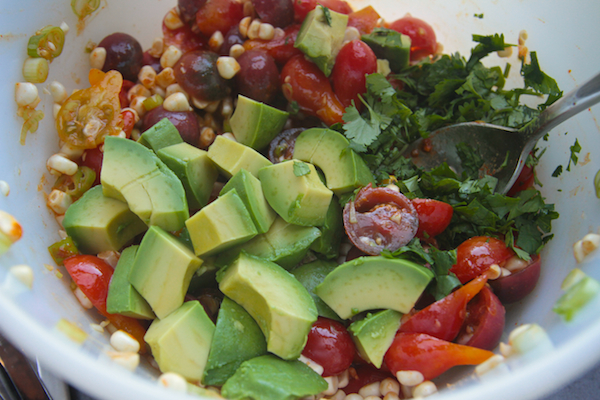 It's a flavor explosion.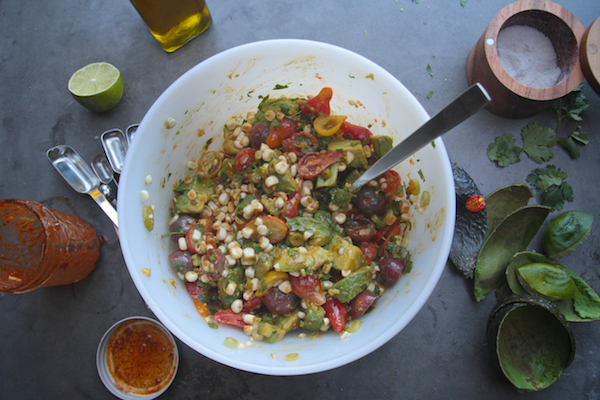 Serve up! Cilantro sprig for garnish.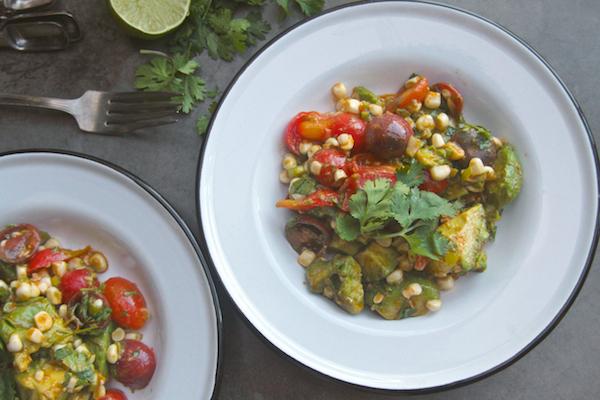 Summer living.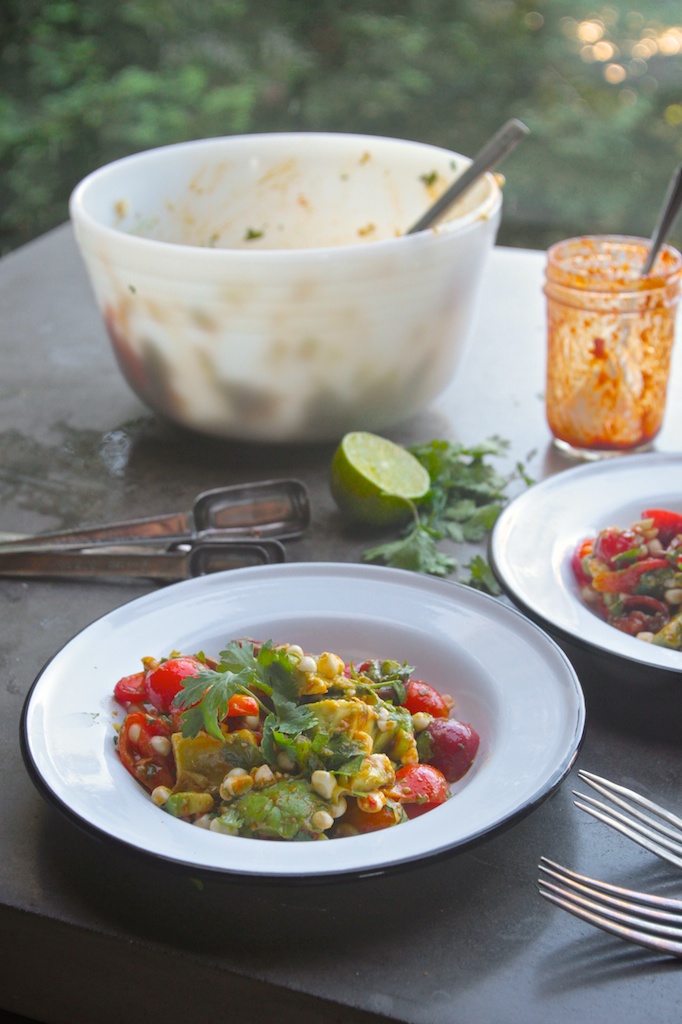 Get into it!
Spicy Tomato Corn Avocado Salad

serves 4

recipe slightly adapted from Salad for Dinner

2 large ears fresh corn, shucked and kernels cut off cob
1 clove garlic, minced
1 teaspoon ground cumin
1 teaspoon smoked paprika
1/2 teaspoon cayenne pepper
2  1/2 tablespoons freshly squeezed lime juice
1/2 cup mild extra virgin olive oil
kosher salt
1 pint cherry tomatoes, halved
2 green onions, sliced (with and pale green parts only)
2 large avocados, cut into chunks
1/2 cup roughly chopped cilantro, plus a few leafy sprigs for garnish

To make the vinaigrette, combine the garlic, cumin, smoked paprika, cayenne and lime juice in a small bowl or jar. Let sit for 5 to 10 minutes. Whisk in olive oil. Add salt to taste. If necessary, add more olive oil or lime juice depending on your preference.

Combine the corn, tomatoes, and scallions in a medium bowl and season with sat. Gently toss with just enough vinaigrette to coat the vegetables. Right before serving, gently fold in the tomatoes and chopped cilantro. Garnish with cilantro sprigs and serve immediately.