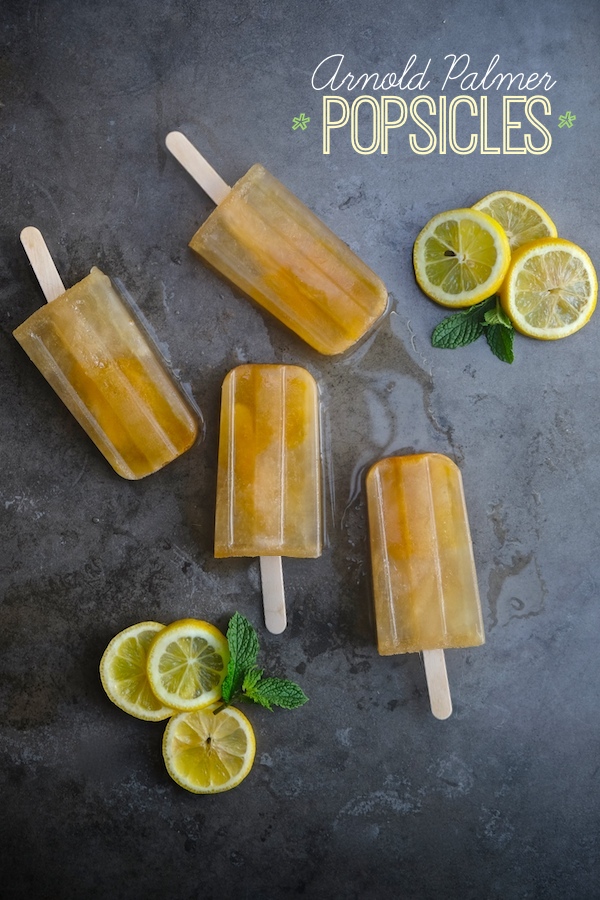 I've been on an Arnold Palmer kick the past week. I love the combination of half lemonade and half iced tea. Sometimes I throw in a little bit of bubbly water to make it spritz-y. Sometimes bourbon makes an appearance…especially after work…  I had a little bit of lemonade hanging out in my fridge and freshly clean popsicle molds on the kitchen counter and then before I knew it I was brewing tea and had  Arnold Palmer Popsicles in the freezer.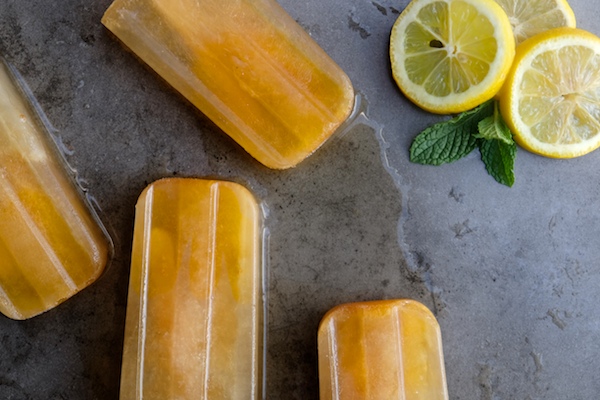 We had these Arnold Palmer Popsicles the past weekend and they were SUPER good. Casey and Cooper were playing baseball outside and it was hot and I was gardening and we all stood on the deck with the popsicles dripping down our hands enjoying every bite. It was a delicious way to cool off from the heat. You have a little bitterness from the tea but it's balanced out by the sweet tangy lemonade. My only regret was not dunking them in a glass of vodka. Next time… oh yes. Next time. Definitely after work.
And we're off!
Look at how few ingredients we have here!
If you want popsicle that's a little less sweet, omit the sugar.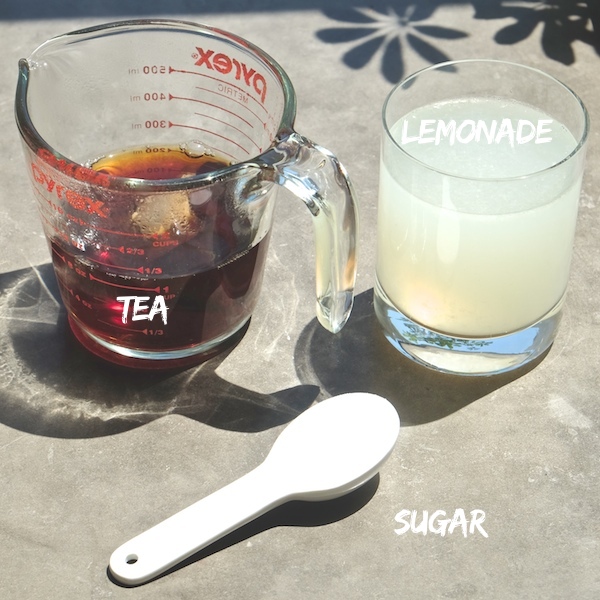 For the base we make tea. Put a little sugar in it (if using) then pour in a little lemonade.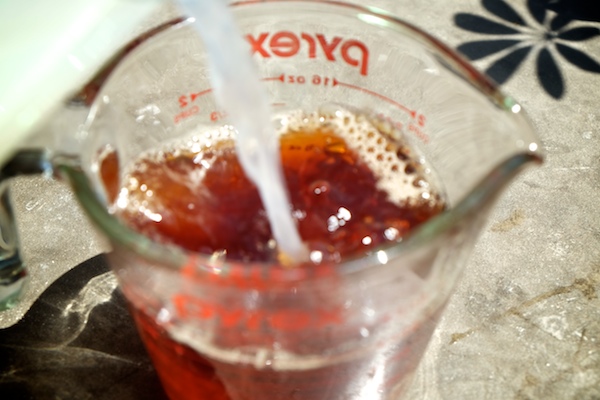 We're going to fill the popsicle molds with the sweetened tea.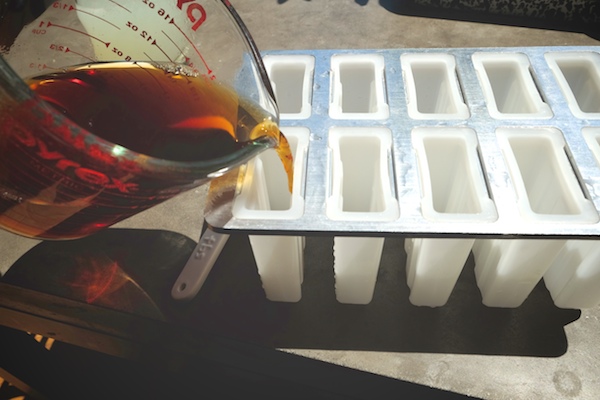 The mixture goes up a little more than half way. Freeze until the tea has hardened a bit.
The idea is have a distinction between lemonade and iced tea.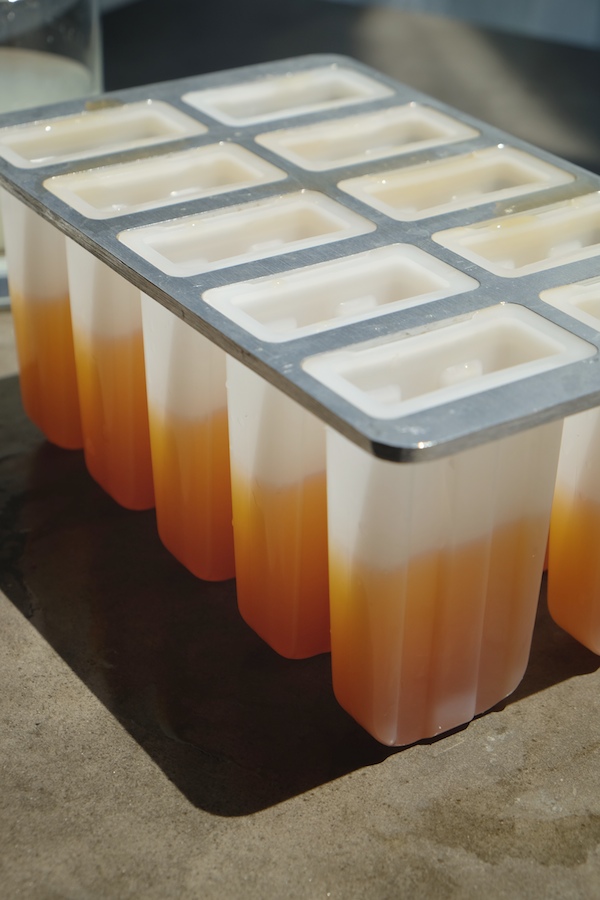 Lemonade goes in when it's ready….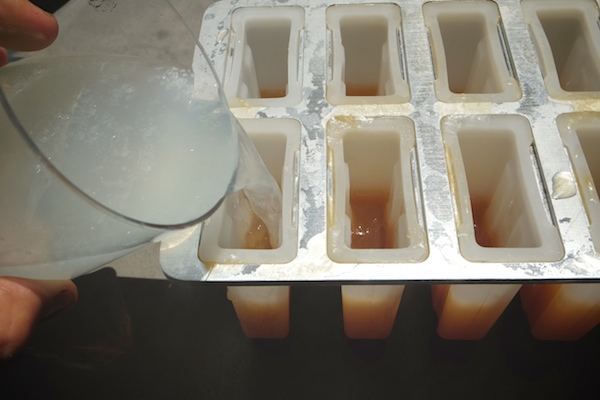 FROZEN.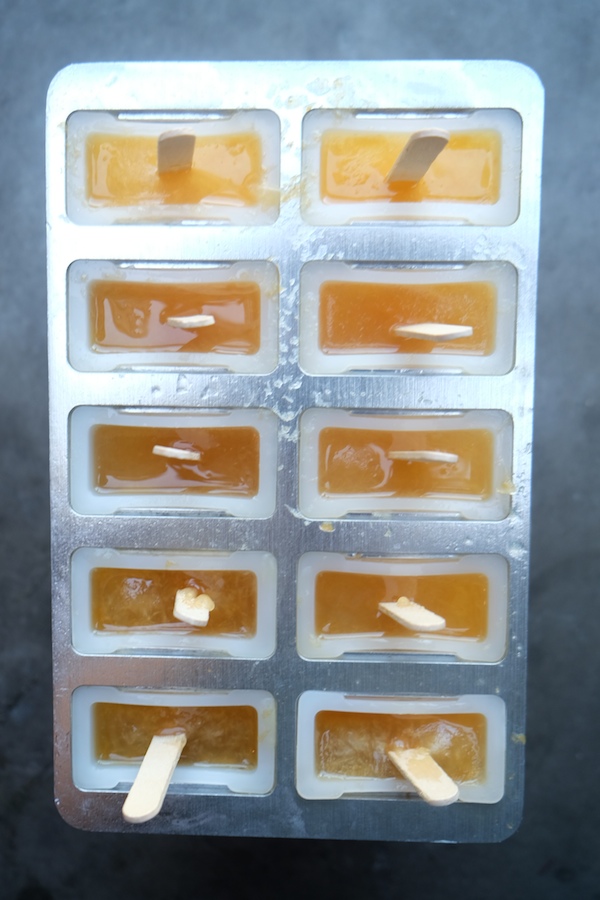 And we're ready to enjoy.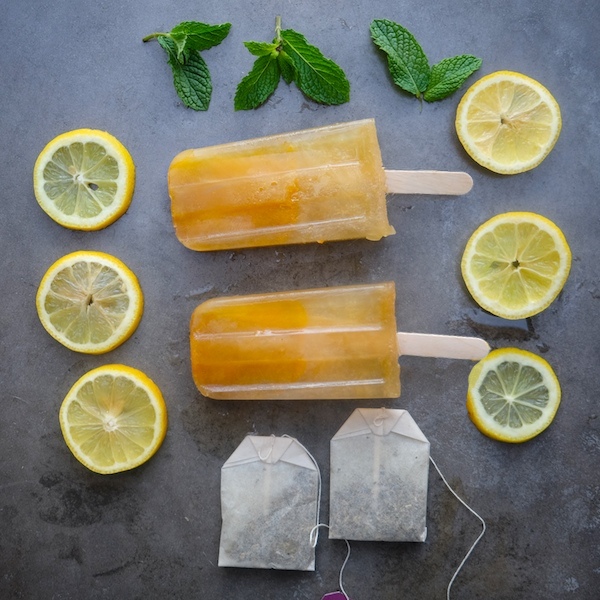 Arnold Palmer Popsicles

makes 10 popsicles

1  1/2 cups hot water
1 black tea bag
2-3 teaspoons sugar (optional)
2 cups lemonade

Steep tea bag in hot water in a measuring cup for 4-5 minutes. Stir in 2-3 teaspoons sugar (more if you like really sweet tea). Add one 1/2 cup lemonade to brewed tea and stir until well combined. Let mixture cool for 5- 10 minutes and then fill each the popsicle molds evenly with the sweet tea mixture. The tea should come up a little more than half way.  Place popsicle molds in the freezer for 30-40 minutes, or until the tea mixture is ready to set. You want to make sure the layer won't collapse when you pour the lemonade on top.  Fill the rest of the molds with lemonade. Freeze for another 30 minutes and then put the popsicle sticks into the molds. Freeze until completely solid, about 2-3 hours.