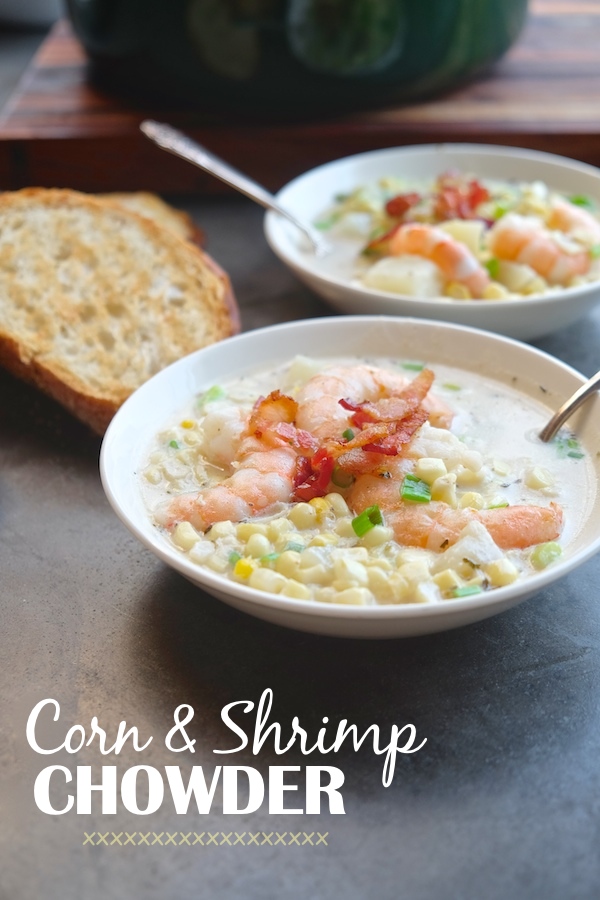 I suppose every Summer there are a few cold nights thrown into the mix. I like to imagine sitting out on a porch somewhere in New England along the water….eating bowls of this soup with hunks of garlic bread.  I may or may be wrapped in a blanket…sitting in an adirondack chair. Hopefully there's a foot rest on that chair…I gotta balance soup on my lap. Bugs are not apart of this fantasy.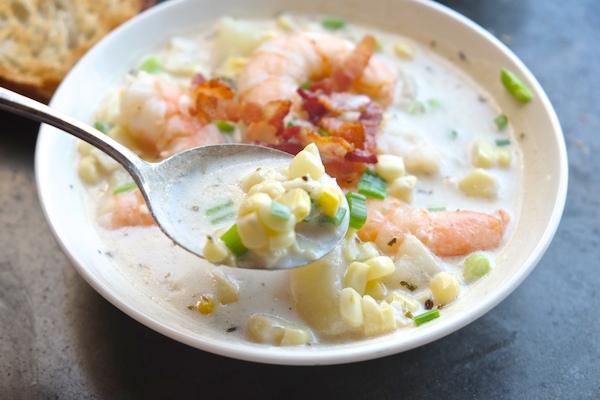 If you can't get enough fresh sweet corn this Summer, this Corn & Shrimp Chowder is for you. The soup is light, perfectly chunky with the potatoes and shrimp and if you're like me, you'll add a little hot sauce & extra Old Bay Seasoning at the end. That Old Bay is my old bae!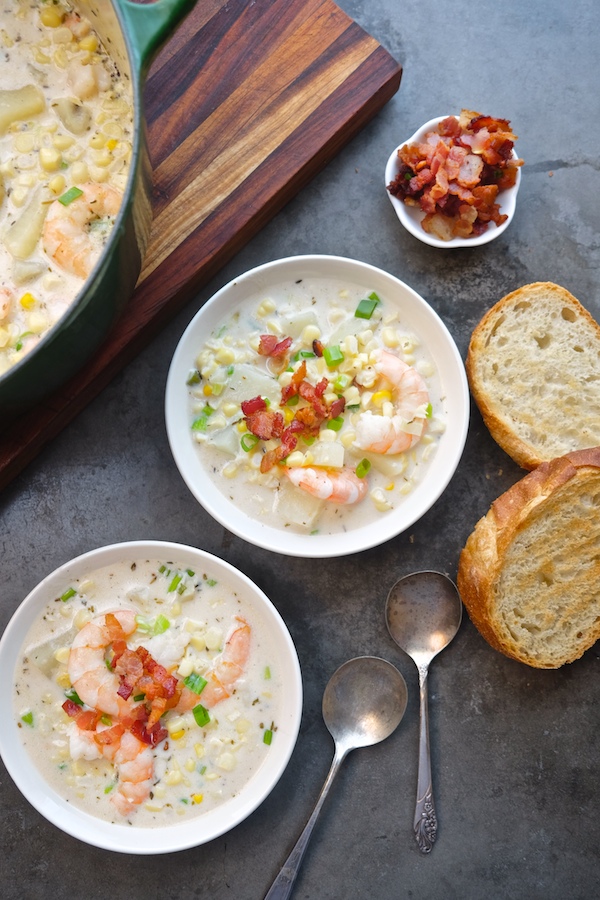 This is another good excuse to have garlic bread on the grill this summer.
Let's gather our ingredients-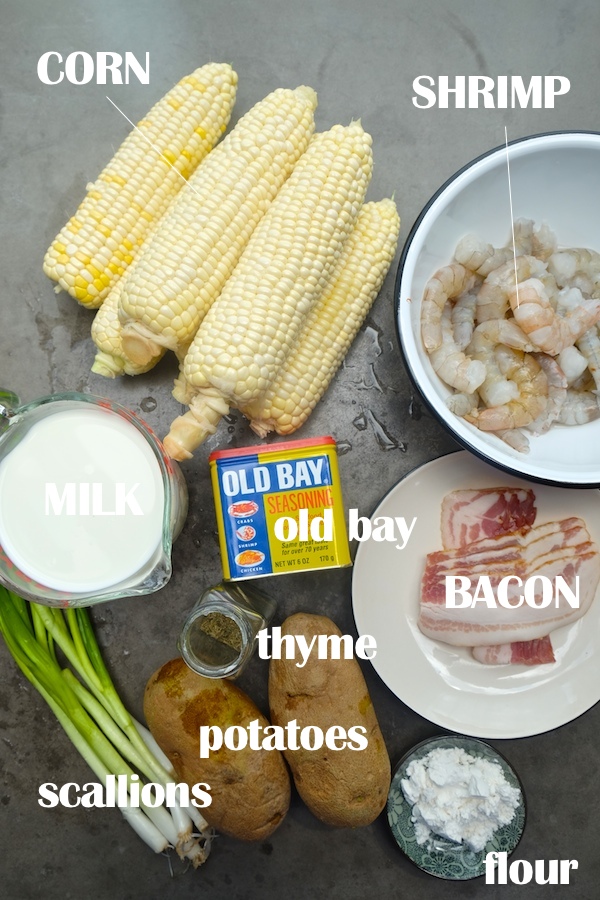 First we cook bacon. This a topping and it's the fat that we cook the potatoes & scallions in.
Win win.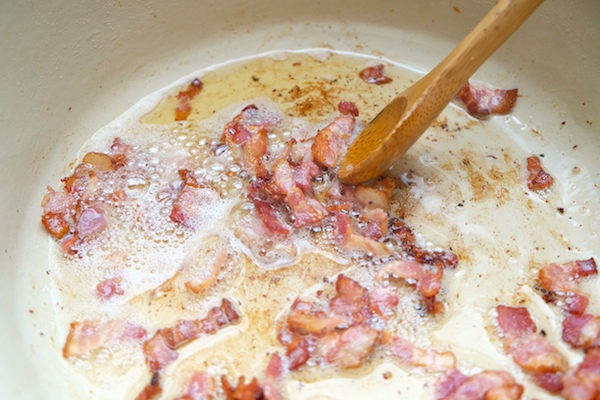 Bacon gets drained. Set aside.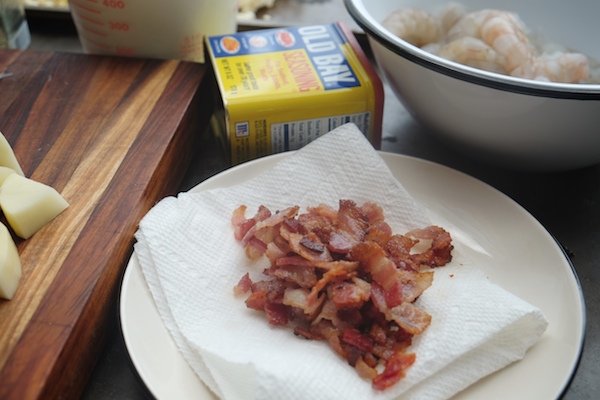 Chop up the potatoes and the white parts of the scallions. Separate the green parts…they get used for later.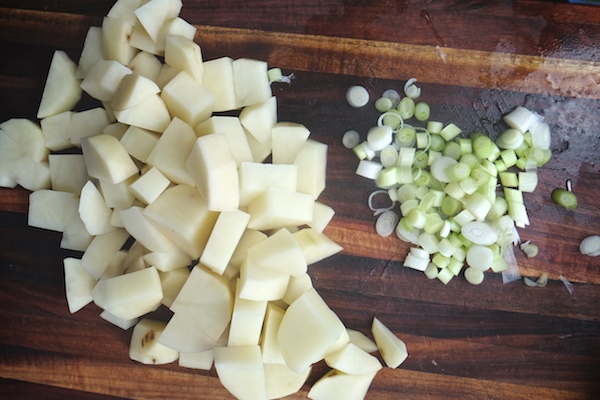 Corn extravaganza. I just cut the corn on a baking sheet. It collects all the rogue corn…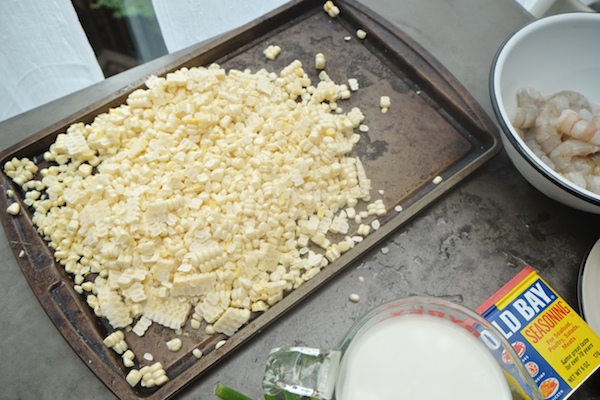 Potatoes and scallions cook in bacon fat.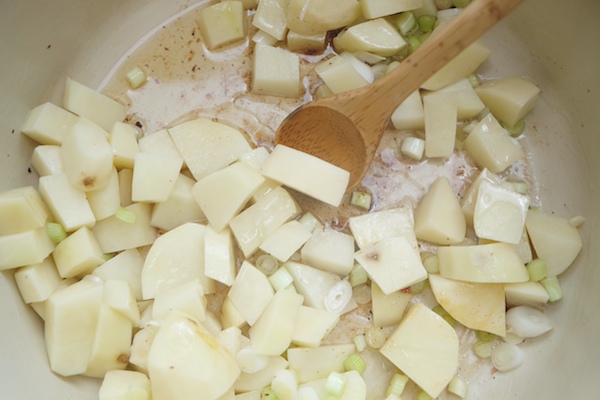 Flour goes in. This will help thicken the chowder.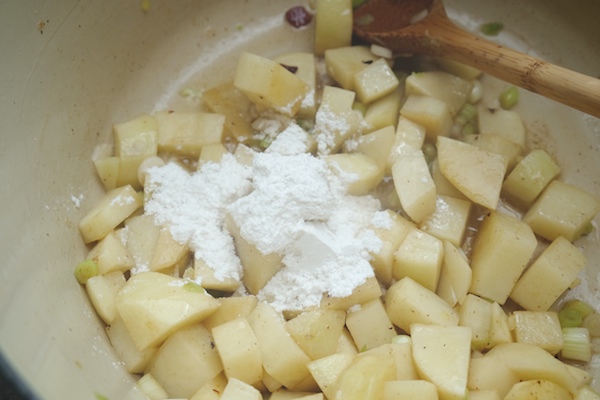 Milk + water goes in. If you want a heartier soup, make the water chicken stock.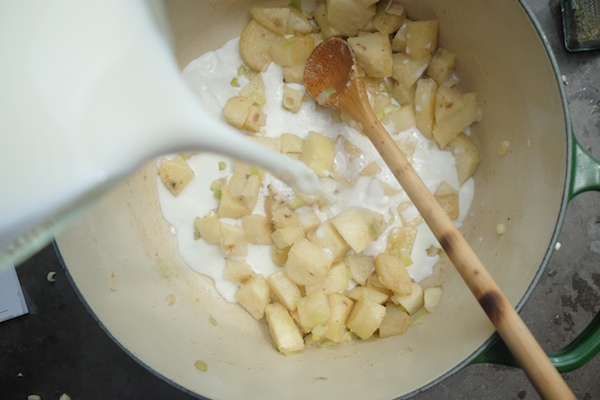 Old Bay + Thyme. We want to cook the potatoes until they are tender.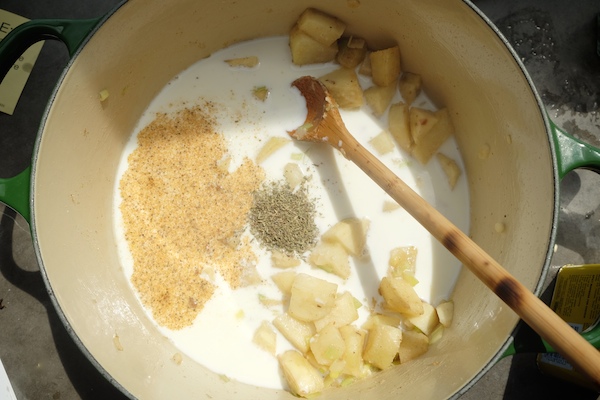 Corn, scallions, shrimp.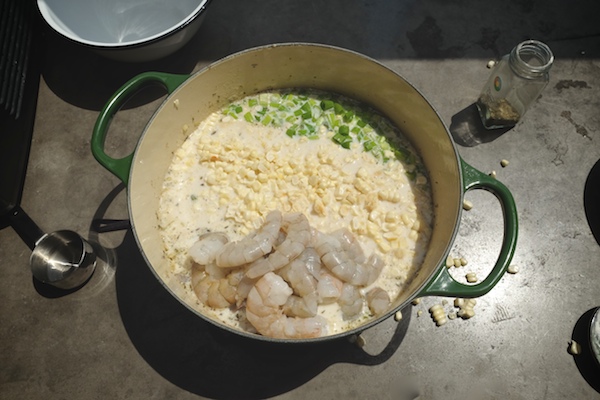 Done.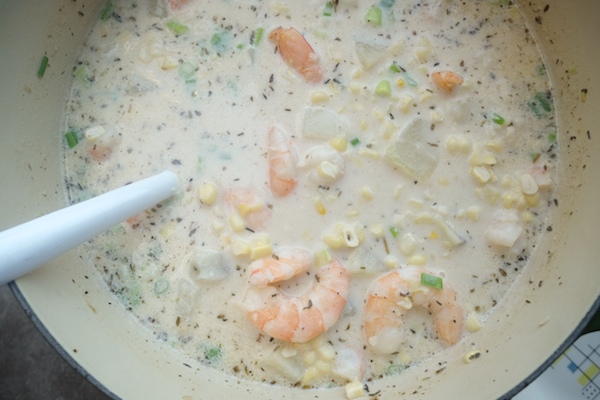 Deliciousness.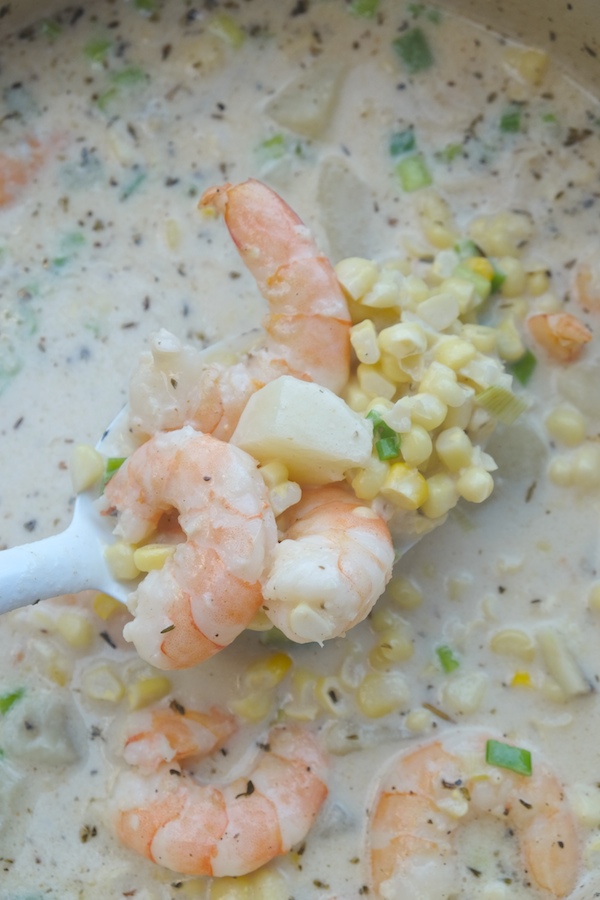 Serve it up with some crusty bread, bacon bits and sprinkle some additional scallions on top.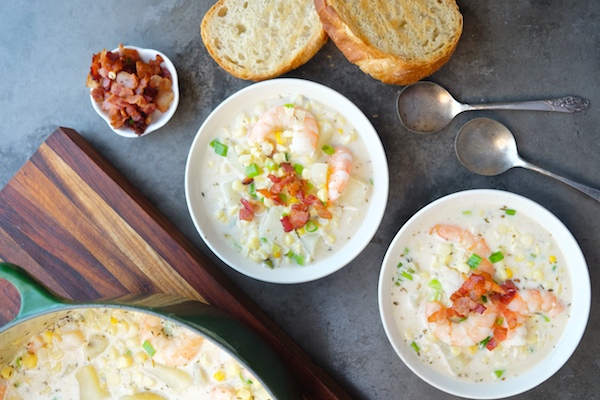 It reminds me of a Dawson's Creek Summer.
Corn & Shrimp Chowder

serves 4-5

recipe slightly adapted from Everyday Food Magazine

6 ears corn, husks and silks removed
4 slices bacon, cut into 1/2-inch strips
8 scallions, white and green parts separated and thinly sliced
2 medium baking potatoes, peeled and cut into 1/2-inch pieces
2 tablespoons all-purpose flour
3 cups whole milk
2 teaspoons Old Bay Seasoning
1/2 teaspoon dried thyme leaves
1 pound large peeled and deveined shrimp
Coarse salt and ground pepper
grilled bread or crackers, for side

Cut off tip of each cob. Stand corn in a wide shallow bowl; using a sharp knife, slice downward to release kernels. Scrape length of each cob with a spoon to release pulp. Discard cobs.

In a large saucepan, cook bacon over medium-high until crisp and browned, 4 to 6 minutes. With a slotted spoon, transfer bacon to paper towels.

Add scallion whites and potatoes to pan; cook, stirring, until scallions have softened, 1 to 3 minutes. Add flour and cook, stirring, 1 minute. Add milk, seafood seasoning, thyme, and 2 cups water.

Bring to a boil; reduce to a simmer and cook, stirring occasionally, until potatoes are tender, 10 to 12 minutes. Add corn, shrimp, and scallion greens. Cook until shrimp are just opaque, 2 to 3 minutes. Season chowder with salt and pepper. Serve topped with bacon, with grilled bread or crackers alongside if desired.