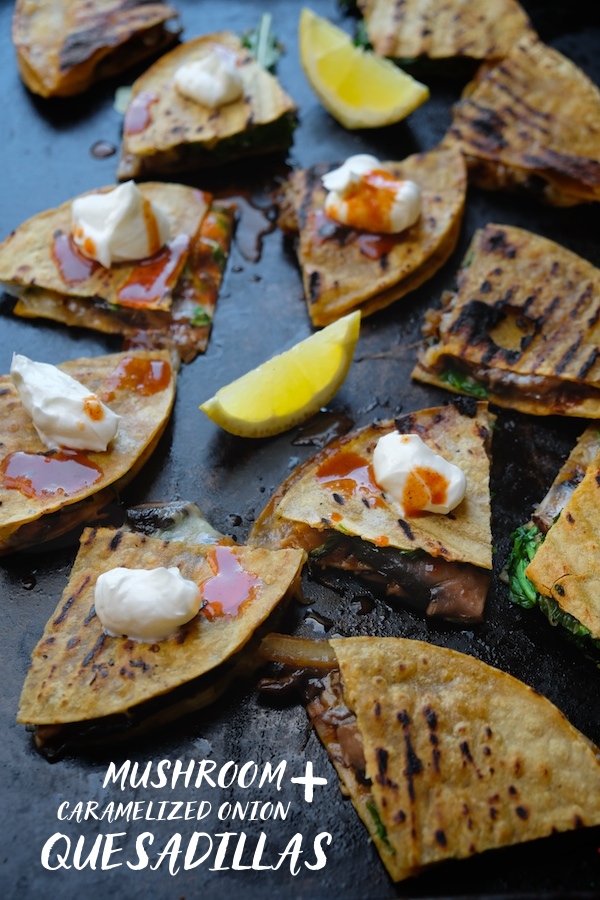 New recipe alert! Mushroom & Caramelized Onion Quesadillas
Sweet dreams are made of these. Who am I to disagree?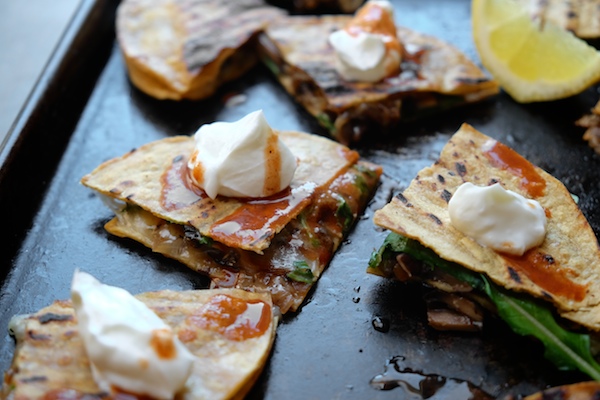 That song is currently playing while Casey's upstairs getting Cooper ready for his bath. Oh, wait. Now the Red Sox game is on. Dang. I was just getting into the groove here. It's nighttime while I type this. I'm eating what's left of these quesadillas. They're actually cold because I made them earlier. Still delicious and I'd say it's a few steps up from eating popcorn for dinner. No judgment on that. Seriously. You can taste the sweetness of the caramelized onions, the pepperiness from the arugula, and the meatiness of the portobello mushrooms in this cold quesadilla I'm eating. My only regret is that I skimped on the pepper jack in this particular quesadilla. Dang it. Oh well.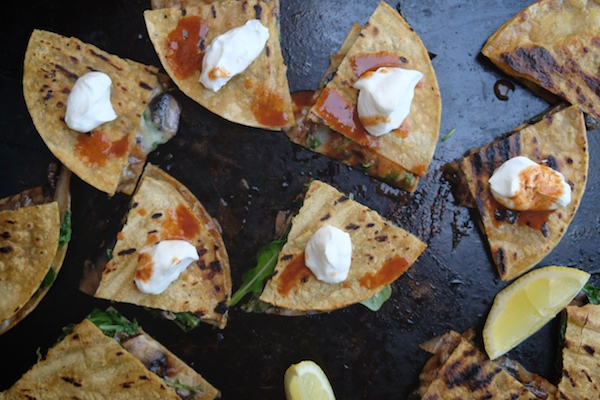 I did eat my fair share this afternoon, and they were hot then. This recipe comes from the new cookbook What Katie Ate on the Weekend. Boy, is this book one heck of a cookbook. The paper quality is supreme and so are the photos. If you want to daydream and have serious wanderlust, then get yourself a copy. The recipes are just as wonderful as the pictures! Bravo, Katie! Now excuse me, I have a Red Sox game to lower the volume on and a few last bites of quesadilla to eat.
And we're off!
When I went to make this recipe with flour tortillas, I pulled them out of the fridge and realized I didn't have enough. Also, one was broken. Fail.
So I substituted corn for flour in the original recipe. If you have flour, use flour! But if you want a gluten-free version and you like corn tortillas like my boys, then go CORN.
(you'll need 8 flour tortillas instead of 10 corn)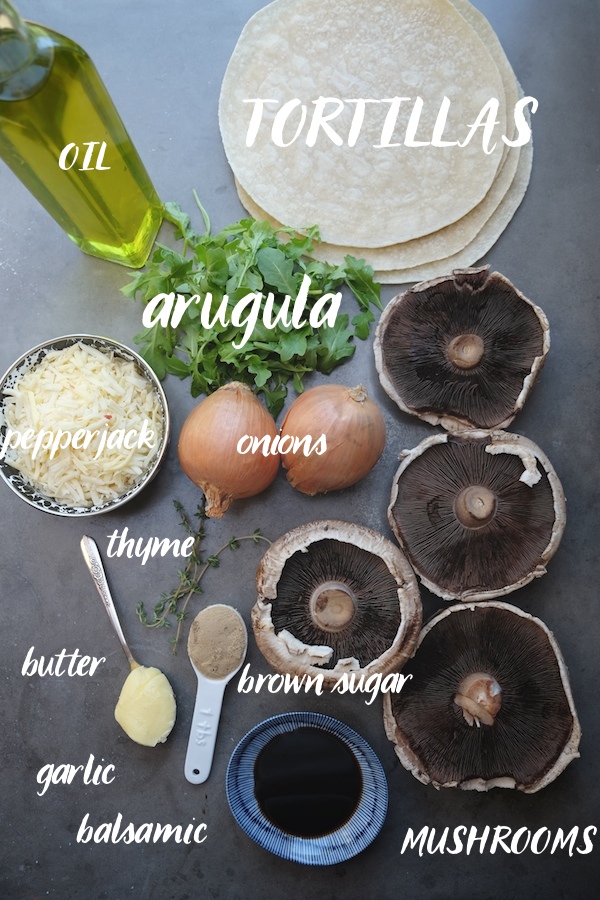 First we are going to caramelize some onions.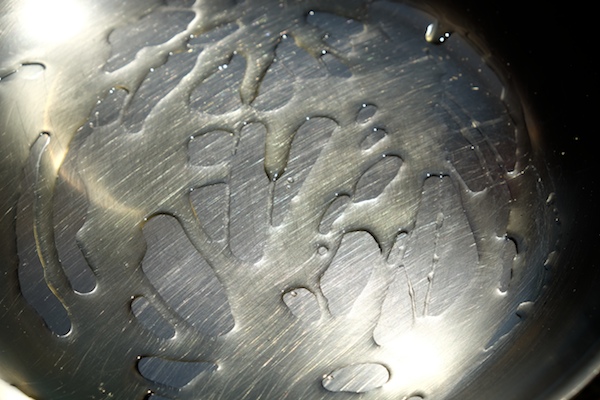 Onions go in. They soften and then we add in the brown sugar & balsamic vinegar.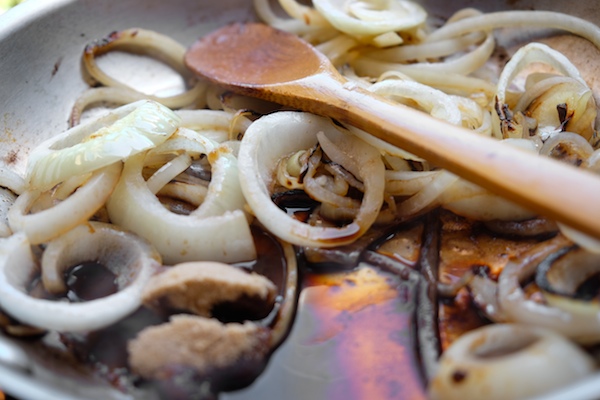 Yaaaaaas.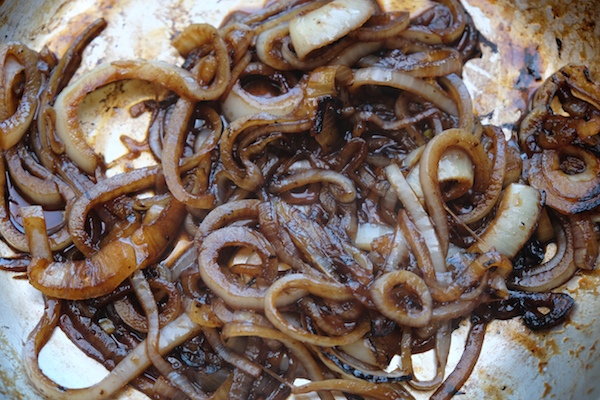 We put the onions in a bowl. Set aside. Clean out the pan and we put the mushrooms in!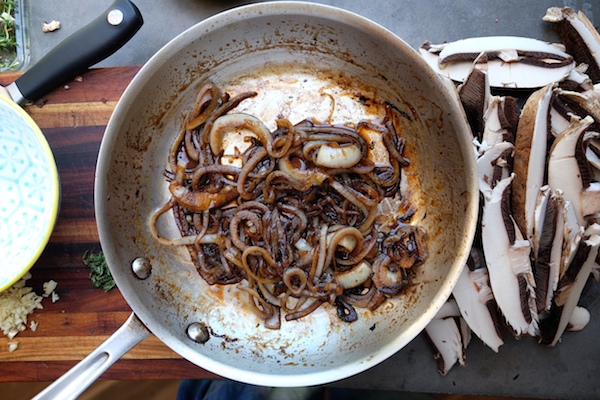 I should have used a bigger pan. Oh well! Batches!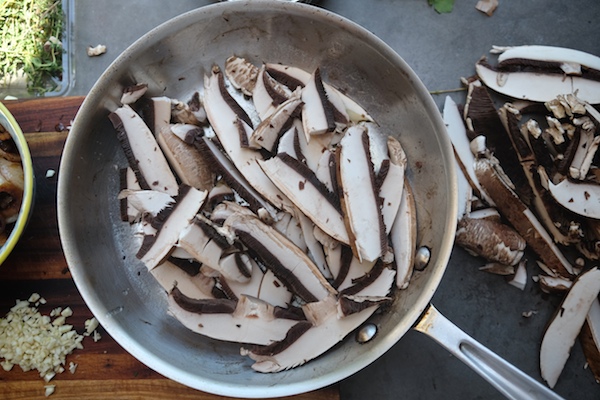 Garlic and thyme.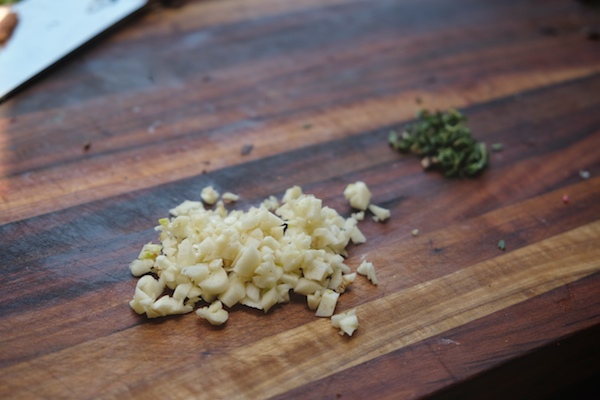 After the mushrooms have softened we add the garlic and thyme. Season with salt and pepper.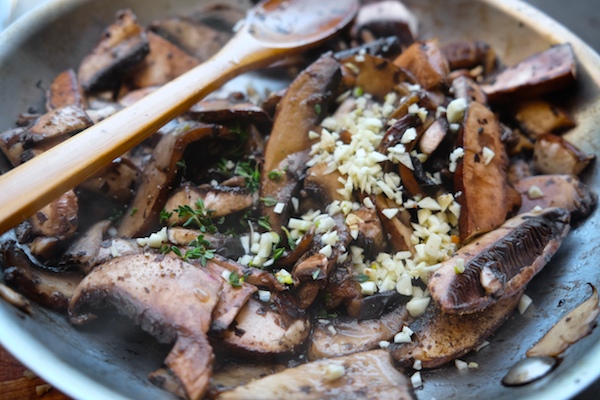 And we're ready to assemble our quesadillas!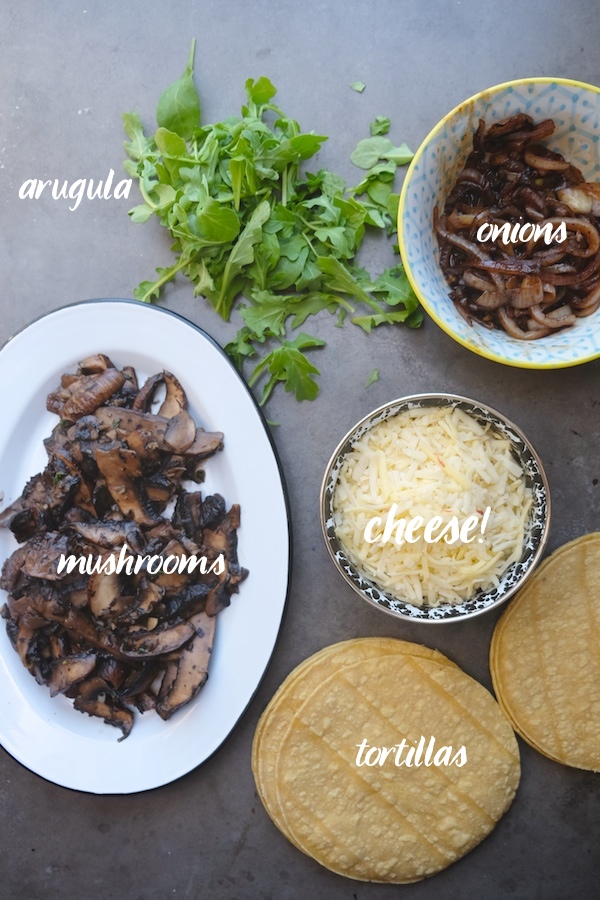 Cheese layer. Add more than this. COME ON, TRACY.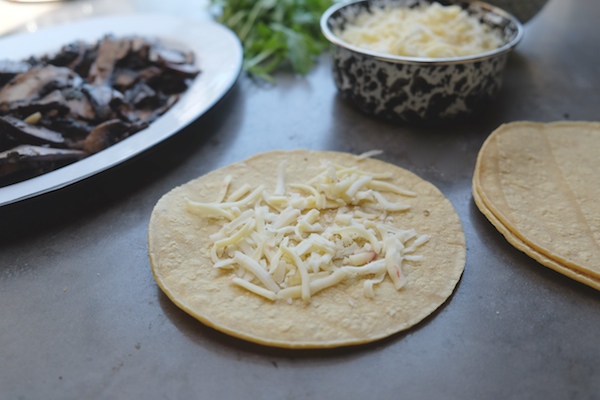 Onions & mushrooms!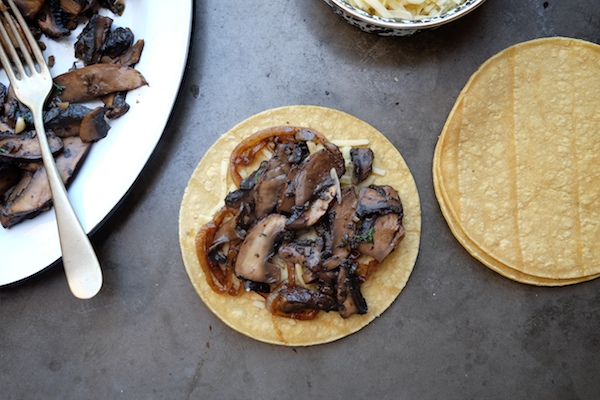 Arugula and more cheese!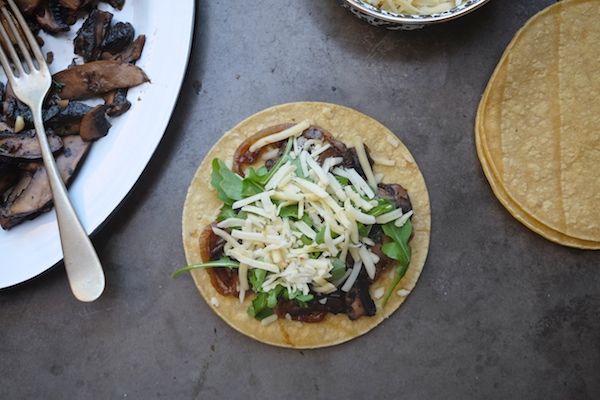 Assembly line!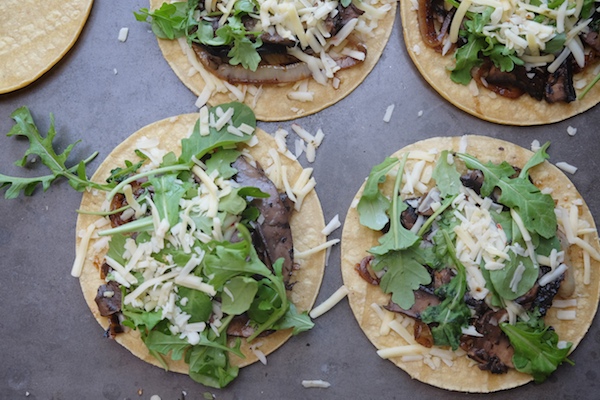 From the side!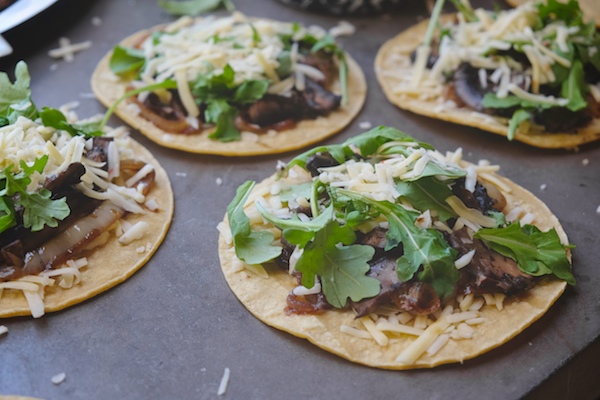 Top with the rest of the tortillas.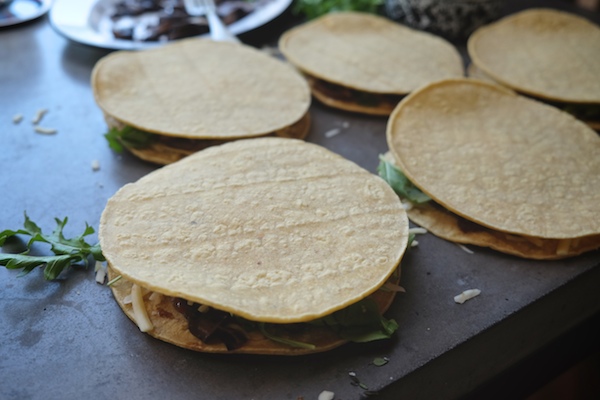 Get your grill pan heated up! Drizzle the pan with some olive oil. Grill!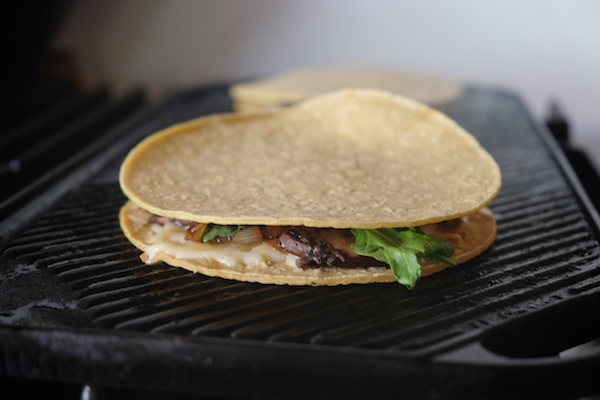 Before flipping, drizzle the top with olive oil.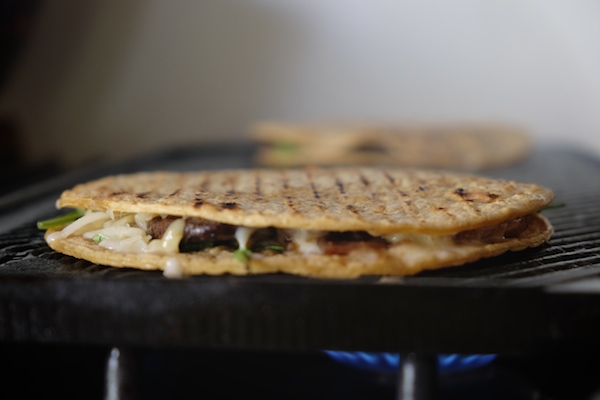 INSIDE!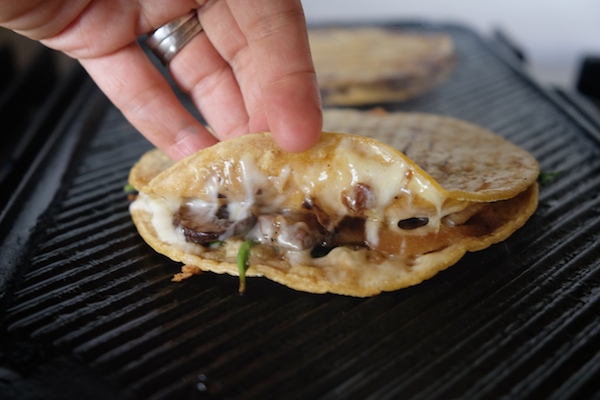 Done.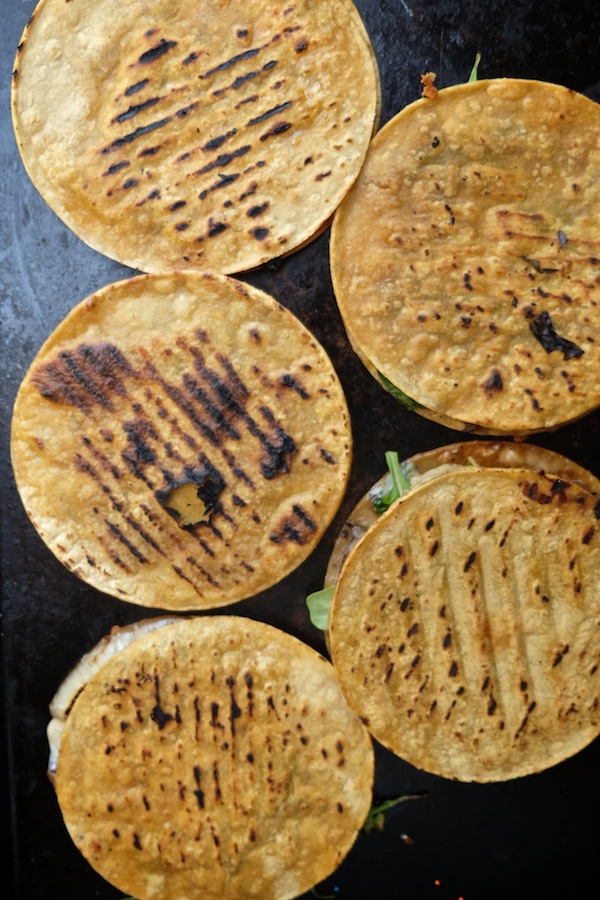 Cut them into quarters.
Sour cream topping. Hot sauce topping. Lemon juice for a little something something.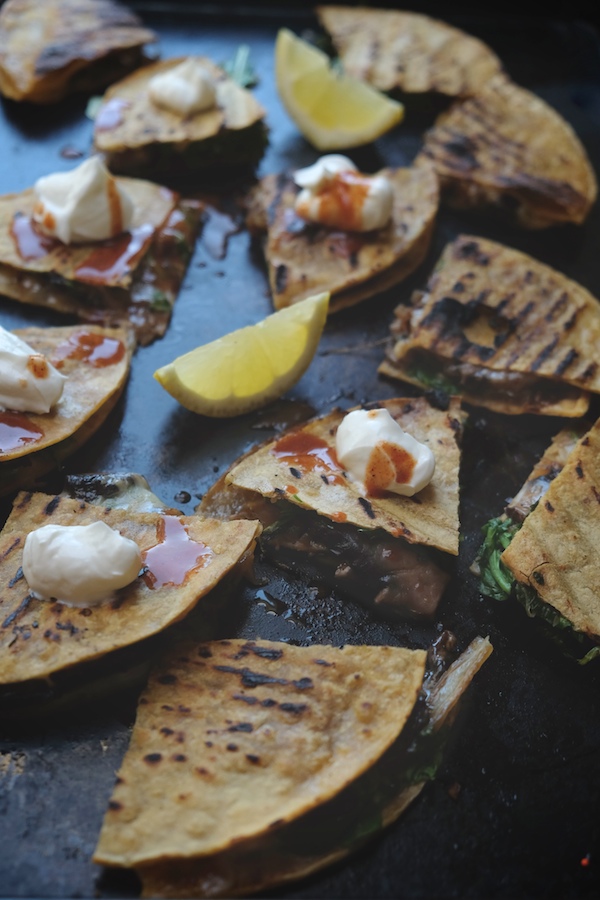 WHAT!!!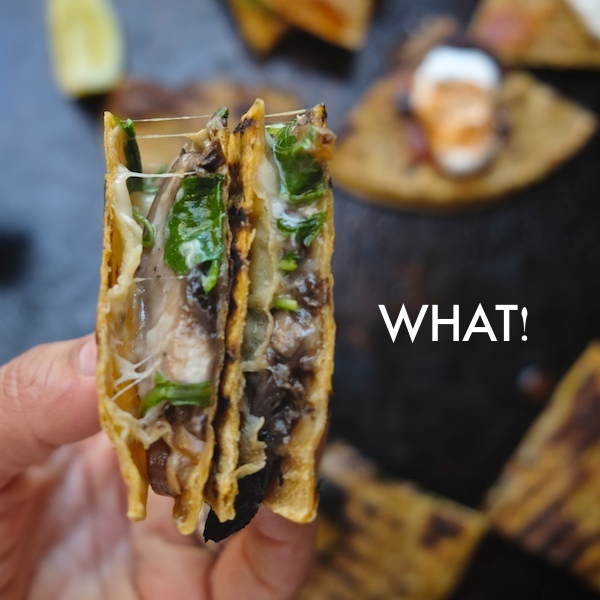 They're good enough to eat cold!
Mushroom & Caramelized Onion Quesadillas

serves 4-5

recipe adapted from What Katie Ate on the Weekend
Reprinted by arrangement with Avery Books, a member of Penguin Group (USA) LLC, A Penguin Random House Company. Copyright © Katie Quinn Davies, 2015.

3 tablespoons olive oil, plus more for grill pan
2 onions, thinly sliced
1 tablespoon brown sugar
1/3 cup balsamic vinegar
1 tablespoon unsalted butter
4 portobello mushrooms, thinly sliced
3 large cloves garlic, finely chopped
3 sprigs thyme, leaves stripped
kosher salt & fresh cracked pepper
10 corn tortillas
1 1/2 cups shredded pepperjack cheese
2 large handfuls baby arugula
sour cream, lemon wedges & hot sauce, for serving

Heat half the oil in a skillet over low heat. Add the onion and cook, stirring for 10-12 minutes or until soft. Add the sugar and balsamic vinegar and cook, stirring, for 7 minutes or until onion is caramelized and the liquid has reduced. Transfer onion mixture to a bowl and wipe the skillet clean.

Heat the butter and remaining oil in the skillet over medium heat. Add half the mushrooms and cook down until there's more room in the skillet for the rest. Add the garlic and thyme to the mushrooms. Season with salt and pepper and continue to cook until the mushrooms have completely softened. Remove the pan from the heat and set aside.

Top 5 corn tortillas with cheese, onions, mushrooms, followed by arugula and another sprinkle of pepperjack cheese. Top each loaded tortilla with another corn tortilla.

Heat a grill pan or a large nonstick skillet over medium-high heat. Drizzle a little bit of olive oil on the grill and cook each side for 3 to 4 minutes, or until cheese starts to melt and grill marks have formed on the tortilla. Befor flipping, drizzle tops with additional olive oil, then flip and cook for another 3 to 4 minutes. Continue process with the rest of the quesadillas. To serve, cut quesadillas into quarters, place a dollop of sour cream and a dash of hot sauce. Serve hot with lemon wedges for garnish.