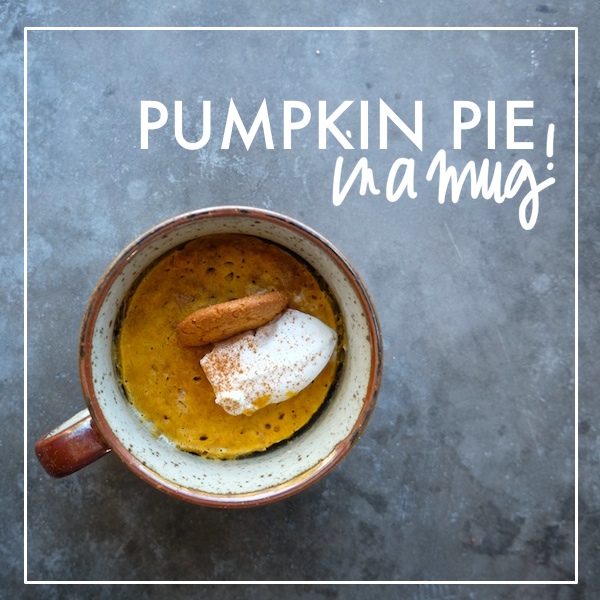 I'm working through a bunch of paper piles in my house. Yes, that's right. As organized as I seem, I am a person who has a ton of paper piles around my house. I JUST AM SORTING. I wish I could explain that to my husband. Also. WHY IS THERE SO MUCH PAPER IN MY LIFE?! 
In one of my piles was this recipe for a Pumpkin Pie in a Mug from last year.  I needed to figure out a snack for today and I had all of the ingredients and my sweet tooth was like HEYYYYYYY so HERE WE ARE. Serendipity.
To be honest, I was super skeptical. How can you make a pie in a mug??! But, holy cow….YOU CAN. If you love pumpkin pie filling and gingersnaps, this snack is for you. It's really a dessert…but I had it for snack yesterday. I can imagine it would be really good for breakfast too. It reminds me of the Flourless Pumpkin Pancakes I love because it's light and fluffy.  Pair it with some whipped cream, coconut whipped cream, or ice cream, an extra cookie & some cinnamon sprinkled on top and you're good to go! For breakfast, I would drizzle a little bit of maple syrup and throw some granola in the mix.
[/donotprint]
Pumpkin Pie in a Mug

serves 1

recipe from thekitchn.com

1 teaspoon unsalted butter
14 grams gingersnaps (2 small cookies), crushed into 2 tablespoons of crumbs
1/3 cup pumpkin puree
1 large egg
1 tablespoon milk
2 tablespoons brown sugar
1 teaspoon pumpkin pie spice

Place the butter in a microwave-safe mug that holds at least 10 ounces, and microwave on LOW until melted. Stir in the crushed gingersnaps and press the mixture firmly into the bottom of the mug.

In a separate small bowl, whisk together the pumpkin puree, egg, milk, brown sugar, and pumpkin pie spice. Pour into mug with the gingersnap "crust."

Place the mug on a microwave-safe plate. Microwave on full power for 2 to 5 minutes, or until a knife inserted in the center of the mug pie comes out clean. The top may look slightly damp but it will set as it cools. If the pie isn't set after 2 minutes, microwave for 30 second increments until fully cooked.

Let it stand for a couple minutes to cool, then top, if desired, with whipped cream and crushed nuts before eating.