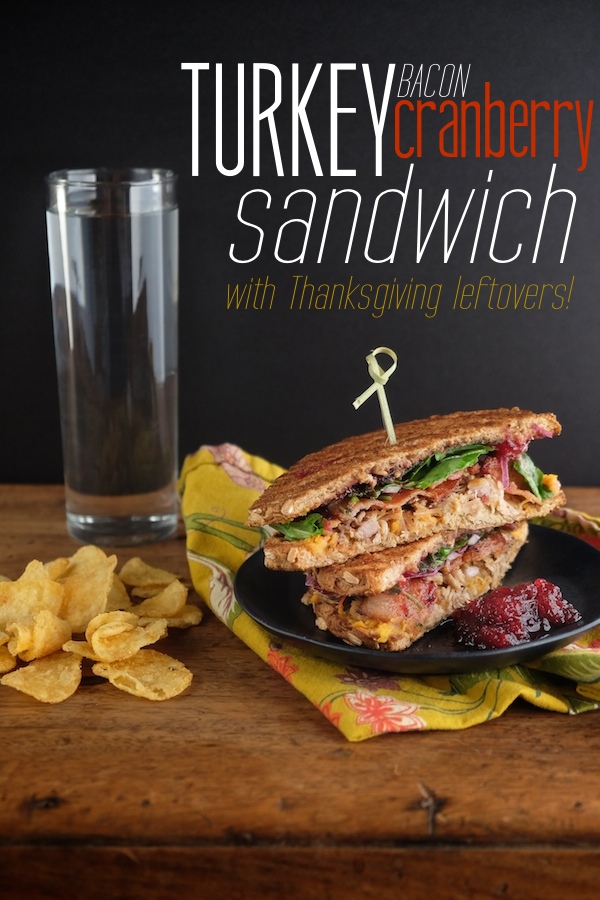 When Casey and I were first dating we used to get a burrito at Whole Foods that was called an American Wrap. We'd take it back to his place and share it while watching movies. This was like 14 years ago… and I obviously haven't gotten over its disappearance.  Inside the burrito was everything you'd have at your Thanksgiving table (sans pumpkin pie!). It was incredible; we still talk about it to this day.  I wanted to take that idea, but make a sandwich out of Thanksgiving leftovers and here we have a Turkey Bacon Cranberry Sandwich. I added bacon because….. WHY NOT?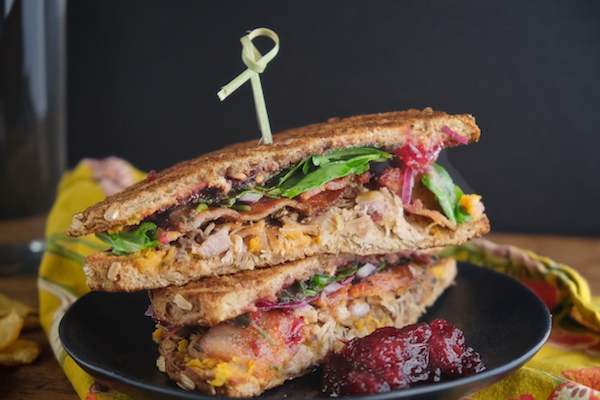 We start our sandwich with Dave's Killer Bread  as our foundation.  I used their Seeded Honey Wheat because I thought the sweetness of the honey in the bread would pair nicely with the savory fried sage in the sandwich (it did!).  Besides the fried sage, we have roasted turkey, crispy bacon, red onion, whipped sweet potatoes, peppery arugula and a mixture of hot mustard and cranberry sauce.  This sandwich is the perfect way to stretch Thanksgiving leftovers into another meal. If you happen to have some leftover brie from your cheese plate, throw that in there too! Can we add mashed potatoes? Sure!  Go for broke! It's the holidays and we're meant to enjoy them.
Let's gather our ingredients: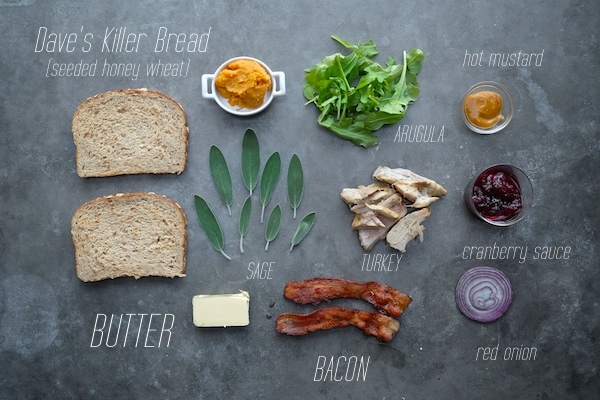 First up, we're using Dave's Killer Bread. Look at all that fiber and protein in one slice of bread. Solid gold.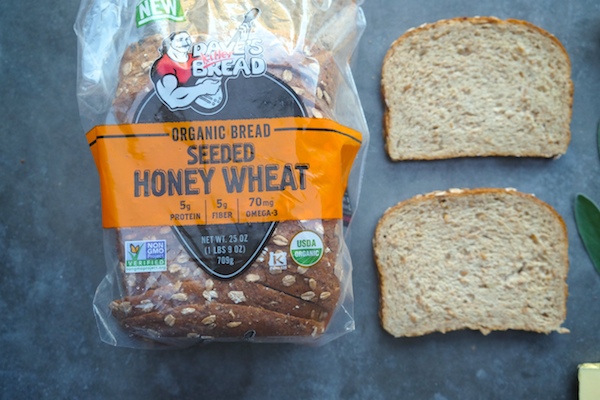 We melt butter and fry some sage.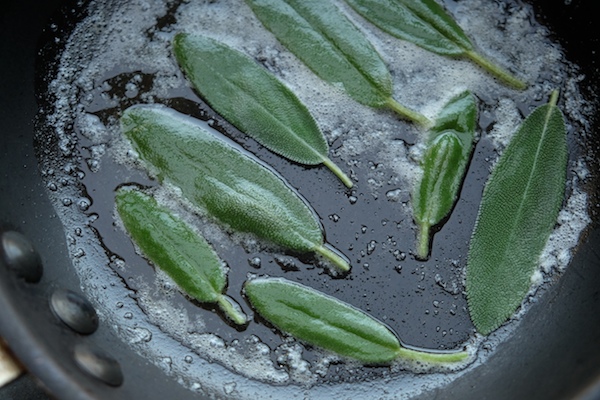 We mix the hot mustard in with the cranberry sauce.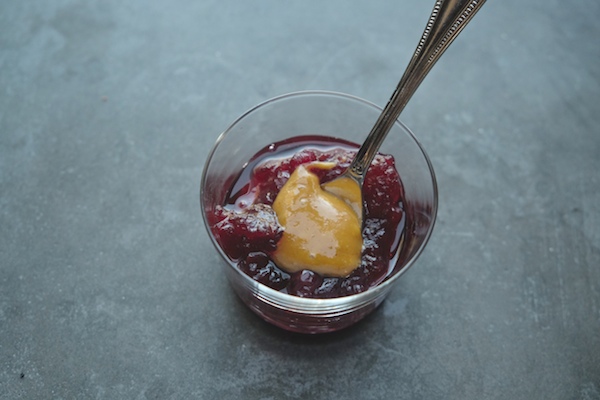 We heat the turkey in the leftover sage-y butter. I mean…DOESN'T THAT SOUND AMAZE?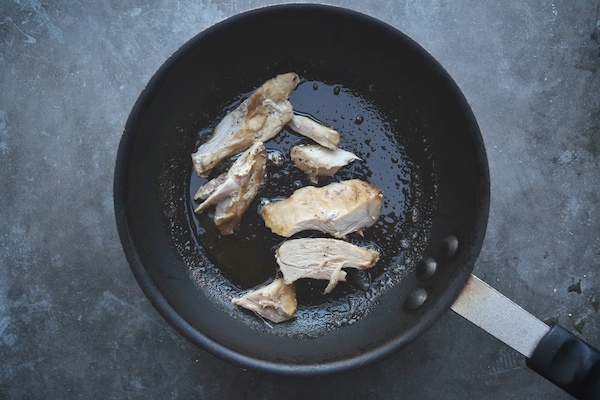 Bread is toasted. I used my panini press…. Grill marks are my favorite. Built in stripes!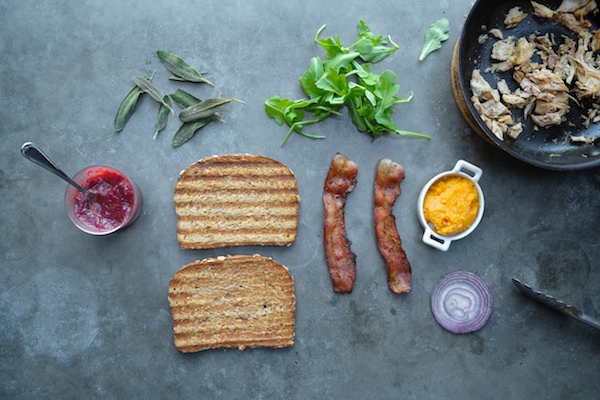 On one side we have leftover mashed sweet potatoes and then the other we have the cranberry mustard.
If you want to take the chill off the sweet potatoes, warm them up in the microwave.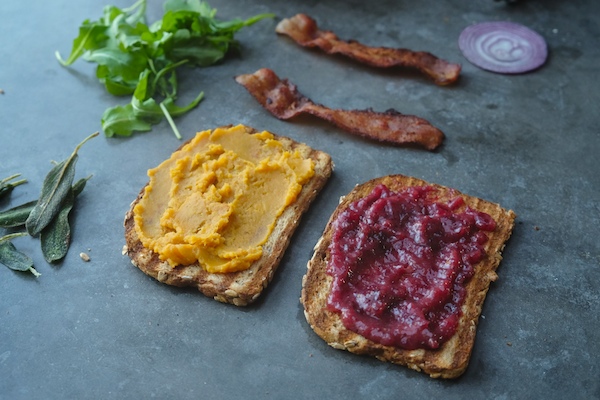 Let's get ready to rumble.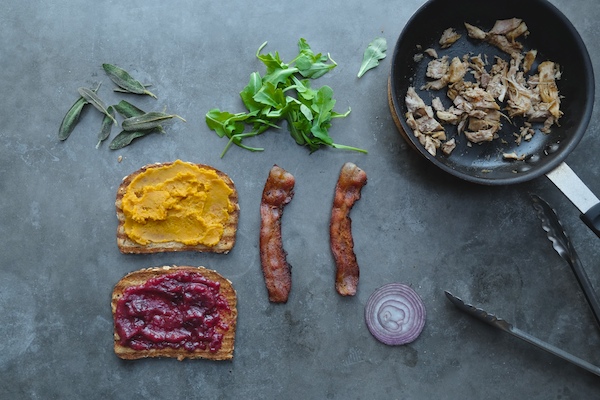 Turkey. I chopped it up because I wanted it to stay put. I dunno. Totally optional. The chopping, I mean. Don't omit the turkey. IT'S THANKSGIVING.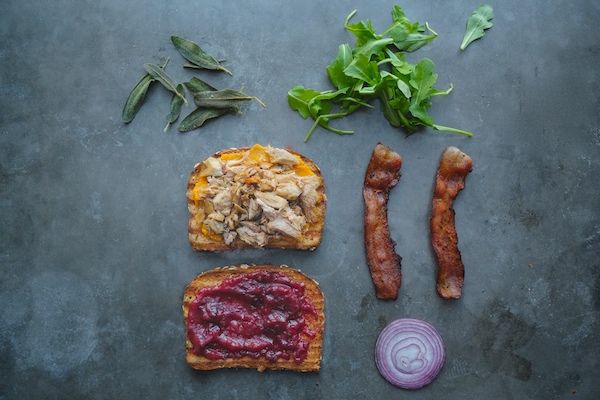 Bacon. Onion. Arugula. Sage! I put the sage into the cranberry mustard so it wouldn't move around.
Pro tips.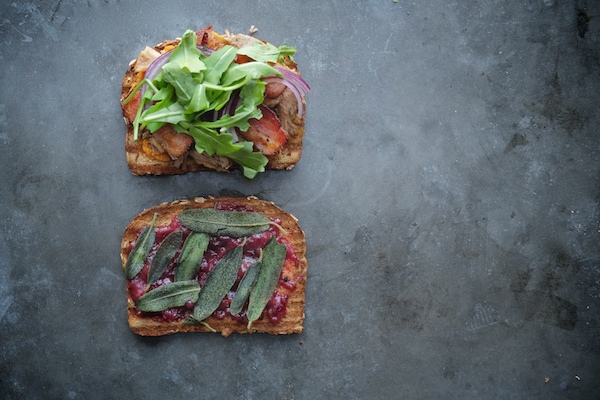 YES.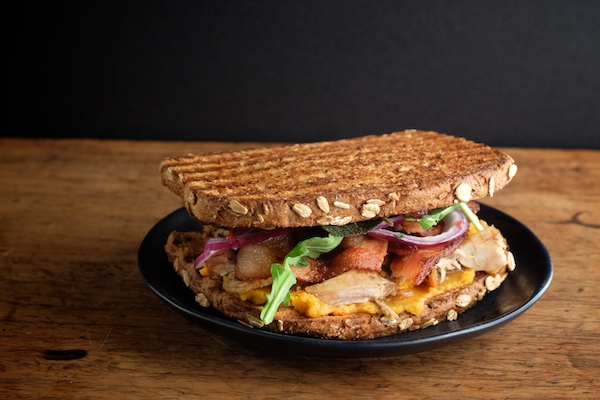 I am thankful for leftovers.
They spark my creativity.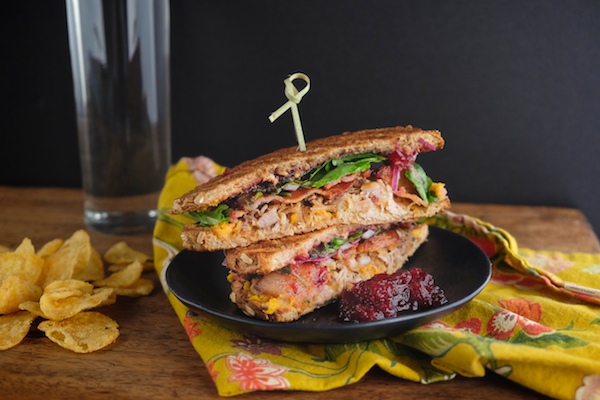 This post was produced in partnership with Dave's Killer Bread.  As always, all opinions are my own.  If you want other great sandwiches options, check out my Grilled Turkey Pepper Jack and Ultimate Veggie Sandwich. Both are made with Dave's Killer Bread! 
Turkey, Bacon & Cranberry Sandwich

makes 1 sandwich

1 tablespoon salted butter
8 sage leaves
2 slices toasted Dave's Killer Bread- Seeded Honey Wheat
1/2 cup chopped roasted turkey
salt & pepper
3 tablespoons cranberry sauce
1 tablespoon hot mustard
1/4 cup mashed sweet potatoes (optional)
2 strips cooked bacon
a few slices of red onion
a small handful of arugula

In a small skillet over medium-high heat, melt butter. Add sage and cook for 2-3 minutes, or until sage is crispy. Set sage aside, and add turkey to the skillet of  browned butter to warm through. Season with salt & pepper and set aside.

To assemble sandwich, mix cranberry sauce and hot mustard together and spread on one piece of toast. Spread other piece of toast with mashed sweet potatoes. Top sweet potatoes with turkey, bacon, onion and arugula. Nestle fried sage into the cranberry mustard mixture and smash both pieces of bread together to make the ultimate Thanksgiving leftover sandwich.