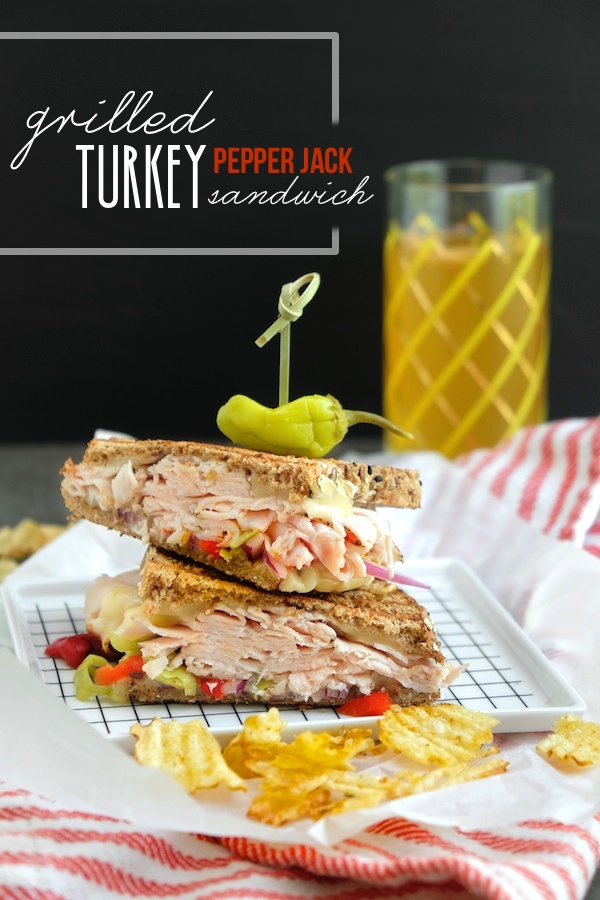 Sometimes you just need a really good sandwich. One that's hearty and full of flavor. One that makes you want to punch something because it's SO DANG GOOD.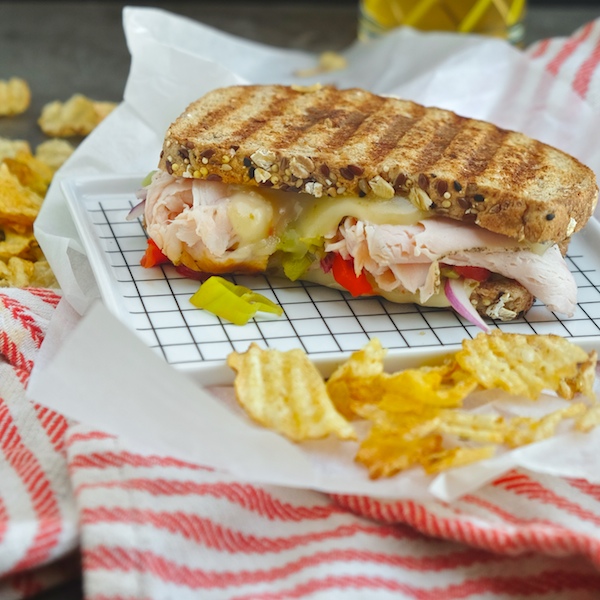 Here we have a PEPPER EXTRAVAGANZA!  Sliced peppered turkey with pepper jack cheese, pepperoncini and roasted peppers. I threw in some sliced red onions for extra bite.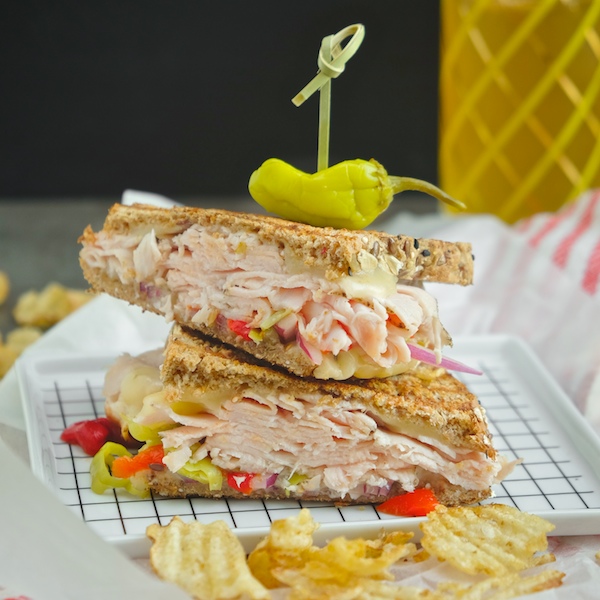 This is all sandwiched between one of my favorite sandwich breads- Dave's Killer Bread (in 21 Whole Grains and Seeds).  That seedy crunch you get from their breads can't be beat!
Let's gather our ingredients.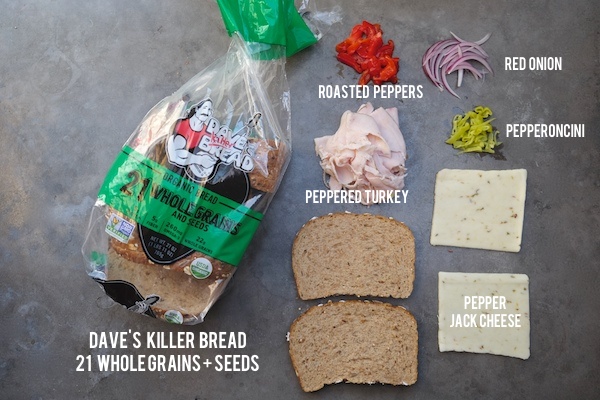 OK— here's the order. We put a slice of pepper jack cheese down on the bread.
Red onions on top.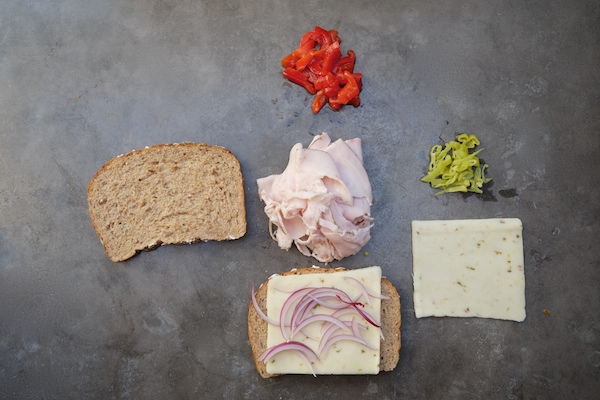 Followed by pepperoncini & roasted peppers.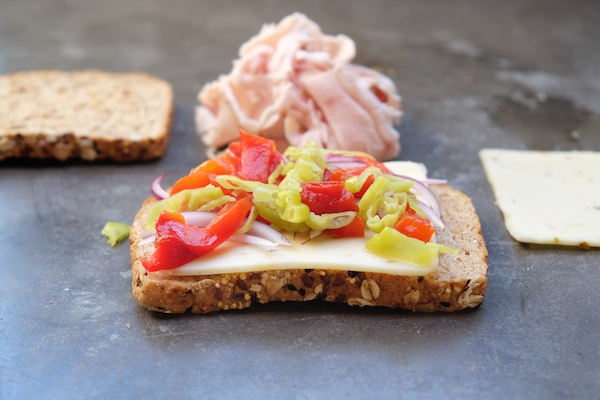 Overhead angle!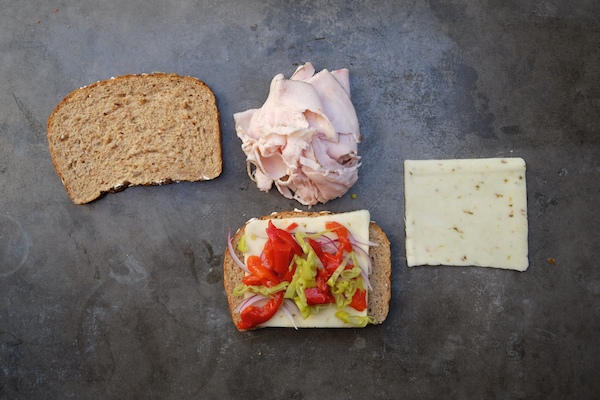 Now we add the peppered turkey.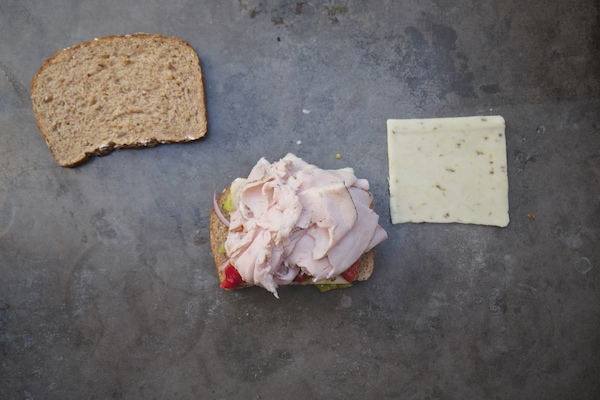 Followed by the other piece of cheese and the other piece of bread.
Look at those oats and seeds on the side!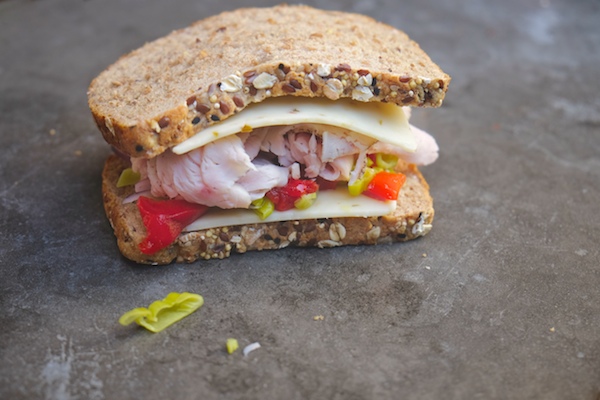 You could stop there…but then you could be a HERO and put it in the panini press….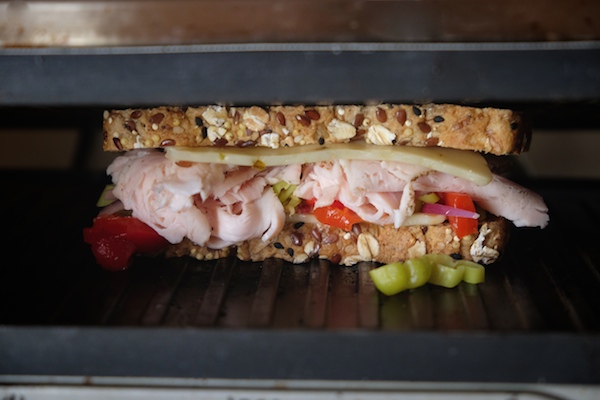 CHEEEEEEEEEESE melting…and there's a little piece of the turkey that's getting grilled.
YAAAAS.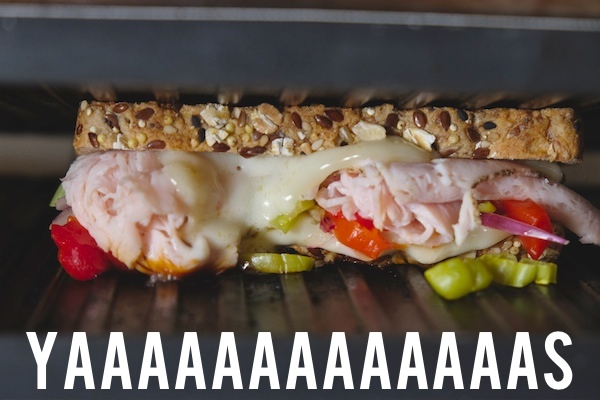 Cut it up. Poke it with a toothpick speared with pepperoncini for garnish.
We're fancy!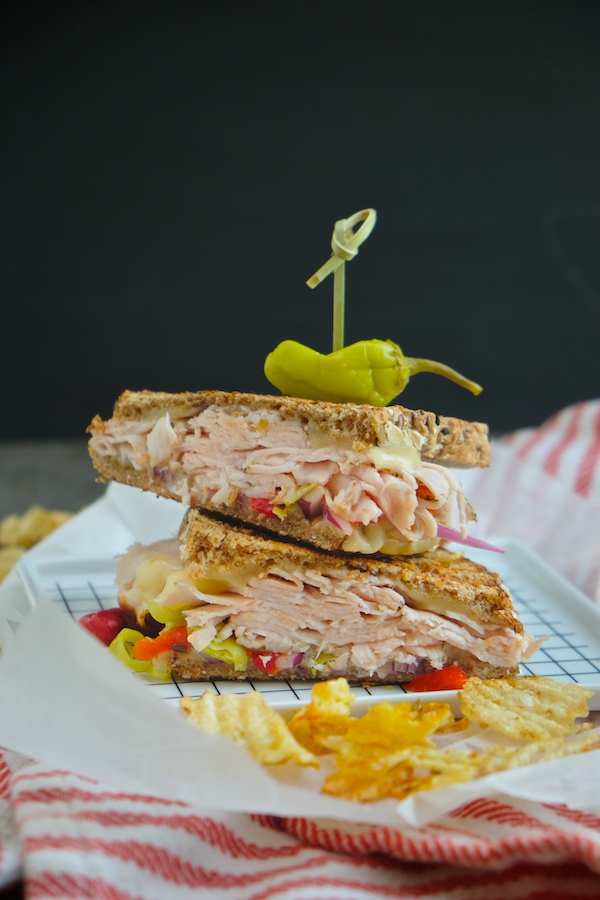 Put a few chips in there and BAM. Now we're talking. I thought about adding hot mustard but there's so much flavor that mustard was unnecessary!
This post was produced in partnership with Dave's Killer Bread.  As always, all opinions are my own.  If you want a great vegetarian sandwich, check out my Ultimate Veggie Sandwich made with Dave's Killer Bread! 
Grilled Turkey Pepper Jack Sandwich

makes 1 sandwich

3-4 slices peppered turkey
2 slices pepper jack cheese
5-6 red onion slices
2 tablespoons roughly chopped pepperoncini
2 tablespoons roughly chopped roasted red peppers
potato chips, for serving

Preheat panini press. Take one slice of Dave's Killer Bread 21 Whole Grains and Seeds and place a piece of pepper jack cheese on top followed by onions, pepperoncini and roasted red peppers. Top with peppered turkey followed by remaining pepperjack cheese. Place other piece of bread on top and place sandwich in the panini press. Grill for 3-4 minutes, or until bread is toasted and cheese has started to melt.  Serve with potato chips and go ahead and stuff some in the sandwich for extra crunch.