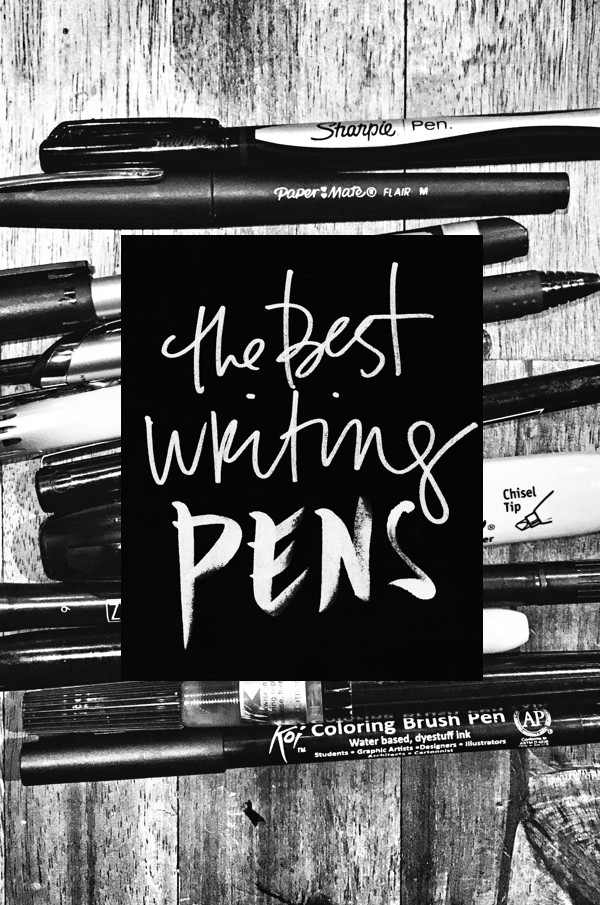 I love pens & handwriting. You may know this already. If you're following me on snapchat (tshutterbean), you might have seen me write a few things. BTW- Here's that envelope template that I'm obsessed with.  If you're a pen snob/handwriting lover,  you'll understand it when I say that not all pens are created equal.  A bad pen can create a bad handwriting day, and no one wants those. Those days bum me out.  Someone asked what my favorite pens are and here they are!
These are the things I keep in my favorite pen bag:
1. Papermate Flair– This pen is one of my all time favorites! I always go back to this pen. If I'm writing in a journal, or making a list, I pick this one up. The felt tip gets me every time.
2. Precise V5 RT – This is the pen that got me into ultra fine tip pens. I'm more of an inky/bold type of pen person who writes really large, but I like how clean this one is…really good flow.  It helps encourage me to write smaller and take my time. Love the retractable aspect because I don't want to worry about not putting a cap back on. This is the pen I use when I'm writing checks.  I also really LOOOOOOVE the Precise V7 RT. It's a thicker version and more in my pen comfort zone.
3. Sharpie Pen (Fine)- Since I'm always use washi tape for labeling things, this one works well for the very SMALL labels. I love that it doesn't smear. The only thing is that it's so petite in my giant hand. I sometimes feel like I'm gonna smash the tip.
4. Precise V7 Rolling Ball– Another staple. I always go back to this pen. I tend to stockpile and have little hoards of these pens throughout the house. If someone is borrowing a pen, I give them this one….and they always say— "Ooh! I love this pen. It's inky, but not toooooo inky. I like using the blue version of this pen every once in awhile too.
5. Uniball Vision Elite- When my handwriting needs to be shaken up a bit, I go back to this inky gem. The only thing that I don't like is that is can smear and sometimes you can see run through the other side of the paper.  If I have a leak in my pen bag, this pen is usually the culprit. That doesn't stop me from using it, though!
6. Stabilo Write 4-All– One of my friends introduced me to the Stabilo line a few months ago. Talk about love at first sight! I have the Write-4-All in my bag because it works well on washi tape, and if I have to write Cooper's name on something, I know which pen to pick. I really love the Universal pen as well. The only problem is I like the permanent ink (which is hard to find!) over the water soluble ink.  It writes like a dream. The Write 4-All is a little stiffer- and has less flow opportunity. Look at me…I'm getting all "technical."
7. Sharpie Industrial– Don't leave home without one! Seriously. I even have a few in my car! I accidentally bought a pack of industrial pens but I freaking LOVE THEM. I think they last longer…
8. Sharpie Chisel Tip– I do all the writing on my labels for meal prep with this pen. I LOVE my capital letters when I use this one and I normally hate them so there ya go.
9. Zig Art Graphic Twin Pen– Brush End- The brush end of this pen feels amazing. It's so inky and you can do really good swoops with it. It can be a little watery at times but I appreciate the inkiness.
10. Zig Art Graphic Twin Pen– Skinny End – I like this side a lot! I think my handwriting works well with it because the pen is kinda long and it gives me good leverage. This pen is great for a sketchpad because it's a two-in one.
11. Pentel Brush Pen- This one is a game changer! If you're looking to do some hand lettering or fake some calligraphy, you'll appreciate this one. Do be careful when you're using it though, if you squeeze too hard some ink might spill out.
12. Koi Coloring Brush Pen– I don't use these one as much for writing as I do coloring. Remember the coloring book post I wrote? I use the whole coloring set to color all my coloring books in. They are so satisfying.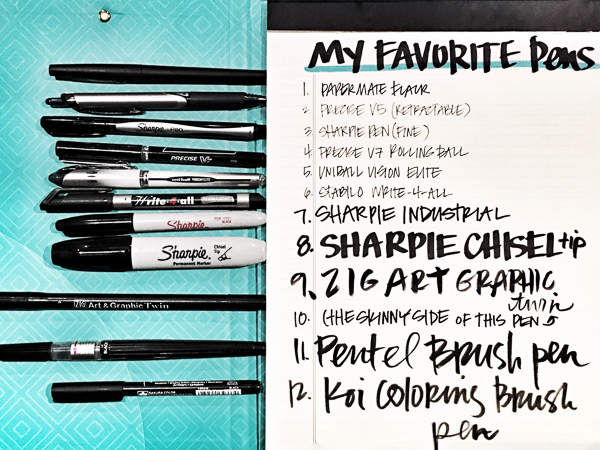 What are some of your favorite pens? Let's discuss!! I freaking love this stuff.