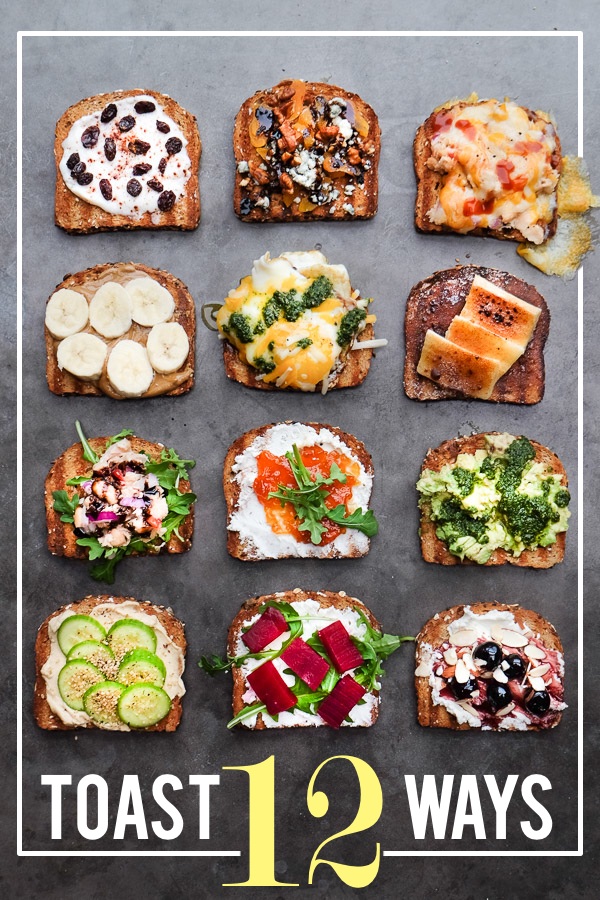 I've been on a toast kick over the past 3 months. It's probably because I love toast. It has never ever failed me, and to this I am grateful.  Today I partnered with Dave's Killer Bread who makes the best sandwich bread to show you some of my favorite ways to eat toast. Let's start this Toast Party, shall we?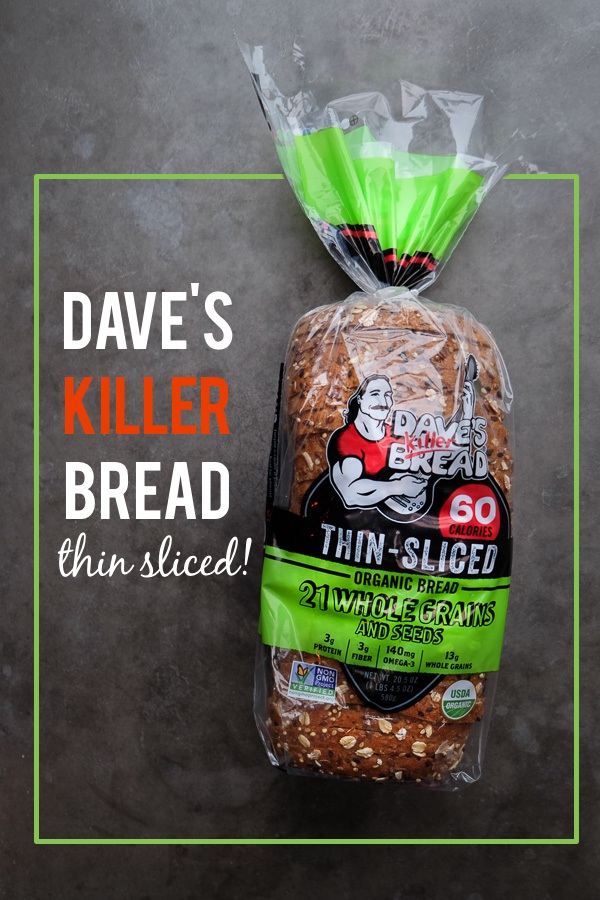 For this Toast 12 Ways post, I used Dave's Killer Bread 21 Whole Grains & Seeds Thin-Sliced!  I appreciate thin sliced toast. Means I can eat more, right? 😉  At home, we always toast our bread using a panini press because it makes THE BEST toast.  It's crunchy, crispy with perfectly placed grill marks- just the way I like it.
Let's toast!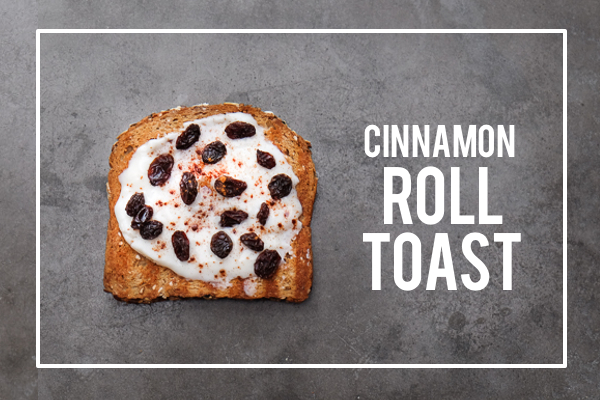 CINNAMON ROLL TOAST
A good smear of coconut butter with a sprinkle of cinnamon sugar on top followed with a few raisins and you're faking a cinnamon roll situation. One of my personal favorites!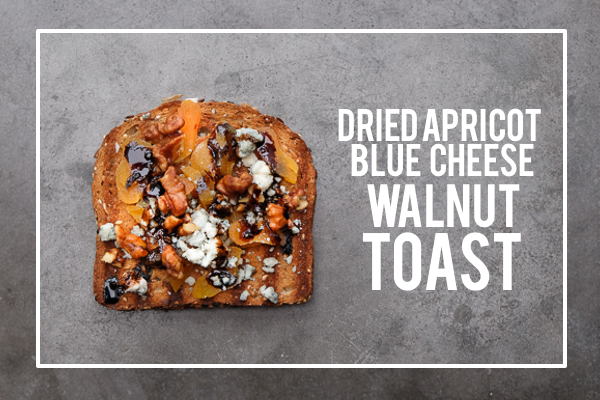 DRIED APRICOT BLUE CHEESE WALNUT TOAST
Chopped dried apricots mixed with toasted walnuts, blue cheese crumbles and a drizzle of balsamic glaze makes for a sweet/savory toast. One slice and you're good to go.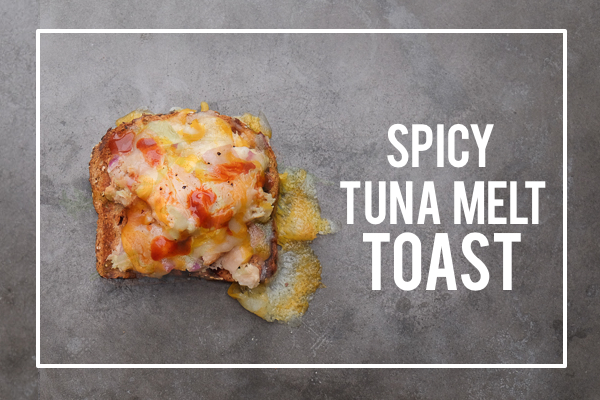 SPICY TUNA MELT TOAST
Spread your favorite tuna salad on top of the toasted bread. Pile shredded cheese on top of the tuna salad and broil the open-faced sandwich in the oven until cheese has melted. Finish with hot sauce for a Spicy Tuna Melt.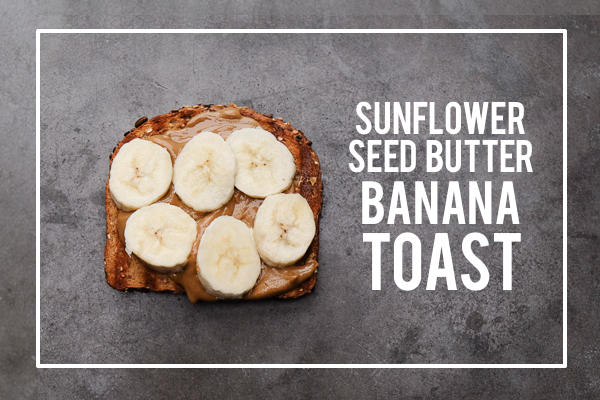 SUNFLOWER SEED BUTTER BANANA TOAST
Sunflower seed butter is spread evenly on top of your toast. Slices of bananas get nestled in the seed butter. With Dave's Killer Bread, you'll love all the seeds in the bread with this combo. It's crunchy goodness. Sometimes I sprinkle cinnamon on top…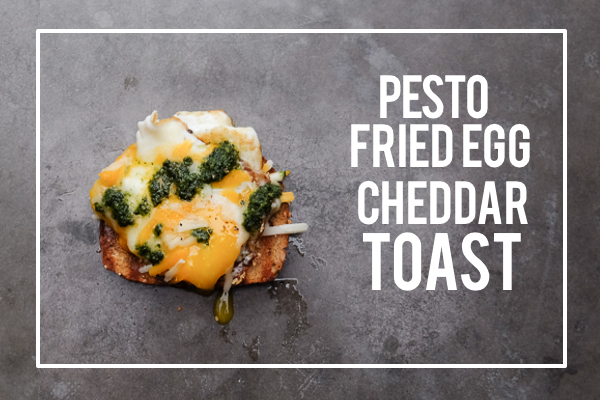 PESTO FRIED EGG CHEDDAR TOAST
Fry an egg.  Lay down shredded cheese on top of your toast. Place egg on top of cheese so it melts. Drizzle with fresh pesto. Grab a fork. This is a deliciously messy toast!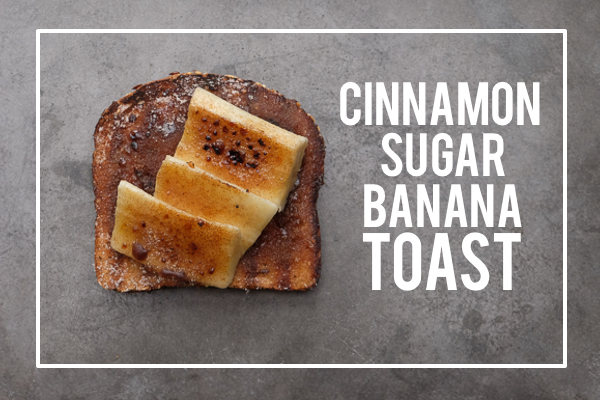 CINNAMON SUGAR BANANA TOAST
Smear toast with salted butter. Top with cinnamon sugar. Take a torch and burn the cinnamon sugar. Now add sliced bananas on top. Sprinkle with more cinnamon sugar and torch that too. It's like cinnamon toast meets banana meets creme brûlée.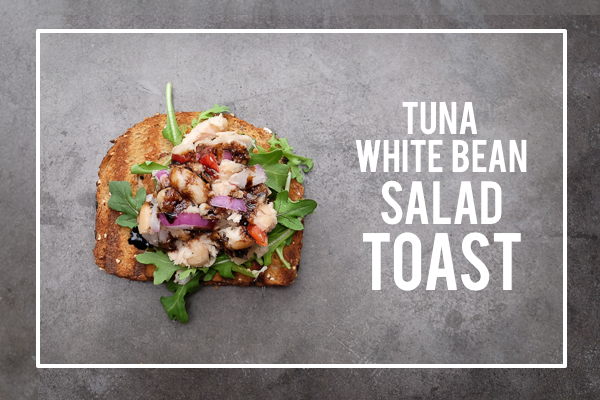 TUNA WHITE BEAN SALAD TOAST
Tuna White Bean salad with arugula and a balsamic drizzle. This is one of my favorites! I added chopped red pepper for crunch and color.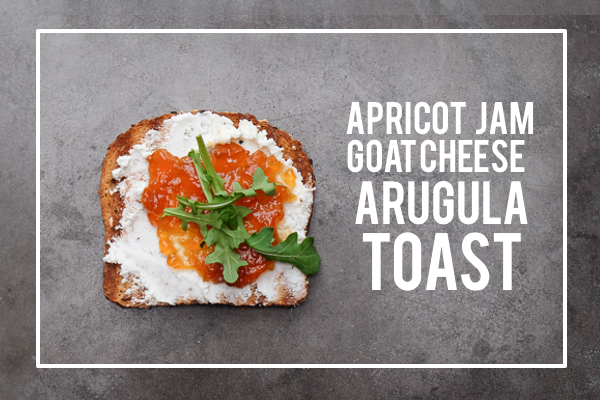 APRICOT JAM GOAT CHEESE ARUGULA TOAST
Spread goat cheese (or creme fraiche!) on top of your toast. Add a generous dollop of apricot jam (fig jam would be awesome too!). A few sprigs of peppery arugula balances out the sweet/tangy profile.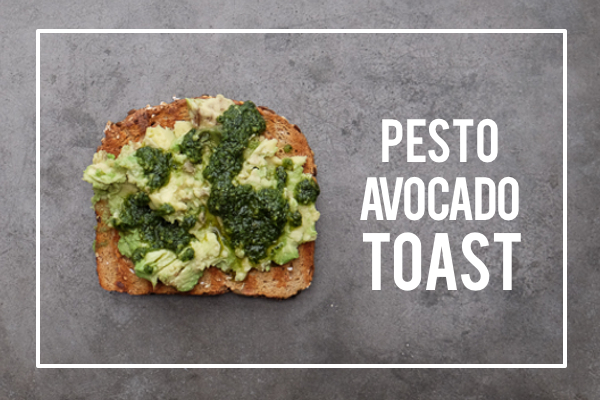 PESTO AVOCADO TOAST
Smash avocado into your toast with a fork. Sprinkle with sea salt & pepper. Spread pesto on top. I could have this everyday for the rest of my life. Sometimes I put hot sauce on there.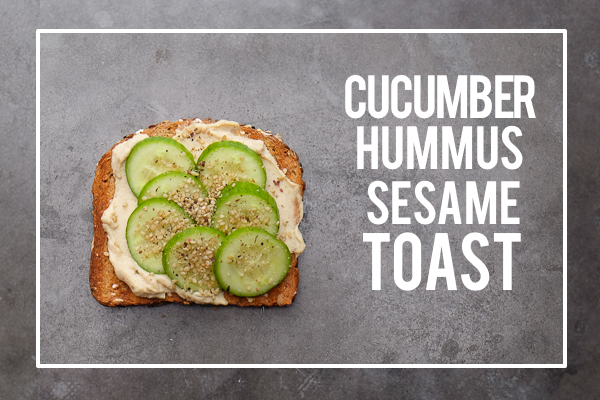 Take your favorite hummus. Spread it on the toast. Add thin slices of cucumber on top. Drizzle the top with sesame oil and top with salt, pepper and toasted sesame seeds. DEELISH.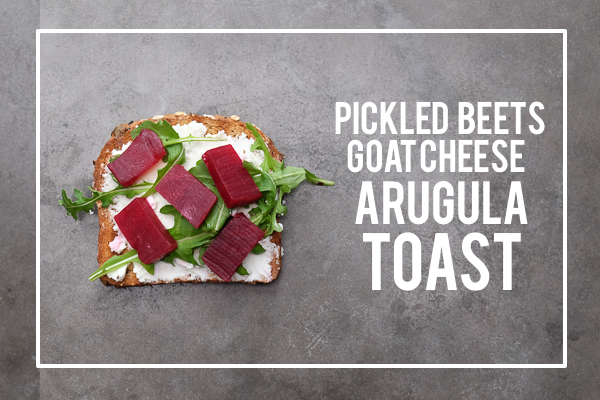 PICKLED BEETS GOAT CHEESE ARUGULA TOAST
Goat cheese is spread on top of the toast. A few arugula leaves for color. Pickled beets are sliced and nestled on top. It's like my favorite salad on top of toast!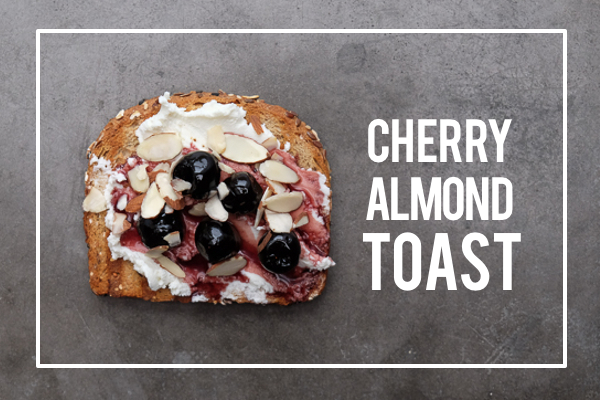 CHERRY ALMOND TOAST
Mix a few drops of almond extract in cream cheese. Spread it on top of your toast. Top with slivered almonds and syrupy cherries. Your brain will think it's a pastry!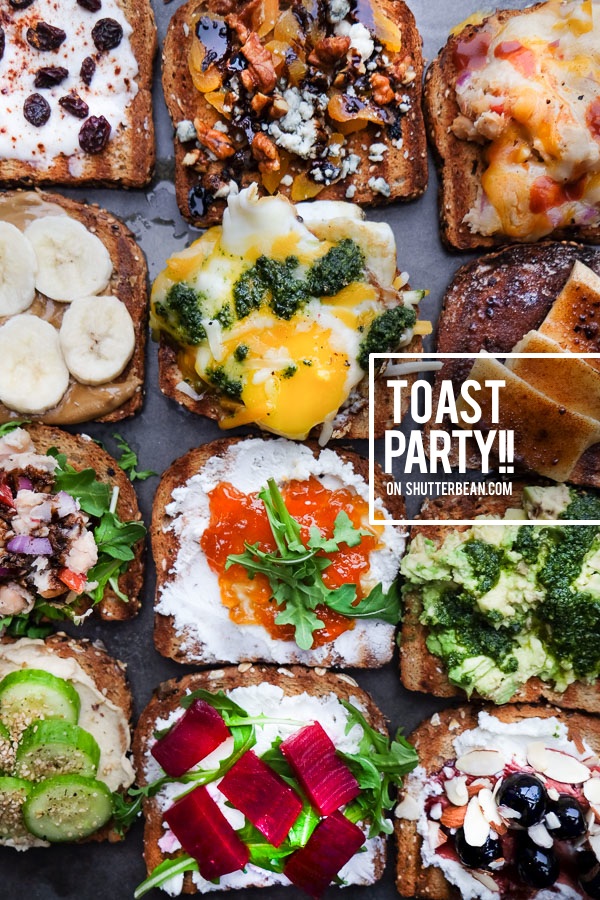 One of the reasons I partnered with Dave's Killer Bread (besides them being my favorite seedy sandwich bread) is that I really love that there's so much more to their company than their amazing bread. The story of co-funder Dave Dahl is an inspirational one.
See for yourself:
They do important work by helping support ex-felons who are dedicated to changing their lives around. They thoroughly believe in the power of second chances and I totally respect that! You can read more about their Second Chance Project/Foundation here.
I hope this post inspires you to up your toast game! Enjoy 🙂
This post was produced in partnership with Dave's Killer Bread. As always, all opinions are my own.