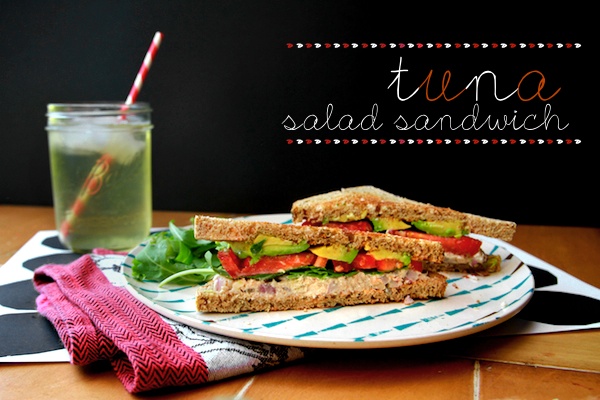 There are two things that are missing from my blog.
1. Sandwiches
2. Mayo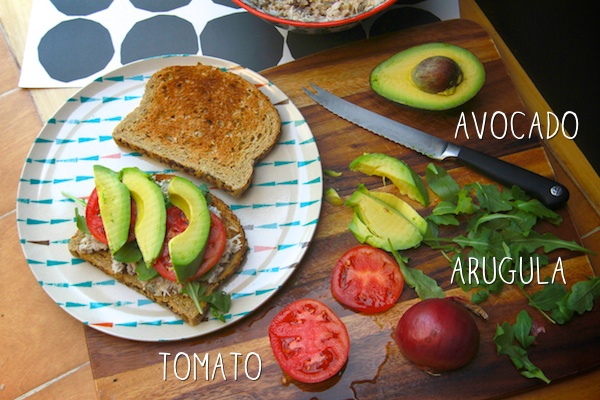 Sandwiches. Why? I don't know. I just don't think to post them. I usually eat the same sandwich when I order one at a deli (turkey, avocado, tomatoes, lettuce, pepperoncini, red onions & mustard on a sourdough roll). I usually eat the same sandwiches at home including this one, grilled cheese and peanut butter & bananas sandwiches. Would you like me to make more sandwiches here? Discuss.
Mayo. Why? Cuz I don't like it. And even if you tell me that making my own mayo will change me, I don't believe you and I won't do it.
NO. Just NO.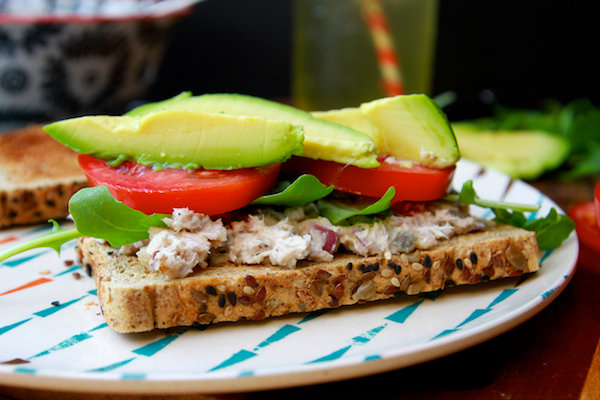 In the past, I've shown you a simple Tuna Salad with white beans that I like to top on a salad. The key to getting a creamy/spreadable tuna salad like this one here, is Greek Yogurt. And even if you are a fan of mayo, fat free Greek Yogurt makes this much much MUCH healthier. You won't miss it! When we were kids, my mom occasionally added sweet relish to our tuna. My brother & I loved that, so I continue that tradition in my life now. It adds a little sweetness to this combination and you'll find that the red onion adds pep and the chopped walnuts provide great texture. If you like a little spicy kick, add Dijon mustard. It's all up to you. Now…let's get to one of my favorite sandwiches!
And we're off!
Ingredient gathering.
Not pictured? Dijon Mustard. Sometimes I add it, depending on my mood.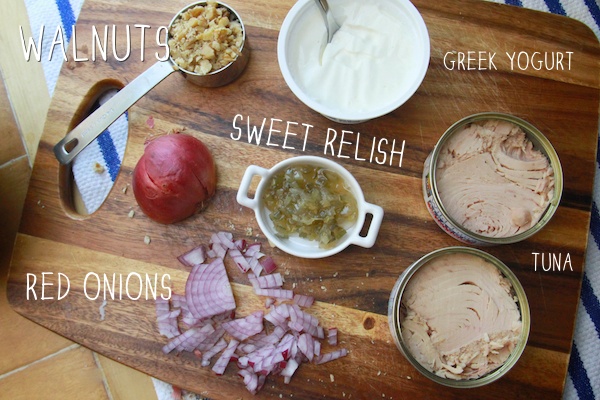 Put it all in your favorite bowl.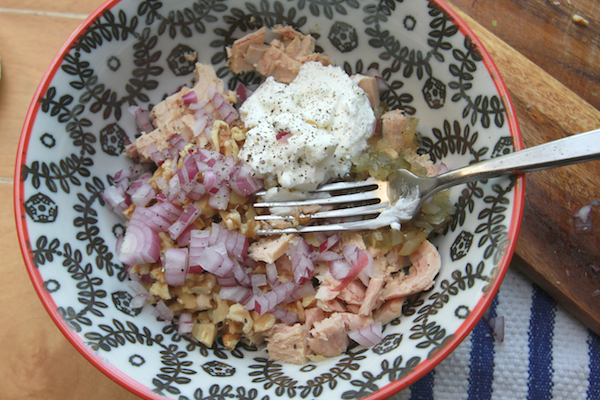 Oh look! I decided to add Dijon mustard! I am in the moooooooooood.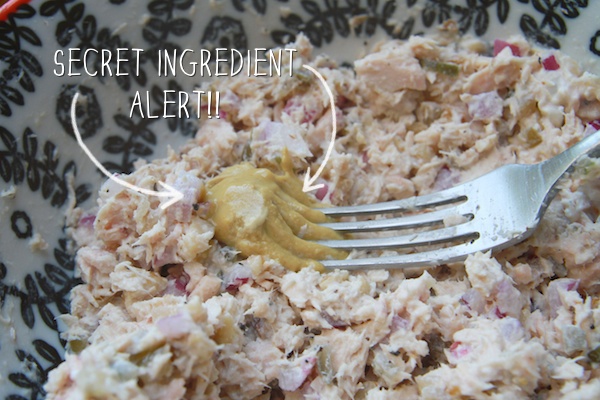 Mix it up. Make adjustments to suit your taste. Add salt & pepper. Throw some parsley in if you want. Stir!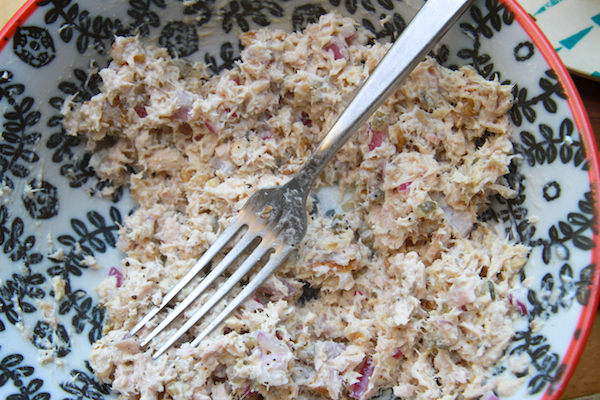 I toasted some of my favorite bread. I added tuna salad on top, with arugula, avocado & tomatoes.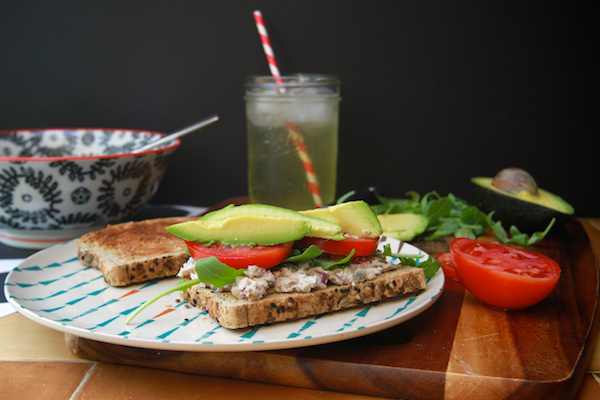 Sometimes I'll just eat the tuna salad right out of the bowl.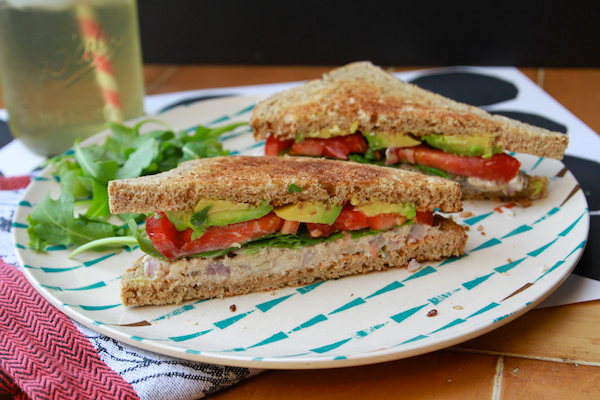 That's something I'd NEVER do if there was mayo in it. Blech.
I had leftovers for dinner the day I made this sandwich.
I added a scoop on top of some arugula, with tomatoes, avocado, red onions & drizzled Balsamic vinegar on top.
I also ate tots. I love those things.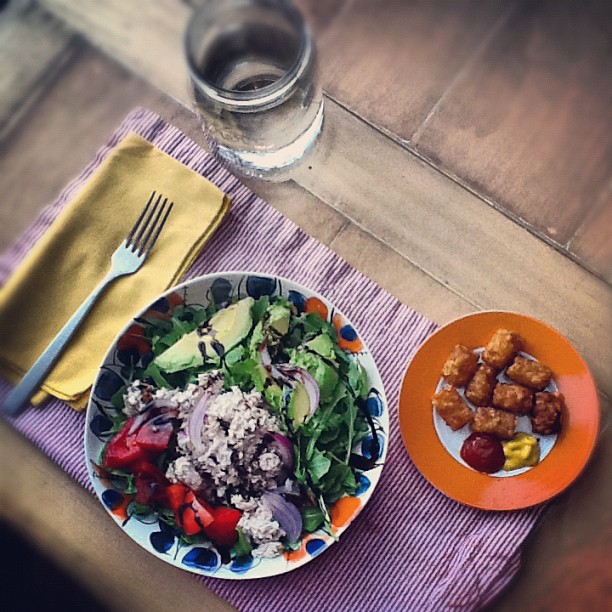 Enjoy!

Tuna Salad Sandwich

makes about 4 sandwiches

2- 5 oz. cans water packed tuna, drained
1/3 cup Greek Yogurt (I used fat free)
3-4 tablespoons sweet relish
1/4 cup walnuts, chopped
1/4 red onion, minced
1 tablespoon Dijon mustard
salt & fresh cracked pepper
8 slices whole wheat sandwich bread
1 Roma tomato, sliced
1 1/2 cups arugula
1 avocado, sliced

In a medium sized bowl, mix tuna, Greek yogurt, relish, walnuts, onions, & Dijon mustard. Stir well to combine. Season with salt & fresh cracked pepper. Adjust according to your tastes. Top a few heaping scoops of salad on toasted bread. Layer with tomatoes, avocado & arugula and serve.

NOTES:

You can totally use olive oil packed tuna, just make sure you drain it! It actually adds nice flavor.