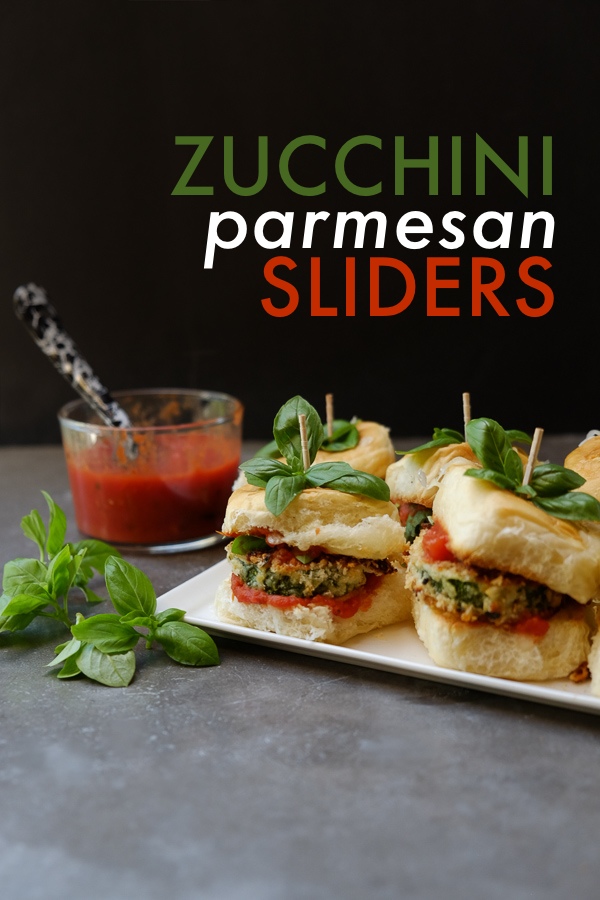 The Slider Effect! It's a new cookbook by my friend Jon. It's a book for the slider enthusiast!
I am definitely a slider enthusiast.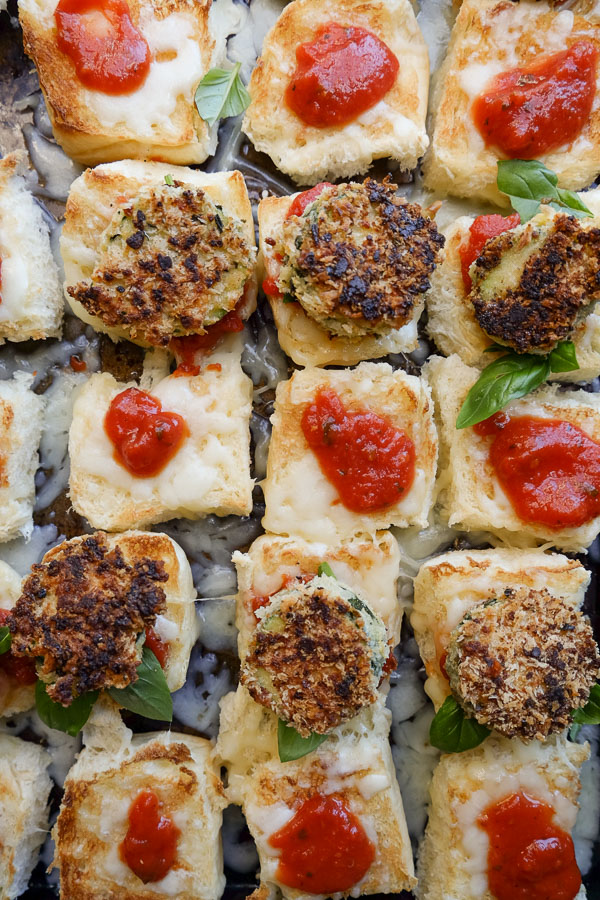 How many will we have? Start with one…take another…three….four…oops.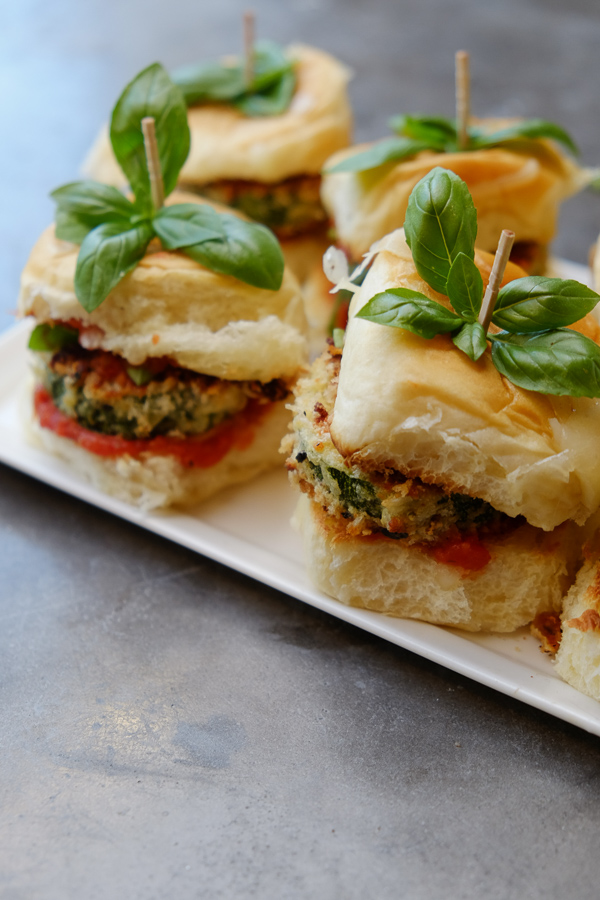 I wanted to make the eggplant parmesan sliders from the book. I've had them in person at Jon's book event and they were bonkers. Unfortunately my husband isn't a eggplant fan like I am….so ZUCCHINI IT IS.
Panko crusted fried zucchini sandwiched in between soft rolls with marinara and melted parmesan. Basil is stuffed in for a little herbal kick. Bet you can't eat just three.
Let's gather our ingredients!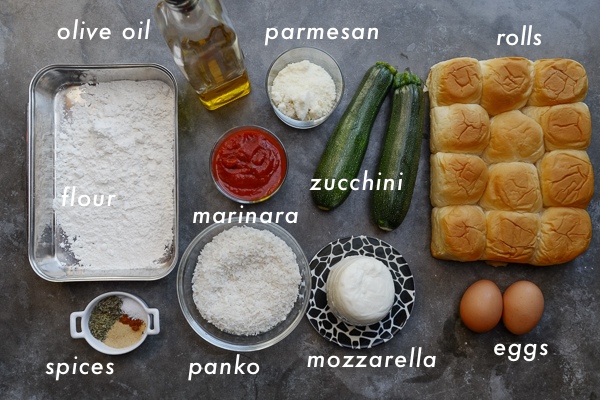 First we slice the zucchini.
Egg.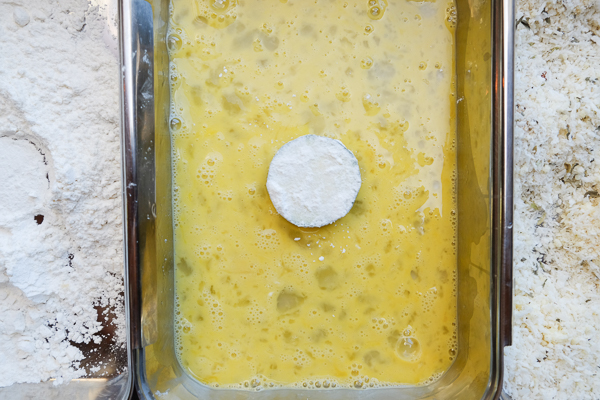 Flour.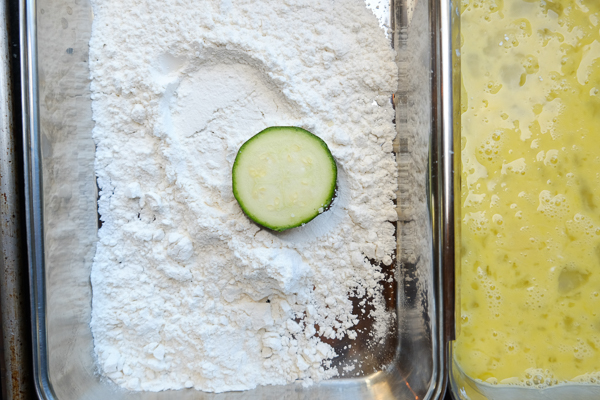 Parmesan herb panko. REPEAT.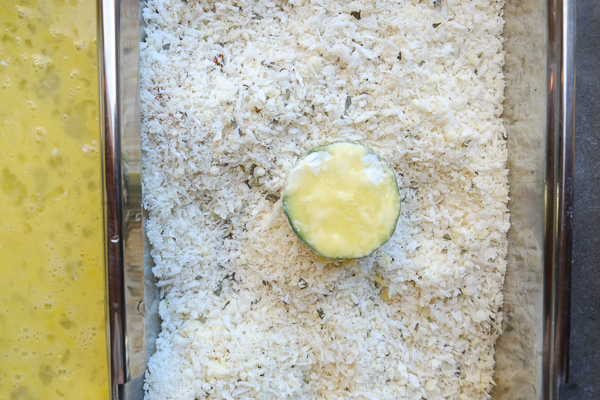 A lot of repetition….which I enjoy. It's uber therapeutic.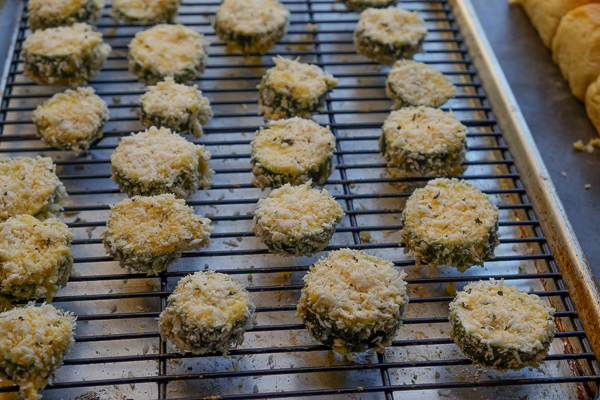 We fry the zucchini in a bit of olive oil to soften the zucchini and crisp it up!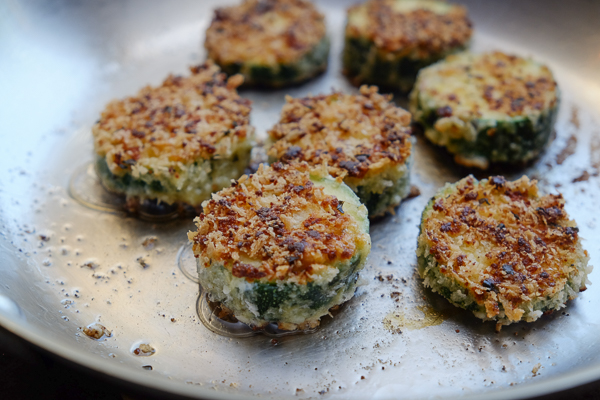 Rolls get toasted.
Focaccia would be a great alternative.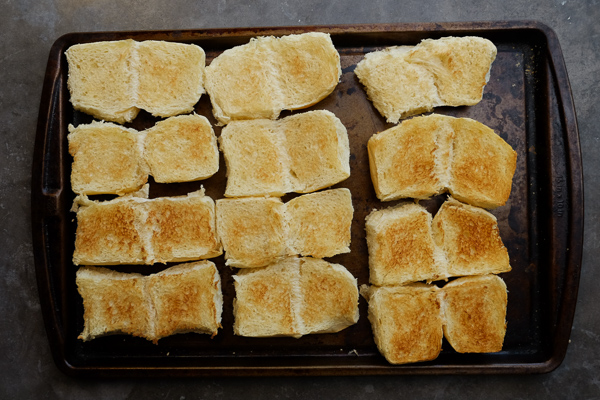 Cheese + marinara on top.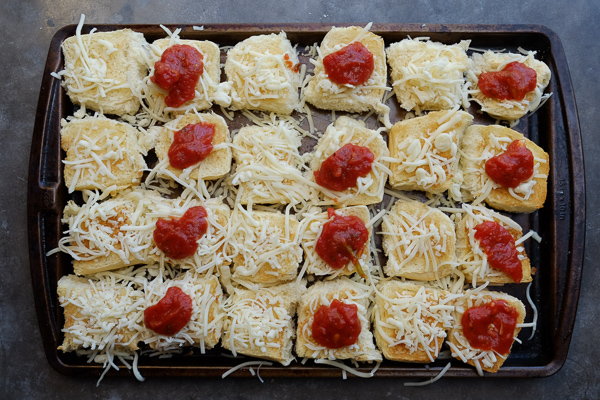 A trip to the broiler. Put the zucchini in there to keep warm.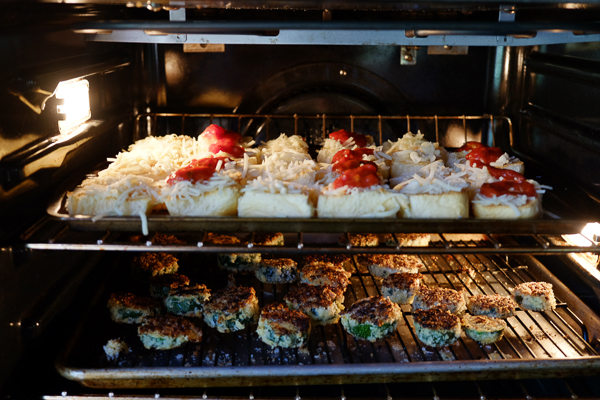 Melted goodness. Add basil.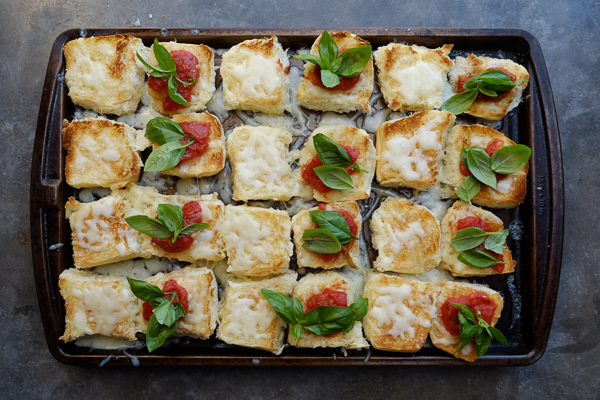 Top with zucchini.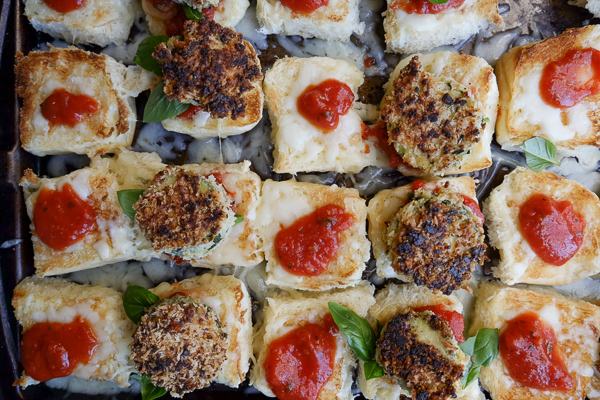 A little extra basil on top for garnish.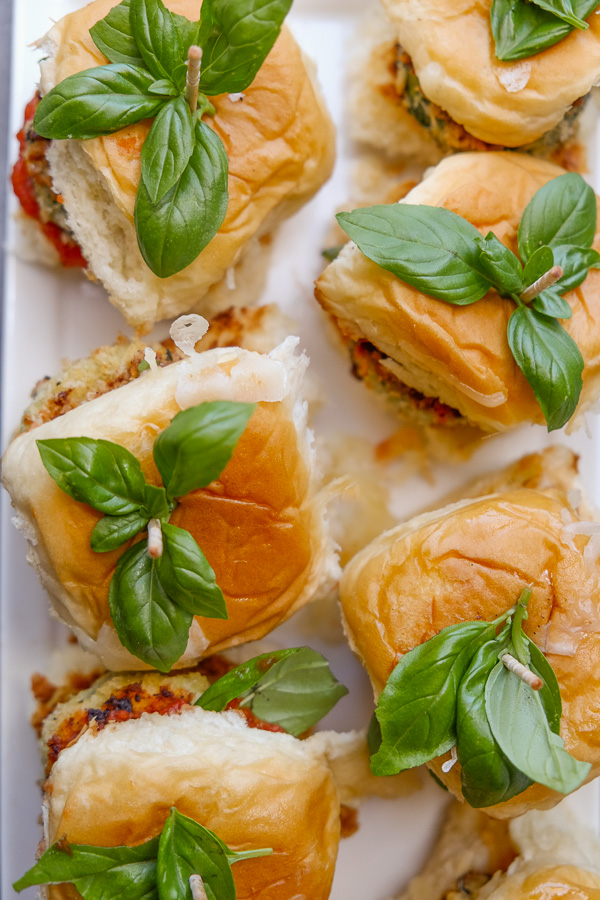 Let's pretend we're having a party.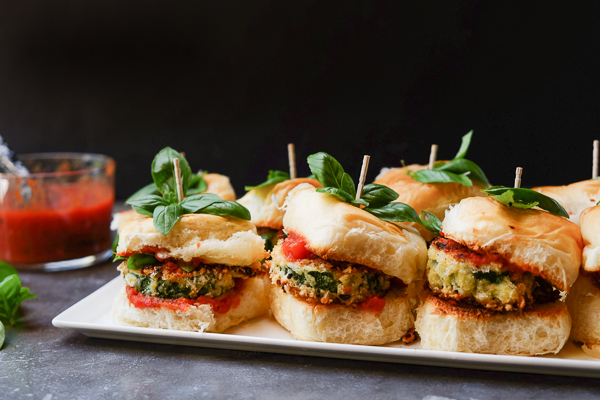 A slider party!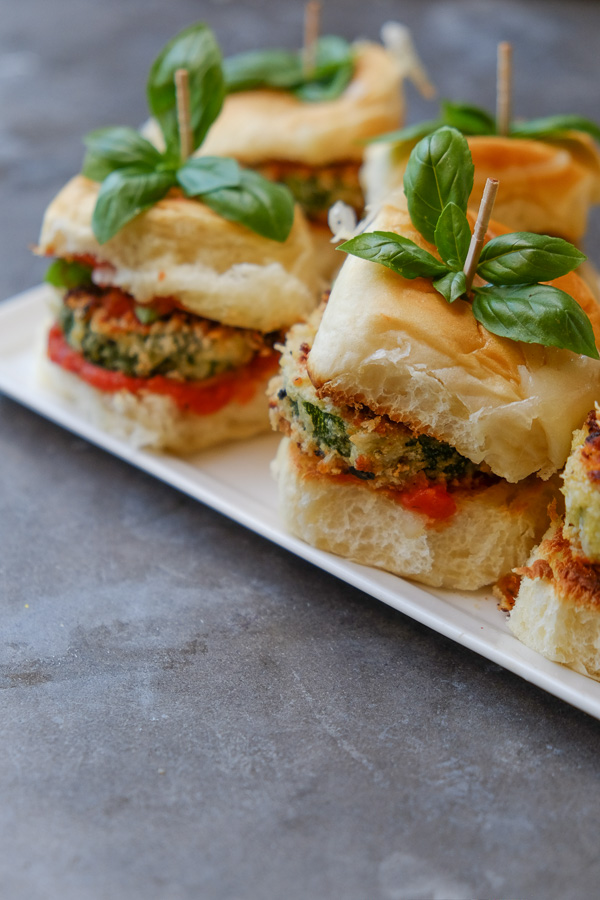 I'll fight you for the last one. WATCH YOURSELF.
If you're looking for some zucchini recipes, check out:
Zucchini Parmesan Sliders

makes 12 sliders

recipe inspired by The Slider Effect

2 zucchini, cut into 1/2 inch rounds
2 eggs
1 cup flour
1 cup panko bread crumbs
1/2 cup grated Parmesan
1/2 teaspoon dried oregano
1/2 teaspoon garlic powder
1/4 teaspoon cayenne pepper
fresh cracked pepper and kosher salt
extra virgin olive oil
12 dinner rolls
1 1/2 cup shredded mozzarella
1 1/2 cup marinara sauce, plus more for serving
2 cups fresh basil leaves

Preheat oven to 250F.

Beat eggs in a shallow bowl and set aside. Mix panko with parmesan, oregano, garlic powder and cayenne in another small bowl. Season with salt and pepper and set aside. Dip zucchini into flour, followed by egg and then coat evenly in the panko mixture. Repeat until all zucchini have been coated.

Heat a few glugs of olive oil in a non-stick skillet over medium-high heat. Fry the zucchini about 2-3 minutes per side, until nicely browned and zucchini is evenly cooked. Make sure not to overcrowd the pan.  Repeat until all zucchini has been cooked.  Place cooked zucchini in oven to keep warm.

Turn oven onto BROIL. Cut the rolls in half and place on a baking sheet cut side up. Place baking sheet under the broiler and toast the rolls, making sure not to burn. Top both sides rolls with mozzarella and marinara on only one side. Place rolls back under the broiler until cheese has melted. Top the sliders with 1-2 pieces of zucchini, add basil and place the tops on the sandwiches. Serve hot, with extra marinara.