It's September and that means it's time for me to start a new bullet journal!
A few years ago I introduced quite a few of you to how I effectively bullet journal with my favorite layouts and supplies.
Today I am going to show you how I took Bullet Journal Classes with Skillshare and what I learned.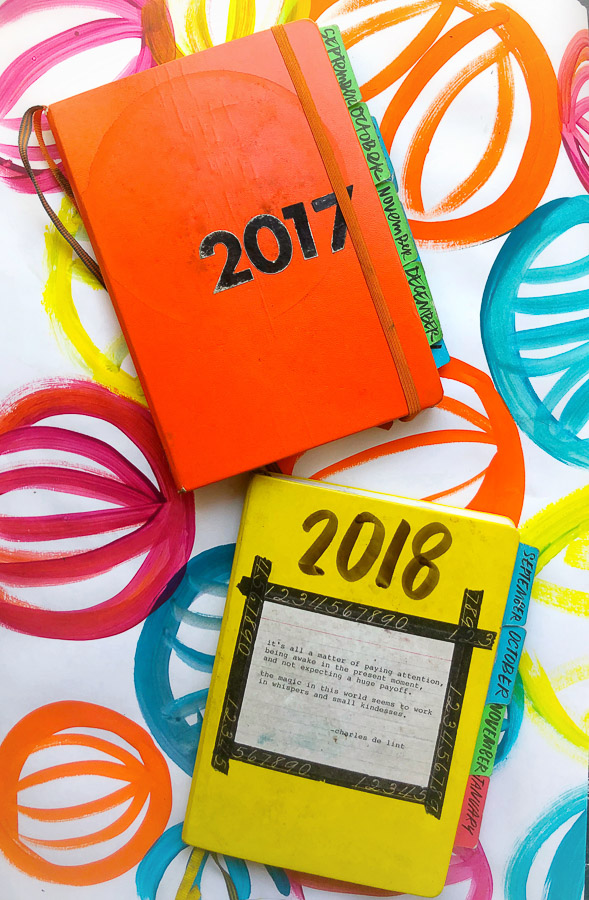 If you're not familiar with Skillshare, it's an online community for learning & teaching creative skills. Skillshare connects expert practitioners with students around the world who collaborate on everyday skills from culinary arts, photography to design.
They have kindly offered my readers TWO MONTHS free of Skillshare Premium!
In the photo above, these are the two journals I've used so far. As I said, I am about to start a new one (I usually end up doing it during the new school year) so I went on Skillshare this month and watched a few courses on Bullet Journaling to see some new techniques and spreads. I love experimenting with my paper calendar/organizing system. Any chance to practice handwriting is fine with me!
Let me show you what you could work on if you want to improve productivity with Bullet Journaling.
Over the past few weeks, I carved out some evening time and watched the following classes on Skillshare.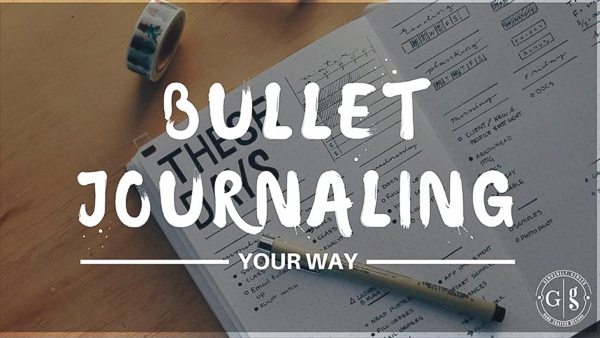 If you're new to bullet journaling, this course will help! I loved that you can get a peek into the teacher, Jessica Owinyo's journal. You can see that she experiments too and her style evolves over the course of one journal.
As much as I like being super minimal in my bullet journal, I like to write big and go for a BOLDER approach than most.
This is my favorite way to map out the week in my bullet journal: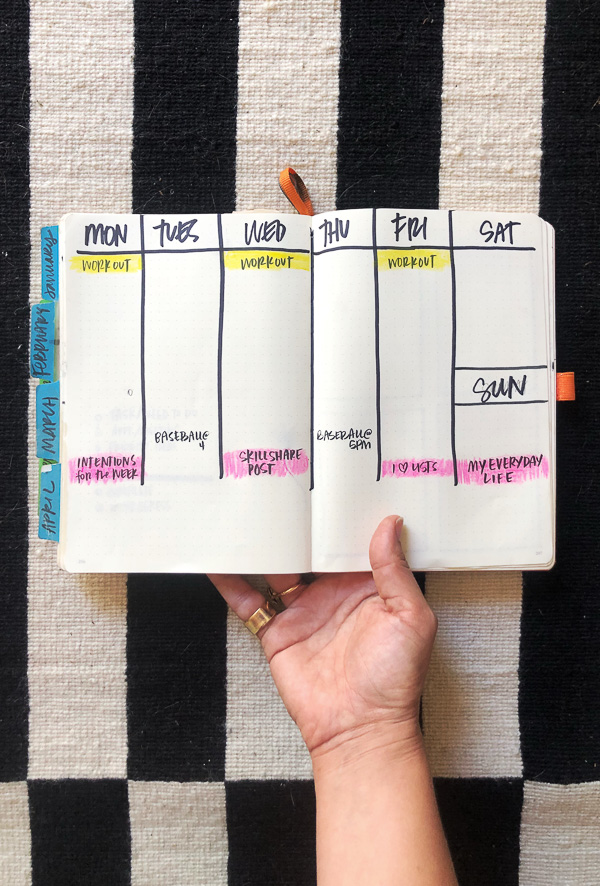 Although now I am ready to try some new things after taking the class.
I like how simple this week's approach is. We'll see how it works for me!
I do think I need to add a few habit trackers in there….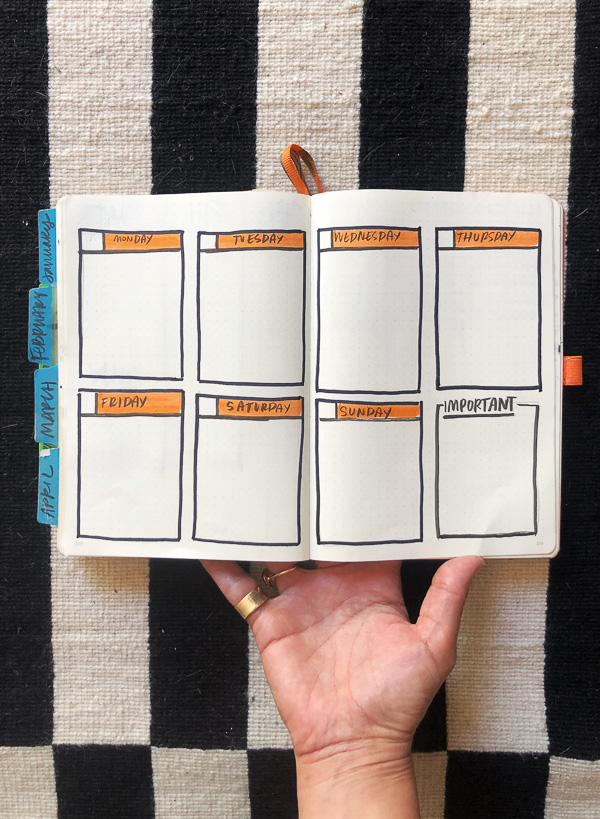 I need to be more proactive about using symbols and keys.
This class helped remind me of some good ways to mark off tasks.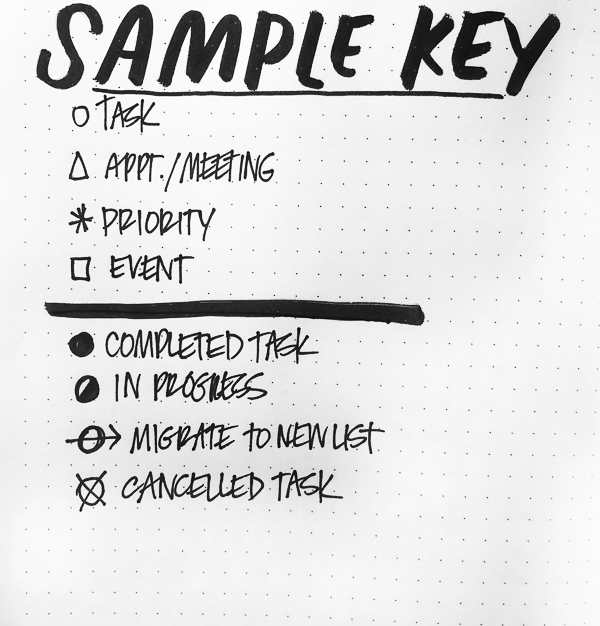 After that class, I followed it up with: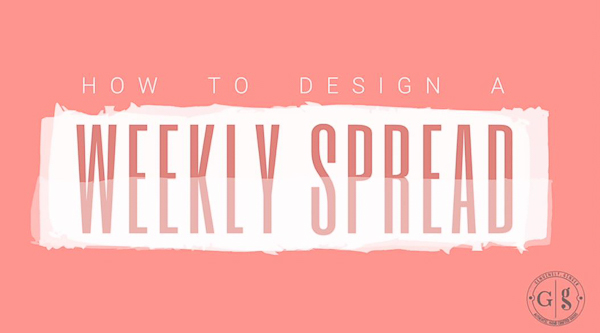 In this class, I learned how to make/adapt this weekly spread. I really like the way the meal plan looks on the left hand side. Having habit trackers like the Water + Workouts is super important. It's definitely something I'll continue on in my next Bullet Journal.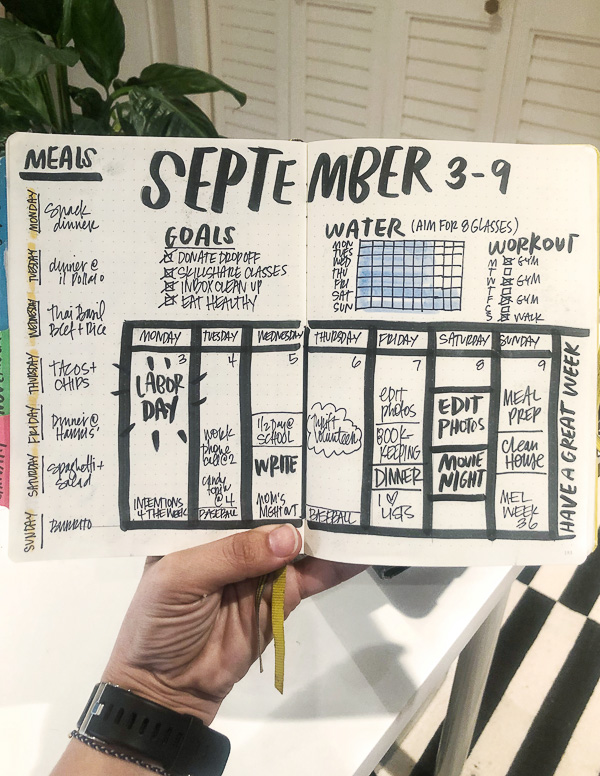 The following class was one of my favorites: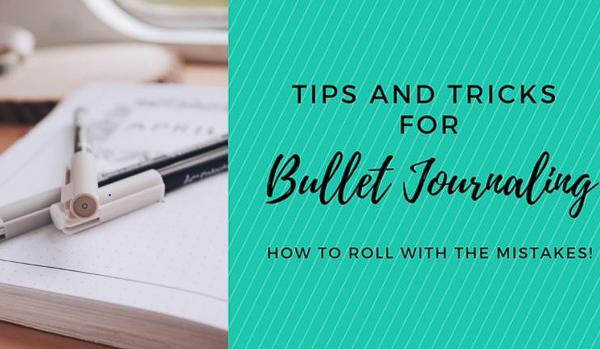 When I first started bullet journaling, I was so mad when I made a mistake. I learned to change my mindset while working on my bullet journal each week. My approach has been to futz with the system and make it work for/with me. aThis entire class is about problem-solving! Jessica shows you how to turn a mistake into something else so you don't freak out that your bullet journal is not perfect. There are different ways to cut out pages and very clever uses of washi tape. I loved this one because it's so good to see other people being creative with their mistakes. We all make them!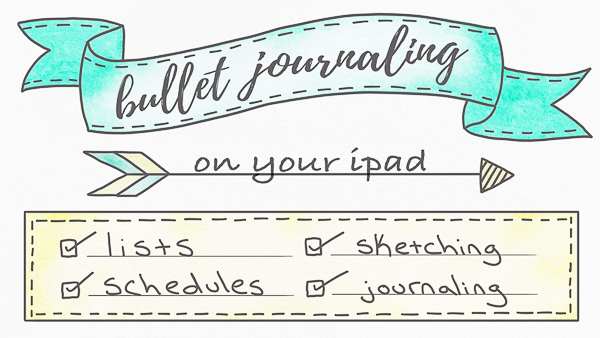 I've been working on making my own calendar spread in Procreate this year. Even though I like using a real pen and paper, it's been fun to watch how other people use technology to make their own systems on an iPad! Since I am still pretty new to Procreate, it's nice to be able to watch a teacher's workflow. She also offers a variety of templates to help you get started.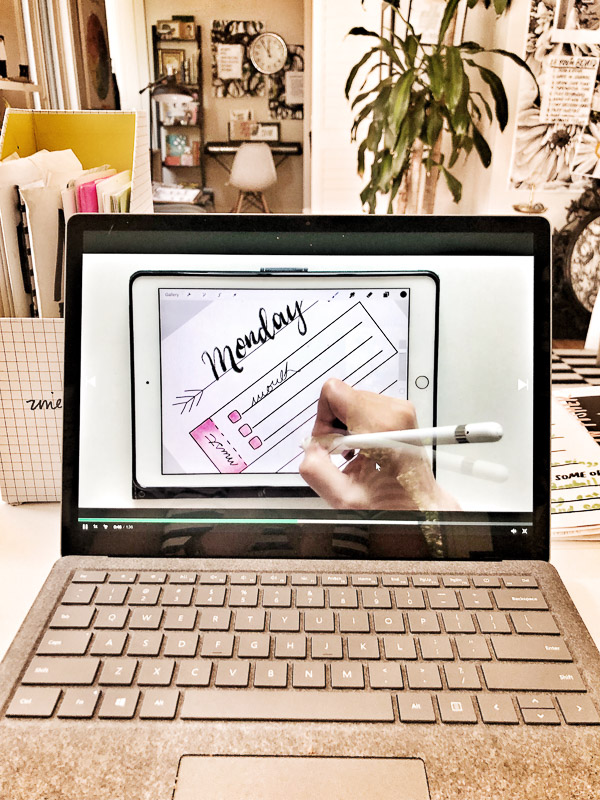 In the process, I've learned a lot of tips and techniques with using Procreate. If you've thought about having an online version of a bullet journal, this course will help with that.
All of the posts in my Currently series have been made with Procreate this year.
Practice makes better! I'm finally getting the hang of it.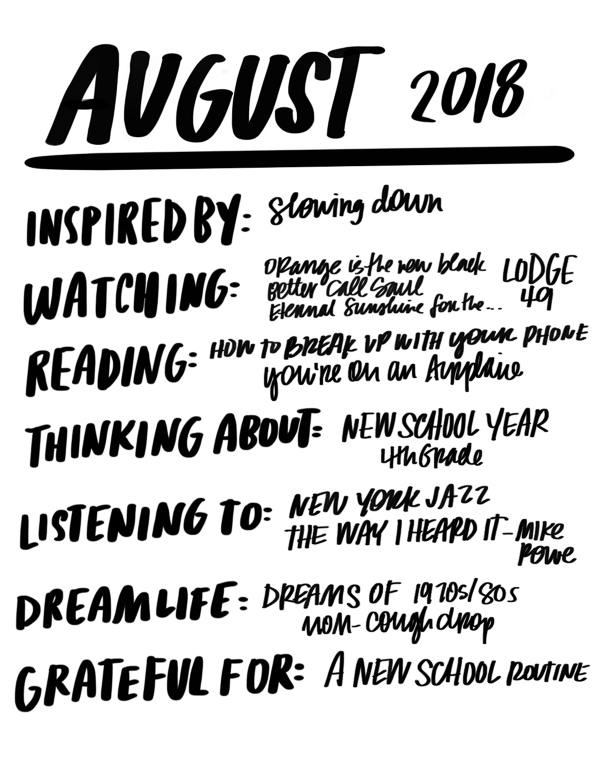 I am also going to experiment with a new monthly overview system.
I think the one on the left is neat. I like how it's separated into HOME/WORK.
The one on the right is how I usually set up a calendar.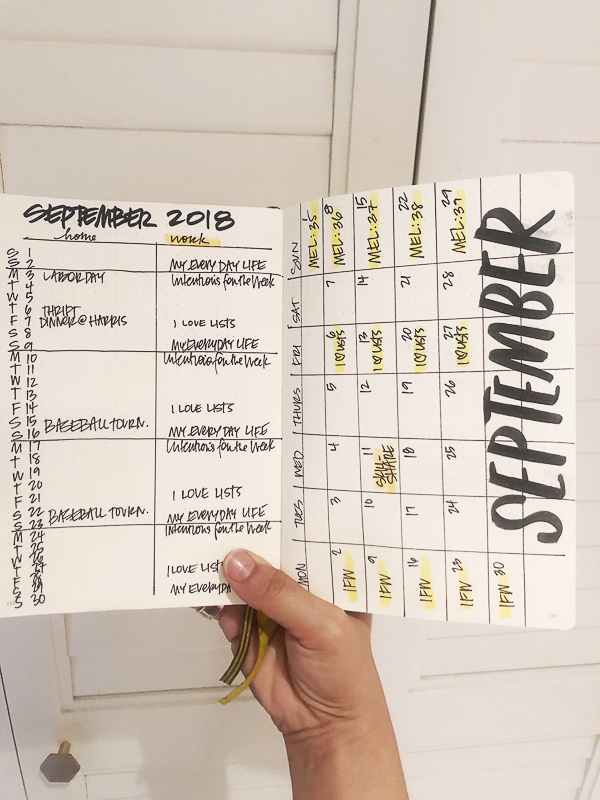 As you can see, the ideas are endless.
And lastly…this isn't a class about bullet journaling but one about time management!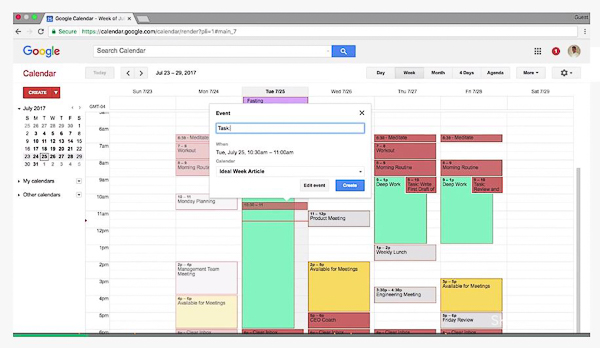 Who isn't wanting to be super productive? Skillshare's co-founder and CEO Michael Karnjanaprakorn will show you how. I took this class mostly because I want to see how someone else uses technology to structure their time. Working from home has its challenges and I'm always looking for a better way to run my google calendar. I really enjoyed watching Michael talk about his work week and how he breaks down his timing realistically. It's all about timeboxes! And breaking up how you plan to accomplish a task.
His core principals are: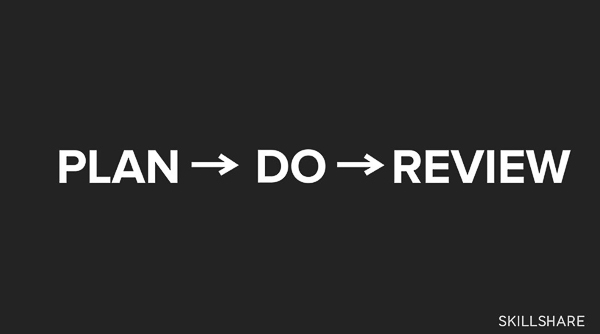 I work a lot on the planning & doing but not so much reviewing. Time to change that because it will help me manage my time more efficiently when I evaluate how I used it.
This rule of threes makes me excited. I have a TON of things I want to accomplish in a week so maybe breaking them into chunks will help? Celebrating the wins for the week is another good habit to get into.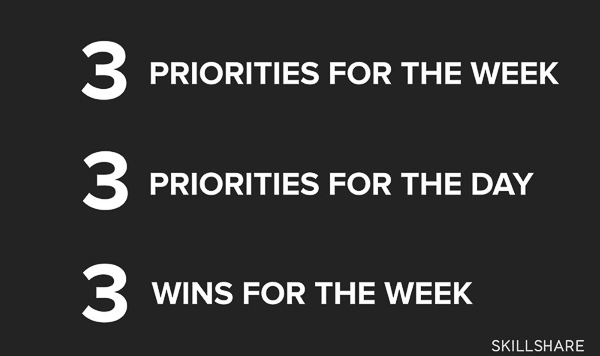 I've already got some good color coding going on in my calendar this week.
Want to see more of what you can do with Skillshare? Check out some of my favorite posts:
And don't miss my posts on: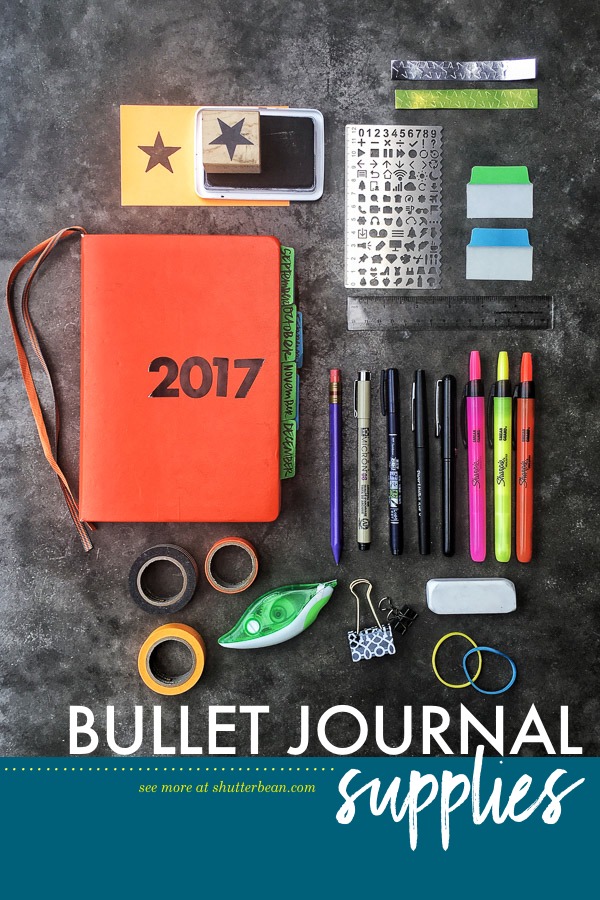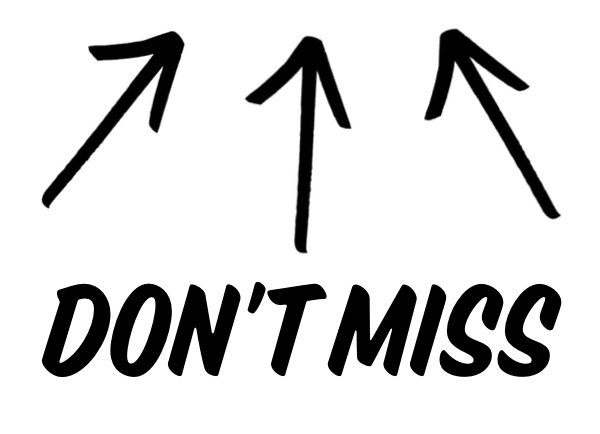 It's an amazing deal and they have a variety of classes as you can see!
I'll share more from my new bullet journal sometime in the next few months. I definitely need to figure out which of these new layouts are going to keep me productive. I hope this inspires you to carve out time to learn something new!
Happy bullet journaling!
A BIG thank you to Skillshare for sponsoring this post. As always, all opinions are my own.